Red Deer Rustlers off to a great start
From the Red Deer Senior Rustlers.. Photos Courtesy Dennis Berg
SENIOR RUSTLERS TAKE INAUGURAL MATCHUP AGAINST SYLVAN LAKE PIRATES
The Red Deer Senior Rustlers and Sylvan Lake Pirates met for the first time Saturday night, with the Rustlers skating away with a 5-2 win.

The Red Deer Senior Rustlers moved to 3-0 in their inaugural North Central Hockey League season with a 5-2 win over the Sylvan Lake Pirates.
With both teams entering the NCHL this season, it was the inaugural meeting of the two squads, in what's sure to develop into a spirited rivalry.
Dustin Moore led the way offensively for the Rustlers with four assists, while defenceman Eric Frere added three assists. Forward Ty Berkholtz scored two for the Rustlers before leaving the game late in the second after taking a high stick in the face, but would return to the game in the third.
Brett Bothwell earned his second win in as many starts, stopping 31 of 33 Sylvan Lake shots. Pirates goalie Adam Gingras made 31 saves in a losing effort for Sylvan Lake.
The Rustlers are at home once again this Saturday, October 27 against the Daysland Thunder, who only just played their first game of the season on Sunday, an 8-3 victory over the Pirates.
Doors open at 7pm at the Penhold Multiplex, with puck drop set for 7:30. Tickets for the game are $10 at the door, children under 12 are free.
For more information on the Red Deer Senior Rustlers, contact [email protected], or follow the team on Instagram, Twitter and Facebook.
Red Deer Arts Council's fifth Open Studio Tour takes public behind closed doors in this two-day event!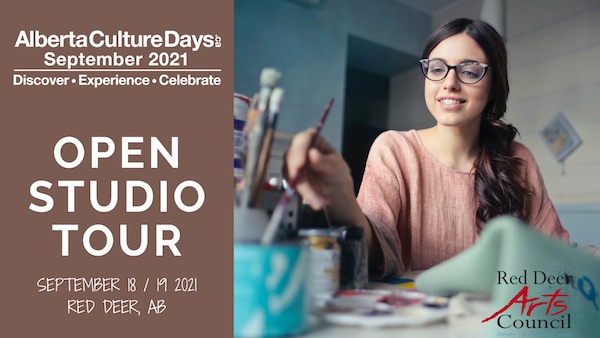 The Red Deer Arts Council is thrilled to announce its fifth Open Studio Tour, taking place September 18th and 19th, 2021! This is a self-guided tour of artist studio spaces and free to the public.
Seven visual artists in five studios bring you this amazing experience. They will open the doors to their private art studios from 10:00 am to 4:00 pm and welcome the public to see the process of creating fine art as each artist demonstrates their process. Fascinating techniques and works of some of Red Deer and area's most recognized artists will be on display for visitors.
This self-guided tour is free of charge. The artists will demonstrate the processes they use, and happily take questions about their media, style, technique, or anything related to art. Artists love to answer questions about their art!
Please Note: some artists are open both days, others open either Saturday or Sunday only. Please check each listing to see which artists are participating on that date or any additional hours they may host.
Download the complete list of artists and addresses HERE.
OPEN STUDIO TOUR LIST OF ARTISTS 2021
Saturday, September 18th Only – 10am to 4pm
Margaret R. Hall
Happy Yak Felt and Maggie's Millinery
48 Good Crescent, Red Deer, AB
[email protected]
403-346-8289
Margaret Hall is a fibre artist and enjoys fabricating whimsical functional items. Working mostly with wool, she enjoys exploring the sculptural properties of wool and combining hand felting and traditional millinery techniques to make unique hats.
Demo: Margaret will demonstrate the difference between blocking a hat with a hand felted hood and an industrially produced felt hood.
*****
Saturday, September 18th and Sunday, September 19th – 10 am to 4 pm
*Please note additional hour changes for individual artists
Susan Delaney
4611 – 48 Street, Red Deer, AB
403-341-9488
www.instagram.com/susandelaneyartist
Susan Delaney is currently making intriguing mixed media portraits and abstract compositions featuring photo image transfer, painting, drawing, collage, and embedded objects. Susan is also well known for her vibrant, expressive landscape paintings.
DEMO: Susan will be demonstrating image transfer and painting, including both deliberate and intuitive artistic decision-making.
*****
View Across the Vallery, Oil, 2021, Carol Lynn Gilchrist
Carol Lynn Gilchrist, ASA
Riverlands Artist Studio/Gallery IS
5123 – 48 Street (Alexander Way), Red Deer, AB
[email protected], 403-596-8890
www.clgilchrist.com
Carol Lynn celebrates the landscape in a range of media and styles. Her work in watercolour, acrylic, and oil are inspired by nature; skies and water worlds that are filled with light, colour and movement that are part real and part imagined. She has just opened her own studio and welcomes everyone to drop in and say hello!
DEMO: Carol Lynn will be working on a WIP (that's art speak for a 'work in progress') and will share her thoughts on composition and offer some plein air painting tips.
Guest Artist at Riverlands
Roberta Murray, ASA
Riverlands Artist Studio/Gallery IS
[email protected], 587-457-1201
www.robertamurray.ca
Roberta Murray is a full-time visual storyteller working in paint, pencil, and pixels. Roberta's work reflects her passions, dreams, and desires regardless of the medium she works in. Birds, wildlife, flora, and the land are all explored in her work. She tries to represent ordinary scenes in a poetic, expressive way to capture a fleeting mood or impression, not to mirror what is easily seen. "I don't paint the landscape. I paint the spirit disguised as a landscape."
*****
Country Sunshine-Watercolour, Marianne Harris
Marianne Harris
Paintwerx Studios
95 Piper Drive, Red Deer, AB
[email protected], 403-350-8106
Additional Hours: Friday 5 pm to 8 pm
Marianne creates 2D artwork in water-based media. Her work is prolific and varied in its subject, style, and size, from photographic realism to more semi-abstract pieces, often inspired from her photography. Her work is available at the A+ Gallery, and is also currently showing until October 11 in the Kiwanis Gallery at the Red Deer Library.
DEMO: Watercolour miniature landscapes demonstrating basic techniques.
Guest Artist at Paintwerx Studios
Winter Returns Again, Amanda Frost
Amanda Frost
Amanda Frost Artwork
95 Piper Drive, Red Deer, AB
[email protected], 403-596-6372
Additional Hours: Friday 5 pm to 8 pm
Amanda's artwork is bold and beautiful, from landscapes, to animals, or a combination of the two. Photographs are often used for reference, but colours from nature's palette are often improvised and enhanced. Her work can be seen at the A+ Gallery in downtown Red Deer.
Marlene Kallstrom-Barritt
Kallstrom Studio
5750 – 41 Street Crescent (West Park), Red Deer, AB
www.kallstromstudio.com, 403-307-3620
www.facebook.com/kallstromstudio
***Shortened Hours for Sunday, 1 pm to 4 pm
Marlene explores several water-based art mediums to create mixed media art that combines abstraction and realism. In other words, she plays with an alarmingly growing amount of art supplies to make paintings of familiar subjects done differently. Lately, she's been waxing watercolours and working on a new series.
DEMO: explaining waxed watercolours (and showing off latest art supply purchase)
The downloadable list of artists is available HERE.
The Red Deer Arts Council is a publicly funded, non-profit organization with a mandate to support all art forms and raise the profile of the arts in the community.
Laughter Returns to Red Deer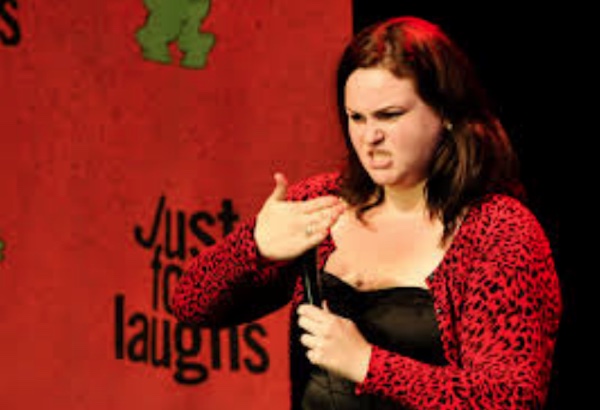 For the better part of the last two years, laughter has been hard to come by. Live entertainment came to an abrupt halt, with no certainty of when it would return.
The wait is finally over.
Not only are Central Alberta's venues reopening, they are bringing back live shows to the area. The Velvet Olive is once again bustling with live music many nights of the week. Bo's Bar and Grill is bringing huge acts back to the city. It's not just the music we missed though. Comedy is coming back in a big way.
Pre-pandemic, the longtime hub for comedy in Red Deer was the Heritage Lanes Lounge. Running for almost a decade, the room saw many of Canada's finest and funniest bring hilarity to town each and every Sunday. Now, for the first time since 2019, weekly stand up is back at The Lanes.
"Heritage Lanes is excited to be back hosting weekly 'Splits and Giggles' comedy", said Shelby Chrest, owner. "As the city's longest lasting comedy venue we feel it's important for our community to gather and socialize while supporting local."
"Splits and Giggles" launches Sunday, August 8th at 8PM at Heritage Lanes. Kicking off the first show is nationally renowned headliners Kathleen McGee and Sean Lecomber.
The Lanes won't be your only source of funny in the area, as many other shows are new or returning. The Radisson Hotel will be back to hosting monthly events beginning August 6th with Adam Ruby, and The Velvet Olive's "Fake Comedy Show" returns August 13th. When asked for comment, "Fake Show" producer Zachary Landry said "I'll get back to you in an hour." One hour later, "I was eating blueberries."
You'll also find monthly mirth at Red Hart Brewing and The Spot. And just outside the city, Sylvan Lake is in on the action, hosting Lisa Baker August 6th at Fireside Restaurant, and Longshot Comedy featuring Marc Anthony Sinagoga on September 10th at Lodge 43, as well as September 11th at The Fox & Hound in Innisfail.
With the support of venues like these, local comedians are thrilled to once again have places to hone their art. "During these lockdowns and restrictions, I realized how important laughter and friendship is to all of us", said Niek Theelen, local artist. "After months of shutdowns, it's invigorating to see Red Deer comedians come back with renewed energy and passion to make Central Alberta laugh again." Niek, like many others, had to pivot when stand up evaporated, so he began work on a documentary to be released next year through Telus Optik TV. "Love of the Game" will shine a light on disabled athletes and how they rise past their challenges to play the sports they love.
No matter how they filled the time though, nothing feels sweeter to a comedian than the stage and a hot crowd.
Shelby Chrest sums it up: "Laughter is contagious, we want to put smiles on faces and that's worth sharing!"