Red Deer RCMP seize stolen vehicles, weapons, and drugs in major bust
Red Deer RCMP – Investigation leads to significant recovery of stolen items, drugs
An investigation of two suspected drug traffickers has yielded a significant amount of illicit drugs, stolen property, cash and firearms.
In August, Red Deer RCMP's GIS Property Crime Unit executed search warrants at two separate residences within Red Deer. During the searches, investigators seized large amounts of methamphetamine, fentanyl, crack cocaine, psilocybin, and edible cannabis for the purposes of trafficking. Also seized were a number of stolen vehicles, all of which had the VIN or serial numbers altered to some degree. Police recovered a 2018 Mercedes, 2016 Dodge Ram truck, a 2016 Keystone Hideout travel trailer, and nine dirt bikes. The search also yielded nearly $17,000 in Canadian money, a loaded .44 Calibre handgun and a sawed off .22 calibre rifle.
"These are the types of prolific offenders our crime reduction strategy strives to identify, target and capture through projects like Pinpoint and our newly-created Property Crime Unit," said Superintendent Gerald Grobmeier. "I am extremely proud of the GIS Property Crime Unit for this seizure and its disruption to the drug trade in our city."
"A seizure of this size indicates illicit drug trade and other criminal activities that can have trickle down impacts on public safety in the community," said Sergeant Paul Glanville. "Any time we can get dangerous drugs and weapons off the street, as well as recover stolen property, we consider that a good outcome."
Jennifer Miller, 26, and Seth Bradley, 36, both of Red Deer, have been arrested and face charges relating to the seized drugs, property and weapons. Deanna Regnier, 64, of Red Deer is also facing charges related to the investigation.
All three individuals face the following charges:
Four counts of possession of a controlled substance for the purpose of trafficking
Multiple counts (5) pertaining to the possession of restricted firearms
One count for altering a serial number of a firearm
Miller and Bradley face the following charges:
Theft of property over $5,000
Multiple counts (6) pertaining to the possession of restricted firearms
Possession of currency obtained by crime
Unlawful possession of Cannabis for the purpose of selling
Bradley faces one additional firearm charge, and further charges related to the stolen vehicles are expected.
Police investigating how shooter got firearm after autopsy and balistic analysis
News release from the Edmonton Police Service
Autopsy on shooter, ballistic analysis complete in line of duty deaths
An autopsy on the shooter and ballistic analysis of the firearm have been completed in the Mar. 16, 2023 EPS line of duty deaths.
The Edmonton Medical Examiner conducted an autopsy on Mar. 22, 2023, and confirmed that the 16-year-old male shooter's cause of death was a single gunshot wound to the head consistent with being self-inflicted.
"We recognize that there is intense public interest in this investigation," says EPS Deputy Chief Devin Laforce. "At this time, our priorities need to be the integrity of ongoing investigations, including the origin of the firearm, as well as the safety and privacy of all the families affected by this tragedy. For these reasons, we are not releasing or confirming the name of the deceased."
A bullet casing recovered from the scene of a Mar. 12, 2023 shooting at a nearby restaurant in the area of 133 Street and 114 Avenue has been forensically matched to the firearm that was recovered at the 132 Street and 114 Avenue apartment, where Constable Brett Ryan and Constable Travis Jordan were fatally shot on Mar. 16, 2023.
Investigators believe the suspect in the Mar. 12 shooting to be the same 16-year-old male responsible for the deaths of the two EPS members, although this has yet to be confirmed. Detectives are also working to trace the origins of the firearm and how it came to be in the youth's possession.
At this time, investigators continue to believe that the youth's parents, police dispatch and Constables Ryan and Jordan had no information to suggest there was a firearm in the home when the family dispute call for service was made on Mar. 16.
"Both events have been served by robust investigations that have followed all lines of inquiry," says Deputy Chief Devin Laforce. "All tips and other investigative avenues were pursued exhaustively by the investigating teams."
The male shot on Mar. 12 in the restaurant remains in hospital in critical but stable condition, and the youth's mother who was shot on Mar. 16 remains in hospital in serious but stable condition.
Search of four Edmonton homes results in Cocaine and Meth bust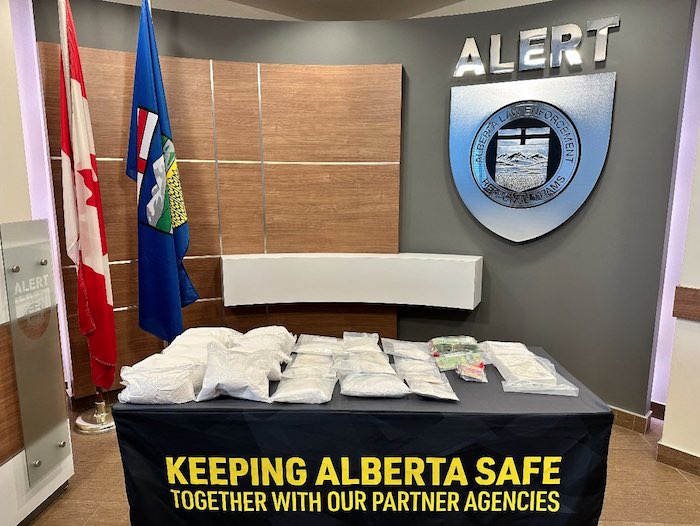 News release from the Alberta Law Enforcement Response Team (ALERT)
Cocaine seized after four Edmonton homes searched
More than two kilograms of cocaine, cash, and four vehicles have been seized following an ALERT Edmonton investigation into cocaine trafficking.
The investigation began in October 2022. Police were able to identify four homes and four vehicles linked to the drug trafficking operation.
"Through the course of this five-month investigation, officers were able to identify several suspects, and seized several pieces of equipment which were being used to produce large, commercial-sized quantities of product. This tells us that this was a much bigger, sophisticated operation," said Sgt. Jeff Woodliffe, ALERT Edmonton.
On February 23, 2023, police searched four homes and seized the following items as evidence:
2.6 kgs of cocaine;
28 grams of methamphetamine;
10 kgs of a cocaine buffing agent; and
$11,000 in cash.
The investigation remains ongoing as investigators prepare reports and disclosure for Crown Counsel.
The Edmonton Police Service assisted throughout the investigation.
Members of the public who suspect drug or gang activity in their community can call local police, or contact Crime Stoppers at 1-800-222-TIPS (8477). Crime Stoppers is always anonymous.
ALERT was established and is funded by the Alberta Government and is a compilation of the province's most sophisticated law enforcement resources committed to tackling serious and organized crime.