Red Deer RCMP recognized for work with young offenders with FASD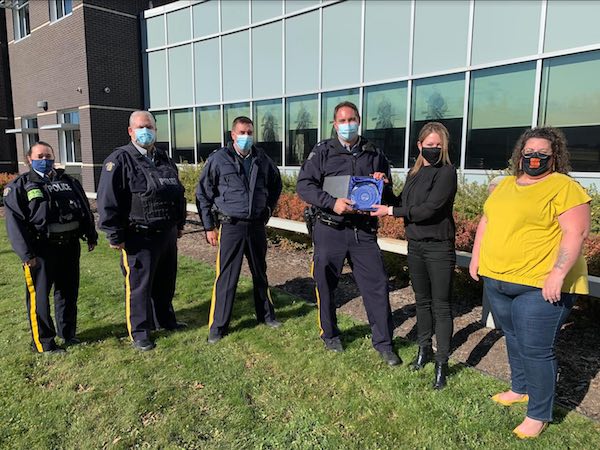 News Release from Red Deer RCMP
Red Deer RCMP receive 2021 FASD Champion Award
Members of the Red Deer RCMP's Community Policing unit were honoured with the Central Alberta FASD Network's 2021 FASD Champion Award last month.
Each year, the Central Alberta FASD Network recognizes a member of the community for their efforts to support and strengthen the FASD (Fetal Alcohol Spectrum Disorder) community. The FASD Network board, our employees and their clients nominate a person or organization that has made a significant impact on the FASD community.
"The team in Community Policing were unanimously chosen as the winner thanks to the incredible work they are doing and the impact they're making in Youth Restorative Justice," says Julie Nanson-Ashton, Executive Director. "Through this program, the officers divert youth who are involved in the Criminal Justice System to our network, where we can then assess, diagnose and provide support to youth with FASD through our Youth Restorative Practices Intervention Program/FASD Diversion Program."
Since its launch in 2020, this intensive and preventative program has successfully reduced the negative impact the justice system has on the individual, as well as reduces the youth's criminal activities in our community. By connecting these youth with the FASD Network, we are able to provide outreach services, supports and mentorship for not only the individuals, but their partners and caregivers. We work to address their underlying risk factors, creating better long-term outcomes for individuals impacted by FASD and their family.
"We are very thankful to be recognized for this award," says Cst. Francois Nadeau with Red Deer RCMP's Community Policing unit. "We recognize that FASD is the single biggest risk factor for youth crime and recidivism in Red Deer. That's why partnering with the FASD Network is so effective at diverting young offenders away from the criminal justice system. By supporting them with the skills and tools available in Red Deer, these youth are better enabled to build healthy, productive habits and much less likely to be involved with drugs, gangs and crime."
Fetal Alcohol Spectrum Disorder (FASD) is a diagnostic term used to describe impacts on the brain and body of individuals prenatally exposed to alcohol. FASD is a lifelong disability. Individuals with FASD will experience some degree of challenges in their daily living, and need support with motor skills, physical health, learning, memory, attention, communication, emotional regulation, and social skills to reach their full potential. Each individual with FASD is unique and has areas of both strengths and challenges.
UPDATE: Central Alberta man turns himself and his child into police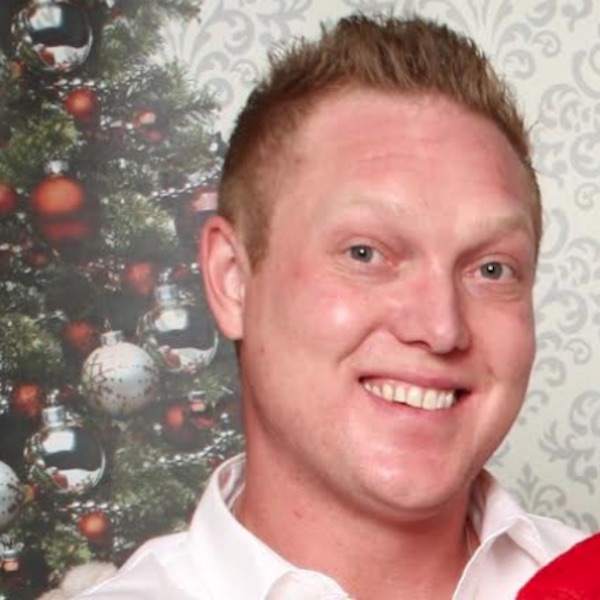 News Release from Alberta RCMP
Alberta RCMP would like to thank Albertans, the media and our partners in law enforcement for their assistance in this matter.
Dec 27, 2021, at 10:30 p.m. Malin Nyhus turned himself and his son Elijah into the Wetaskiwin RCMP Detachment.
Malin Nyhus will be held for a Judicial Interim Release hearing.
Updates will be provided when available. Elijah was turned over to the RCMP unharmed and to be reunited with his mother.
Background
News Release from Alberta RCMP

Alberta RCMP requests public assistance locating child after parental abduction
On Dec. 24, 2021 at approximately 3 p.m., Wetaskiwin and Camrose RCMP were dispatched to a report of a father contravening a custody order and believed to have abducted his 3-year-old son Elijah NYHUS.
Wetaskiwin RCMP's investigation indicates the Alberta Court of Queen's Bench had issued an order on Dec. 23, 2021, directing that Elijah was to be returned to his mother by 3 p.m. on Dec. 24, 2021. As indicated above, Elijah was not returned and his whereabouts still remain unknown.
Alberta RCMP have engaged the assistance of the Wetaskiwin RCMP General Investigation Section (GIS) and Wetaskiwin Crime Reduction Unit (CRU), as well as the assistance of municipal police agencies throughout Alberta to exhaust efforts to locate the father and son. Wetaskiwin RCMP do not believe the child is in danger of serious harm or death and as such, have not met the criteria for an Amber Alert.
On Dec. 26, 2021, Wetaskiwin RCMP GIS obtained a warrant for the arrest 35-year-old Malin Anthony Nyhus for:
Abduction – Contravening a custody order, Section 282(1) of the Criminal Code
Disobeying order of the court, Section 127(1) of the Criminal Code
Wetaskiwin RCMP GIS, with the assistance of other Alberta RCMP units, are actively trying to locate this father and son. RCMP believe Malin Nyhus may be travelling to southern Alberta and possibly into British Columbia.
Malin and Elijah were last seen in Red Deer, Alta., on the evening of Dec. 24, 2021.
Elijah Nyhus is described:
3'5"
Slim build
Red Hair
Brown eyes
Pale skin
Malin Nyhus is described:
6' – 6'3"
186 lbs – 230 lbs
Medium build
Blond Hair
Hazel Eyes
Malin Nyhus is believed to be operating an older model 2007 White Pontiac Grand Prix displaying British Columbia license plate: LRO-91K. The license plate may have been replaced with a non-registered Alberta license plate: CKY-4592.
There is concern for Elijah's well-being. If you have any information as to Malin or Elijah's whereabouts, please contact the Wetaskiwin RCMP at 780-312-7200 or your local police. If you want to remain anonymous, you can contact Crime Stoppers at 1-800-222-8477 (TIPS), online at www.P3Tips.com or by using the "P3 Tips" app available through the Apple App or Google Play Store.
Red Deer RCMP announce acting Officer in Charge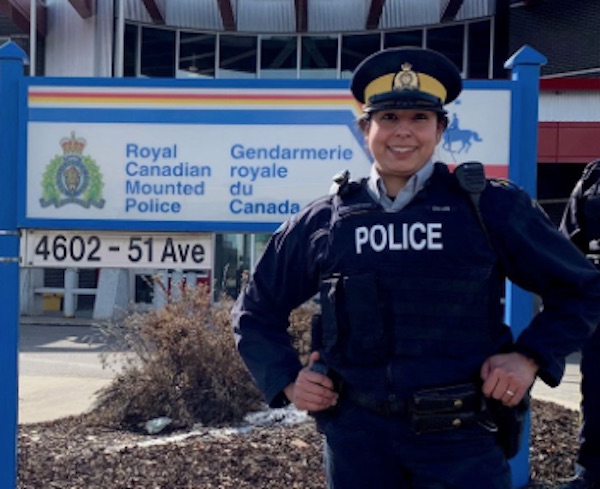 News Release from Red Deer RCMP
As of Dec. 17, 2021, Inspector Holly Glassford has taken on the acting Officer in Charge of the Red Deer RCMP role while the search for a new OIC takes place.
Insp. Glassford is filling the role following the retirement of Superintendent Gerald Grobmeier, who served as Red Deer's OIC for nearly three years. Insp. Glassford has 23 years of service with the RCMP, and has served throughout Canada, including numerous postings in the Northwest Territories, Nova Scotia and Alberta. In 2019, she was appointed as the Operations Officer for the Red Deer detachment.
"I am pleased to serve as the interim Officer in Charge for Red Deer," said Inspector Glassford. "As we head into a new year, I look forward to continuing the great work the Red Deer RCMP is doing to support and protect our community."
The OIC hiring process is currently underway, and Inspector Glassford is expected to be in the role until the position is filled.