Red Deer Public teacher receives provincial award for infusing Indigenous culture into the classroom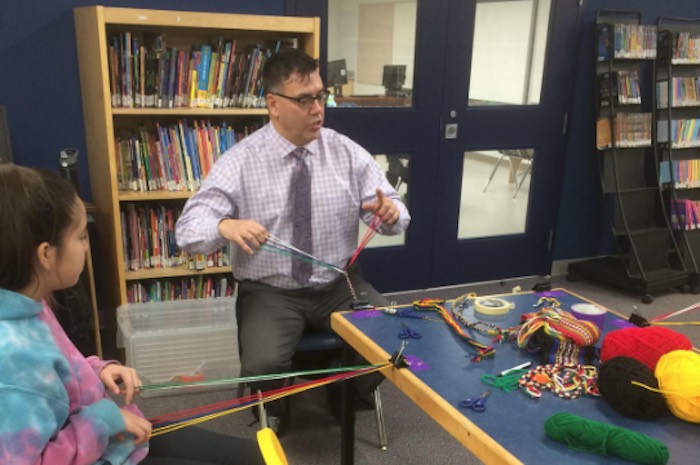 With a commitment to advancing Indigenous education in Red Deer Public Schools and across the province, and a passion for teaching students First Nations, Métis and Inuit culture, one local teacher has been recognized with a prestigious provincial award.
Terry Lakey, a teacher with Red Deer Public's Learning Services, has been awarded the Outstanding Indigenous Educator Award from the Alberta Teachers' Association – Indigenous Education Council.
"It was very exciting and I feel honoured to receive this award," said Terry, who added his inspiration comes from his mom. "I remember the day I told my mom I was going to be a teacher. She was over the moon, because mom, being an Indian Residential School survivor, was looking forward to me making the educational experience for children way better than what she experienced. I owe everything to her and her dedication to us as her six children that she raised."
Terry, who is in his 25th year of teaching, has been in his current role at Red Deer Public Schools for the last five years. He develops First Nations, Métis and Inuit classroom resources for Red Deer Public Schools. He is also sought after outside the Division to provide in-services and help develop resources in other school divisions across the province.
"We help develop curriculum, form relationships with elders and partners in our community, find resources for staff so they feel they are supported when it comes to presenting authentic and accurate information as it relates to their programs of studies at the grade levels they teach," he said. "It's all connected to what is taught in the classroom."
Terry said there are many aspects about his job that he loves. "My role allows me to exercise my creativity and to be able to provide staff or a student with resources I have developed or found through talking to an elder or knowledge keeper is really great. To have the permission to pass things on is a highlight of my job."
Relationships also play an important role in Terry's work.
"In order to put a curriculum out there that we feel is authentic and genuine, it always comes down to building relationships with individuals whose cultures are represented in our programs of studies. Part of our job is to connect with those individuals," he said. "Sometimes we can find elders or knowledge keepers or people with experience right in our own community, and if we can't because our curriculum is so vast, our job is to find people across the country or world who can help us offer information or perspective through the lens of those we are trying to represent."
In reflecting on his career success, Terry said he's had the honour of working with a great team of staff.
"I need to thank the many strong allies I've had in the past, whether it's an administrator, or a fellow colleague. I greatly appreciate every educational assistant I've had in my classroom, they are absolutely amazing. To make learning fun, dynamic and add variety, it's a shared vision and I am grateful for every person who I've had the privilege to work alongside," he said. "It takes a village."
Hayley Christen, Learning Services Coordinator, said Terry is passionate and dedicated to making learning hands on, fun and engaging to every student he teaches.
"He works extremely hard to ensure the lessons, resources and projects he brings to life connect authentic Indigenous voice to the identified outcome in the programs of study. He is well respected by Elders, knowledge keepers and others in the Indigneous community," she said. "I am inspired by his passion for his work and for the students and staff he serves. It is my honour and privilege to get to work and learn alongside Terry each day."
Della Ruston, Associate Superintendent of Learning Services, said Terry is an enthusiastic and effective Indigenous educator who goes above and beyond in everything he does.
"Terry builds strong relationships with students, colleagues, and his community by helping to increase their understanding of Indigenous culture and traditions," she said. "Terry exemplifies the four Rs of Indigenous education; respect, relevance, reciprocity, and responsibility."
Chad Erickson, Superintendent, said Terry's recognition is very deserving.
"We are very proud of the work Terry does in our schools," he said. "He is a passionate educator that ensures our students are engaged in high quality, authentic learning opportunities."
DeSantis to expand law critics call 'Don't Say Gay' into HS
Florida Gov. Ron DeSantis answers questions from the media in the Florida Cabinet following his State of the State address during a joint session of the Senate and House of Representatives, Tuesday, March 7, 2023, at the state Capitol in Tallahassee, Fla. DeSantis' administration is moving to unilaterally forbid classroom instruction on sexual orientation and gender identity in all grades, expanding the controversial law critics call "Don't Say Gay" as the Republican governor continues a focus on cultural issues ahead of his expected presidential run. (AP Photo/Phil Sears, File)
By Anthony Izaguirre in Tallahassee
TALLAHASSEE, Fla. (AP) — The administration of Florida Gov. Ron DeSantis is moving to forbid classroom instruction on sexual orientation and gender identity in all grades, expanding the controversial law critics call "Don't Say Gay" as the Republican governor continues a focus on cultural issues ahead of his expected presidential run.
The proposal, which would not require legislative approval, is scheduled for a vote next month before the state Board of Education and has been put forth by state Education Department, both of which are led by appointees of the governor.
The rule change would ban lessons on sexual orientation and gender identity from grades 4 to 12, unless required by existing state standards or as part of reproductive health instruction that students can choose not to take.
DeSantis has leaned heavily into cultural divides on his path to an anticipated White House bid, with the surging Republican increasingly pursuing a conservative agenda that targets what he calls the insertion of inappropriate subjects in schools.
Spokespeople for the governor's office and the Education Department did not immediately return an emailed request for comment.
The measure comes after DeSantis championed a law last year that prohibited instruction on gender identity and sexual orientation in kindergarten through third grade.
The law drew widespread backlash nationally, with critics saying it marginalizes LGBTQ people, and kicked off a feud between the state and Disney, which publicly opposed the law.
At the governor's request, the Republican-dominated Legislature voted to dissolve a self-governing district controlled by Walt Disney World over its properties in Florida, and eventually gave DeSantis control of the board in a move widely seen as a punishment for the company opposing the law. The board oversees municipal services in Disney's theme park properties and was instrumental in the company's decision to build near Orlando in the 1960s.
The rule change was first reported by the Orlando Sentinel.
ACAC Indoor Track Championship Day 2 Update, Queens win gold and Jenica Swartz takes home three top finishes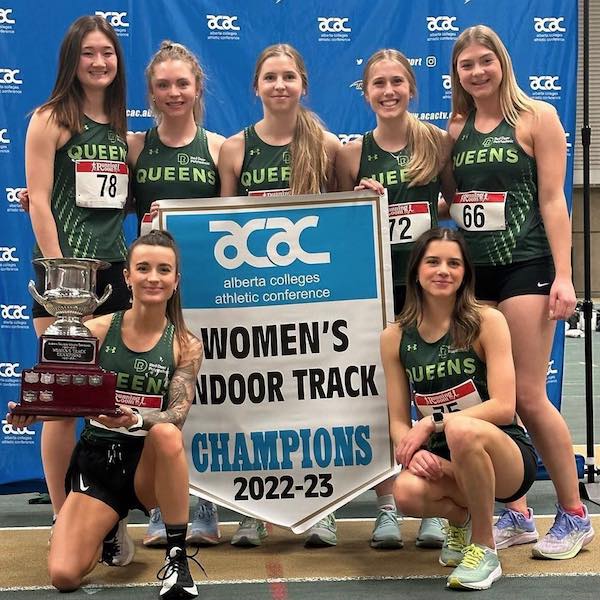 Gold medalist Red Deer Polytechnic Queens Track Team. Janice Swartz (top left) took 3 gold medals at the ACAC Indoor Track Championships
The Red Deer Polytechnic Queens Indoor Track Team are ACAC Champions as they took home multiple first-place finishes with Jenica Swartz (Bachelor of Science in Pre-Med) winning three individual gold medals and helping the relay teams to first-place finishes.
Day 2 started out very well for the Queens as Swartz picked up her third gold medal of the championship. She just beat out SAIT Trojans runner Jasmin Salmon by 73 milliseconds in the 600m. Loami Rautenbach finished fifth in the race. In the men's event, Ethan Duret (Bachelor of Commerce) placed fifth with a time of 1:27.39 which was 36 milliseconds off from the third-place runner, so it was a photo finish.
In the 1500m, Swartz was finally dethroned off the top podium position but still finished in second place as she crossed the finish line in just over five minutes. But the first-place runner from the Trojans broke the championship record with a time of 4:44. Myah Cota (Open Studies) and Justine Larson (Bachelor of Education) finished one after another for the second race of the championship as they crossed the finish line in fifth and sixth. Daniel Szucs (Bachelor of Business Administration) and Duret picked up sixth and seventh place respectfully which put points on the board for the Kings Indoor Track team. Jordan Coen (Open Studies) followed his teammates in eighth place with a time of 4:31.
The Queens 4x400m relay team took the top spot six seconds in front of the Trojans who took first place at the Grand Prix in Red Deer a month ago. This clinched the team victory for the Queens as they finished the championship with 81 points which were 17 points ahead of the second-place Trojans. The Kings relay team finished in fifth and the overall team just missed a medal as they finished the championship in fourth, four points out of third.
This caps off the 2022/2023 season for the Kings and Queens Indoor Track Team.