Red Deer Public Schools adding "Student Support Room" for students desperately needing to take a break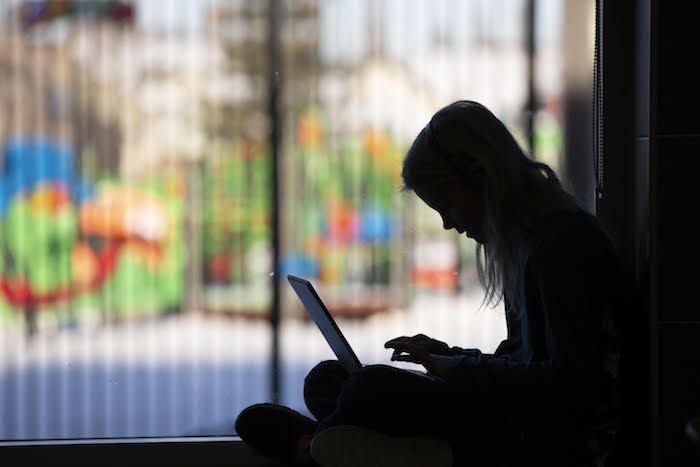 Red Deer Public to expand its wrap-around services this fall
Red Deer Public will be adding a new element to its wrap-around services in most elementary, K – 8 and middle schools for the 2023/2024 school year. The introduction of a Student Support Room, which will be overseen by a full-time certified teacher, will be meeting the needs of hundreds of students across the Division.
Student Support Rooms will allow students a safe space to regulate on a short or longer term basis, depending on their needs at that specific time. Regulation activities may include release of 'big emotions', exercise, snack breaks, sleep, or any activity allowing for connection with an adult or other students. The teacher will use purposeful activities to teach social skills, reduce anxiety, and assist students in feeling a sense of belonging, connection, and preparedness for learning.
"Staff will work hard to ensure that these rooms are a safe and caring space for all students. It is neither a reward or a punishment space, but a tool for any students to use, without stigma, to engage in targeted activities while creating positive connections," said Nicola Golby, Associate Superintendent of Student Services with Red Deer Public, adding the funding for Student Support Rooms was approved as part of the 2023/2024 budget. "We want to provide a safe space for students to release frustration while maintaining their dignity by allowing for some privacy. This also allows for instruction in the classroom to continue, and provides some additional support to the classroom teacher."
Golby added the Division heard from families that this initiative was a need.
"It was something the Division had been piloting prior to COVID-19, found successful as meeting a need, and will be formalized and expanded," she said. "We want all students to reach their full potential, and some students might need breaks in the day or extra supports to make their journey through school successful."
All schools in Red Deer Public are currently equipped with a team of wrap around services, beginning with the School Learning Team. Members of the team include school administrators and educators, Community Liaison Workers or school counsellors, as well as academic support and other services, to ensure each and every student is well taken care of and are supported mentally, emotionally and physically. There are also excellent services provided by speech and language therapists, a contracted psychologist, and supports for students who are deaf or hard of hearing or visually impaired. This year, the Division hired three more staff to support mental health and increased counsellor time to help support students. In addition, the Division has a partnership with Alberta Health Services for therapists who can be accessed both in school and within the community. The Student Support Rooms will enhance the supports already provided in schools.
"It's important that we support the whole child, while giving them an excellent education," said Golby. "This helps set each student up for success in the future."
Red Deer Public's Behaviour Support Team has begun hosting a series of Lunch and Learn presentations at each school to give an overview of the initiative and to answer questions staff may have.
THE JACKPOT IS OVER $14000 AND THE WINNER WILL TAKE HALF!!!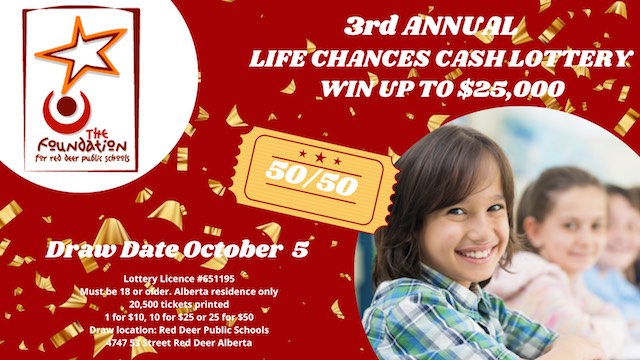 GET YOUR 50/50 TICKETSTODAY!!!! Winner could take home up to $25,000!!!
The Foundation for Red Deer Public Schools supports programs that have a significant impact on the LIFE CHANCES of students across the Division. By purchasing a ticket to support our 50/50 cash lottery you are giving students opportunities to have better life chances.
From giving kids a Bright Start to school to reconnecting with students so they graduate and cross the Finish Line, the Foundation helps students who face challenges in school and makes things better. We motivate struggling students and inspire them to read and write through Reading College. For students who come to school without basic needs, we give them that needed Step Up.
With the support from the Foundations 50/50 Life Chances Raffle, you are providing a student with opportunities that will improve their life. They can't always control the situations they're in but with your help students will continue to have these chances.
Don't miss your chance, CLICK HERE to buy your tickets today – Draw will be held on October 5! Good luck!
NOTE: This raffle is open to all community members in Alberta and over the age of 18.
The Red Deer Polytechnic Alumni Association is inviting you to Palate: A Taste of Local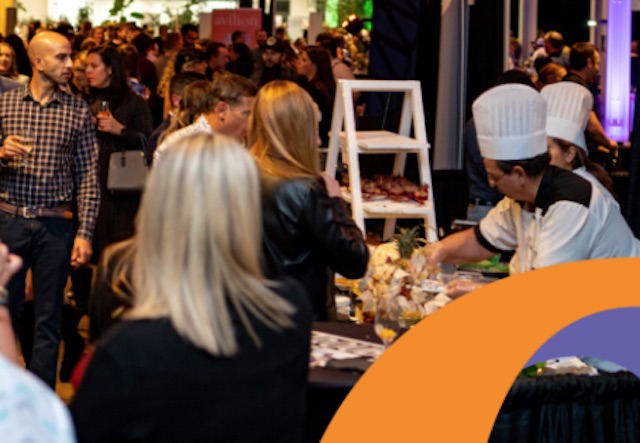 Palate: A Taste of Local is an elegant tasting experience, featuring 35 food and beverage vendors from across central Alberta. This award-winning event will take place on October 19. Do you have your tickets yet? Your ticket includes everything you need for a full tasting experience, with no hidden costs. Consider treating your team, your clients, or your friends and family to a night out while supporting our local business community, RDP Alumni Relations and RDP students at this year's kick-off to Homecoming – Palate: A Taste of Local!
Get your tickets now! Please note, this event is 18+.
This signature event, presented by the Red Deer Polytechnic Alumni Association (RDPAA), provides an elevated tasting experience, with a focus on local food producers, craft breweries and distilleries and restaurateurs. At Palate, we celebrate the amazing vendors and alumni businesses that call Central Alberta home. If you're interested in seeing your name on this event, sponsorship opportunities are still available, with more information here.
Check out everything happening Homecoming Weekend at RDP
Palate: A Taste of Local
Thursday, October 19, 2023
Cenovus Energy Learning Common | Red Deer Polytechnic
Palate: A Taste of Local is an elegant tasting event that builds on the well-established reputation of the Fine Wine and Food Tasting Festival. We've combined the elegant experience you have enjoyed in the past with new elements we know you are going to love. This redesigned special event recently received national recognition, earning a silver medal in the annual Canadian Council for the Advancement of Education Prix d'Excellence!
Your ticket is all-inclusive, providing access to all of the items available from every vendor attending the Palate. There are no extra costs – the only thing you have to worry about, is how you will be able to sample everything.
Begin your evening with a champagne toast as you enter the event space. Palate vendors will offer a variety of food items, including sweet, savoury and international dishes, as well as small batch spirits, craft beer and soda, hand-crafted cocktails and mocktails, and other beverages.
Guests will immerse themselves in central Alberta's local food and beverage culture, meeting the makers, owners and mixologists that bring these flavours to life while networking with other alumni and guests.
---
2023 Vendors
Blindman Brewing

Bo's Bar & Stage

Caballo Blanco

Café Millennium

The Curvy Bottle

Cilantro & Chive

C Zone Coffee

Dark Woods Brewing and Coffee Roasting

Delidais Estate Winery (DNA Gardens)

Field and Forge Gastro Pub

Hash & Forno

The Hideout

Jumble Eats

May Cakes

Memphis Blues Barbeque House

Moxies

Occam's Razor

One Eleven Grill

Oodles of Chocolates

Pampa Brazilian Steakhouse

Pupuseria Cristy

Red Deer Resort and Casino

Red Deer Polytechnic Cook Apprentice Program

Red Hart Brewing

Riverbend Golf & Recreation

Sawback Brewing

Share-a-tea

Silver Devil

Snake Lake Brewing

Solarzano Spa Café & Wine Bar

State & Main

Sunterra

Stems Flowers & Café

Troubled Monk

Wild Brewing
---
---
Looking for Additional Information?
Thank you to our Palate: A Taste of Local 2023 Sponsors