Red Deer Lights the Night to return in modified format for 2021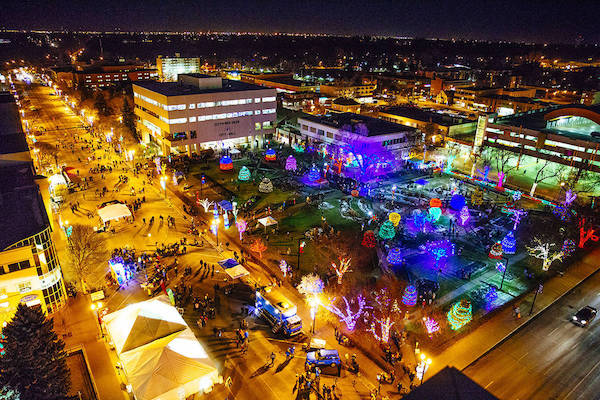 This year, Red Deer Lights the Night means not just lighting up one night, but many. Starting November 19, Red Deerians are invited to explore the greater downtown to discover festive lights, beautiful holiday decorations and activities to enjoy throughout the Christmas season.
Highlights include:
 Light displays at City Hall Park, Ross Street Patio, Capstone – starting November 19
 Winter Market, hosted by the Downtown Business Association – November 18 – 20
 Best in Snow pet photo contest, hosted by Capstone – November 20 – 27
 Christmas in Capstone – starting December 1
 Christmas Craft Drive-Thru, hosted by Family Services of Central Alberta – Saturday, December 4
 Late Night Shopping, hosted by the Downtown Business Association – Thursday, December 9
 "Shinny" rink and "milk jug curling" at Central Middle School – Ice rink to be installed as weather permits
 Trivia contests
 Santa's Bus Tour and photo contest (see below) – December 10, 11, 17, 18
 World Junior skate day at Bower Ponds – Saturday, December 18, 3 to 5 p.m. There will be a learn to skate area, hot chocolate and other fun surprises. Proudly supported by Hockey Canada, Central Alberta Refugee Effort (CARE), Red Deer RCMP, The City of Red Deer, and Red Deer Emergency Services.
A video showcasing the beloved lights and decorations in City Hall Park will be shared on The City's social media channels so Red Deerians can enjoy the view safely and from the warmth and comfort of home.
The annual festivities would not be complete without an appearance from Santa, and The City is pleased to announce the return of Santa's Bus Tour. On four different December evenings (December 10, 11, 17 and 18), Santa and his crew will tour city neighbourhoods while riding a Red Deer Transit bus. Route maps are available on The City's website and the MyBus app. Red Deerians can share photos of Santa's Bus Tour on social media with #rdlights for a chance to win a prize. Please note:Residents are reminded to follow physical distancing guidelines and asked to remain in front of their own homes, if possible, while watching for Santa's Bus Tour.
"After great success last year, we're excited to once again bring Christmas spirit directly to neighbourhoods with Santa's Bus Tour," said Bobby-Jo Stannard, Community Development Superintendent. "And, we're pleased to invited Red Deerians to enjoy an expanded holiday light display throughout greater downtown."
For more information and updates on Red Deer Lights the Night festivities, presented by Red Deer Downtown Business Association and The City of Red Deer, visit www.reddeer.ca/rdlights and follow The City on social media.
Downtown shoppers could win $1,000.00 a week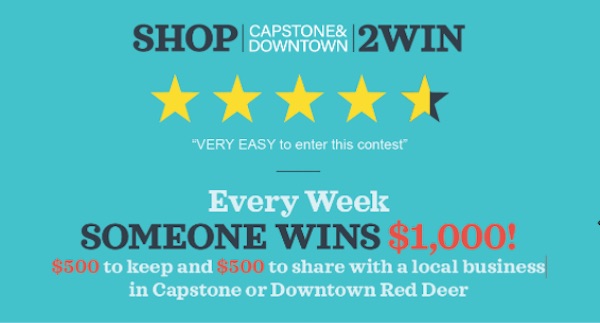 Support local
businesses in
Capstone &
Downtown Red Deer
Save receipts of $25 or more
(including taxes)
Upload photos of all
your receipts weekly
Digital receipts, third party delivery app receipts and Google reviews are all acceptable entries.
City Council to hear arguments for and against extending homeless shelter at Cannery Row for 2 more years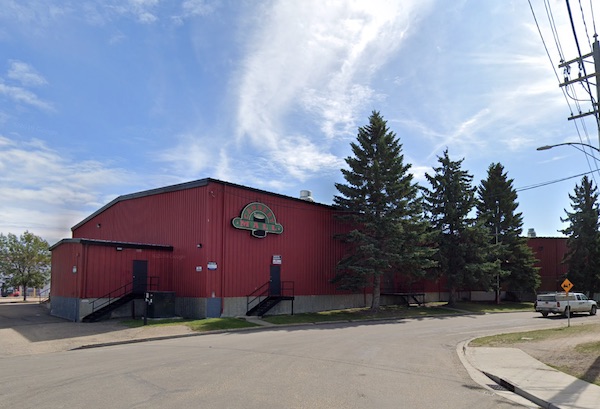 Public Hearing set for Land Use Bylaw amendment for temporary emergency housing
A Public Hearing is now set for January 17, 2022 at 4 p.m. following Council's approval of first reading of a Land Use Bylaw (LUB) amendment today. The amendment being considered is to allow for continued operations of the temporary emergency housing site at Cannery Row (5239 53 Avenue) until February 1, 2024.

The existing site exception for the temporary emergency housing site expired on September 30, 2021, and it is now operational through an executive order following the declaration of a State of Local Emergency (SOLE) in place up until February 15, 2022.

As part of the Public Hearing process, neighbours within 100 meters of the site will receive a letter from the administration inviting them to submit feedback on the amendment. The general public is also invited to provide feedback in advance or during the Public Hearing. Those wishing to provide feedback during the Public Hearing on January 17, 2022 are invited to attend the online Council meeting at 4 p.m.. Full details on the Public Hearing and how to provide feedback will be uploaded to The City's site in the coming weeks. Details will be available at www.reddeer.ca/publichearing.
Council received an update on the current emergency housing status in the community on December 1, 2021. Administration had explored all opportunities for relocating the temporary site, but no viable solutions were available. The report outlined the need for full spectrum housing in the city, the goal is to have a permanent purpose-built emergency housing site in Red Deer operational within two years. Funding is in place and steps are underway with the province to make this a reality for the community. A location for the permanent site has not been decided. This Land Use Bylaw amendment would facilitate a temporary emergency housing solution at the current location until the permanent site is operational.
For background information on the temporary emergency housing site, visit www.reddeer.ca/emergencyhousing.