Stettler resident wins Red Deer Hospital Lottery Dream Home
Stettler's Debbie Greiner is one lucky lady! This morning she was announced as the winner of this year's Dream Home, built by Sorrento Homes and furnished by The Brick.
The Red Deer Hospital Lottery helps to raise funds for programs, services and the purchase of medical equipment. This year, the funds will be used to purchase new technologically advanced patient beds.
What's in a bed? Springs, foam, air, water, feathers? …new technology for hospital beds has far more options than these! If you or a loved one has stayed in a hospital you quickly discovered that one-size does not fit-all in terms of a bed.
Innovations have improved safety, comfort and functionality while reducing pain, pressure points and skin breakdown. Red Deer Hospital Lottery 2018 is dedicated to providing this new technology for patients at the Red Deer Regional Hospital Centre.
These new beds will extend to fit a larger compliment of the population served by the Red Deer Hospital. They will also lower, allowing easier access for shorter patients. This helps to prevent falls and slipping. Air surfaces can be adjusted to the firmness the patient requires to suit his/her comfort and therapy needs. New bed fabric – considerably more breathable – will lead to enhanced comfort and reduced sweating. Plus, unique air inflation options will make repositioning in bed easier for immobile patients. This not only optimizes patient comfort, it reduces strain and effort by caregivers while repositioning or performing other care activities.
From a safety perspective, newer beds have sensitive alarms that tell staff if a patient is about to get up without assistance. This alerts the nursing staff to attend to the person's needs much sooner than the inevitable "bump" of a patient falling against something. The same alarm will identify when the mattress needs to be inflated to a therapeutic setting, which also supports patient comfort and safety. Finally, our new beds will have a very practical safety feature: a light under the bed illuminating the floor and any potential tripping hazards while not distracting from the need for sleep.
Red Deer Hospital Lottery 2018 is continuing to support this exciting technological advancement at the Red Deer Regional Hospital Centre, as the 2017 campaign was able to fund for half the beds required, with 49 left to purchase!
The 2018 Red Deer Hospital Lottery Dream Home, designed by Sorento Custom Homes, combines classic design with modern luxury. This $839,895 corner lot bungalow features 2,917 sq ft of developed living space, high vaulted ceilings, a screened sunroom, private side entrance, and a big double garage. But, there's more! Enjoy your cozy main floor library, or start the day fresh in your own yoga room. Plus! This year's home comes with furnishings provided by The Brick valued at $35,000. Our Dream Home is located in the gorgeous new community of Laredo, on the south east corner of Red Deer.
Todayville is proud to be a sponsor of this year's Red Deer Hospitals Lottery.
Pop-up Spray Parks – City bringing family fun to your neighbourhood this summer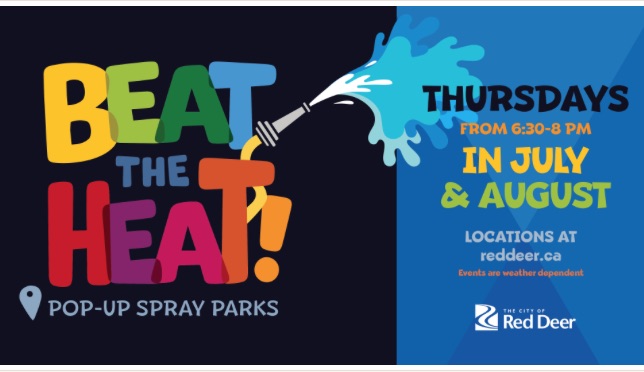 Pop-up spray parks are back this summer
Pop-up spray parks are gearing up again in Red Deer, set to visit eight neighbourhoods across the city this summer. The first pop up is set for this Thursday, July 7 at Barry Wilson Elementary School.

Families and friends are invited to join Red Deer Emergency Services, Municipal Policing Services and the Red Deer RCMP to beat the heat at pop-up spray parks every Thursday this July and August.

Each spray park will run every Thursday from 6:30 – 8 p.m., visiting neighbourhoods across the city as follows:
| | | |
| --- | --- | --- |
| Date | Location | Address |
| July 7 | Barry Wilson Elementary School | 300 Timothy Drive |
| July 14 | G.H. Dawe School | Holt Street & 59 Avenue |
| July 21 | St. Francis of Assisi School | 321 Lindsay Avenue |
| July 28 | Anders Park | Ayers Avenue & Anders Street |
| August 4 | Kentwood Park | Kendrew Drive & Kent Street |
| August 11 | Don Campbell Elementary School | 99 Irving Crescent |
| August 18 | Joseph Welsh Elementary School | 4401 – 37 Avenue |
| August 25 | Johnstone Park | Jordan Parkway & Jennings Crescent |
Events are weather dependant and will be cancelled if weather warnings are in place. The City will provide updates on social media each week if events are in question due to weather.
Information and schedule are available online at www.reddeer.ca/PopUpSprayParks.
For more information, please contact:
Corporate Communications
The City of Red Deer
Complete list of winners of the 2022 Red Deer Hospital Lottery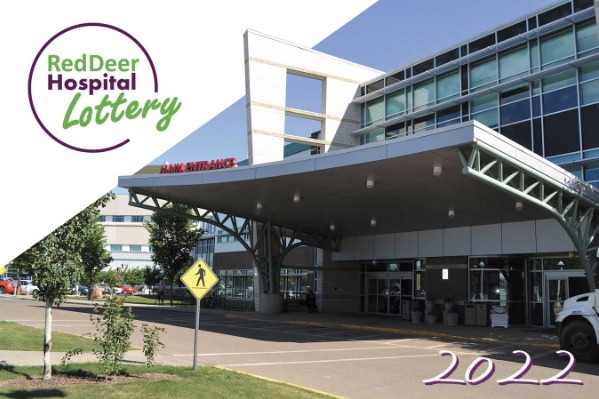 Congratulations to our 2022
Grand Prize Dream Home Winner!
Congratulations to our 2022
Mega Bucks 50 Winner!
RICHARD PEART of Red Deer Alberta with Ticket Number RDHH800236043 is this years Mega Bucks 50 Prize $332,280.00!
| Ticket | First Name | Last Name | City | Prize |
| --- | --- | --- | --- | --- |
| RDHD400123017 | CECILE | ASHLEY | RED DEER | Cash Prize $1000.00 |
| RDHC302106007 | LYNDA | HAND | LACOMBE | Cash Prize $1000.00 |
| RDHB201583004 | DAN & WENDY | KOYICH | SYLVAN LAKE | Cash Prize $1000.00 |
| RDHB201030004 | BOBBI & JOHN | WILLIAMS | MILLET | Cash Prize $1000.00 |
| RDHC301217004 | JACK | WESSELMAN | STETTLER | Cash Prize $1000.00 |
| Ticket | First Name | Last Name | City | Prize |
| --- | --- | --- | --- | --- |
| RDHB201467002 | CAROL | RAMAGE | PENHOLD | SodaStream Source Sparkling Water Maker Package |
| RDHC302228002 | ALLISON | FINDLAY | CALGARY | SodaStream Source Sparkling Water Maker Package |
| RDHD401875014 | SHAUNA | MARTIN | RED DEER | SodaStream Source Sparkling Water Maker Package |
| RDHC300237007 | PERRY | PARKER | RED DEER | SodaStream Source Sparkling Water Maker Package |
| RDHD400651022 | BRENDA | FISCHER | RED DEER | SodaStream Source Sparkling Water Maker Package |
| RDHD401747013 | MICHAEL | WALLACE | BENALTO | SodaStream Source Sparkling Water Maker Package |
| RDHC300105010 | N. | LAMBERT | RED DEER | SodaStream Source Sparkling Water Maker Package |
| RDHB207799005 | JACKIE | FRASER | SYLVAN LAKE | SodaStream Source Sparkling Water Maker Package |
| RDHC302216005 | MARION | LAVALLEE | LACOMBE | SodaStream Source Sparkling Water Maker Package |
| RDHD400202017 | RICHARD | KLASSEN | RED DEER | SodaStream Source Sparkling Water Maker Package |
| RDHD400257004 | STACEY | SCHAFER | CALGARY | Hand-crafted Willlow Bird Feeder |
| RDHD401498010 | Jesse | Paulsen | Red Deer | Hand-crafted Willlow Bird Feeder |
| RDHD401380017 | STAN | PROHL | RED DEER COUNTY | Hand-crafted Willlow Bird Feeder |
| RDHD401922004 | GARY | BAGSTAD | ROCKY MOUNTAIN HOUSE | Hand-crafted Willlow Bird Feeder |
| RDHC300291007 | GILLIAN | EVANS | SYLVAN LAKE | Hand-crafted Willlow Bird Feeder |
| RDHD401727023 | PAT | WHITE | WATER VALLEY | Hand-crafted Willlow Bird Feeder |
| RDHC301635008 | GAIL & GARRY | KUNSTMAN | STETTLER | Hand-crafted Willlow Bird Feeder |
| RDHD401089017 | ROLAND | CYRE | RED DEER COUNTY | Hand-crafted Willlow Bird Feeder |
| RDHC301140004 | KATHLEEN | SVEDERUS | RED DEER COUNTY | Hand-crafted Willlow Bird Feeder |
| RDHB208001002 | Melanie | Holland | Red Deer | Hand-crafted Willlow Bird Feeder |
| RDHA101392001 | JUDITH | BABCOCK | EDMONTON | MOZA Mini-MI Handheld Smartphone Gimbal with Wireless Charging |
| RDHD401556007 | RED AND KAREN | SORENSEN | STETTLER | MOZA Mini-MI Handheld Smartphone Gimbal with Wireless Charging |
| RDHB200207005 | CAL & JANICE | MCGUCKIN | DRUMHELLER | MOZA Mini-MI Handheld Smartphone Gimbal with Wireless Charging |
| RDHD400079002 | ASHLYN | ABEL | BLACKFALDS | MOZA Mini-MI Handheld Smartphone Gimbal with Wireless Charging |
| RDHD400597004 | YVONNE | WICKBERG | BLUFFTON | MOZA Mini-MI Handheld Smartphone Gimbal with Wireless Charging |
| RDHB203064004 | LORI | ZULTOK | EDMONTON | MotoMaster Jump Starter Safety Kit. 44 pc |
| RDHB200277003 | MONTY | CARTER | SYLVAN LAKE | MotoMaster Jump Starter Safety Kit. 44 pc |
| RDHC303802003 | JIM | PARSONS | TEES | MotoMaster Jump Starter Safety Kit. 44 pc |
| RDHB207735004 | RODNEY | ROSEVEAR | SUNDRE | MotoMaster Jump Starter Safety Kit. 44 pc |
| RDHB208068005 | LAURIE | PITTENDREIGH | RED DEER COUNTY | MotoMaster Jump Starter Safety Kit. 44 pc |
| RDHC300688009 | ARLENE | COMO | ROCKY MOUNTAIN HOUSE | $250 Superstore Gift Card |
| RDHD400187017 | ROBERT | ROE | CARDSTON | $250 Superstore Gift Card |
| RDHB204576005 | ADELE | WALDO | RED DEER | $250 Superstore Gift Card |
| RDHB201338002 | GERALD R | QUANTZ | ECKVILLE | $250 Superstore Gift Card |
| RDHB202424002 | MARIE | KOSIK | OLDS | $250 Superstore Gift Card |
| RDHB202312005 | BERT & GRACE | LETOURNEAU | OLDS | $250 Superstore Gift Card |
| RDHD400674019 | DOUGLAS | SKOREYKO | RED DEER | $250 Superstore Gift Card |
| RDHD401186022 | GARY | CROCKER | ERSKINE | $250 Superstore Gift Card |
| RDHB205297001 | JUSTIN | MELCHIOR | BLACKFALDS | $250 Superstore Gift Card |
| RDHB203047001 | MYRA AND/OR JAMES | CRONE | SYLVAN LAKE | $250 Superstore Gift Card |
| RDHB203151003 | JOYCELYN | BAZA | RED DEER | $250 Superstore Gift Card |
| RDHB203845002 | JENNIFER | TOMNUK | RED DEER | $250 Superstore Gift Card |
| RDHB203032003 | CINDY | BOHNET | RED DEER | $250 Superstore Gift Card |
| RDHC303646008 | GLENN A | ENGELHARDT | DUFFIELD | $250 Superstore Gift Card |
| RDHB204358005 | KLARA | COZENS | RED DEER | $250 Superstore Gift Card |
| RDHB201136004 | GLORIA | ZUKIWSKY | RED DEER | $250 Superstore Gift Card |
| RDHD400798012 | DENISE | SUMNER | LACOMBE COUNTY | $250 Superstore Gift Card |
| RDHB200606001 | DONNA | KOOIMAN | RED DEER COUNTY | $250 Superstore Gift Card |
| RDHD401739008 | NEHAL | RAWAL | EDMONTON | $250 Superstore Gift Card |
| RDHC300928001 | LARRY & LORETTA | OXAMITNY | KIRRIEMUIR | $250 Superstore Gift Card |
| RDHB200423004 | MARY | GLENN | RED DEER | $250 Superstore Gift Card |
| RDHD401190008 | IAN | BREWSTER | RED DEER | $250 Superstore Gift Card |
| RDHD400344002 | DUANNE | HRONEK | HALKIRK | $250 Superstore Gift Card |
| RDHB202373003 | NORRIS & LAURIE | TAIT | ERKSINE | $250 Superstore Gift Card |
| RDHD400801012 | MAHASRI & PRIYANI | WEERASOORIYA | EDMONTON | $250 Superstore Gift Card |
| RDHC302101010 | VENTA | CARLSON | RED DEER | $250 Superstore Gift Card |
| RDHD401000001 | GAIL | SANDERS | STETTLER, ALBERTA | $250 Superstore Gift Card |
| RDHB203085003 | ROB | PORKKA | RED DEER | $250 Superstore Gift Card |
| RDHB200768005 | DEAN | PEACOCK | AMISK | $250 Superstore Gift Card |
| RDHD400406016 | JEFF & DOLORIS | MCALLISTER | WARBURG | $250 Superstore Gift Card |
| RDHC300962007 | LENA | WILLSON | RED DEER | Keurig Coffee Maker |
| RDHB207257001 | JOHN | HEYNEN | CALGARY | Keurig Coffee Maker |
| RDHD400986009 | GLENN | ALWARD | RED DEER | Keurig Coffee Maker |
| RDHC302011003 | KIMBERLY | CARYN | BENTLEY | Keurig Coffee Maker |
| RDHC300284001 | BARBARA | MALEY | RED DEER | Keurig Coffee Maker |
| RDHB201664001 | GLENDA | MILNE | DIDSBURY | Instapot 8Qt. Duo Crisp Pressure Cooker |
| RDHD400135017 | CLARENCVE | VERVEDA | ALIX | Instapot 8Qt. Duo Crisp Pressure Cooker |
| RDHC301389005 | CALVIN | SWARBRICK | LACOMBE | Instapot 8Qt. Duo Crisp Pressure Cooker |
| RDHD400218003 | WAYNE | NORTON | SHERWOOD PARK OUTER SOUTHWEST | Instapot 8Qt. Duo Crisp Pressure Cooker |
| RDHB200667002 | GORDON | HUTCHINSON | RED DEER | Instapot 8Qt. Duo Crisp Pressure Cooker |
| RDHD401883025 | DIANNA | WALLS | RED DEER COUNTY | DJI Mini SE Drone Flycam |
| RDHB200152001 | LEONARD | FLAMAN | CALGARY | DJI Mini SE Drone Flycam |
| RDHD401519025 | CAROL F | JAFFRAY | RIMBEY | DJI Mini SE Drone Flycam |
| RDHB200611002 | SONJA | VIS | OLDS | DJI Mini SE Drone Flycam |
| RDHA105415001 | BRAD | MCNEILL | YELLOWKNIFE | DJI Mini SE Drone Flycam |
| RDHD401643005 | JODY | PETTIGREW | SYLVAN LAKE | Family Games Night Package |
| RDHD401193021 | BRUCE | BURUMA | RED DEER | Family Games Night Package |
| RDHC301134010 | MICHELINE | ANDERSEN | CALGARY | Dyson Pure Cool Me Air Purifier Fan |
| RDHC302614008 | ALBERT & JEAN | MAPPIN | BYEMOOR | Dyson Pure Cool Me Air Purifier Fan |
| RDHD401905011 | MATILDA | KLEINSASSER | RIMBEY | Dyson Pure Cool Me Air Purifier Fan |
| RDHB202008001 | CURTIS | ELLIOTT | RED DEER | Dyson Pure Cool Me Air Purifier Fan |
| RDHD401721022 | DANIELLE | DOBSON | RED DEER | Dyson Pure Cool Me Air Purifier Fan |
| RDHC300745004 | KATHARINE | BARR | RIMBEY | Acer Chromebook Spin 11.6 |
| RDHD401044007 | HAILEY | MACKENZIE | LACOMBE | Acer Chromebook Spin 11.6 |
| RDHB200564002 | MIKE AND LAURA | ONEILL | RED DEER | Acer Chromebook Spin 11.6 |
| RDHD400761003 | ERIKA | JOHN | EDMONTON | Acer Chromebook Spin 11.6 |
| RDHC303399007 | ANTONIA | INDENBOSCH | LETHBRIDGE | Acer Chromebook Spin 11.6 |
| RDHD400312022 | MIKE | FROLEK | THREE HILLS | Canvas Sydney Egg Swing |
| RDHD400644020 | BARRY | WENGER | CALGARY | Canvas Sydney Egg Swing |
| RDHD400186009 | BRIAN | PHIPPEN | WESTEROSE | Breton Outdoor Fire Pit Table 40,000 BTU |
| RDHC300027006 | LINDA | BRYANT | RED DEER | Breton Outdoor Fire Pit Table 40,000 BTU |
| RDHC303829002 | JOHN | GAFFNEY | LEDUC | Camping Accessories & Spikeball Game |
| RDHB207937005 | JACK | GIBB | HIGH LEVEL | Camping Accessories & Spikeball Game |
| RDHD400081009 | SHELLEY | BLACK | LACOMBE | Dyson V11 Torque Cordless Vacuum |
| RDHB201420004 | RICHARD | OST | LACOMBE | Dyson V11 Torque Cordless Vacuum |
| RDHB207535004 | ANTHONY W | PETRUNIA | RED DEER | Dyson V11 Torque Cordless Vacuum |
| RDHB202180003 | GLEN AND BETTY | MACE | RED DEER COUNTY | Dyson V11 Torque Cordless Vacuum |
| RDHB201962005 | DOUG | MARCHMENT | LACOMBE | Dyson V11 Torque Cordless Vacuum |
| RDHC300279007 | DAVID AND MARY | CHAFFIN | RED DEER COUNTY | $1,000 Scooter/Skateboard Gift Card |
| RDHD400217007 | KEN | NELSON | RED DEER | $1,000 Gift Card for Skiing Accessories |
| RDHC301383006 | TERRY | WELTY | RED DEER | Canvas Bala Section Patio Furniture Set. 6 pc |
| RDHD400527023 | JIM | SHERBINO | RED DEER COUNTY | LG 55 4K HDR Television |
| RDHB202633005 | LINDA | STANGER | DRUMHELLER | LG 55 4K HDR Television |
| RDHD401083018 | VERNA | GALLIVAN | VALLEYVIEW | LG 55 4K HDR Television |
| RDHB205046001 | SHIRLEY | GRADEN | WETASKIWIN | LG 55 4K HDR Television |
| RDHC303677010 | GLENN | PIERCEY | RED DEER | LG 55 4K HDR Television |
| RDHD401115013 | LORRAINE | HORLICK | CALGARY | LG 55 4K HDR Television |
| RDHD401767018 | LINUS | HOLLMAN | CALGARY | LG 55 4K HDR Television |
| RDHC302171002 | GRAHAM | VANDERWATER | RED DEER | LG 55 4K HDR Television |
| RDHC303048006 | CANDACE | WILSON | BENTLEY | LG 55 4K HDR Television |
| RDHB207658004 | RANDY | BROADHEAD | SHERWOOD PARK | LG 55 4K HDR Television |
| RDHD401418014 | DAVE | NELSON | EDSON | Panasonic Chair with Heated Foot & Calf Massage |
| RDHC301567010 | AUDREY L | DAINES | INNISFAIL | 2022 GMC Yukon SLT |