Red Deer Golf & Country Club to host the 2022 Canadian Men's Senior Championship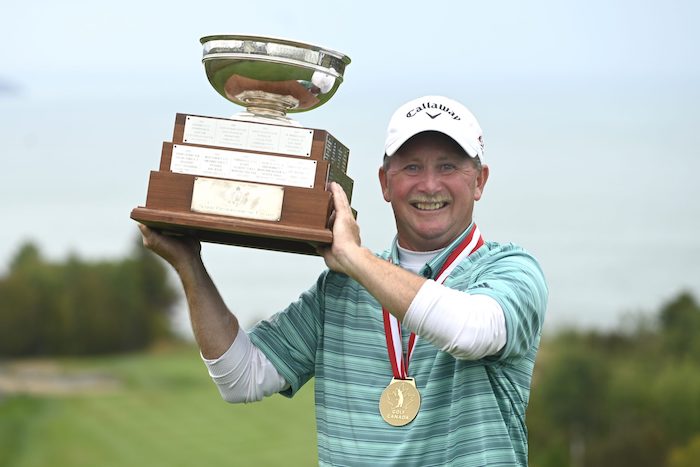 Photo Courtesy Golf Canada
News release from the Red Deer Golf & Country Club
BREAKING 100, A CHERISHED PAST, AND EXCITING FUTURE
Celebrating 100 Years of Golfing Excellence
The Red Deer Golf & Country Club is celebrating their 100th Anniversary. A variety of club events will be held this summer to recognize the various aspects of the Club's connectivity to the local community, and the golf community locally, provincially, and nationally.
In September, the Red Deer Golf & Country Club will be hosting the Canadian Men's Senior Championship September 5th – 9th, 2022. It will be one of the marquee events culminating a season of golfing experiences for the storied Red Deer Golf & Country Club (RDGCC).
The Canadian Men's Senior Championship has been held since 1962 and has become one of Canada's most popular amateur golf events. One hundred fifty-six male amateur golfers aged 55 or over will qualify for this national championship by qualifying at the various Provincial championships held across the country. The field will include the finest Canadian Senior Golfers as well as some discretionary international exemptions. The champion will earn a coveted exemption into the 2023 U.S. Senior Amateur Championship.
Over 150 volunteers from both the Red Deer Golf & Country Club and the community will be on hand to host the National and International competitors and their families. Registration information and further history of the Championship, including past winners, can be found on the Golf Canada web site at 2022 Canadian Men's Senior Championship. Registrations opened in March 2022.
The origins of Red Deer Golf & Country Club date back to July 3, 1919. The first course was located on leased land on what is now known as West Park Estates. At that time, the six fairways were quite short, and the Club had to install extra fencing to keep the cattle out. Sheep were acquired to keep the greens trimmed, and gophers left several unplanned holes throughout the course. Realizing the need for a better property and more land to enhance the golfing experience, 175 acres of land was purchased to the north across the Red Deer River. The course was organized on its current site in 1922 and is among the 150 oldest continuously active golf courses in Canada.
The Red Deer Golf & Country Club held an official opening for the new course and Clubhouse on August 22, 1922, while hosting the inaugural Central Alberta Amateur Golf Tournament,
Alberta's oldest continuously running men's three-day amateur tournament Red Deer Golf & Country Club has hosted numerous provincial and national championships over its 100-year history, including the Canadian Women's Amateur Championship in 2019. "The legacy of hosting the Canadian Men's Senior Championship will provide our members, guests and the community of Red Deer and central Alberta with an unparalleled golf and social experience and will provide an opportunity to enhance the sport of golf further;" said Hugh McPherson. -2022 Canadian Men's Sr. Championship Host Committee Chair.
UPDATE: Red Deer family found – safe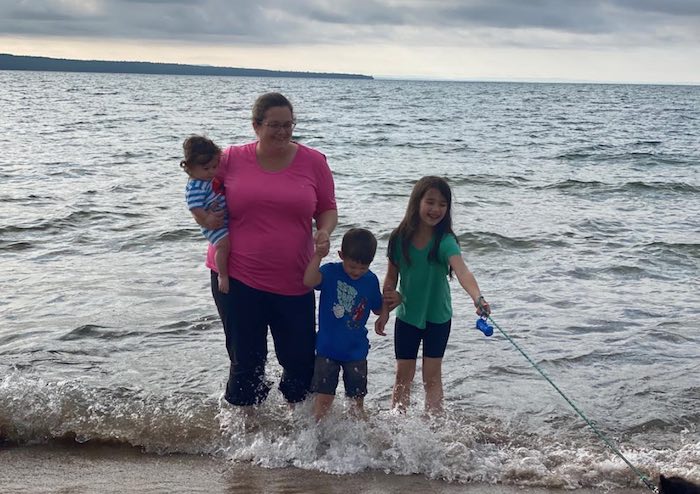 UPDATE!
RCMP are pleased to report that Susan, Deckard, Ryker, Emma, and Charlee have all been located safe. We would like to thank the public and media for their assistance.
Release from Red Deer RCMP
Red Deer RCMP request public assistance to locate missing mother with four children
On Dec. 5, 2022, Red Deer RCMP received a report from a concerned school representative that the whereabouts of a number of students from a family from Red Deer were unknown under concerning circumstances. The children were last seen in school earlier on Dec. 5, 2022.
Red Deer RCMP conducted an investigation and despite all efforts have been unable to locate Susan Lynn French (38) and her four children: Deckard French (11-months-old), Ryker French (3-years-old), Emma French (9-years-old) and Charlee French-Frank (12-years-old). Red Deer RCMP are concerned for their well-being. The family's current whereabouts are unknown.
Susan French is described as:
5'8" tall
240 lbs
Light complexion
Brown hair
Brown eyes
Deckard French (11 months) is described as:
Longer dark brown hair
Hazel eyes
Light complexion
Ryker French (3) is described as:
Short light brown hair
Blue eyes
Light complexion
Emma French (9) is described as:
Long dark brown hair
Brown eyes
Light complexion
Slim build
Charlee French-Frank is described as:
Long brown hair
Brown eyes
Light complexion
It is believed Susan may be driving a White 2014 Nissan Pathfinder bearing Alberta license plate CJS 5362.
Anyone with information concerning Susan or the children's whereabouts is asked to contact the Red Deer RCMP Detachment at 403-406-2200. If you want to remain anonymous, you can contact Crime Stoppers at 1-800-222-8477 (TIPS), online at www.P3Tips.com or by using the "P3 Tips" app available through the Apple App or Google Play Store.
First place Rebels host Tigers Wednesday then it's Friday Funday vs the Oil Kings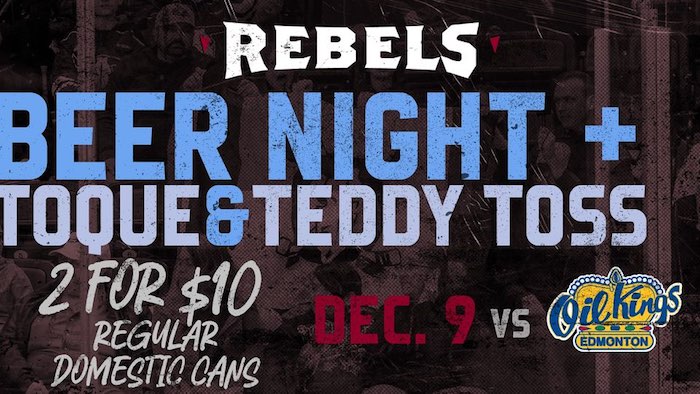 REBELS THIS WEEK Submitted by the Red Deer Rebels
FRIDAY FUNDAY
Lot's going on this Friday, December 9 when the Edmonton Oil Kings visit the Peavey Mart Centrium, including the annual Toque & Teddy Toss!
After the Rebels first goal, throw your toques, mitts, scarves, and teddys onto the ice, in support of the Red Deer Christmas Bureau. (Please place all items inside a plastic bag before launching!)
Beer Night is also back, with 2 for $10 domestic regular cans available wherever beer is sold on the concourse.
Then after the game, stick around for the full team autograph session!
Visit reddeerrebels.com or ticketsalberta.com to make sure you're in the rink for this big night!
EYE ON THE TIGERS
The Medicine Hat Tigers return to the Peavey Mart Centrium this Wednesday, December 7 at 7 p.m. The Rebels have earned three of a possible four points versus the Tigers so far this season (1-0-0-1).
TOP OF THE TABLE
The Rebels are the second team in the WHL to reach 40 points on the season with a record of 18-5-1-3. Red Deer continues the sit atop the Central Division standings, nine points up on Lethbridge, and is second overall in the WHL Eastern Conference.
WHO'S HOT?
Kai Uchacz continues to lead the way offensively for the Rebels. With three more assists last weekend, the Okotoks native leads Red Deer with 33 points on the season. He remains tied for second in the WHL with 18 goals.
Hunter Mayo is tied for first amongst all WHL defenceman with 10 goals on the season, including seven power play tallies which ties him for fourth in the entire WHL
Christoffer Sedoff recently became the 14th Rebels defenceman to record 100 career points. The Helsinki, Finland native is riding a four-game point streak (1 goal, 4 assists).
HOCKEY FOR THE HOLIDAYS
This holiday season, give the gift of an experience with a night out at the Rebels game! This holiday package includes your choice of grey or black toque with either two or four game night vouchers to be used at any 2022-2023 regular season game. Each voucher may be used for a single ticket of any type of admission to a 2022-2023 regular season Rebels game redeemable through the Tickets Alberta box office in the Peavey Mart Centrium.