Red Deer family rocked by cancer diagnosis seeks support from the community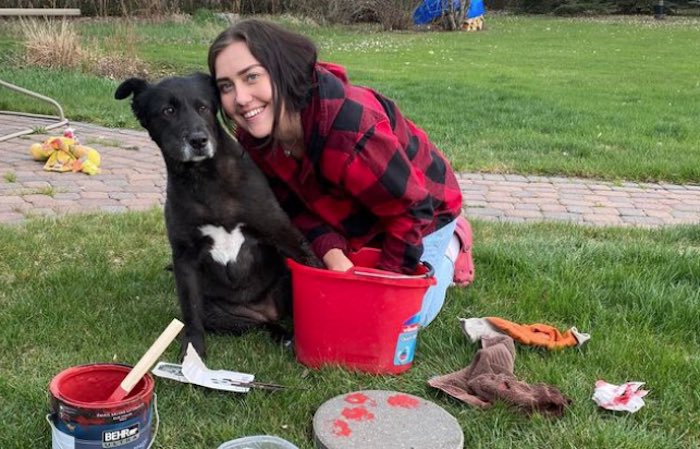 With permission from
Abby Marie Maurier
I am reaching out to you today to let you know that my beautiful daughter Abigail has just been diagnosed with cancer. She has Lymphoma, which is cancer of the lymphatic system and she also has a large mass on her right lung.
What I'm asking for is a variety of support in these ways:
1. Have you or someone you know been diagnosed with cancer, specifically Lymphoma and do you have information you can share about treatement, top clinics etc.
2. Are you someone that has information that you can share towards her holistic healing? She will require postive lifestyle changes such as nutrition, meditative yoga, massage, etc.
3. Can you help support Abigail's journey by contributing towards her fundraiser in order to help her prior to treatments, during and afterwards.
4. Your prayers, intentions, love and support is greatly appreciated
5. Please share this post so we can reach as many supporters as possible
I am a warrior Mama Bear on a mission to heal my daughter and I won't stop at anything. I believe healing is possible, I believe in the power of community and love and I believe that together, all of us will help heal her in some special way.
Hello, my name is Nicole and I am fundraising for my beautiful daughter Abigail. Abigail was recently diagnosed with Lymphoma, which is cancer cells in the lymph system, and she also has a large mass on her right lung.
She is a young beautiful woman, age 24 and she graduated as a Cardio Tech in 2021 and has been enjoying her work at the hospital tending to cardio patients with the utmost love and care. She has just started her journey in life, residing with her long-term boyfriend Gus in their home with their 2 bunnies, Biggie and Peaches. Abigail also has a dog named Kyah, who is with her in the photo.
Anyone who has been blessed to cross paths with Abigail knows how special she is. She radiates light and love where ever she goes and has a heart of gold. Ever since she was a baby, I have called her my earth angel.
With her recent diagnosis and as her mother, I am asking for your help to please contribute what you can towards her journey with cancer. The funds will be used to allow her to take time off work and focus on her health and treatment. We are looking into a variety of cancer clinics in order to offer her the best outcome possible because she is so deserving of a life of longevity and living cancer free.
Another important part of Abigail's healing is providing her with proper nutrients, wholesome foods, meditative yoga, massage therapy and other holistic treatments to strengthen her body which the funding will help support.
Your contribution is received with gratitude and appreciation and I thank you with all of my heart for your donation to help my daughter.
Gateway Christian students experience life changing trip to Dominican
Students from Gateway Christian School recently returned from a life changing trip to the Dominican Republic as part of their Intercultural Studies program.
Gateway's 2023 Co-Impact Team, which included 13 students, two staff and an additional chaperone, spent 10 days on the ground over Spring Break connecting with other students and families to help to build a basketball court and physical education area at the Pena de Horeb school via Edudeo Ministries. Pena de Horeb is primarily a Haitian school, serving the students and families amidst a very poor Haitian neighbourhood. In the months leading up to the trip, Gateway students raised funds to help assist with the build. Gateway also spent a significant amount of time building relationships with and learning from students and staff at their partner school, El Colegio Cristiano Reformado Los Guandules.
"Service is an important part of the culture at Gateway, and this experience was the culmination of that. The Co-Impact Team fundraised not only for their trip, but also for funds to go towards the school we worked on in the Dominican Republic," said Geannette Lehman, Principal at Gateway Christian School. "The trip was part of their Intercultural Students class, which they receive credit for. We met weekly at 7:15 a.m. to complete aspects of the Intercultural Studies course, bond as a team, and prepare craft lessons and activities to teach students at the school in the Dominican. It was not only a great experience in the Dominican, but in preparing for the trip as a team as well."Alexa Huska, Gabe Gillies, and Kate Stober were three students who were part of the Co-Impact Team.
"It was really neat to connect with my fellow Grade 12 students," said Alexa. "We've gone to school together since we were kids, so to have an experience like this together was really special. We were able to connect on a deeper level."
Gabe added it was humbling to see how grateful those in the Dominican Republic were, even for the smallest things. "They have little compared to us, and they are just so happy," he said. "They are grateful for the things they have and they don't stress about the small stuff."
Kate agreed. "They have so much joy, and nothing mattered other than just being with one another," she said.
Ultimately, it was a great experience for all involved.
"The kids were greatly impacted by seeing the world through another lens. Our lens is so different from those around the world," said Geannette, adding she is proud of her students. "They gave up their Spring Break, immersed themselves in another culture, and represented Gateway and Red Deer Public so well."
To read Gateway's Co-Impact Team's blog of their experiences, click here.
Run/Hike for Red Deer Hospice Takes Place This Sunday at Bower Ponds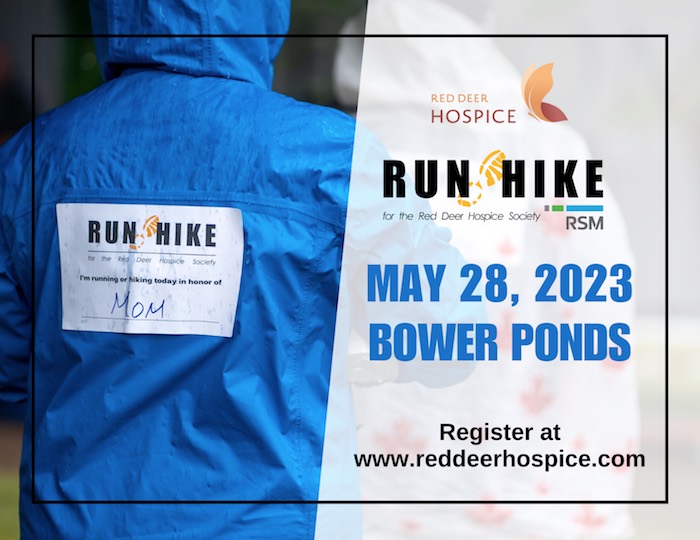 News release from Red Deer Hospice
Red Deer Hospice's 16th Annual Run/Hike event, presented by RSM Red Deer, will take place at Bower Ponds this Sunday.
Registration will open at 9:00am and those wishing to run, walk or stroll the 1km, 3kms or 5 kms will start at 10:00am. A light breakfast and hot, post-race lunch, provided by Mr. Mikes, will be available to participants and live entertainment will be provided by the band Fun House in the amphitheater.
"This will be a day to remember and reflect, while taking in the natural beauty of the trails in and around Bower Ponds," said Jerri Taylor, Executive Director of Red Deer Hospice. "As our main fundraiser for the year, our goal is to raise $38,000." Proceeds and donations will go towards Red Deer Hospice's mission of supporting a peaceful and compassionate end-of-life journey.
Online registration on the Red Deer Hospice website will close at 3:00pm on Friday, May 26, 2023. Those interested in participating in this year's Run/Hike event who have not registered can do so in person on Sunday morning at Bower Ponds.
For more information, visit www.reddeerhospice.com.