Red Deer area sees most rain in 50 years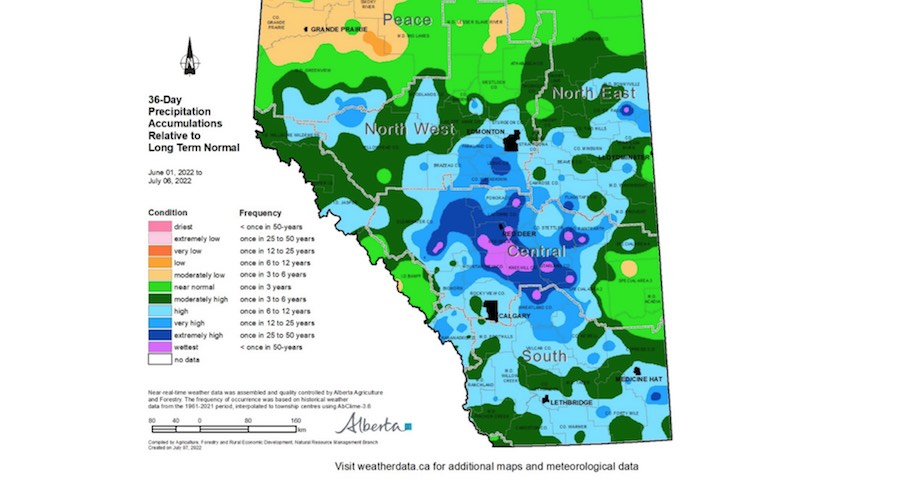 Agricultural Moisture Situation Update July 6, 2022
Synopsis
Since the last report issued on June 29, 2022, precipitation has been highly variable across the province. A large area that includes Edmonton and Red Deer received well over 40 mm. Across the Southern Region most lands received over 20 mm. Throughout much of the Peace Region conditions have remained on the dry side with many locales receiving less than 5 mm. Similarly across the Special Areas, conditions have remained dry with several stations recording less than 5 mm. (Map 1)
Map 1
Precipitation since June 1 2022
June rains brought an abrupt and welcome end to the drought conditions experienced throughout most of 2021.
Most of the province's growing areas have now received well over 75 mm since June 1st, with a large swath of land west of Red Deer reporting well over 200 mm (Map 2). For most lands, from the Yellowhead Highway down to the US border, weather this wet (over this time frame) is seen less than once in 6-12 years, with some lands in the once in 50-year category (Map 3).
Map 2
Map 3
In sharp contrast, conditions are beginning to dry out across much of the Peace Region, following a relatively wet start to the growing season (Map 4), which had many fearing the wet conditions would persist.
Map 4
Since June 1st, many lands across the Peace Region have received between 40 and 60 mm (Map 2). This is enough to sustain growth, but rain will be needed soon in some areas to ensure that moisture does not become a limiting factor to plant growth. Similarly, parts of the Special Areas are also in need of moisture, with 75 mm falling since June 1 on very dry soils. While rainfall has been adequate and meaningful in this area, soil moisture reserves are low and plants will be very reliant on continued rain in the days ahead.
90 and 15-day temperature trends
So far this year has been characterized as having consistently below average temperatures, with most agricultural areas experiencing temperatures this cool on average, at least less than 1 in 6 years (Map 5). During May, cool weather helped to reduce moisture stress on young plants in the face of very dry conditions lingering from 2021;
however, ample moisture has now fallen across most areas and warm weather will be needed in the weeks ahead to achieve optimal growth and speed maturity ahead of fall frosts. Unfortunately, in the wake of the much needed rains, the cool trend has continued over the past two weeks (Map 6).
Perspective
There is still lots of time ahead of fall frosts to have weather related problems for this year's crop; however, for the most part, moisture is currently adequate throughout the provinces growing areas and is now trending towards excessive through large parts of west central Alberta. Despite moderately dry conditions in the Peace Region and through parts of the Special Areas, 2022 has been a good year for growing crops, so far. In fact, the last crop report issued on June 27th, has ranked 2022 near the 5 and 10-year averages for this time of year, rating 75.2% of Alberta's crops as "good" to "excellent".
As July and August unfold, warm weather and near normal rainfall will help ensure that crop growth remains on track.. With adequate moisture in the ground in many areas, most crops are now able to withstand some short duration dry spells.
U.S. launches second USMCA dispute panel as dairy battle with Canada goes to Round 2
WASHINGTON — The United States is filing another formal dispute over what it considers Canada's failure to live up to its trade obligations to American dairy farmers and producers.
It's the second time the U.S. has launched such a dairy-driven escalation, formally known as a dispute settlement panel, in less than two years.
U.S. Trade Representative Katherine Tai says the new panel has become necessary because Canada has so far refused to take the steps necessary to properly address the first one.
That panel ruled in December 2021 that Canada was indeed violating the terms of the U.S.-Mexico-Canada Agreement with the way it was allocating import quotas for U.S. dairy products.
U.S. trade officials and dairy industry advocates say a large share of those quotas were being allocated to processors rather than producers.
The U.S. says the federal government amended its policies, but that the new procedures remain "inconsistent" with the terms of the agreement, known as USMCA in the U.S. and CUSMA in Canada.
"The Canadian government's revised measures have not fixed the problem," Tai said in a statement announcing the decision. "Canada made commitments to the United States in the USMCA, and the Biden-Harris administration is ensuring that they honour those commitments."
This report by The Canadian Press was first published Jan. 31, 2023.
The Canadian Press
Why the News Block on the Plight of Dutch Farmers?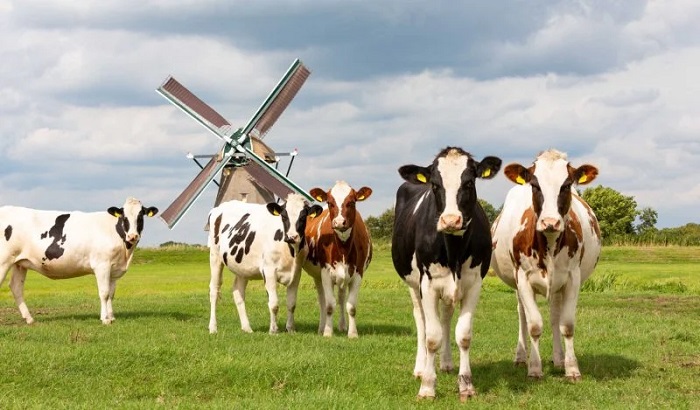 BY
MICHAEL AMUNDSEN
God made the world, but the Dutch made Holland. This truism has guided Dutch identity and its republican virtue. When the ingenious Dutch reclaimed land from the sea it was for farms and these farms and farmers have fed the Dutch people, Europe and the world for centuries.
The picture displayed here is Paulus Potter's famous work The Bull.
Created in 1647, Potter was 22 when he painted it and not quite 30 when he died. Renowned for its massive size, detailed realism including dung and flies and as a novel monumental picture of an animal, The Bull is understood as a symbol of the Dutch nation and its prosperity.
The Dutch Golden Age resulted in part from the creation of the Dutch Republic carved out by overcoming Spanish rule in the Netherlands. The little Dutch Republic became a global naval power and cultural force. The Dutch were classical liberals and believed in individual liberties like freedom of religion, speech and association.
The Dutch Republic was noted for economic vibrancy and innovation including the emergence of commodity and stock markets. The newly minted bourgeoisie spurred the first modern marketplace for artists to sell their work and freed them from the necessity of commissions from the Church and aristocracy. This is reflected in the subject matter of much Dutch Golden Age art with its depiction of everyday life. Potter's painting is from this era.
But his work reveals another truth. The Dutch Golden age was impossible without its farms. Food is the foundation of any successful civilization, which is why the news that the Dutch government plans to shut as many as 3,000 farms for the sake of a ''nitrogen crisis'' is so puzzling.
As Natasja Oerlemans of the World Wildlife Fund-Netherlands recently stated, ''We should use this crisis to transform agriculture." She went on to state that the process will require several decades and billions of euros to reduce the number of animals.
So, what in fact is the issue with nitrogen and Dutch farming?
The nitrogen crisis is a bureaucratic and muddled affair which is now and will increasingly impact all of Dutch society. In 2017 a small NGO, Mobilisation for the Environment, led by long-time environmentalist Johan Vollenbroek, went to the European Court of Justice (ECJ) to challenge the then current Dutch practices that protected natural areas from nitrogen pollution.
In 2018, the ECJ decided in a court ruling that the Dutch legislation, which allowed business to compensate for increases in nitrogen emissions with technical measures and restoration, was too lenient. The Dutch high court agreed with the ruling. In so doing almost 20,000 building projects have been put on hold, stalling the expansion of farms and dairies, new homes, roads, and airport runways. These projects are valued at €14 billion of economic activity.
Farming is intensive in the Netherlands because it is a small country with high population density. According to Science magazine ''Dutch farms contain four times more animal biomass per hectare than the EU average.'' But they also point out that ''Practices such as injecting liquid manure in the soil and installing air scrubbers on pig and poultry facilities have reduced ammonia emissions 60% since the 1980s.''
These mitigating systems are seen as insufficient in light of the court rulings. Ammonia is part of the nitrogen cycle and is a byproduct of waste from farm animals.
The great concern of environmental bureaucrats is the so-called ''manure fumes'' from livestock waste. Like methane from farting cows, manure fumes are the big thing and katzenjammer of the movement on meat and dairy.
Dutch farmer Klass Meekma, who produces milk from the goats he raises said recently, ''The nitrogen rules are eagerly being used by the anti-livestock movement to get rid of as many livestock farms as they can, with absolutely no respect for what Dutch livestock farms have achieved in terms of food quality, use of leftovers of the food industry, animal-care, efficiency, exports, know-how, economics and more.'' Meekma's goats produced more than 265,000 gallons of milk in 2019.
In many ways, Dutch farmers are the victims of their own success. Because Holland is small, farmers have needed to be innovative in the use of space which accounts for the higher levels of ''animal biomass'' compared with other European countries. Success in agricultural practices and food production has produced profits and a strong economic sector for the Dutch economy. Remarkably, the Netherlands is the second largest food exporter in the world.
The biggest push against Dutch agriculture comes from the climate change community and minister for nature and nitrogen Christianne van der Wal. She said in a letter to politicians in 2021, "There is no future (for agriculture) if production leads to depletion of the soil, groundwater and surface water, or degradation of ecosystems." She has announced new restrictions to cut nitrogen emissions in half by 2030, to meet international climate action goals.
Nobody wants runoff from farms harming streams and wildlife. But the focus on manure fumes; that is, nitrogen and ammonia seeping into the atmosphere and impacting the climate seems far more tenuous. Primeval Europe was like Africa's Serengeti, teeming with huge herds of ungulates like aurochs. Did their farting and waste ruin the climate?
The climate is changing. The climate has always changed. Bronze Age Europe, a particularly fecund cultural period, was markedly warmer than today.
It is curious that the farming sector is the focus of rollbacks while other polluters are being treated differently. Farmer Meekma states,
"Since then (the court rulings) our country has a so-called nitrogen crisis. It's ludicrous that the national airport Schiphol Amsterdam and lots of industrial companies have no nature permits, and farmers are now being sacrificed to facilitate these other activities."
"It's a real shame how farmers are being treated in the Netherlands. They are being pushed out to make room for industry, aviation, transportation, solar fields and housing of the growing numbers of immigrants.''
Most of the "saved" nitrogen emissions from government plans will be used to offset the increased emissions from building 75,000 houses. Only 30 percent will lead to real emission reductions.
Dutch Prime Minister and WEF luminary Mark Rutte acknowledged that the move on farming would have "enormous consequences. I understand that, and it is simply terrible."
There are many historical examples of political pressures on farming as harbingers of disaster, from Ukraine in the Soviet Union to Zimbabwe. Both were breadbaskets and exporters reduced to famine. Controlling food production is something that political ruffians always want to achieve. The nitrogen crisis is a struggle of urban ideologues versus traditional lifeways and rural self-sufficiency. Due to the war in Ukraine and supply-chain disruption from the covid pandemic, many people around the world are facing starvation. This is not the time for Europe to harm its best agricultural producer.
Dutch farmers are hip to when a nudge becomes a shove. The anti-meat ideologues want humans to subsist on grass cuttings and Bill Gates' lab-made gunk. Dutch farmers feed the world. Their plight is ours as well.
The nitrogen crisis has the waft of so much bullshit.