Red Deer area sees most rain in 50 years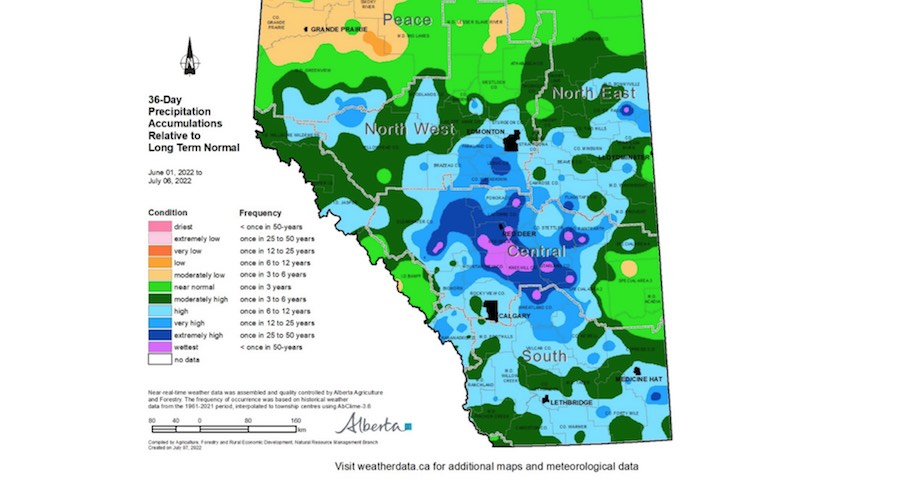 Agricultural Moisture Situation Update July 6, 2022
Synopsis
Since the last report issued on June 29, 2022, precipitation has been highly variable across the province. A large area that includes Edmonton and Red Deer received well over 40 mm. Across the Southern Region most lands received over 20 mm. Throughout much of the Peace Region conditions have remained on the dry side with many locales receiving less than 5 mm. Similarly across the Special Areas, conditions have remained dry with several stations recording less than 5 mm. (Map 1)
Map 1
Precipitation since June 1 2022
June rains brought an abrupt and welcome end to the drought conditions experienced throughout most of 2021.
Most of the province's growing areas have now received well over 75 mm since June 1st, with a large swath of land west of Red Deer reporting well over 200 mm (Map 2). For most lands, from the Yellowhead Highway down to the US border, weather this wet (over this time frame) is seen less than once in 6-12 years, with some lands in the once in 50-year category (Map 3).
Map 2
Map 3
In sharp contrast, conditions are beginning to dry out across much of the Peace Region, following a relatively wet start to the growing season (Map 4), which had many fearing the wet conditions would persist.
Map 4
Since June 1st, many lands across the Peace Region have received between 40 and 60 mm (Map 2). This is enough to sustain growth, but rain will be needed soon in some areas to ensure that moisture does not become a limiting factor to plant growth. Similarly, parts of the Special Areas are also in need of moisture, with 75 mm falling since June 1 on very dry soils. While rainfall has been adequate and meaningful in this area, soil moisture reserves are low and plants will be very reliant on continued rain in the days ahead.
90 and 15-day temperature trends
So far this year has been characterized as having consistently below average temperatures, with most agricultural areas experiencing temperatures this cool on average, at least less than 1 in 6 years (Map 5). During May, cool weather helped to reduce moisture stress on young plants in the face of very dry conditions lingering from 2021;
however, ample moisture has now fallen across most areas and warm weather will be needed in the weeks ahead to achieve optimal growth and speed maturity ahead of fall frosts. Unfortunately, in the wake of the much needed rains, the cool trend has continued over the past two weeks (Map 6).
Perspective
There is still lots of time ahead of fall frosts to have weather related problems for this year's crop; however, for the most part, moisture is currently adequate throughout the provinces growing areas and is now trending towards excessive through large parts of west central Alberta. Despite moderately dry conditions in the Peace Region and through parts of the Special Areas, 2022 has been a good year for growing crops, so far. In fact, the last crop report issued on June 27th, has ranked 2022 near the 5 and 10-year averages for this time of year, rating 75.2% of Alberta's crops as "good" to "excellent".
As July and August unfold, warm weather and near normal rainfall will help ensure that crop growth remains on track.. With adequate moisture in the ground in many areas, most crops are now able to withstand some short duration dry spells.
USAID head urges crisis-hit Sri Lanka to tackle corruption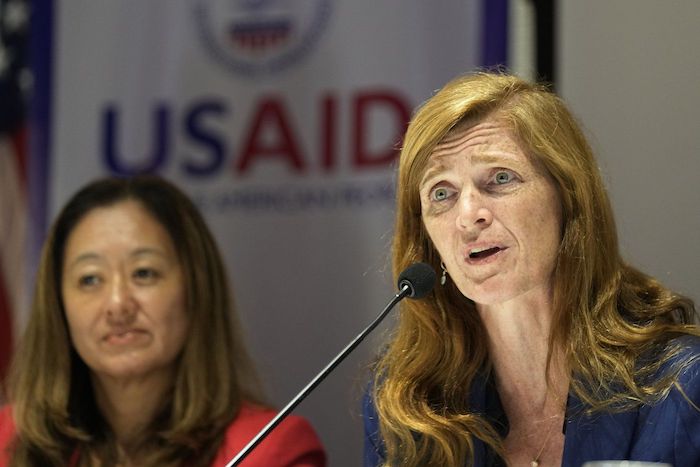 By Krishan Francis in Colombo
COLOMBO, Sri Lanka (AP) — A visiting U.S. diplomat on Sunday urged Sri Lankan authorities to tackle corruption and introduce governance reforms alongside efforts to uplift the country's economy as a way out of its worst crisis in recent memory.
USAID Administrator Samantha Power told reporters that such moves will increase international and local trust in the government's intentions.
"Assistance alone would not put an end to this country's woes," Power said. "I stressed to the Sri Lankan president in my meeting earlier today that political reforms and political accountability must go hand in hand with economic reforms and economic accountability."
She said that international investor confidence will increase as the government tackles corruption and proceeds with long sought governance reforms. "As citizens see the government visibly following through on the commitment to bring about meaningful change, that in turn increases societal support for the tough economic reforms ahead," she said.
During her two-day visit, Power announced a total of $60 million in aid to Sri Lanka. After meetings with farmers' representatives at a rice field in Ja-Ela, outside of the capital Colombo on Saturday, she announced $40 million to buy agrochemicals in time for the next cultivation season.
Agricultural yields dropped by more than half for the past two cultivation seasons because authorities had banned the imports of chemical fertilizers ostensibly to promote organic farming. She said that according to the World Food Program, more than 6 million people — nearly 30% of Sri Lanka's population — are currently facing food insecurity and require humanitarian assistance.
On Sunday, she said an additional $20 million will be given to provide emergency humanitarian assistance to vulnerable families.
Sri Lanka has faced its worst crisis after it defaulted on foreign loans, causing shortages of essentials like fuel, medicines and some food items.
It has reached a preliminary agreement with the International Monetary Fund for a $2.9 billion package to be disbursed over four years. However, the program hinges on Sri Lanka's international creditors giving assurances on loan restructuring. Sri Lanka's total foreign debt is more than $51 billion of which $28 billion must be repaid by 2027.
Power said that the U.S. stands ready to assist with debt restructuring and reiterated that it is imperative that China, one of the island nation's bigger creditors, cooperate in this endeavor.
Infrastructure like a seaport, airport and a network of highways built with Chinese funding did not earn revenue and are partly blamed for the country's woes.
Saskatchewan warns that federal employees testing farmers' dugouts for nitrogen levels could be arrested for trespassing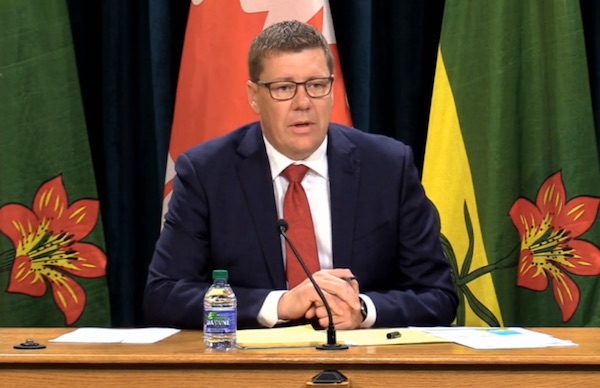 An escalating battle between Western Premiers and the federal government over restricting the use of nitrogen fertilizer has reached a new level of tension.
Premier Scott Moe
is demanding to know why federal employees of Environment Minister Steven Guilbeault are "trespassing" on private land in Saskatchewan. Moe signed a strongly worded letter (below) from Jeremy Cockrill, the Minister in charge of Saskatchewan's Water Security Agency.
The letter dated Sunday, August 21st states farmers from at least 3 different communities in southern Saskatchewan have reported Government of Canada employees in marked vehicles have been trespassing on their private land. When confronted, the agents have admitted to testing dugouts for nitrogen levels.
On his official Facebook page Moe says
"We are demanding an explanation from federal Minister Guilbeault on why his department is trespassing on private land without the owners' permission to take water samples from dugouts."
We are demanding an explanation from federal Minister
Steven Guilbeault
on why his department is trespassing on private land without the owners' permission to take water samples from dugouts. We have received reports of this occurring in several places throughout our province.
We have advised the federal government that this should cease immediately and if it does not, it will be considered a violation of the province's Trespass Act.
Violating this Act is serious, including a maximum penalty of $25,000 for repeat offenders, up to six months imprisonment following a conviction for a first or subsequent trespass offence, and a $200,000 maximum penalty for any corporation that counsels and/or aids in the commission of that offence.
Anyone wishing to report an incident of trespassing on private land can call 1-855-559-5502
Saskatchewan Premier Scott Moe has already
flatly said no thanks
to a federal initiative to restrict the use of fertilizer by up to 30%.
Premier Moe is not alone in this battle with Ottawa. Alberta's Premier Jason Kenney has already weighed in on the nitrogen restrictions in this strongly worded video shared two weeks ago.
Ottawa's planned attack on fertilizer will hurt our farmers.

It needs to stop.

Less fertilizer means less food.

Europe shut in about 50% of its fertilizer production.

Canada should not repeat the same mistake. pic.twitter.com/BztOiC1CPd

— Jason Kenney 🇺🇦 (@jkenney) July 27, 2022
The letter from Saskatchewan comes on the heals of another strongly worded letter from Manitoba's Agriculture Minister Heather Stefanson. In Stephanson's letter to Prime Minister Trudeau, she says this is no time to cut food supply and raise the price of groceries.