Rebels Lose To Hitmen In Third Period Collapse – Rematch In Calgary Sunday (Feb 26th)
By Sheldon Spackman
After what was looking like a possible Rebels victory, the team and it's fans left the Centrium a little shell-shocked following a 6-3 loss to the visiting Calgary Hitmen Saturday night.
The first period was a tight one and went by fast, as no one scored and there were no penalties but Calgary out shot Red Deer 12-9.
Things opened up in the second period though. The Rebels out shot Calgary 19-9 and scored three unanswered goals. The first came from Austin Pratt at the 5:34 mark on a nice passing play to put Red Deer up 1-0. A few minutes later, it was Lane Zablocki's turn to score as he put the Rebels up 2-0 on a nice wrist shot from the high slot. Red Deer went up 3-0 when Lane Zablocki scored his second of the night at the 18:20 mark. Then soon afterwards with only 51 seconds left in the period, Calgary got on the board with a power play goal from Matteo Gennaro. After what was largely a good period for Red Deer, it left a bad taste in the mouth of the Rebels heading into the second intermission with a 3-1 lead.
Once the third period was underway, the downward spiral that began for Red Deer at the end of the second period, continued for the final twenty minutes as well. Calgary went on to score five more unanswered goals to make it a 6-3 loss for Red Deer. Many of them scrambley type goals in front of the Rebels net. The Hitmen goals came from Andrei Grishakov, Luke Coleman, Jameson Murray who scored the eventual game-winner, Brady Regan on the power play for a little insurance on Calgary's 5-3 lead at that point and another one from Luke Coleman to close out the scoring on the night. Calgary out shot Red Deer 26-9 in the third period and 47-37 on the night.
The win improves Calgary's record to 24-27-8-2 with 58 points and fourth place in the WHL's Central Division. That's just two points back of Red Deer and two games in hand as well. The Rebels are now 25-28-6-4 with 60 points and third place in the Central Division.
That sets the stage for a big rematch with the Hitmen in Calgary on Sunday, February 26th. It's a 4 pm face-off at the Saddledome.
Today: Come meet Red Deer's Silver Medalist Rebecca Smith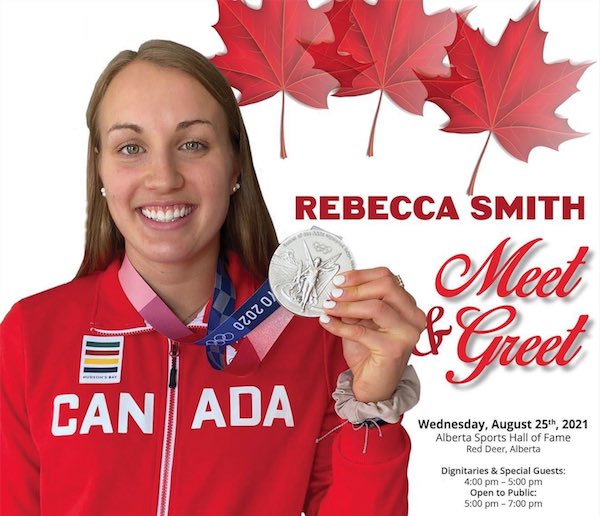 Submitted by Tourism Red Deer
Come celebrate with us and congratulate Red Deer's own Rebecca Smith.
Alberta Sports Hall of Fame and Tourism Red Deer invite you to meet Red Deer's Summer Olympic Silver Medalist Rebecca Smith!
Rebecca was a part of Team Canada's 4 x 100-meter freestyle relay swim team at the 2021 Tokyo Olympics. She'll be here to meet, greet, and show off her hardware.
Where: Alberta Sports Hall of Fame, 102-4200 Highway 2, Red Deer
When: Wednesday, August 25, 5:00 pm – 7:00 pm
Access to Dawe Centre pool and community centre affected by expansion project – Details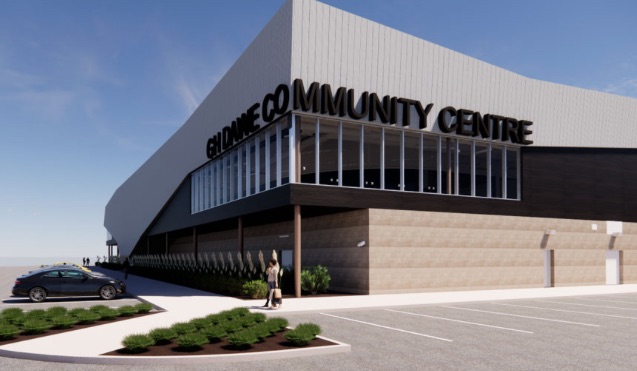 Limited access to G.H. Dawe Community Centre this summer due to construction
Due to construction, access to the G.H. Dawe Community Centre will be limited this summer, with a full closure planned for August.

As announced yesterday, City recreation centres are opening fully to the public as of July 1. With construction underway at the G.H. Dawe Community Centre, only limited services and areas will be available.

Here's what you need to know:
Starting July 2, fitness and gym areas will open from 10 a.m. – 8 p.m., daily. In July, summer day camps that normally operate from the Dawe will operate from other facilities.
The pool will remain closed until September.
To accommodate interior heating and ventilation construction, the facility will fully close from July 26 to August 31. Some registered preschool and summer camp programming may proceed, but no rental or general admission options will be available.
On September 1, we anticipate the pool will be open, but some other amenities, like the gym, may not be available. More information will be provided as construction progresses.
Playing surfaces in the arena will not be available until construction is complete, which is expected to be early 2023.
We are currently offering a discounted monthly Value Pass for $27 for adults ($24.50 for seniors; $21.90 for students; $19.30 for youth; $14.20 for children, and $60.50 for a family. It provides unlimited access to all facilities. As of August the Value Pass will only provide access to the Recreation Centre and Michener Aquatic Centre; however, access to the Dawe will be included in the Value pass until the pool, gym and fitness areas are open.
About the G.H. Dawe Community Centre Project
Work is underway now on the G.H. Dawe Community Centre Project and some exciting changes are in store. We expect to welcome visitors to the transformed space in early 2023. Here's just some of what you can expect:
Two NHL standard playing surfaces
Expanded fitness areas, including a running track
Outdoor spray park with washroom facilities
Improved accessibility
Additional north entrance + site access from 67 Street
Additional parking
During construction, there will be some changes and impacts to existing amenities and programs, and we'll do you best to share this information in advance. Thanks for your patience as we complete this work.
For more information about the project, please visit reddeer.ca/DaweProject.