Rebels Lose In Portland And Visit Land Of The Giants Tonight! (Feb 18)
By Sheldon Spackman
Make that seven games in a row now without a win for the Red Deer Rebels. This, after falling short 4-3 to the Winterhawks in Portland Friday night.
The first period saw the Rebels get out shot 17-8 but they were only down 1-0 after twenty minutes of play. Portland's goal coming just :59 seconds into the game from Joachim Blichfeld.
The Rebels however tightened up their play in the second period, with Portland only out shooting them 12-11 but it was their three goals against that did the most damage. Ryan Hughes opened the scoring for the Winterhawks at 1:16 to put Portland up 2-0 but the Rebels Adam Musil got the visitors on the board soon afterwards with a power play goal at the 2:47 mark to make it 2-1 Hawks. Portland then went up 3-1 when Keegan Iverson scored unassisted at 12:24. It was a short lived two goal lead though as Red Deer's Michael Spacek scored at 13:03 to close Portland's lead to 3-2. What would prove to be the eventual game-winning goal though came from the Winterhawks Jake Gricius at 14:37 to make it 4-2 Portland after forty minutes.
A penalty-filled third period resulted in the Rebels Jared Freadrich scoring a power play goal at 14:12 to make it 4-3 Hawks but that's how it would finish.
Portland's win improves their record to 32-23-1-2 with 67 points and fourth place in the WHL's U.S. Division. The Rebels drop to 23-27-6-3 with 55 points and third place in the Central Division. Their next chance at finding the win column is Saturday night in Vancouver. The Giants are 18-36-2-3 with 41 points and fifth place in the B.C. Division. They themselves have lost four-straight, so something will have to give for someone tonight.
Face-off is 8:00 pm MST.
Today: Come meet Red Deer's Silver Medalist Rebecca Smith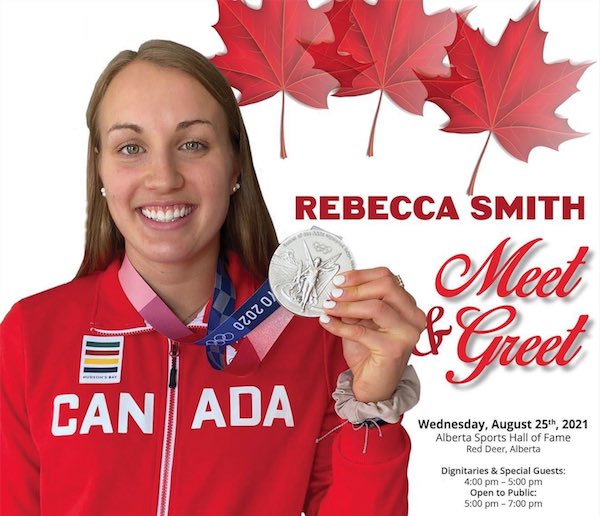 Submitted by Tourism Red Deer
Come celebrate with us and congratulate Red Deer's own Rebecca Smith.
Alberta Sports Hall of Fame and Tourism Red Deer invite you to meet Red Deer's Summer Olympic Silver Medalist Rebecca Smith!
Rebecca was a part of Team Canada's 4 x 100-meter freestyle relay swim team at the 2021 Tokyo Olympics.  She'll be here to meet, greet, and show off her hardware.
Where: Alberta Sports Hall of Fame, 102-4200 Highway 2, Red Deer
When:  Wednesday, August 25, 5:00 pm – 7:00 pm
Access to Dawe Centre pool and community centre affected by expansion project – Details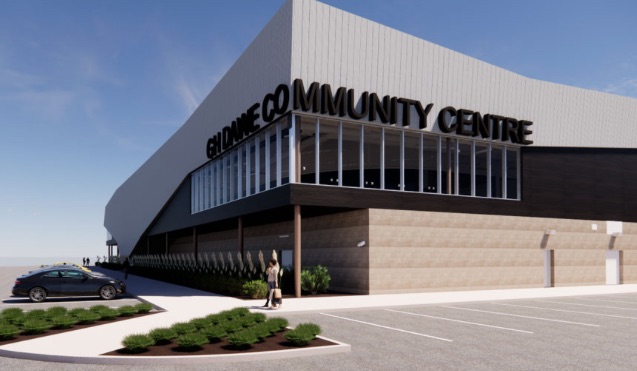 Limited access to G.H. Dawe Community Centre this summer due to construction
Due to construction, access to the G.H. Dawe Community Centre will be limited this summer, with a full closure planned for August.

As announced yesterday, City recreation centres are opening fully to the public as of July 1. With construction underway at the G.H. Dawe Community Centre, only limited services and areas will be available.

Here's what you need to know:
Starting July 2, fitness and gym areas will open from 10 a.m. – 8 p.m., daily. In July, summer day camps that normally operate from the Dawe will operate from other facilities.
The pool will remain closed until September.
To accommodate interior heating and ventilation construction, the facility will fully close from July 26 to August 31. Some registered preschool and summer camp programming may proceed, but no rental or general admission options will be available.
On September 1, we anticipate the pool will be open, but some other amenities, like the gym, may not be available. More information will be provided as construction progresses.
Playing surfaces in the arena will not be available until construction is complete, which is expected to be early 2023.
We are currently offering a discounted monthly Value Pass for $27 for adults ($24.50 for seniors; $21.90 for students; $19.30 for youth; $14.20 for children, and $60.50 for a family. It provides unlimited access to all facilities. As of August the Value Pass will only provide access to the Recreation Centre and Michener Aquatic Centre; however, access to the Dawe will be included in the Value pass until the pool, gym and fitness areas are open.
About the G.H. Dawe Community Centre Project
Work is underway now on the G.H. Dawe Community Centre Project and some exciting changes are in store. We expect to welcome visitors to the transformed space in early 2023. Here's just some of what you can expect:
Two NHL standard playing surfaces
Expanded fitness areas, including a running track
Outdoor spray park with washroom facilities
Improved accessibility
Additional north entrance + site access from 67 Street
Additional parking
During construction, there will be some changes and impacts to existing amenities and programs, and we'll do you best to share this information in advance. Thanks for your patience as we complete this work.
For more information about the project, please visit reddeer.ca/DaweProject.