Rebels earn 5 of 6 points on the weekend – Christmas gift tickets come with a team toque!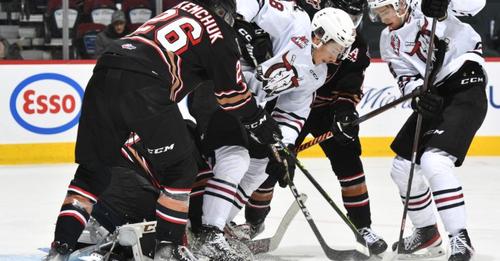 Rebels This Week submitted by the Red Deer Rebels
SOLID WEEKEND
The Rebels earned five of a possible six points during their recent three-game weekend.
After dropping a hard fought 3-2 shootout decision to the Medicine Hat Tigers at the Peavey Mart Centrium on Friday, the Rebels returned to form with a dominant 6-1 home win the following night over the Prince Albert Raiders.
On Sunday, the Rebels came away from Calgary with a 3-2 overtime win over the Hitmen at the Scotiabank Saddledome.
TOP OF THE CENTRAL
The Rebels continue to sit atop the standings in the WHL Central Division thanks to a 18-4-0-3 record for 39 points. The Lethbridge Hurricanes are next with 29 points followed by the Calgary Hitmen with 28.
HOME COOKING
After a lot of time on the road throughout November, the Rebels get to enjoy some extended time at home to begin December.
This coming weekend brings home games at the Peavey Mart Centrium versus the Saskatoon Blades (Fri. Dec. 2) and Moose Jaw Warriors (Sat. Dec. 3). Both games start at 7 p.m. with tickets available at reddeerrebels.com and ticketsalberta.com. Both the Blades and Warriors will be visiting Red Deer for the first time this season. The Rebels are 2-0 versus Moose Jaw and have yet to play Saskatoon.
WHO'S HOT?
Kai Uchacz has six points in his last four games, including three points last Saturday versus Prince Albert. He leads all Rebels players with 30 points this season and is second in the WHL with 18 goals.
Hunter Mayo is tied for first amongst all WHL defenceman with 10 goals on the season, including seven power play tallies. Mayo scored twice versus Calgary on Sunday, including the overtime winner.
Forward Kalan Lind has five points in his last two games.
HOCKEY FOR THE HOLIDAYS
Give the gift of an experience with a night out at the Rebels game! This holiday package includes your choice of grey or black toque with either two or four game night vouchers to be used at any 2022-2023 regular season game. Each voucher may be used for a single ticket of any type of admission to a 2022-2023 regular season Rebels game redeemable through the Tickets Alberta box office in the Peavey Mart Centrium.
Severe weather in Canada caused $3.1 billion in insured damages in 2022
The Insurance Bureau of Canada says severe weather caused $3.1 billion in insured damage in Canada in 2022, from flooding to storms to Hurricane Fiona.
That makes 2022 the third worst year for insured losses in Canadian history.
The bureau says no single event or particular region accounted for the majority of the insured damage in 2022, with disasters in almost every part of Canada last year.
That's in contrast to a year like 2016, the worst year on record primarily because of the Fort McMurray, Alberta wildfire, which accounted for around three-quarters of national losses.
The most expensive extreme weather event for Canada in 2022 was the Ontario and Quebec derecho in May, which caused $1 billion in damages.
The other most expensive events included Hurricane Fiona, which cost $800 million, and the summer storms in Canada which cost $300 million.
This report by The Canadian Press was first published Jan. 18, 2023.
Pierre Poilievre doesn't like anti-Trudeau flags, but understands anger behind them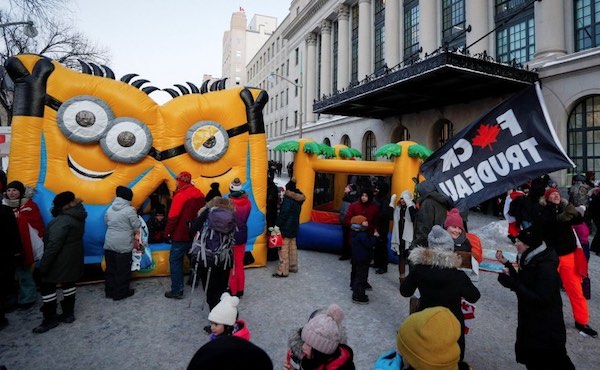 By Lee Berthiaume in Ottawa
Federal Conservative Leader Pierre Poilievre says he doesn't like the expletive-laden flags some Canadians are using to denounce Prime Minister Justin Trudeau, but that he understands the anger fuelling such displays.
"I don't like the flags, and I don't like rage," Poilievre said during an end-of-year news conference in Ottawa on Friday. "But I think we have to ask ourselves: 'Why are people so angry?' And the answer is that they're hurting."
The comments follow a blog post by former Conservative leader Erin O'Toole, who said one of his hopes for 2023 "is to see fewer profanity-laden Trudeau flags across Canada."
Describing Trudeau as his political opponent in the last federal election, not his enemy, O'Toole wrote: "These flags and the hyper-aggressive rhetoric that often accompanies them are slowly normalizing rage and damaging our democracy."
O'Toole's criticism was not limited to only those who have flown the flags targeting Trudeau, as he accused actors on both the extreme right and left of contributing to a growing polarization in Canadian politics by playing off each other.
"The proliferation of these types of political displays in recent years are a sign that we are slowly becoming desensitized to political stunts and aggressive rhetoric whether it comes from the left or right," he added.
The anti-Trudeau flags have become particularly linked to the "Freedom Convoy" protests, whose members Poilievre courted during his successful run for the Conservative leadership earlier this year. The Conservative caucus had ousted O'Toole as leader just days into the weeks-long protest in Ottawa.
Asked about O'Toole's blog post and the flags, Poilievre said it's easy for politicians to tell people to stop complaining. However, he added that many Canadians are angry because they are hurting financially and in other ways.
"I have never seen so much hurt and so much pain and suffering in our population during my nearly two decades in politics," he said.
"So sure, let's tell people to be more civil. But as political leaders, let's actually try to solve the problems that have upset and angered and hurt people so badly. It is our job to turn that hurt into hope."
Poilievre went on to suggest many Canadians are struggling because the Liberal government is out of touch, before promising to be a prime minister "that actually bring people together and gives them hope that tomorrow can be better.
"Let's make this a place where people feel their hard work pays off, where they're respected, where their leaders don't talk down to them and point fingers at them."
This report by The Canadian Press was first published Dec. 30, 2022.