RDC's Business Development VP prepares to leave work he excelled at
From Michael Donlevy – VP, Business Development at Red Deer College
Investing in education inspires student success
I was inspired to accept an offer from former Red Deer College President, Ron Woodward, to join the Executive Team at RDC in 2001. This was initially through my involvement as a volunteer on the RDC Campaign Cabinet that raised $7.2 million – still a lot of money today – to help build the College's Library Information Common. I was inspired by the College's leadership and vision, along with a foundational commitment to student success from those leaders and by faculty and staff, inspiration that has continued under the leadership of current President Joel Ward.
Coupled with this was my own belief in the value of RDC to Red Deer and Central Alberta as essential to what makes our region a special place to live. Our family grew to love the community we now call home and being able to make a mid-career change and remain in Red Deer was exciting. Now, as I retire from RDC after 18 years, having been privileged to serve in variety of meaningful and influential roles, I remain just as inspired and passionate about our College – soon to become Red Deer University.
Along the way, that inspiration has been fueled by my deep belief in the importance of investing in education – and not just by Governments who often see post-secondary education only as an expense line item in a budget. It is why I dedicated my efforts, along with the teams that I had the privilege of leading, to seek to inspire corporate entities, business owners and individuals to consider the value of RDC to our region and to invest in the success of our students. Over the years, that came about in many ways, through incredible donations, committed sponsorships, major events and "in-kind" contributions.
Sometimes, fundraisers are viewed less positively – hold onto your wallet, here they come again. Yet I have witnessed the laudable and inspired efforts of colleagues in so many charitable organizations throughout Alberta and beyond, who want to inspire donor investment in causes so critical to the fabric of our communities.
I am proud to be a fund development professional and to strive for success in this good work. Because at the core, it isn't about fundraising, it is about seeking to build respectful relationships, earning the trust of individuals that we will honour and steward their investment, large or small, in a way that preserves the trust we have been given.
The experiences I've enjoyed over almost 20 years of working with RDC's amazing group of senior administration colleagues, staff and faculty, being part of helping learners achieve their educational goals, has been a true privilege. But so memorable and humbling, has been the opportunity to engage donors, alumni, partners, sponsors, volunteers and community members. They showed me, time and again, their own passion for RDC, their commitment to our students and so often, the true meaning of generosity and philanthropy.
I have been honoured to work with donors who, during the saddest times of their lives, would establish a student award in memory of their spouse, son or daughter. As well, in the best of times, donors from our own community came forward to invest in RDC with major, transformational gifts, whom we have gratefully recognized. And in challenging times, I have seen businesses and their owners support new programs, believing in the value of investing in RDC to build and expand.
Because of these investments, we have been able to construct incredible new facilities, bring new programs to life and create scholarships for students, whose lives have been changed in remarkable ways. As RDC becomes RDU, I hope you will also be inspired to invest in the exciting future that lies ahead for the College – and continue to make a meaningful difference in the lives of our learners.
Michael Donlevy, Vice President, Business Development at Red Deer College, will be retiring at the end of June.
Share a special night with Great Big Sea's Sean McCann this Saturday for the Child Advocacy Centre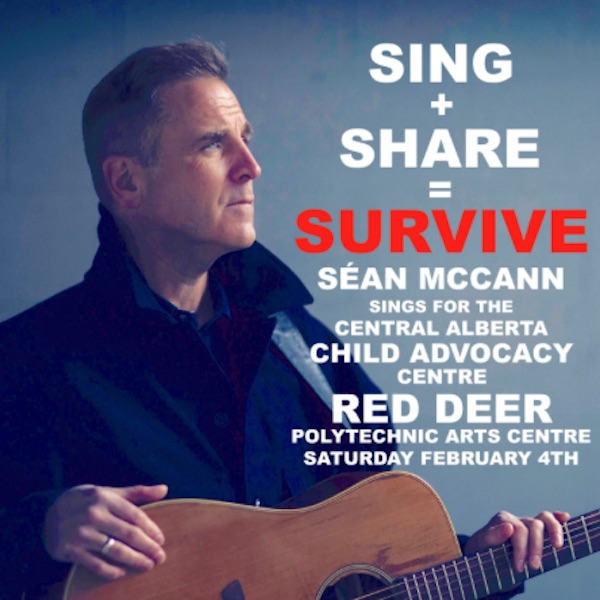 Tickets selling fast for Séan McCann – Sing, Share, Survive
In support of the CACAC
Séan McCann from Great Big Sea will be performing in support of the Central Alberta Child Advocacy Centre this Saturday, February 4th!

Tickets are selling fast! In this powerful live music and storytelling event, you'll learn the meaning of resiliency. Séan will be joined by special guest Sheldon Kennedy for this special performance!
Tickets are $50 each through Red Deer Polytechnic ticket office.
About Séan McCann –
A survivor of sexual abuse as a teenager, Séan has spent the last ten years touring North America as a musical keynote speaker, singing and sharing his story with theatre audiences, front line workers, teachers, students, patients, inmates, veterans, and anyone who has struggled with their mental health. Séan believes that music is medicine and a song is never more powerful than when it is sung with a friend.
As part of this event, the CACAC is benefiting from an
online silent art auction, operated by JRADCLIFFE Auctioneering.

These artworks were created and curated by Kathryn Fellowsand donated to this auction in her memory by her daughter Sharon Moffat.

Watch on social media for a link to this auction, which opens on February 4th.
We're building a path forward for victims of child abuse, neglect, and sexual exploitation. The Centre of Excellence will house many partners in one building, including teams from Alberta Health Services, RCMP, and the Central Alberta Sexual Assault Support Centre.

We've created a strategic partnership with Red Deer Polytechnic to build this innovative centre right here in the heart of Central Alberta on RDP land.
Consider becoming a monthly donor today!
Your monthly contribution will help us #BuildtheFuture of healing, advocacy, and prevention. Click the button below, and select "recurring" to set up your monthly contribution to the Centre of Excellence.

Help us build the future…so every child can have a bright one.
Empowered, Happy and Healthy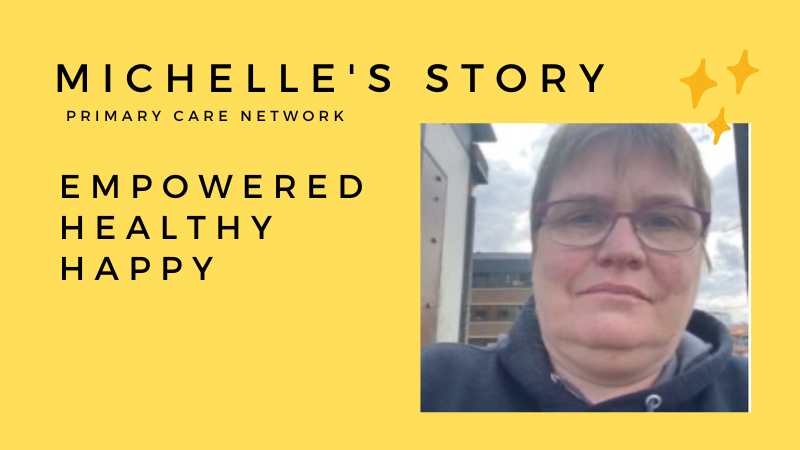 Michelle lost a kidney to cancer 20 years ago. Her blood pressure has been challenging to keep in a healthy range since. A busy life with little focus on healthy got her in trouble. In late December 2020, she ended up in emergency with extremely high blood pressure in the 200/150 range and a blood sugar of 25. She was very sick. She had a second similar episode in January. At that time, she was let go from her job. This turned out to be the best thing that happened as she now had time to focus on her health.
The RDPCN family nurse recommended she attend Diabetes the Basics as well as providing her with ongoing one-to-one support for several months. She also got connected to a weight management program, supervised exercise and Heartwise.
Fast forward to 18 months, she has decreased her clothing size from 20 to 14. Her blood sugar is now 7 and her blood pressure is in the range of 138/95. Great improvements!
She is back to work. She walks about an hour per day and she feels amazing! She has used the portion control plate to help improve her eating habits. She is eating way better and enjoying it. One thing she could not give up was Pepsi. She used to have at least 3 cans per day. Now she uses Diet Pepsi in much smaller volumes, but she cannot get by without some Pepsi. Long-lasting insulin and using the Libre sensor have been great tools to help her live healthily. She feels very empowered, happy and healthy!!
Learn more about the Red Deer Primary Care Network. Click here.