RDC Queens Goaltender from Prince Albert and RDC's Ausie Volleyball Star Regan Fathers named Athletes of the Week
Karlee Fetch – Queens Hockey Hometown – Prince Albert, Saskatchewan Open Studies (4th year)
From RDC Athletics
Red Deer College Athletics is proud to announce our Boston Pizza Athletes of the Week.
Goaltender Karlee Fetch was nearly unbeatable this past weekend against the defending Alberta Colleges Athletic Conference (ACAC) Women's Hockey Champions, the MacEwan University Griffins. The fourth-year came on in relief about half-way through Friday's contest, turning aside all 15 shots she faced. Then on Saturday in Edmonton, the Open Studies student put on a goaltending clinic, stopping 43 out of 44 shots (0.977), helping the RDC Queens pick up an important 2-1 road win and earning the Queens Player-of-the-Game. Over both games, the netminder from Prince Albert made 58 saves out of 59 shots (0.983).
The Queens have been playing well lately. In their past seven games, the RDC Queens have earned 10 of a possible 14 points in the standings.
Regan Fathers – Kings Volleyball Hometown – East Fremantle, Western Australia Kinesiology General (5th year)
This past weekend, Regan Fathers had another all-star performance for the Kings Volleyball team (18-6), helping them down the previously undefeated Lethbridge College Kodiaks (20-2) in both road matches. His weekend statistics were unparalleled in the ACAC. In Friday's five set victory (23- 25, 25-18, 25-22, 23-25 and 15-9), the six-foot-six outside hitter was a dominant force, totaling 29 kills, 15 digs, two blocks, one assist and one ace while hitting for 44.7 per cent efficiency. For his outstanding effort, Regan earned the Kings Player-of-the-Game award. Then in Saturday's victory (25-23, 22-25, 26-24 and 34-32), the student-athlete from East Fremantle, Western Australia stacked up 37 kills, 18 digs, one block, one ace and hit for 47.4 per cent efficiency. The talented athlete remarkably finished the weekend with 66 kills, 33 digs, three blocks, two aces and one assist, helping lead the Kings to an 8-2 record in their past ten matches.
In only 21 matches, the Kinesiology General student leads the league with 435 total kills and 5.37 kills per set. Incredibly, Regan has 98 more kills than Carter Hansen (338), of the Kodiaks, who has the second most in ACAC Men's Volleyball.
This Week in RDC Athletics
This week, the RDC Basketball teams will play the Ambrose University Lions in Calgary. The Hockey Queens will face-off against the SAIT Trojans in a pair of road games and the Kings will challenge the Portage College Voyageurs twice in Lac La Biche.
The RDC Volleyball teams have completed regular season play and will prepare for the ACAC Championships from February 21 to 23. NAIT will host the men's championship and Ambrose University will welcome the top four women's teams from both the north and south divisions, to compete for top spot.
Here is a summary of what is happening this week in RDC Athletics.
Queens Basketball | Saturday, Feb. 16 | 6:00 p.m. | Ambrose University
The RDC Queens will tip-off against the Lions in Calgary. Lauren Cardinal, an Open Studies student, is coming off a solid weekend against the Broncos, totaling 26 points, seven rebounds, three steals and two assists in a pair of games.
Kings Basketball | Saturday, Feb. 16 | 8:00 p.m. | Ambrose University
Tickets can be purchased online for the men's volleyball national championship, held at the Gary W. Harris Canada Games Centre from March 7 to 9, 2019. The fourth place Red Deer College Kings (10-8) will challenge the Ambrose University Lions (12-7) in Calgary. The Lions sit in third, four points above the Kings but they have also played one more game. The fifth place Lethbridge College Kodiaks (8-9) trail the RDC Kings by four points, for the final playoff spot in the south.
Bachelor of Education Elementary student, Spencer Klassen, continues to lead the league with 25.5 points per game.
Queens Hockey | Friday, Feb. 15 | 7:00 p.m. | SAIT
The third place RDC Queens (9-9-4-0) will play the SAIT Trojans (5-14-0-0) in Calgary. The Queens boast the second best penalty kill in the league (87.8%). The Trojans sit at the bottom of ACAC Women's Hockey with an 81.8 per cent efficiency.
Karlee Fetch has the third best goals against average (2.08) and save percentage (0.924) in the league.
Queens Hockey | Saturday, Feb. 16 | 2:00 p.m. | SAIT
In an afternoon rematch, the Trojans will host the Queens.
Kings Hockey | Friday, Feb. 15 | 7:00 p.m. | Portage College
The fifth place Red Deer College Kings (13-7-1-1) will battle with the Portage College Voyageurs (3- 18-1-0) in Lac La Biche. Led by Chase Thudium's league leading 16 goals, the Kings have the fourth most potent offence in the league (4.32 goals per game). The Voyageurs sit last (1.73).
Kings Hockey | Saturday, Feb. 16 | 1:00 p.m. | Portage College
In an afternoon contest, the Kings and Voyageurs will compete.
For more information on RDC Athletics, the student-athletes, scores, and game recaps of conference games, please visit: rdcathletics.ca
Today: Come meet Red Deer's Silver Medalist Rebecca Smith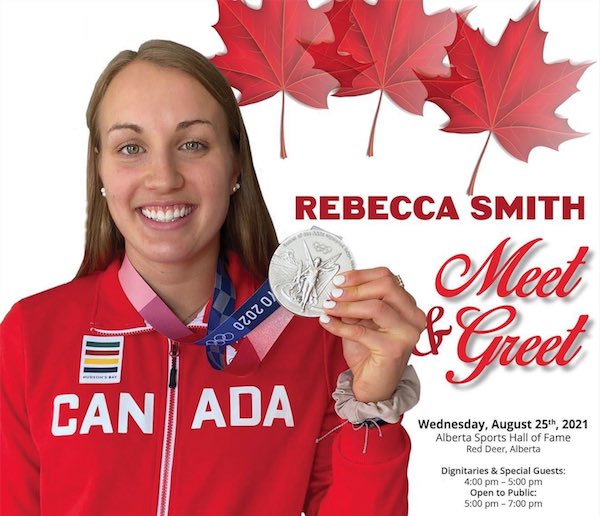 Submitted by Tourism Red Deer
Come celebrate with us and congratulate Red Deer's own Rebecca Smith.
Alberta Sports Hall of Fame and Tourism Red Deer invite you to meet Red Deer's Summer Olympic Silver Medalist Rebecca Smith!
Rebecca was a part of Team Canada's 4 x 100-meter freestyle relay swim team at the 2021 Tokyo Olympics. She'll be here to meet, greet, and show off her hardware.
Where: Alberta Sports Hall of Fame, 102-4200 Highway 2, Red Deer
When: Wednesday, August 25, 5:00 pm – 7:00 pm
Access to Dawe Centre pool and community centre affected by expansion project – Details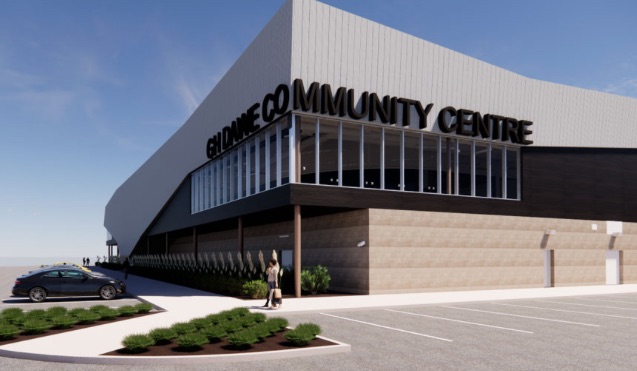 Limited access to G.H. Dawe Community Centre this summer due to construction
Due to construction, access to the G.H. Dawe Community Centre will be limited this summer, with a full closure planned for August.

As announced yesterday, City recreation centres are opening fully to the public as of July 1. With construction underway at the G.H. Dawe Community Centre, only limited services and areas will be available.

Here's what you need to know:
Starting July 2, fitness and gym areas will open from 10 a.m. – 8 p.m., daily. In July, summer day camps that normally operate from the Dawe will operate from other facilities.
The pool will remain closed until September.
To accommodate interior heating and ventilation construction, the facility will fully close from July 26 to August 31. Some registered preschool and summer camp programming may proceed, but no rental or general admission options will be available.
On September 1, we anticipate the pool will be open, but some other amenities, like the gym, may not be available. More information will be provided as construction progresses.
Playing surfaces in the arena will not be available until construction is complete, which is expected to be early 2023.
We are currently offering a discounted monthly Value Pass for $27 for adults ($24.50 for seniors; $21.90 for students; $19.30 for youth; $14.20 for children, and $60.50 for a family. It provides unlimited access to all facilities. As of August the Value Pass will only provide access to the Recreation Centre and Michener Aquatic Centre; however, access to the Dawe will be included in the Value pass until the pool, gym and fitness areas are open.
About the G.H. Dawe Community Centre Project
Work is underway now on the G.H. Dawe Community Centre Project and some exciting changes are in store. We expect to welcome visitors to the transformed space in early 2023. Here's just some of what you can expect:
Two NHL standard playing surfaces
Expanded fitness areas, including a running track
Outdoor spray park with washroom facilities
Improved accessibility
Additional north entrance + site access from 67 Street
Additional parking
During construction, there will be some changes and impacts to existing amenities and programs, and we'll do you best to share this information in advance. Thanks for your patience as we complete this work.
For more information about the project, please visit reddeer.ca/DaweProject.