RDC Kings Volleyball Team Repeat As National Champions!
Even though the Red Deer College Kings Volleyball team battled several injuries and illnesses, they had a strong regular season (19-5) and conquered the adversity. This resiliency helped the Kings succeed in the Alberta Colleges Athletic Conference (ACAC) playoffs and at the Canadian Collegiate Athletic Association (CCAA) Men's Volleyball National Championship. The Kings showed a lot of heart and elevated their game when it mattered the most. On Saturday, the Kings faced the Titans de Limoilou in the CCAA gold medal game in London, Ontario and earned a 5 set victory for their 3rd national title in 4 years.
In their opening match on Thursday, the Red Deer College Kings defeated the host Fanshawe Falcons in 3 sets (25-22, 25-21 and 25-18) in a loud gymnasium. Regan Fathers was a force in the match and was named the Kings player-of-the-game. The Kinesiology and Sport Studies student finished with 14 kills, 1 assist, 5 service aces and 7 digs in the win.
The RDC Kings won in 4 sets over the Vancouver Island University (VIU) Mariners (25-19, 25-11, 27-29 and 25-19) in the championship semi-final on Friday. Setter Luke Brisbane was chosen as the Kings player-of-the-game. The Bachelor of Commerce student stacked up 51 assists, 2 kills, 11 digs and ran an effective offence.
The Kings faced the tough Titans de Limoilou in a CCAA gold medal rematch on Saturday. After RDC jumped out to a 2 set lead (25-21 and 25-18), Limoilou came back with the next 2 sets (26-24 and 26-24) to send the final game to an exciting 5th set. The RDC Kings showed great composure and defeated the Titans de Limoilou 15-12 to claim gold. Ty Moorman was named the Kings playerof-the-game and accumulated 10 kills, 2 digs and 1 stuff block. Regan Fathers earned the honour of Tournament MVP. Luke Brisbane and Ty Moorman were named First Team All-Stars. Matthew Lofgren was picked as a Second Team All-Star.
Kings Volleyball Head Coach Aaron Schulha recognized the importance of the Kings' mental toughness in the victory.
"This match was reminiscent of our season in a nutshell. We made our lives more difficult than it needed to be at times but we showed great resiliency and fight," said Schulha. "We really turned the corner in the last month and became a tough team mentally and we needed every bit of that this weekend."
Schulha credited the RDC student-athletes and his coaching staff. Assistant coaches Aaron Yasinski, Adam Sillery and Blake Henwood joined Schulha in Ontario and all 4 coaches were key contributors in the team's success.
"It was a year with a lot of adversity and overcoming that helps make the win even more rewarding," said Schulha. "I am super proud of my team and coaches. I am truly surrounded by some of the best volleyball minds in the country and it makes it even better that they are also my friends."
The RDC Kings continue to write CCAA Men's Volleyball history. The Kings have won 13 CCAA Men's Volleyball National Championships since 1995. The Camosun Chargers of the Pacific Western Athletic Association (PACWEST) will host the next CCAA Men's Volleyball National Championship in Victoria, British Columbia, March 7-10, 2018.
For more detailed recaps on all 3 matches, please visit: http://www.rdcathletics.ca/sports/mvball/2016-17/releases/20170311wt51ex
End of an era for Red Deer Minor baseball Braves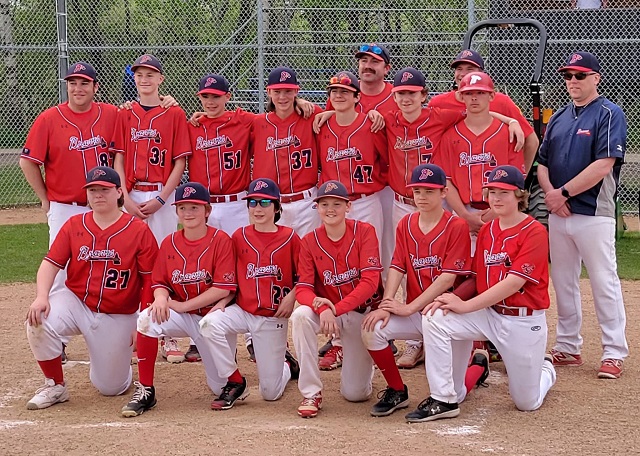 From Red Deer Minor Baseball Board of Directors
Following many discussions within the Red Deer community, the baseball community, our association members, as well as our board of directors we have made the decision to move forward with rebranding our teams, currently known as the Braves. For our association the Braves name symbolized warrior strength, bravery and resilience, all qualities we were proud to align with; and although the initial moniker of our teams was never intended to carry a derogatory or disrespectful connotation, for some, it has. The topic of our rebrand has been polarizing and arguments both for and against have been passionately presented. We have made the decision to move forward in the direction we feel is best for our association.
In alignment with the membership majority vote, the Red Deer Minor Baseball Board of Directors is excited to announce that we will now be known as the Red Deer Rangers.
The Red Deer Rangers will retain our current navy and crimson colors and will not adopt the colors or logo of the MLB, NHL, or any other Rangers franchise. We are looking forward to forging our own identity and embracing our own look.
As you can appreciate this is a complex initiative that will take time. We will remain the Braves for the 2024 season and aim to have our rebrand complete for the 2025 season.
All participants that submitted the Rangers name during our rebranding poll, will be entered into a draw to receive the first Red Deer Rangers jersey.
We hope you will join us in celebrating this positive endeavor as we create a new inclusive legacy for our association that all can be proud of.
RDMBA Board of Directors
Red Deer Minor Hockey is proud to announce our new General Manager Lane Moore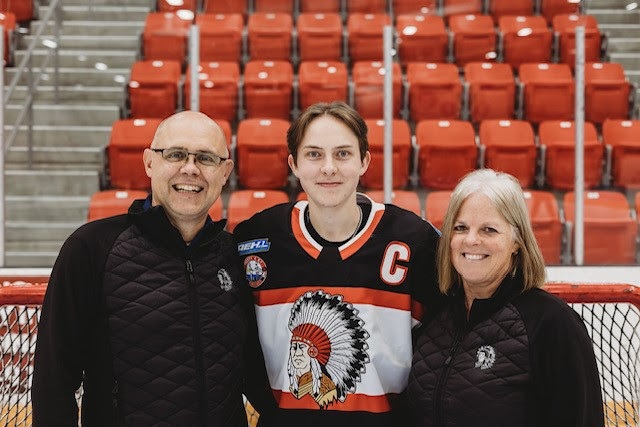 From Red Deer Minor Hockey
The Red Deer Minor Hockey Board of Directors is pleased & honored to announce, after an extensive search, that Lane Moore has accepted the position of General Manager of Red Deer Minor Hockey. Lane will start his new role early in the new year & is very excited about leading our organization into the future as we aim to provide a positive learning and maturing experience for all of our young athletes & coaches in a minor hockey setting.
Lane comes into the role of General Manager with an extensive resume, in both hockey and administration. Lane has led the Bentley school as principal for the last 17 years & was an educator prior to that. On the hockey side, Lane's passion for coaching & engaging with young athletes, dates back to 2002. His most recent involvement as a coach with Red Deer Minor Hockey saw Lane lead the U17AAA North Star Chiefs for 2 seasons (21-22, 22-23). Prior to his work with Red Deer Minor Hockey Lane served as President of Rimbey Minor Hockey for several seasons.
One of Lane's biggest strengths is his ability to create highly effective teams by building a common mission & vision & then executing on those through visionary leadership. These attributes shone through during this General Manager search and we are thrilled for Lane to lead this organization now & into the future as we aim to be one of the premier Minor Hockey Associations in the province.
Lane, his wife Kathleen & their three children Easton, Cooper & Lexi call Red Deer home. His son Cooper is the captain of Red Deer U18AAA Optimist Chiefs & his older son Easton is pursuing his hockey career and post-secondary studies in Massachusetts. Please join us in congratulating Lane Moore as the new General Manager of the Red Deer Minor Hockey Commission, welcome Lane!