RCMP Remind Public About The Dangers Of Deteriorated Dynamite
By Sheldon Spackman
Alberta RCMP say there is a large, but unquantified, amount of degraded or deteriorated dynamite in the province and it's posing a significant risk to many people.
As a result of historic rules that permitted easy access to dynamite for farmers and ranchers, a lot of it is currently decaying in barns and fields.
In a release, Mounties say that over time, the dynamite 'weeps' or 'sweats' chemicals which crystalize and form on the outside of the dynamite and can then pool in the bottom of boxes or storage containers.This creates an extremely dangerous situation where if the materials are jarred even the slightest, the chemical becomes unstable and can possibly lead to detonation.
In addition to sticks of dynamite, police say it is also important to note that copper detonators containing lead azide were produced in Canada from 1918 to 1965 and are still being stored in older homesteads within the province. If exposed to moisture, these detonators can produce an explosive gas and the slightest change in environment can cause degradation in less than one hour leading to an extremely dangerous situation.
Albertans are asked to be cautious of what they find on their properties and to speak with elderly members of their families prior to clearing out older out-buildings in order to determine if there could be explosives on site. If you suspect that you may have some of these materials on your land, call your local RCMP detachment, or police agency of jurisdiction to have the materials safely disposed of and DO NOT touch or move the explosives yourself.
(Photos courtesy of Alberta RCMP)
'Life-changing': Call for refugee sponsors as study suggests 4M Canadians open to it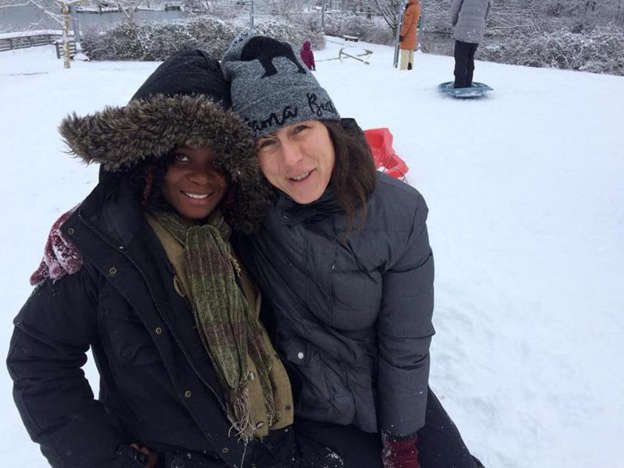 Karina Reid watched as the little boy, fascinated by the running tap water, jumped into the bathtub.
"This is the best day of my life!" then four-year-old Delphin said.
Delphin and his pregnant mother Atosha Ngage had just arrived in Canada earlier that day in February 2019. They stayed at a refugee camp in Namibia after leaving their home in the Democratic Republic of Congo.
The little family arrived in Canada through the Blended Visa Office Referred Refugees (BVOR) program, one of the country's three resettlement streams to sponsor refugees. Reid, along with five of her friends, sponsored Ngage, who was pregnant with her second child, and Delphin.
"It was the most life-changing experience for them but also for me," Reid said in an interview. "It changed my entire view of the world."
Reid is one of the many Canadians who have brought a refugee family to Canada via the BVOR program. It's the most distinctive of the three refugee resettlement programs; the others are Government-Assisted Refugees (GAR) and Private Sponsorship of Refugees (PSR).
The BVOR program allows private citizens and non-governmental organizations to step up and sponsor individuals or families with whom they don't have prior relationships.
"We also refer to this kind of sponsorship model as 'sponsoring the stranger,'" said Louisa Taylor, director of Refugee 613, a communications hub that works to build inclusion and welcome newcomers.
Taylor said people in her circle know how "powerful" and "transformational" the experience of sponsorship can be for both newcomers and sponsors. Usually, these stories are relayed through word of mouth, such as Reid's case.
However, there has been no data or resources to help promote the BVOR program properly, Taylor said.
"So recruiting new sponsors has long been a struggle," she said.
In the hopes to rectify this, Refugee 613 partnered with the Environics Institute to conduct a market study on refugee sponsorship in Canada. The project was funded by Immigration, Refugees and Citizenship Canada but all data gathered are owned by Refugee 613 and Environics.
The study involved a representative sample of 3,000 Canadians ages 25 and over and with household incomes of $30,000 or more, which translates to roughly 24 million individuals.
Results suggest close to one-fifth of the target population, who haven't been involved in sponsoring a refugee or refugee family yet, say they could definitely or likely see themselves participating in the program at some point over the next few years.
"This translates into a pool of approximately four million Canadians who are open to potential recruitment into the program," the report reads.
In contrast with BVOR, the Private Sponsorship of Refugees program has had no issues with recruiting sponsors, Taylor said.
"For the most part, PSR sponsors are motivated because they are sponsoring a relative or a friend or a friend of a friend," she said. "So the PSR program has largely become a way to reunite families."
Between 2015 and 2016, when Canadians became exposed to the idea of supporting Syrian refugees and the issue of refugee resettlement became an issue, Taylor said the BVOR program was oversubscribed.
However, since then, the program's annual target of around 1,000 people has never been met.
"That causes a lot of pressure within government if you're not meeting your targets," Taylor said. "You're seen as a failed program."
Immigration Minister Marco Mendicino told reporters Friday that BVOR is one of those streams that had some challenges around "finding a proper alignment between what the community needs and what is the best fit for refugees."
Taylor said the new data proves that there's still interest in sponsoring refugees and refugee families to Canada.
"The next question is: how do we reach them and what messages do we share with them to show them that not only is there still a need, there's a whole spectrum of organizations ready and willing to walk people through this process?" she said.
"They may just find it's the most powerful experience of their lives."
It's been more than two years since Reid and her friend picked up Atosha Ngage and Delphin at the airport. Since then, there have been powerful memories shared between people who were once complete strangers.
They've made snow angels, gone to the pool and shared lots of laughs.
Reid said the program is one of the best-hidden gems in Canada. Through it, she met people she would treasure for a long time.
"The BVOR program is life-changing," Reid said. "It opens doors to curiosity, understanding and wanting to make your community a better place like."
This report by The Canadian Press was first published June 20, 2021.
Arvin Joaquin, The Canadian Press
Guerrero's go-ahead double helps Jays rally past O's 10-7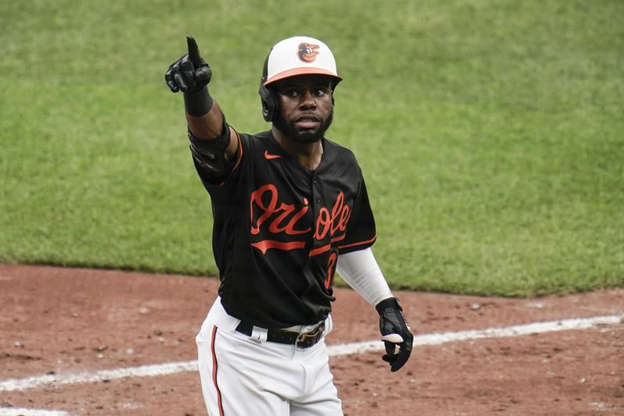 BALTIMORE (AP) — Vladimir Guerrero Jr. hit his major-league leading 23rd homer and later capped Toronto's ninth-inning rally with a go-ahead, two-run double, and the Blue Jays ended a five-game skid with a 10-7 victory Saturday over the Baltimore Orioles.
Marcus Semien homered twice for Toronto, which scored six runs with two outs in the ninth off relievers Paul Fry and Tyler Wells to stun the Orioles.
"Wins like this could get a team going, for sure," Blue Jays manager Charlie Montoyo said.
Ryan Mountcastle recorded his first career three-homer game and Cedric Mullins had his second consecutive multihomer game for Baltimore, which hit six homers in a game for the first time since doing so against Houston on Aug. 18, 2016.
Toronto starter Alek Manoah was ejected for hitting Maikel Franco after surrendering back-to-back blasts in the fourth inning and instigating a benches-clearing incident in which no punches were thrown.
Staked to a 7-4 lead to start the ninth, Fry (0-2) allowed two walks and two hits while recording two outs. Wells entered with the bases loaded and a 7-5 lead, but Bo Bichette blooped a two-run single to right to tie it.
"Sometimes you need some luck, and he put it in the perfect spot," Semien said.
Guerrero then laced a double into the left-center gap to give the Blue Jays a 9-7 lead, and he scored on Randal Grichuk's ensuing double.
"Give Bichette credit for an amazing at-bat," Baltimore manager Brandon Hyde said. "He put the ball in play on a tough slider down and away after a bunch of foul balls, just out of our reach. It seemed it took a little bit of air out of the balloon for Wellsy. He hung a couple of pitches after that. It was a tough inning."
Jordan Romano (4-1) pitched two scoreless innings for Toronto.
Manoah gave up a two-run shot to Mountcastle and a solo homer to DJ Stewart in the fourth to give Baltimore a 5-2 lead. He then plunked Franco on the first pitch, prompting the benches and bullpens to empty. Once the situation cooled down, the umpires conferred and ejected Manoah.
Manoah said he threw several sliders to Franco in an earlier at bat and shook off a sign for another, opting instead for a fastball. He said he was told by the umpires his ejection stemmed from "bad timing."
"I tried to get that fastball in and it slipped away," Manoah said. "I was confused by his reaction. I was questioning 'What's going on? What's wrong?' Those were my hand gestures as I was walking toward him. I didn't understand the frustration there."
Manoah allowed five runs in 3 1/3 innings, striking out six.
Baltimore starter Dean Kremer yielded solo shots to Semien and Guerrero in the first but no other damage over six innings, striking out six.
Mountcastle, who also had solo blasts in the second and sixth, is the first Oriole with three homers in a game since Pedro Severino did it at Texas on June 4, 2019. He became the second Orioles rookie with a three-homer game — Nick Markakis was the first, doing so Aug. 22, 2006, against Minnesota.
"Today I was seeing the ball well," said Mountcastle, who matched a career high with four hits. "I was on everything. Obviously, it didn't end the way we wanted it to, so I'm going to keep moving forward."
Mullins had solo shots in the third and the seventh a day after going deep twice in the series opener against the Blue Jays.
TRAINER'S ROOM
Blue Jays: OF Lourdes Gurriel Jr. pinch hit in the seventh inning and remained in the game to play left a day after exiting for a pinch hitter in the ninth inning with a back injury.
Orioles: Hyde said he anticipates LHP John Means (shoulder strain) returning "right around" the All-Star break. Means, who left his June 5 start in the first inning and landed on the injured list the next day, has started to play catch.
DEAL
Toronto acquired RHP Jacob Barnes from the New York Mets for minor league RHP Troy Miller. Barnes was 1-1 with a 6.27 ERA and two saves in 19 appearances for New York before he was designated for assignment Monday. Montoyo said Barnes would likely join the Blue Jays on Tuesday in Miami.
UP NEXT
Blue Jays: LHP Hyun Jin Ryu (5-4, 3.43 ERA) is 1-0 with a 3.00 ERA in three career starts against Baltimore.
Orioles: RHP Matt Harvey (3-8, 7.76) will attempt to end an eight-start winless streak as the three-game series concludes. Harvey is 0-7 with a 12.00 ERA since May 7.
___
More AP MLB: https://apnews.com/MLB and https://twitter.com/AP_Sports
Patrick Stevens, The Associated Press