Raise Your Glass to Catholic Education at the Kerry Wood Nature Centre May 18 (Wednesday)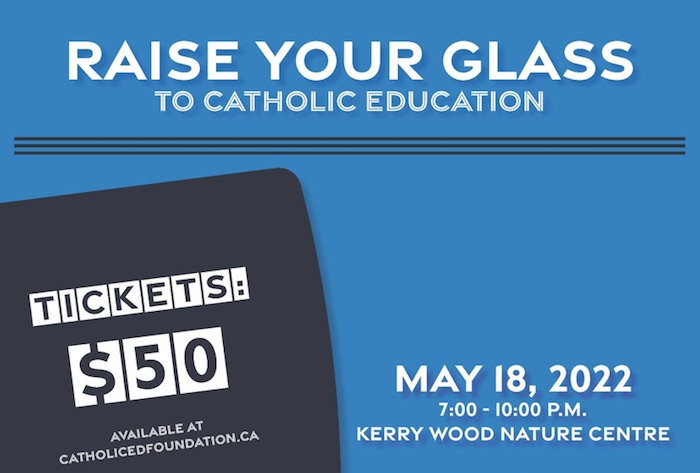 Join us for a toast to Catholic Education and a tasting experience for a great cause!
Beer, wine and spirits tastings from excellent local crafters. Tasty food samplings from Chef Jeff and his dedicated food students from École Secondaire Notre Dame High School. We've also collected some unique silent auction items for you to consider.
All this in the beautiful setting of Kerry Wood Nature Centre where you might even be able to do a bit of star gazing between sips!
Established in 2009, the Red Deer Regional Catholic Education Foundation raises funds to support faith-based initiatives that are not provided by Alberta Education. Here's a list of just a few of the important projects we're supporting together:
Breakfast programs for students in our most vulnerable communities.
Several student retreats which focused on faith understanding, leadership growth, physical activity, career and personal development.
Hosting speakers and special programs that raise student awareness to mental, emotional and physical health issues.
Providing students with tools to support acts of kindness toward each other, discouraging acts of aggression and bullying.
Supporting and encouraging literacy initiatives, including continued support of the very successful RDCRS READS Summer Reading program.
Connecting students with seniors residing in care homes who are often lonely.
Understanding the Catholic faith as the basis for Community Servant Leadership development.
Helping our youth understand that they are each unique and a Gift of God and do not have to be like everyone else. In these very challenging times, prayer can be an effective source of comfort and inner strength.
Encouraging students to develop their individual strengths and talents in the areas of art, culture and music.
Teaching students how to make good choices such as healthy eating, active living, not relying on abusive substances and developing their own identity.
Providing $2500 in Post-Secondary Scholarship funds for deserving students.
In short, our goal is for increased focus on developing and celebrating "the whole" of each of our students to be the best that they can be, with their faith as a cornerstone of that initiative. Joining us as a sponsor will help ensure our students continue to thrive in faith-based growth and development.

Raise Your Glass to Catholic Education
Join the Red Deer Regional Catholic Regional Schools' team for a casual fun-filled evening in support of Red Deer Catholic Education Foundation.
Featuring delicious food prepared by École Secondaire Notre Dame High School's food students under the direction of Chef Jeff, coupled with a wide selection of the area's craft breweries and wineries, this event is shaping up to be an exciting start to the summer season.
What: Raise Your Glass to Catholic Education
Where: Kerry Wood Nature Centre, 6300 45 Avenue, Red Deer, AB
When: May 18, 2022 from 7:00 – 10:00 p.m.
Who's Appearing: Sawback Brewery, Troubled Monk, Blindman Brewing, Blaire's Liquor, Booze Brothers Moonshine Co., Dark Woods Brewing and Coffee Roasting, Delidais Estate Winery, and Spirit Hills Winery.
Red Deer Catholic Regional School Division mobilizes to raise funds for vulnerable women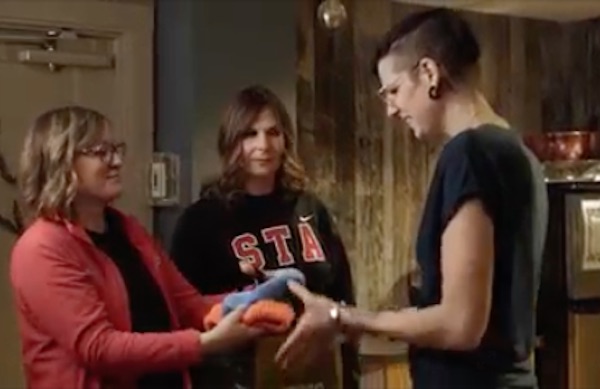 CSS Morning Star program lifts women in lasting ways
News Release from Catholic Social Services
Teachers across Red Deer Catholic Regional School Division are raising funds to support the vulnerable women served by Catholic Social Services' Morning Star program.
"It's just something that is very important to us, that we teach our children about helping less fortunate and being a part of a community and a faith filled community." Melissa Meyer, teacher at St. Thomas Aquinas School.
Last winter, a class at St. Thomas Aquinas school in Red Deer organized a drive to collect over 100 clothing accessories for Morning Star. This year, the entire school division is participating. Fundraising kicked off on May 9, and will continue through to the end of the school year.
Red Deer Catholic Regional School Division has held a lunch day where faculty and pupils were able to order lunch from local restaurants, Millennium Cafe and Bo's Bar & Stage, where a portion of proceeds will be donated to Morning Star. This week (May 9-13), faculty are participating by donating $20 to dress down for theme days. Themes include Gear down for a good cause, Jeans for justice, Sweathog Day, Just Cause Jeans, and High School Throwback, where teachers and staff may dress in jeans and sportswear at school. Another planned initiative includes a 50/50 draw on May 20.
"The support means a lot and there's something that really touches our hearts about the youth as well wanting to get involved in their community and help build up their community even from a young age. It means a lot to us." Jill Lanz, Service Coordinator at Morning Star.
Morning Star opened in downtown Red Deer in 2019, following a viability analysis which identified significant gaps in the community for women experiencing homelessness, addiction, and other self-identified barriers. Morning Star is the only program exclusively serving women, an important feature for those who may have experienced abuse and/or human trafficking.
The program aims to lift women in lasting ways through both outreach and drop-in services. The Morning Star drop-in centre offers a safe place for women to access showers and laundry services, snacks, clothing, toiletries, and the friendship and support of staff. Morning Star served 168 women last year, and currently receives 140-260 visits monthly.
"Part of our jobs is we will carry hope for our women until they can carry it for themselves," Lanz describes her role at Morning Star.
Morning Star is entirely funded through donations to Sign of Hope, Catholic Social Services' charitable fundraising arm. The program costs $250,000 annually to operate. Those interested can make donations at (LINK)
Local Filmmaker Involvement
A video by a local Red Deer filmmaker Corey Gomez was produced to support the Red Deer Catholic Regional School Division fundraising efforts. Gomez has been involved with projects including Billy the Kid, ATCO, Government of Alberta, and a television show produced by Ron Howard.
About CSS:
For 60 years, Catholic Social Services has been providing help to the most vulnerable. Today, CSS works in three priority areas: serving newcomers to Canada, serving individuals with disabilities, and serving individuals, children, and families. Each year, more than 21,000 Albertans in 12 communities across central Alberta, are uplifted and empowered through CSS.