Province spends $1.2 million to provide 20 electric vehicle charging stations in Southern Alberta
Minister Phillips and MLA Fitzpatrick join partners of the Peaks to Prairies network to announce the installations of EV charging stations in Lethbridge.
From the Province of Alberta
Charging up in southern Alberta
Lethbridge is the first of at least 20 communities that will benefit from a new network of electric vehicle charging stations across southern Alberta.
The Government of Alberta is providing $1.2 million in Climate Leadership Plan funding to the Community Energy Association to support the Peaks to Prairies Southern Alberta Electric Vehicle Network.
When completed, the Peaks to Prairies network will cover more than 1,700 kilometres of southern Alberta highways and transition the region to full electric vehicle connectivity. The charging stations will be powered by 100 per cent renewable energy from southern Alberta.
"Supporting new electric vehicle charging stations will help Alberta transition to a lower-carbon future. This grassroots initiative is proof that Albertans are leading the way in projects that diversify our economy, create jobs and reduce greenhouse gas emissions that cause climate change."
The Peaks to Prairies network addresses a gap in charging infrastructure across southern Alberta by developing a base network for electric vehicle charging stations. The network will give electric vehicle users access to more cultural and recreational opportunities throughout southern Alberta. Placing charging stations in recreational and retail areas of small communities will help boost tourism and economic development, inspire further investment in the region and reduce emissions.
"Community Energy Association has a long history of supporting local governments to achieve climate and energy goals. The Peaks to Prairies EV network exemplifies regional collaboration to build and diversify local economies while contributing to climate action goals. This community-led approach is a template for other Alberta regions, as to how we can get further by working together. It is a privilege for us to work with this innovative group of communities, and to have the support from provincial and federal levels of government to bring the EV network to fruition."
The Peaks to Prairies project was created by a group of southern Alberta municipalities and economic development groups, including SouthGrow Regional Initiative, Alberta SouthWest Regional Alliance, City of Lethbridge, City of Calgary and Medicine Hat College. The partners came together in 2016 with an interest in developing a regional electric vehicle charging network to facilitate emissions reductions, economic development and tourism.
"Peaks to Prairies reflects the commitment we have in southern Alberta to work collaboratively across the region to support development that is sustainable and forward-thinking. Through this project, we are not only shining a light on the advancement of renewable energy generated in our region, but we are ensuring that our communities can benefit from this emerging form of transportation."
The Peaks to Prairies charging network will use charging stations that are made in Canada by AddEnergie. Alberta-based ATCO Electric was chosen by the project partners to install, own and operate the network.
"Low-carbon transportation and affordable electric vehicles are becoming a reality. When ATCO made its first investment in the public fast-charging corridor along Highway 2 last year, it was a tremendous step forward. At ATCOenergy, we see it as part of our ongoing commitment to creating a clean energy future for the communities we serve. It's just one of the energy-efficient, innovative and valuable solutions we're exploring for homes and businesses across Alberta. We are very proud to be working with our partners in southern Alberta to establish a robust charging network in the province."
Quick facts
The Peaks to Prairies network will connect at least 20 communities in southern Alberta.
Charging stations are expected to be installed in:

Lethbridge
Canmore
Morley
Calgary – Olympic Park
Calgary – Stoney Trail
Calgary – East
Calgary – Signal Hill
Nanton
Claresholm
Crowsnest Pass
Pincher Creek
Fort Macleod
Taber
Medicine Hat
Chain Lakes Reservoir
Carmangay
Waterton Lakes
Cardston
Warner
Longview

The network is expected to be completed by December 2019.
Saskatchewan ranchers call for investigation into retail meat pricing
REGINA — A group of Canadian ranchers is calling for an investigation into meat pricing.
The Saskatchewan Stock Growers Association says it's asking the provincial and federal governments to look into what it calls an "imbalance" between the price ranchers receive for the cattle and the price consumers pay at the meat counter.
The group says many ranchers and feedlots are operating at a loss this year. Grass is still scarce on the Prairies due to last summer's drought, and the cost of feed grain and fuel has skyrocketed since last year.
But packers and retailers are reporting strong profits this year. The Stock Growers say they believe slaughterhouses may be intentionally running fewer shifts to in order to keep wholesale beef prices high and allow fed cattle supplies to build up in the countryside.
In the U.S., the Biden administration has already expressed concerns about rising meat prices and vowed to implement policies aimed at increasing competition in the meat-packing sector.
According to Statistics Canada, the retail price of beef is up 11.2 per cent year-over-year.
This report by The Canadian Press was first published July 5, 2022.
The Canadian Press
First test production of plastic a milestone for Heartland Petrochemical Complex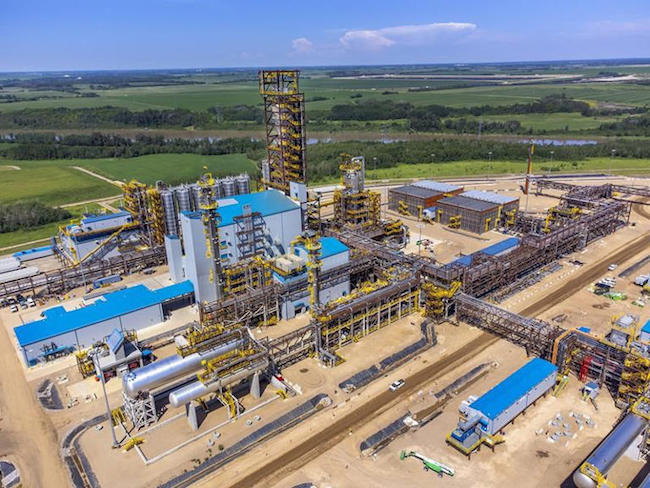 CALGARY — The $4.3-billion Heartland Petrochemical Complex, which has been under construction northeast of Edmonton since 2018, has produced its first plastic pellets.
Owner and operator Inter Pipeline Ltd. said Tuesday the newly commissioned facility has been producing test pellets steadily since late June, an important milestone en route to the expected start of full commercial operation sometime this fall.
The Heartland Petrochemical Complex will convert Alberta propane into 525,000 tonnes per year of polypropylene beads, an easily transported form of plastic that is used in the manufacturing of a wide range of finished products.
Steven Noble, spokesman for Calgary-based Inter Pipeline, said the facility will be the first integrated propane dehydrogenation and polypropylene production facility in North America. He said approximately 70 per cent of Heartland's total production capacity has been already contracted out to long-term customers.
"Through the duration of the project's construction, we've seen demand for polypropylene increase significantly … including at one point hitting an all-time record (market price)," Noble said in an interview. "The demand that we initially forecast certainly hasn't gone away."
The Heartland facility is being built with the support of a $408-million grant from Alberta's provincial government. The cash grant, part of an incentive program aimed at growing the province's petrochemicals sector, is to be paid to Inter Pipeline in equal instalments over three years once the complex is operational.
Noble said by creating a new market for propane, the Heartland facility is an example of how natural resource development in Alberta is diversifying.
"The fact that we're now looking at our raw resources in a different way, and figuring out different ways to get value out of them and create other refined products right here at home … is really the part of the story that everyone here is excited about," he said.
The Heartland Petrochemical Complex is expected to employ 300 people once fully operational.
The polypropylene produced at the facility will be branded as Heartland Polymers.
This report by The Canadian Press was first published July 5, 2022.
Amanda Stephenson, The Canadian Press