Province calling out for volunteers and honouring Albertans who support their community
From the Province of Alberta
Call to action for COVID-19 volunteers
Albertans have always risen to the call of duty when our province has been challenged, and the COVID-19 pandemic is no different. Today, the Government of Alberta is launching a new tool to connect Albertans with volunteer opportunities during this unprecedented global crisis, and launching the Northern Lights program to recognize Albertans who volunteer to support their community.
While physical distancing and gathering restrictions are in place, there is still a need for healthy volunteers to help those in need with countless opportunities to do so. The Alberta Cares Connector embraces the Alberta spirit of supporting the vulnerable by offering our assistance, skills and time to those who need it most.
"Volunteerism is the Alberta way. I continue to be inspired by many acts of Albertan generosity and compassion. From the Sikh community providing meals for truckers keeping our supply lines open, to a Calgary woman in her time of mourning sewing masks for her community, to kids leaving care packages on their elderly neighbours' doorsteps – the examples of generosity and selflessness are endless. The Alberta Cares Connector will build off this community solidarity and ensure that those who can help will make the biggest impact during this time when support is acutely needed. The Northern Lights program keeps a platform commitment to spotlight those who personify the Alberta sprit by giving back to our community through volunteerism."
Volunteers are the foundation for many community organizations providing social support and assistance to those in need. Alberta has more than 26,400 non-profit organizations and, each year, more than 1.6 million Albertans provide more than 262 million volunteer hours to support the non-profit and voluntary sector at a value of $5.6 billion.
"Albertans are proud to have the highest volunteer rates across Canada, and we take action in countless ways to meet the needs of our communities and neighbours. During this unprecedented crisis, Albertans understand that the need for volunteerism and social support is urgent. And, once again, they have demonstrated their commitment to their neighbours and communities through selfless acts of service. The Alberta Cares Connecter will assist Albertans who want to help at this time by connecting them with local volunteer opportunities to help those most in need."
This new tool will build on the success of every day Albertans who answered the call to action by providing an easy one-stop-shop for those looking for service opportunities. The Alberta Cares Connector will ensure those organizations and programs that depend on the generosity and assistance of volunteers are able to continue to provide support to those in need.
"We are thrilled about our collaboration with the province on the new Alberta Cares Connector. We've supported volunteering through floods and fires and built a platform that could be flexible to allow volunteers to rise to any challenge. Alberta Cares Connector will continue to evolve and create new ways for community organizations to connect with current and prospective volunteers who want to answer the call to help others in need."
Volunteers and volunteer organizations must follow all necessary precautions to prevent the spread of COVID-19 to protect themselves and those they help. More information on safety and physical distancing guidelines can be found at alberta.ca/COVID19.
Ways people can help
Volunteering at food banks.
Sewing masks or scrub bags for front-line health-care workers.
Providing meals for essential service workers, like truckers.
Picking up groceries for those unable to leave their homes.
Packing and delivering essential needs for vulnerable Albertans.
Donating blood through myaccount.blood.ca.
Donating items to shelters in need.
Reaching out to seniors through positive messages or phone calls.
Northern Lights Volunteer Recognition Program
Government is also launching the Alberta Northern Lights Volunteer Awards to honour everyday heroes as the province responds to the COVID-19 pandemic. The honourees will be nominated by fellow Albertans and selected for profiling on the program's website and through social media.
There are no requirements for hours of service, and any individual or group who helps out in their community is eligible for an award. The nomination submission requests a brief story about the nominee's contribution. Nominations will be accepted online on an ongoing basis.
"Volunteers are the heart of non-profits and right now we need Albertans to give their time and talents to community organizations. Any act of volunteerism, done safely, will make a huge difference. That's why the Government of Alberta is making a point of recognizing those individuals, businesses and organizations who have answered the call in this time of need. Let's share the uplifting and inspirational stories of special volunteers who are brightening the lives of others and their communities during this difficult time by nominating them for an Alberta Northern Lights Volunteer Award. "
The program is now accepting nominations.
Roughriders end slump by edging Elks 34-23 in Edmonton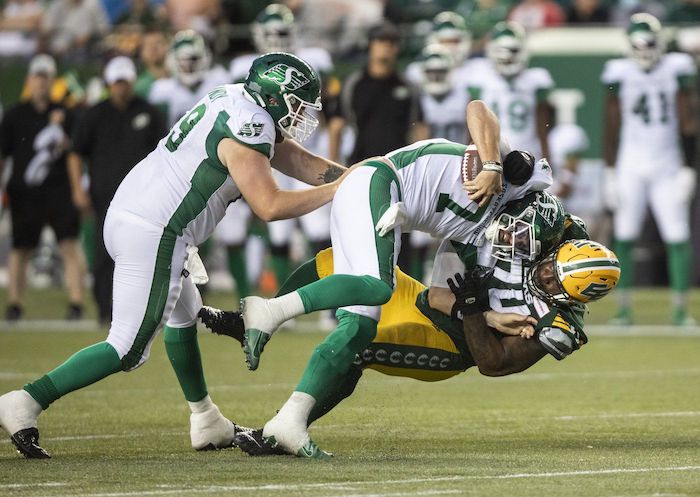 By Shane Jones in Edmonton
Having a break definitely seemed to serve Saskatchewan well.
Quarterback Cody Fajardo ran for a pair of touchdowns and passed for another as the Saskatchewan Roughriders emerged with a 34-23 CFL victory over the Edmonton Elks on Saturday.
The Roughriders (5-4) had lost three consecutive games before having a bye week and coming back with a win over Edmonton.
"Any win is a good win," said Saskatchewan linebacker Darnell Sankey. "We come out here and get a win on the road, it's an accomplishment.
"We understand that we can't underestimate any team, especially right now. We came in 4-4 and it is nice to get a win. We know we were the better team and that's why we came out here and got the win. This definitely has our morale up."
Fajardo felt like the break helped soothe his injured knee, as he actually led his team in rushing yards on the night with 51.
"I took a few shots on it and didn't feel anything," he said. "I was able to run fairly well and move around in the pocket.
"To be able to feel like myself again and have my legs back makes it a little bit easier for the guys up front and creates some big plays downfield. I'm feeling pretty good right now."
The Elks (2-7) have now lost 12 straight home games at Commonwealth Stadium, a frustrating stretch extending back to Oct. 12, 2019.
After Saskatchewan recorded a punt single on its opening drive, Edmonton came roaring back with quarterback Taylor Cornelius opting to run himself on a broken play for a 10-yard touchdown.
Fajardo responded in kind late in the opening quarter with a one-yard plunge to put the Riders back in front.
Roughriders kicker Brett Lauther kicked a 34-yard field goal to start the second frame.
Edmonton looked poised to regain the lead, but Cornelius fumbled the ball on the Saskatchewan five-yard line, with Rider Charleston Hughes recovering the ball.
The teams then traded field goals, with Elk Sergio Castillo making one from 38 yards and Lauther connecting from 46.
The Elks surged back ahead when Cornelius took another ball into the end zone himself, scrambling in from 26 yards with 31 seconds left in the opening half.
However, Saskatchewan would regain the lead before the halftime break on the ensuing kickoff as Mario Alford blazed 98 yards for the touchdown to give his team a 21-17 lead.
The halftime break was extended because of nearby lightning strikes.
Edmonton conceded another punt single, the only point in the third.
Castillo started the fourth quarter with a 44-yard field goal, and got another 46-yarder shortly after on the heels of an interception by Nafees Lyon to give them a one-point advantage.
"I threw an interception, but guys stayed positive on the sideline and pulled through after that and we found a way to score two more touchdowns after that," Fajardo said. "It means a lot when you make a mistake and your teammates have your back like that."
The Riders regained the lead with four minutes left as Fajardo found Duke Williams in the end zone with a 24-yard TD pass. The two-point convert attempt failed.
Edmonton attempted to trade blows, but Cornelius was picked off by Rolan Milligan, leading to a six-yard QB keeper for a touchdown by Fajardo.
Both teams return to action next Friday as the Elks travel to Ottawa and the Roughriders host the B.C. Lions.
FOOT NOTES: Saskatchewan won the previous encounter between the two teams by a 26-26 score in Week 2. … The Elks came into the game with an 0-6 record against West Division opponents while being outscored by an astonishing 234-84 margin. … In their first eight games, the Elks had a league-high 79 players playing in at least one game. The Riders had the second-most at 68. … It was the Wall of Honour night in Edmonton with three players from the five in a row Grey Cup champion teams from 1978 to 1982 — Jim Germany, Joe Hollimon and Ed Jones — recognized in ceremony following the game, after the original halftime proceedings were scrubbed due to nearby lightning strikes.
This report by The Canadian Press was first published Aug. 13, 2022.
Johnson dazzles, Canada tops Czechia 5-1 in world junior hockey championship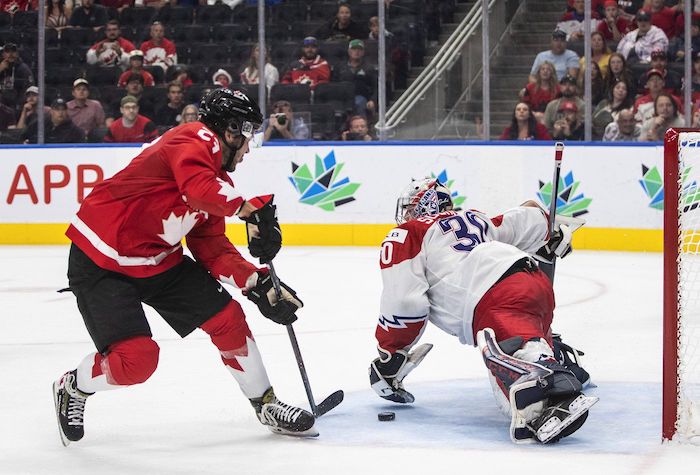 By Gemma Karstens-Smith in Edmonton
Kent Johnson has been working for years on a move that stuns goalies and hockey fans alike.
On Saturday, he executed it in a big way, scoring a highlight-reel-worthy goal that helped Canada to a 5-1 win over Czechia at the world junior hockey championship.
Johnson put away the dazzling game winner 19 minutes into the first period, scooping the puck on to his stick blade behind the net, picking it up as he glided forward and swirling it in over the Czech goalie's shoulder for an elusive "Michigan" goal.
The move — also known as a lacrosse goal — is something the Columbus Blue Jackets prospect has been honing for about six years.
"I've been practising that move since I was like, 14, and doing it," he said. "Now it's just something that's kind of in the tool box."
Still, pulling it out to give the Canadians a 2-1 lead — one they never relinquished — was exciting.
"It's a big goal, a really good one," said Johnson, who added an assist in the third period. "I think it's the period I was having, too. I think I would have been pretty pumped for it to go off my skate, too."
The play drew wild cheers from the crowd of 5,135 at Rogers Place. On the ice, Johnson's linemate Logan Stankoven held his gloved hands above his head and uttered "Oh my God!"
"That was probably one of the nicest Michigans I've seen, honestly," said Canada's captain, Mason McTavish. "He got it up so fast and at the end of the first period, the ice isn't that great then. So that was something special to watch. I'll definitely be watching that over and over again."
McTavish scored twice for Canada (3-0-0) on Saturday, while Ridly Greig and Tyson Foerster each found the back of the net. Jack Thompson, Ronan Seeley and Stankoven each contributed a pair of assists.
Czechia (1-1-1) opened the scoring with a short-handed goal early in the first period.
Jaroslav Chmelar was sent to the box after running fellow New York Rangers prospect Brennan Othmann into the boards from behind and leaving the Canadian with a bloody nose.
The play was reviewed and Chmelar was ejected with a game misconduct. His team was left to kill a five-minute major penalty.
Rysavy gave the Czech's some breathing room, putting a shot up under the crossbar 5:10 into the game. The puck bounced out of the net and the play continued, but a video review moments later showed the puck had crossed the goal line.
The way Canada rallied bodes well for the rest of the tournament, said Othmann.
"It's just a little bit of adversity. And that's OK in these games," he said. "I think that builds more character for the important games, elimination games. And it just shows that we're resilient. It doesn't matter who we're playing, we're going to keep going."
It was a busy night in net for Czech goalie Tomas Suchanek, who stopped 52 of 57 shots.
McTavish was first to beat the netminder, putting away the equalizer 16:44 into the opening frame by deflecting in Thompson's long blast through traffic.
Seconds earlier, Suchanek made an eye-popping stop to preserve his team's lead. Stationed at the side of the net, Johnson got a quick shot off on the out-of-position netminder but Suchanek slid over just in time to make a diving glove save.
"I was a little bit lucky," the Czech goalie admitted. "The puck went into the slot and I saw he was going to pass it across and I just put my glove out and he just shot it in my glove. I was like 'Oh my god, what just happened?' I watched the replay and it was pretty fun. I just said to myself 'Good job' and I kept going."
Canada's head coach Dave Cameron said he was "nervous" early in the game about how well Suchanek was playing.
"This tournament, now as the games get better and the competition gets tougher, you have to stick with it," he said. " (Suchanek) was really good and we stuck with it and found a way."
At the other end of the ice, Dylan Garand made 22 saves to collect his second win of the tournament for the Canadians.
Canada took a 3-1 lead 4:48 into the frame thanks to a power-play goal.
Czechia's Gabriel Szturc was called for roughing and five seconds into the man advantage, Greig tipped in Seeley's shot for his second goal of the tournament.
Canada was 1 for 3 on the power play Saturday while Czechia went 0 for 2.
Teen phenom Connor Bedard set up Canada's fourth goal of the night, slicing a crisp pass to McTavish, who was alone at the top of the slot. He stickhandled his way in and put a shot through the goalie's legs for his second goal of the game 11:05 into the second.
Foerster sealed the score 7:39 into the third period, collecting a pass from Johnson in the middle of the slot, winding up and blasting a massive shot past Suchanek to give the Canadians a 5-1 advantage.
Earlier on Saturday, the reigning champion Americans (3-0-0) remained undefeated with a lopsided 7-0 victory over Austria (0-3-0).
Austrian goalie Leon Sommer stopped 49 of the 56 shots he faced.
"I love those kind of games," he said with a smile. "Lots of shots."
Saturday's workload wasn't the largest Sommer has shouldered in world juniors action — he faced 64 shots in a 11-2 loss to Canada before COVID-19 scrubbed the original 2022 tournament in December.
"I guess I get the tough ones," the goalie said. "But I love those."
In Saturday's final game, Germany recorded its second win by outlasting winless Switzerland 3-2. Germany is now 2-1-0, while Switzerland slips to 0-3-0.
Canada will wrap up round robin play against Finland (2-0-0) on Monday.
The preliminary round continues through Monday, with the quarterfinals set for Wednesday. The semifinals are scheduled for Friday and the medal games will be played next Saturday.
NOTES: McTavish leads the tournament with 10 points (six goals, four assists). … Canada has outscored its opponents 21-4 across its first three games of the tournament. … Both sides were coming off a rest day after Canada routed Slovakia 11-1 on Thursday while the Czechs fell 4-3 in a shootout to Finland the same day.
This report by The Canadian Press was first published Aug. 13, 2022.