Pop-up Spray Parks – City bringing family fun to your neighbourhood this summer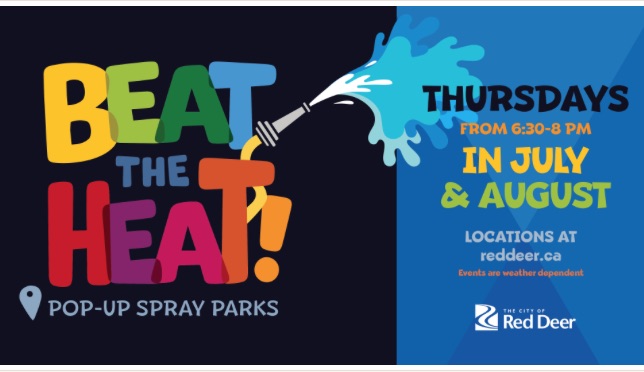 Pop-up spray parks are back this summer
Pop-up spray parks are gearing up again in Red Deer, set to visit eight neighbourhoods across the city this summer. The first pop up is set for this Thursday, July 7 at Barry Wilson Elementary School.

Families and friends are invited to join Red Deer Emergency Services, Municipal Policing Services and the Red Deer RCMP to beat the heat at pop-up spray parks every Thursday this July and August.

Each spray park will run every Thursday from 6:30 – 8 p.m., visiting neighbourhoods across the city as follows:
| | | |
| --- | --- | --- |
| Date | Location | Address |
| July 7 | Barry Wilson Elementary School | 300 Timothy Drive |
| July 14 | G.H. Dawe School | Holt Street & 59 Avenue |
| July 21 | St. Francis of Assisi School | 321 Lindsay Avenue |
| July 28 | Anders Park | Ayers Avenue & Anders Street |
| August 4 | Kentwood Park | Kendrew Drive & Kent Street |
| August 11 | Don Campbell Elementary School | 99 Irving Crescent |
| August 18 | Joseph Welsh Elementary School | 4401 – 37 Avenue |
| August 25 | Johnstone Park | Jordan Parkway & Jennings Crescent |
Events are weather dependant and will be cancelled if weather warnings are in place. The City will provide updates on social media each week if events are in question due to weather.
Information and schedule are available online at www.reddeer.ca/PopUpSprayParks.
For more information, please contact:
Corporate Communications
The City of Red Deer
Process for choosing a permanent site for shelter in front of City Council Monday
Potential shelter site list going to Council on Monday
Detailed information about potential sites for the future integrated shelter will be discussed by Council during a closed portion of their meeting on Monday, August 15. Thanks to the support of a commercial realtor, citizens and community partners, 96 potential sites were identified and assessed based on Council's Site Evaluation Matrix approved on July 4. The following is a breakdown of those 96 sites:
50 market sites recommended by commercial realtor
Five unlisted sites recommended by commercial realtor
13 City or Provincially owned land
22 publicly recommended sites from May to July
Six sites put forward during the public call for sites from July 20 to 27
From the high-level list of 96 sites identified, administration completed the initial site assessment using the tool that was shared with Council at their meeting on July 18, 2022. Sites that scored more than 70 per cent moved to the next phase of technical assessment. The 12 sites that were moved forward, were put through a more comprehensive technical review, including administrative analysis, scoring and site related details
On Monday, during a closed meeting, Council will receive detailed information about the top 12 sites, as well as the full list of 96 sites. The site locations and detailed information will not be shared publicly at this time to protect the economic interest of potential parties (including site owners) involved. On Monday, Council will also determine their next steps in the process of selecting a site to recommend to the province, which will include their own site assessment based on their Site Evaluation Matrix.
The current target date for Council to select a site to recommend to the province is August 29, however, if additional technical information is required on the current 12 sites, or additional sites identified by Council, that target date may be pushed out by a minimum of two weeks.
For more information on the future shelter, visit www.reddeer.ca/shelter.
To view the public Council report, please visit the agenda packet page 102-111 for shelter report.
City looking to help homeowners affected by flooding from June rains
City applying for disaster recovery funding to support residents affected by June rainfall
The City of Red Deer is submitting an application to the Government of Alberta's Disaster Recovery Program (DRP) seeking financial relief for residents and property owners who experienced flooding due to excessive rainfall in June.

The DRP provides financial assistance for uninsurable loss and damage caused by emergencies and disasters. Following a disaster, affected municipalities can apply to the program and, if the municipal application is approved, affected residents can apply to the Province for financial assistance.

On Monday, The City will be submitting the first round of a DRP application seeking financial assistance for residents affected by ground flooding on or after June 23, 2022. The City is seeking to learn how many residents were affected by flooding to ensure the next phase of the application process has the most up to date information available.

Affected property owners are asked to contact the Engineering department to ensure the DRP application can be updated with more detailed information about the impacts of flooding. Owners can email [email protected] or call 403-342-8161 with the following information:
Name
Address
Phone number
Confirmation of the date flooding started on their property
1-2 photos if available
If they have not already, affected residents should first contact their insurance provider to confirm which costs will be covered, as DRP funding would only apply to uninsurable losses. Residents are reminded to keep track of all receipts related to flood expenses and are forewarned that it will take time before funds may become available. Applicants to the DRP should anticipate a site visit to confirm details as part of the application process.
In June 2022, The City reported between 167 and 182 mm of rain at different locations across the city. According to Environment Canada, from 1981 to 2010, the average precipitation for the month of June at the Red Deer Regional Airport was 94 mm.
Information and updates on the application process are available on The City's website at reddeer.ca/flood.
More information about the Alberta Government's Disaster Recovery Program (DRP), including the types of disasters covered by the program, is available online at https://www.alberta.ca/disaster-recovery-programs.aspx. Residents affected by ground flooding are encouraged to review the 'Homeowner and residential tenants' fact sheet for details about qualifying for the DRP.