Red Deer Man Dies In Crash, Live Music & The Downtown Market!
2:59 pm – Red Deer RCMP continue to see an increase in the number of stolen identity documents they are seizing during arrests and warn the public to take care to protect their identity, their bank and credit cards and their credit rating by not leaving wallets, purses or any personal documentation in vehicles and by checking their mail daily. Read More.
2:50 pm – City crews are still hard at work clearing hazardous trees and debris from parks and trails throughout Red Deer after the June 20th windstorm. Read More.
2:32 pm – Whether you're a business owner, someone in the sign industry, or a member of the public, you will want to come to an open house on the review of sign regulations in Red Deer on Tuesday, July 11th. Read More.
For more local news, click here!
2:27 pm – The City of Red Deer's Rip'n Rec Summer pass gives kids and youth 6 – 17 years old unlimited rides on Red Deer Transit, anywhere at any time and unlimited access to drop in activities at City rec centres for only $50. Read More.
2:15 pm – Kenny Shields and Streetheart, who were set to perform on Thursday, July 20 at Westerner Days Fair & Exposition, have cancelled their entire 2017 tour. In a statement released today, July 5, the band announced that they will be cancelling the remainder of their 2017 tour due to illness. A replacement has yet to be confirmed. Read Band Statement Here.
2:11 pm – Experienced and amateur artists from across Alberta and beyond will soon arrive at Red Deer College to immerse themselves in week-long visual arts courses. From July 10 to August 4, participants will enjoy personal growth and professional development as they pursue their crafts in a wide variety of mediums. Read More.
For more local news, click here!
10:12 am – A 59 year old Red Deer man is dead after the minivan he was driving struck the back of a semi parked along the northbound lanes of the QE2 around 1:00 am this morning. It happened near Township Road 312 south of Didsbury. Traffic was diverted for a period of time but has since returned to normal. No name has been released.
9:58 am – Heads up Innisfail drivers! Due to the installation of electrical conduit, there will be some road closures throughout town today. Read More.
9:18 am – How about some live music while you shop at the Downtown Market today? Here is whose on tap for the Ross Street Patio from 4:30 – 6:30 pm!
For more local news, click here!
9:10 am – You can find farm fresh food including meat, fresh vegetables and fruit, baked goods and handmade items at the accredited Farmer's Market in downtown Red Deer today. It runs from 3:30 – 6:30 pm. Details Here.
9:00 am – RCMP are asking for the public's help with any information regarding a break-in and robbery at the CIBC in Olds on July 3rd. Mounties say it happened around 4:00 am in the Mountain View Plaza where the suspects broke into a neighbouring business to gain access into the bank. An undisclosed amount of cash was then stolen from an ATM. If you have any tips on this incident, contact Crime Stoppers or call the Olds RCMP detachment at 403-556-3323.
8:45 am Free live music at the Alexander Way Parklet today from 11:30 am – 1:00 pm! Read More.
For more local news, click here!
8:35 am – Red Deer RCMP are thanking the public for their help in locating 60 year old Elaine Tirrell who was previously reported missing.
8:25 am – Road construction and the Downtown Market will mean traffic disruptions in various parts of the city today. Details Here.
8:18 am – New Live-Action Adventure Brings Entertainment One's Hit Animated TV Series to Life in the ENMAX Centrium at Westerner Park December 13th, with an exclusive pre-sale beginning July 5th at 10:00 am. Read More!
Canadian sprinter Andre De Grasse wins bronze in men's 100 metres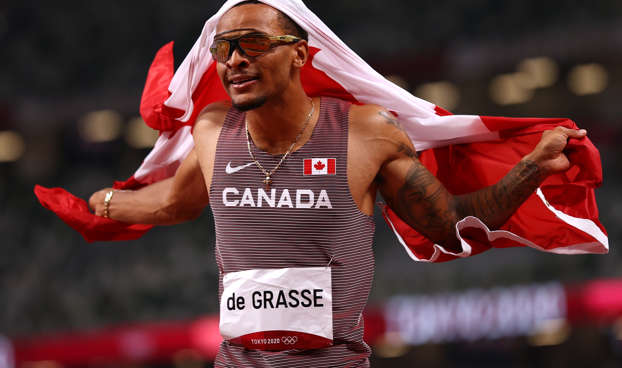 TOKYO — Canada's Andre De Grasse has claimed the bronze medal in the men's 100 metres for the second straight Olympics.
The 26-year-old from Markham, Ont., overcame a rough start and raced to third in a personal-best time of 9.89 seconds.
Italy's Lamont Jacobs took the gold in 9.80 seconds, followed by American Fred Kerley in 9.84 seconds. All three medallists ran personal bests.
It's Canada's first track and field medal at the Tokyo Olympics. It's also the latest piece of hardware in the event for De Grasse, who won bronze in the 100 in both the 2016 Olympics and 2019 world championships.
Two hours earlier, De Grasse ran 9.98 to finish second in his semifinal and seventh overall.
De Grasse is the first Canadian male to climb the medal podium in Tokyo. Led by swimming superstar Penny Oleksiak, women had captured all of Canada's 13 previous medals.
De Grasse will have a day off before he's back on the track for the 200 heats and semifinal on Tuesday. He captured silver in the 200 at both the 2016 Olympics and 2019 world championships.
There was no clear-cut favourite in the men's 100 this year with the retirement of Usain Bolt. The Jamaican superstar and world record-holder (9.58) captured gold and silver in the 100 and 200 in the Beijing, London and Rio, and what the media dubbed his "bromance" with fellow Puma athlete De Grasse was an entertaining storyline in Rio.
American Christian Coleman, the reigning world 100-metre champion and the sprinter considered De Grasse's biggest challenge in Tokyo, is serving a doping suspension through May of next year.
This report by The Canadian Press was first published Aug. 1, 2021.
The Canadian Press
Penny Oleksiak makes history as Canada swims to bronze in medley relay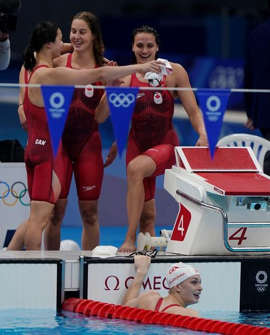 Masse, 25, earned a pair of silver in backstroke. Oleksiak also claimed bronze in the 200-metre freestyle.
The women's swim team amassed six medals in Tokyo to equal its Rio count of five years ago.
Taylor Ruck of Kelowna, B.C., Pickrem, Mac Neil and Toronto's Kayla Sanchez posted the fastest qualification time in Friday's heats to give Canada a middle lane Sunday.
The medley relay medal was Canada's first since 1988 and fourth in the 61-year Olympic history of race. Canadian women were bronze medallists in 1976, 1984 and '88.
Oleksiak won 100-freestyle gold, 100-butterfly silver and anchored Canada to a pair of freestyle relay bronze medals at age 16 in Rio.
Heats, semifinals, finals and relays added up to 10 races over nine days for Oleksiak in Tokyo, where she added a pair of relay medals and the 200 free bronze to her total.
Oleskiak, Mac Neil and Masse claimed their third medals at the Tokyo Aquatic Centre.
This report by The Canadian Press was first published July 31, 2021.
The Canadian Press