Red Deer Man Dies In Crash, Live Music & The Downtown Market!
2:59 pm – Red Deer RCMP continue to see an increase in the number of stolen identity documents they are seizing during arrests and warn the public to take care to protect their identity, their bank and credit cards and their credit rating by not leaving wallets, purses or any personal documentation in vehicles and by checking their mail daily. Read More.
2:50 pm – City crews are still hard at work clearing hazardous trees and debris from parks and trails throughout Red Deer after the June 20th windstorm. Read More.
2:32 pm – Whether you're a business owner, someone in the sign industry, or a member of the public, you will want to come to an open house on the review of sign regulations in Red Deer on Tuesday, July 11th. Read More.
For more local news, click here!
2:27 pm – The City of Red Deer's Rip'n Rec Summer pass gives kids and youth 6 – 17 years old unlimited rides on Red Deer Transit, anywhere at any time and unlimited access to drop in activities at City rec centres for only $50. Read More.
2:15 pm – Kenny Shields and Streetheart, who were set to perform on Thursday, July 20 at Westerner Days Fair & Exposition, have cancelled their entire 2017 tour. In a statement released today, July 5, the band announced that they will be cancelling the remainder of their 2017 tour due to illness. A replacement has yet to be confirmed. Read Band Statement Here.
2:11 pm – Experienced and amateur artists from across Alberta and beyond will soon arrive at Red Deer College to immerse themselves in week-long visual arts courses. From July 10 to August 4, participants will enjoy personal growth and professional development as they pursue their crafts in a wide variety of mediums. Read More.
For more local news, click here!
10:12 am – A 59 year old Red Deer man is dead after the minivan he was driving struck the back of a semi parked along the northbound lanes of the QE2 around 1:00 am this morning. It happened near Township Road 312 south of Didsbury. Traffic was diverted for a period of time but has since returned to normal. No name has been released.
9:58 am – Heads up Innisfail drivers! Due to the installation of electrical conduit, there will be some road closures throughout town today. Read More.
9:18 am – How about some live music while you shop at the Downtown Market today? Here is whose on tap for the Ross Street Patio from 4:30 – 6:30 pm!
For more local news, click here!
9:10 am – You can find farm fresh food including meat, fresh vegetables and fruit, baked goods and handmade items at the accredited Farmer's Market in downtown Red Deer today. It runs from 3:30 – 6:30 pm. Details Here.
9:00 am – RCMP are asking for the public's help with any information regarding a break-in and robbery at the CIBC in Olds on July 3rd. Mounties say it happened around 4:00 am in the Mountain View Plaza where the suspects broke into a neighbouring business to gain access into the bank. An undisclosed amount of cash was then stolen from an ATM. If you have any tips on this incident, contact Crime Stoppers or call the Olds RCMP detachment at 403-556-3323.
8:45 am Free live music at the Alexander Way Parklet today from 11:30 am – 1:00 pm! Read More.
For more local news, click here!
8:35 am – Red Deer RCMP are thanking the public for their help in locating 60 year old Elaine Tirrell who was previously reported missing.
8:25 am – Road construction and the Downtown Market will mean traffic disruptions in various parts of the city today. Details Here.
8:18 am – New Live-Action Adventure Brings Entertainment One's Hit Animated TV Series to Life in the ENMAX Centrium at Westerner Park December 13th, with an exclusive pre-sale beginning July 5th at 10:00 am. Read More!
Authorities call fatal stabbing of UK lawmaker terrorist act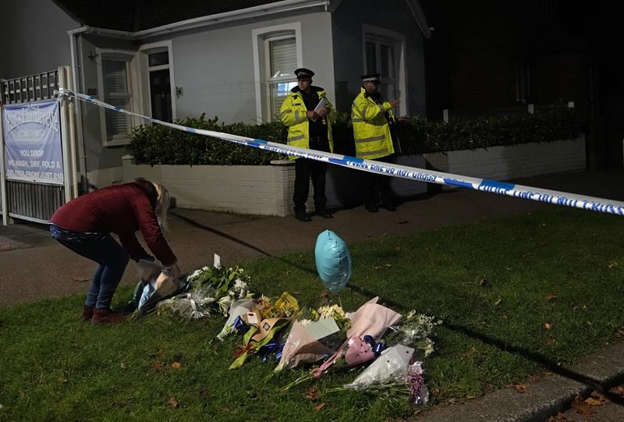 LEIGH-ON-SEA, England (AP) — A long-serving member of Parliament was stabbed to death Friday during a meeting with constituents at a church in England, in what police said was a terrorist incident. A 25-year-old man was arrested in connection with the attack, which united Britain's fractious politicians in shock and sorrow.
Counterterrorism officers were leading the investigation into the slaying of Conservative lawmaker David Amess. In a statement early Saturday, the Metropolitan Police described the attack as terrorism and said the early investigation "has revealed a potential motivation linked to Islamist extremism."
Amess, 69, was attacked around midday Friday at a Methodist church in Leigh-on-Sea, a town about 40 miles (62 kilometers) east of London. Paramedics tried without success to save him. Police arrested the suspect and recovered a knife.
They did not identify the suspect, who was held on suspicion of murder. Police said they believed the suspect acted alone, and were not seeking anyone else in connection with the killing, though investigations continue.
The slaying came five years after another MP, Jo Cox, was murdered by a far-right extremist in her small-town constituency, and it renewed concern about the risks politicians run as they go about their work representing voters. British politicians generally are not given police protection when they meet with their constituents.
Tributes poured in for Amess from across the political spectrum, as well as from the community he had served for decades. Residents paid tribute to him at a vigil at a church in Leigh-on-Sea.
"He carried that great East London spirit of having no fear and being able to talk to people and the level they're at," the Rev. Jeffrey Woolnaugh said at the vigil, attended by about 80 people. "Not all politicians, I would say, are good at that."
Conservative Prime Minister Boris Johnson said he and his Cabinet were "deeply shocked and heart-stricken."
"David was a man who believed passionately in this country and in its future, and we've lost today a fine public servant and a much-loved friend and colleague," Johnson said.
The prime minister would not say whether the attack meant politicians needed tighter security, saying, "We must really leave the police to get on with their investigation."
Amess had been a member of Parliament for Southend West, which includes Leigh-on-Sea, since 1997, and had been a lawmaker since 1983, making him one of the longest-serving politicians in the House of Commons.
A social conservative on the right of his party, he was a well-liked figure with a reputation for working hard for his constituents and campaigning ceaselessly to have Southend declared a city.
Amess, who leaves a wife and five children, was knighted by Queen Elizabeth II in 2015 for his service, becoming Sir David.
Flags at Parliament were lowered to half-staff amid a profusion of questions about lawmakers' security.
"This is an incident that will send shockwaves across the parliamentary community and the whole country," House of Commons Speaker Lindsay Hoyle said. "In the coming days we will need to discuss and examine MPs' security and any measures to be taken, but for now, our thoughts and prayers are with David's family, friends and colleagues."
Violence against British politicians is rare, but concerns have grown about the increasingly bitter polarization of the country's politics.
In 2016, a week before the country's divisive Brexit referendum, Cox, a Labour Party lawmaker, was fatally stabbed and shot in northern England. Also, several people have been jailed in recent years for threatening lawmakers.
British lawmakers are protected by armed police when they are inside Parliament, and security there was tightened after an attacker inspired by the Islamic State group fatally stabbed a police officer at the gates in 2017.
But politicians have no such protection in their constituencies. Amess published the times and locations of his open meetings with constituents on his website.
Two other British lawmakers have been attacked over the past two decades during their "surgeries," regular meetings where constituents can present concerns and complaints.
Labour legislator Stephen Timms was stabbed in the stomach in 2010 by a student radicalized by online sermons from an al-Qaida-linked preacher.
In 2000, Liberal Democrat Nigel Jones and his aide Andrew Pennington were attacked by a man wielding a sword during such a meeting. Pennington was killed and Jones wounded in the attack in Cheltenham, England.
Former Prime Minister Theresa May, a Conservative, tweeted that Amess' killing was a "tragic day for our democracy," and former Labour Prime Minister Tony Blair said he was "shocked and horrified."
Scottish First Minister Nicola Sturgeon of the Scottish National Party said on Twitter: "In a democracy, politicians must be accessible and open to scrutiny, but no one deserves to have their life taken while working for and representing their constituents."
Kim Leadbeater, Jo Cox's sister and now a member of Parliament herself, said it was "horrific" that Amess' family was experiencing what hers had gone through.
"They will think about this every single day for the rest of their lives," she said.
"I find myself now working as a politician and trying to do good things for people, and it's really important you get good people in public life, but this is the risk we are all taking, and so many MPs will be scared by this."
___
Lawless reported from London. Pan Pylas also contributed to this report.
Jo Kearney And Jill Lawless, The Associated Press
CDC says people with mixed-dose COVID-19 vaccinations will be eligible to enter U.S.
WASHINGTON — It's the news nearly four million Canadians have been waiting to hear: people who received doses of two different COVID-19 vaccines will qualify as fully vaccinated when the U.S. reopens its land borders to non-essential travel next month. 
The U.S. Centers for Disease Control and Prevention made the announcement late Friday, capping a whirlwind week of developments signalling the imminent end of 19 months of pandemic-induced North American travel restrictions.
People with "any combination" of two doses of a vaccine approved by either the U.S. Food and Drug Administration or the World Health Organization "are considered fully vaccinated," the agency said in a statement. 
"While CDC has not recommended mixing types of vaccine in a primary series, we recognize that this is increasingly common in other countries so should be accepted for the interpretation of vaccine records." 
The news also confirms what the White House acknowledged earlier Friday would be a likely development: that the Oxford-AstraZeneca vaccine, approved by the WHO but not the FDA, would be deemed acceptable. 
The CDC had already given the green light to overseas travellers who received the AstraZeneca vaccine, but until Friday had not expressly confirmed the same policy for those crossing into the U.S. by land.  
Earlier in the day, White House officials said the new rules would go into effect Nov. 8, both at the land borders and for people arriving from a number of overseas countries where travel to the U.S. has been banned since March 2020. 
The U.S. won't ask its forthcoming visitors to submit to a COVID-19 test prior to departure, unlike Canada, which requires travellers to show proof of a recent negative test — a costly condition of entry that runs about $200 a pop.  
New York congressman Brian Higgins, who has been relentlessly campaigning against the travel restrictions for months, is urging the federal government in Ottawa to reconsider that rule. 
"I think that the U.S. decision to allow Canadians coming into the United States without a test again underscores the potency of the vaccine," Higgins said in an interview Friday. 
"I would like to see that reciprocated by our Canadian neighbours."
The Nov. 8 start date comes a full three months after Canada initially began allowing fully vaccinated U.S. citizens and permanent residents back across the border in August.  
"It will be what we make of it, and I'm happy that people can now be reunited with loved ones and all those other issues," Higgins said. 
"But the fact of the matter is, the U.S. border to our Canadian neighbours should have been opened months ago."  
The U.S. Travel Association has estimated the Mexican and Canadian border closures have been costing American businesses $1.5 billion in travel exports — domestic spending by foreign visitors — every month.
As for the test requirement, public health officials in Canada made it clear Friday it's not going away any time soon. 
"We're in a situation in Canada where our health systems are still very fragile," said Dr. Theresa Tam, Canada's chief public health officer. 
"We need to still be very vigilant and careful at this point, but we will have ongoing discussions with the CDC and the United States to see what is reasonable in the trajectory going forward."
The White House has never explained publicly why it waited three months after Canada began relaxing its restrictions. Speculation focused on a desire to open both land borders at the same time, something a burgeoning immigration crisis at the U.S.-Mexico border made politically difficult. 
"Canada shouldn't have had to wait for Mexico," said Maryscott Greenwood, CEO of the D.C.-based Canadian American Business Council. 
"The science, the politics, the policy, the reality — none of that would lead you to say, 'Let's do these things in tandem.' What would be better to do in tandem is Canada and the U.S. work in tandem across our common border, and Mexico and the U.S. work in tandem across that border. That makes some sense."
Higgins agreed, noting that the U.S. is letting vaccinated travellers in Mexico enter the country even though only 38.5 per cent of that country's population is fully vaccinated.
"This whole argument that, 'We have to wait until we achieve a higher rate of vaccination,' is thrown out the window," he said. 
"The U.S. federal government proved my point on that — they're saying, 'Hey, look, we'd like to have more Mexicans as a percentage of the adult population vaccinated, but if they're vaccinated, they're safe."
Deputy Prime Minister Chrystia Freeland demurred Thursday when asked whether, in the future, Canada would press its case for the U.S. to use separate and distinct policy approaches to its northern and southern borders. 
"I think that we need to be respectful of every other country's sovereign decisions around its borders, and of every other country's sovereign right to manage its borders as it sees fit," Freeland said. 
"Having said that, I think it's also worth pointing out that Canada has a very effective, very close partnership with the United States, as we should." 
Since the dawn of the NAFTA age 25 years ago, the U.S. has tended to see its two frontiers through an economic lens — and in that context, they are more similar than most Canadians realize, said Bill Anderson, director of the Cross-Border Institute at the University of Windsor. 
"People have the idea that in Mexico, what you've got is a whole bunch of people trying to get across the border illegally, and maybe you have some imports and exports of tomatoes and tequila. That's not it," Anderson said.
"It's very similar (to Canada) in terms of the ports of entry. A lot of business people are crossing on a regular basis too, and of course, there's a lot of crossing for tourism, there's a lot of family crossings — the volume of people crossing legally is huge there as well." 
This report by The Canadian Press was first published Oct. 15, 2021.
James McCarten, The Canadian Press