Pierre Poilievre doesn't like anti-Trudeau flags, but understands anger behind them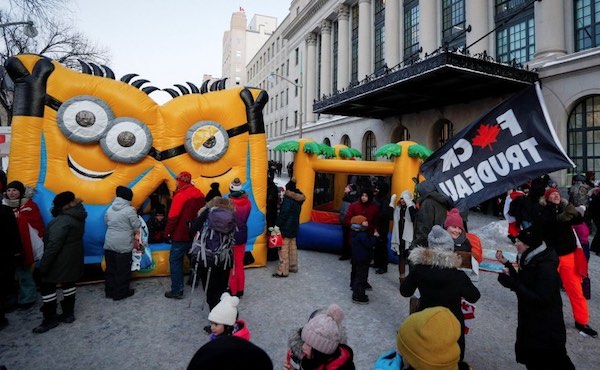 By Lee Berthiaume in Ottawa
Federal Conservative Leader Pierre Poilievre says he doesn't like the expletive-laden flags some Canadians are using to denounce Prime Minister Justin Trudeau, but that he understands the anger fuelling such displays.
"I don't like the flags, and I don't like rage," Poilievre said during an end-of-year news conference in Ottawa on Friday. "But I think we have to ask ourselves: 'Why are people so angry?' And the answer is that they're hurting."
The comments follow a blog post by former Conservative leader Erin O'Toole, who said one of his hopes for 2023 "is to see fewer profanity-laden Trudeau flags across Canada."
Describing Trudeau as his political opponent in the last federal election, not his enemy, O'Toole wrote: "These flags and the hyper-aggressive rhetoric that often accompanies them are slowly normalizing rage and damaging our democracy."
O'Toole's criticism was not limited to only those who have flown the flags targeting Trudeau, as he accused actors on both the extreme right and left of contributing to a growing polarization in Canadian politics by playing off each other.
"The proliferation of these types of political displays in recent years are a sign that we are slowly becoming desensitized to political stunts and aggressive rhetoric whether it comes from the left or right," he added.
The anti-Trudeau flags have become particularly linked to the "Freedom Convoy" protests, whose members Poilievre courted during his successful run for the Conservative leadership earlier this year. The Conservative caucus had ousted O'Toole as leader just days into the weeks-long protest in Ottawa.
Asked about O'Toole's blog post and the flags, Poilievre said it's easy for politicians to tell people to stop complaining. However, he added that many Canadians are angry because they are hurting financially and in other ways.
"I have never seen so much hurt and so much pain and suffering in our population during my nearly two decades in politics," he said.
"So sure, let's tell people to be more civil. But as political leaders, let's actually try to solve the problems that have upset and angered and hurt people so badly. It is our job to turn that hurt into hope."
Poilievre went on to suggest many Canadians are struggling because the Liberal government is out of touch, before promising to be a prime minister "that actually bring people together and gives them hope that tomorrow can be better.
"Let's make this a place where people feel their hard work pays off, where they're respected, where their leaders don't talk down to them and point fingers at them."
This report by The Canadian Press was first published Dec. 30, 2022.
Red Deer Polytechnic's Jenica Swartz named ACAC Indoor Track Runner of the Year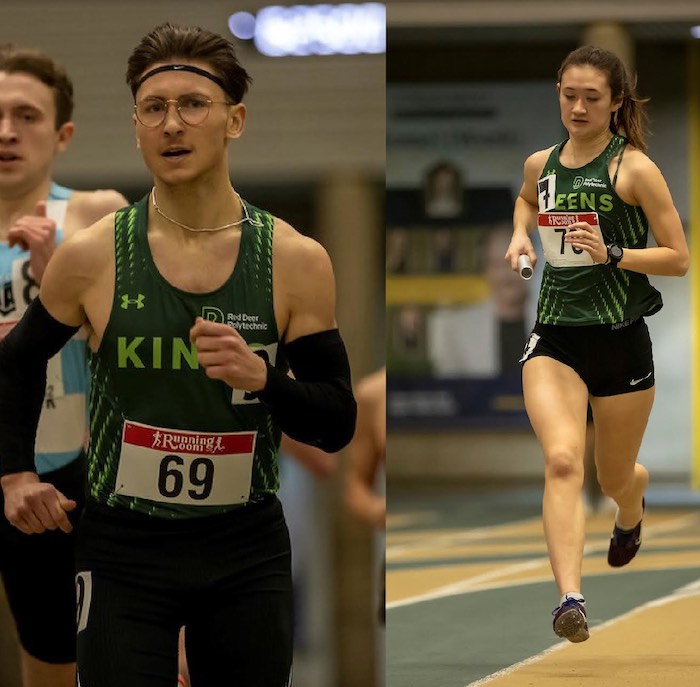 Jenica Swartz named Indoor Track Runner of the Year, Ethan Duret picks up an All-Conference Award
Red Deer Polytechnic and the Athletics department are pleased to recognize Jenica Swartz of the Queens Indoor Track Team as the Alberta Colleges Athletic Conference (ACAC) Female Runner of the Year and Ethan Duret of the Kings Indoor Track Team as he was named an ACAC All-Star.
Swartz was a crucial part of the Queens team winning their first-ever championship title in Indoor Track. Duret picked up multiple top-five finishes on the men's side at the ACAC championship.
Jenica Swartz (Queens Runner)
What a year it was for Jenica Swartz. It all started way back in August when she started training with the Queens Soccer and Cross-Country team. She was able to earn a gold medal in soccer and a bronze medal on the same weekend at the ACAC Soccer and Cross-Country Championship. Capping off the 2022 season, Swartz competed for the soccer team at nationals before flying to Medicine Hat for cross-country nationals where she ran the 6 km race that same morning and placed fourth. A few months later, she would help the Queens win the first-ever championship in program history in Indoor Track after picking up three individual golds, one silver and first place in both the relay events at the ACAC Championship held in Edmonton at the Butterdome this past weekend.
Head Coach Douglas Spicer explained that Swartz is an outstanding athlete and teammate.
"She leads by example in her training and competing in both cross-country and indoor track, along with being an integral part of the Queens Soccer program. It was a great pleasure working with Jen this year and watching her dominate the competition in her quiet, humble way."
Last season, Swartz broke her ankle and she had to have pins put in to repair the damage. Between the 2022/2023 cross-country and indoor track seasons, she had the pins removed and in the end, she came out on top in the 300m, 600m and 1000m events at the championship.
Swartz is a second-year student-athlete at Red Deer Polytechnic and is enrolled in the Bachelor of Science Pre-Med program. She was also named to the All-Conference team.
Ethan Duret (Kings Runner)
Ethan Duret is a second-year student-athlete with the Kings Indoor Track and Cross-Country team. He is from Red Deer and went to high school at Notre Dame Ecole Secondaire where he ran for their cross-country and track team before moving over to the Polytechnic. He is a five-foot-nine runner and is enrolled in the Bachelor of Commerce program.
Earlier in the Indoor Track season at the Grand Prix hosted by Red Deer Polytechnic, Duret earned himself two first-place finishes and a gold and bronze medal in both relay events. At the Championships, it was a much different story, Duret could not find the podium in the individual events but helped his team to a bronze finish in the 4x200m relay. He ended his weekend with two fifth-place finishes in the 300m dash and 600m run.
Spicer said he is a terrific athlete who is well-suited for indoor track, as he has natural speed, along with the endurance that he developed during the cross-country season.
"Although he did not finish in the top five in cross-country, he trained hard and developed a solid aerobic base which we refined during indoor track. This added more speed and endurance which suited his 600m and 1000m races in particular. Ethan is a goal-setter who asks a lot of himself and works hard to achieve his goals."
Duret will also be graduating from the program following the end of the academic year.
Please share the words Brian Burke says twice in this chat