Highway 20 Fatal, Rocky Cougar Shooting, Red Deer's Emergency
11:45 am (Jun 24) – As of Friday night, about 50 homes remained without power in Red Deer. However, City officials say those properties are expected to be reconnected by mid-day Saturday, June 24th. Parks crews will also be continuing to clean-up trees and debris on trails, parks and roadways. Read More.
11:39 am (Jun 24) – On Friday, June 23, 2017 at 5:45 pm, Sylvan Lake RCMP along with Lakeside EMS, Stars Air Ambulance and the Sylvan Lake Fire Department responded to a fatal two vehicle collision at the intersection of Highway 20 and Highway 12. Read More.
For more local news, click here!
3:20 pm – The Red Deer Symphony Orchestra (RDSO) is preparing for the conclusion of the pilot phase of their education and outreach program Music + Explorers at G.H. Dawe Elementary School. A Pop Up Percussion performance from the Grades 2-5 students involved will take place on Tuesday, June 27th. Read More.
3:03 pm – The Canadian Food Inspection Agency (CFIA) has declared the Red Deer River Watershed infected with Whirling Disease. Read More.
2:57 pm – The City of Lacombe has released an update on it's Main Street project which has now advanced into Stage 2. Read More.
For more local news, click here!
2:46 pm – Rocky Mountain House RCMP put down a cougar with a single shot after it was spotted near an elementary school within town limits early this morning. Police say a 9-1-1 report indicated it was initially spotted walking down Main Street in Rocky and eventually climbed up a tree near École Rocky Elementary School. After consulting with Alberta Fish and Wildlife, the officers were instructed to put the big cat down. No people were hurt.
11:44 am – With the 2019 Canada Winter Games less than two years away, The City of Red Deer provided an update today on the capital projects that are underway as the community prepares to host the Games. The new facilities will leave Red Deer with new and improved recreational and cultural amenities, increasing the City's sport hosting capabilities and benefiting the overall community. Capital Project Details Here.
11:30 am – Daddy and Me Year-End BBQ in Penhold on Saturday, June 24th! Read More.
For more local news, click here!
10:56 am – From Live Music, to Dancing, a Show & Shine and 5K Foam Fest at Heritage Ranch, there's lots of fun things to do in the City of Red Deer this weekend! Check them out here!
10:45 am – The Quarter Horse Association of Alberta continues it's Chinook Show at Red Deer's Westerner Park today through Sunday (June 25)! Read More.
10:38 am – If you're interested in giving back to your community in meaningful ways, volunteering with the Red Deer RCMP Victim Services Unit (VSU) may be just what you're looking for. Join VSU staff and volunteer victim advocates at one of two volunteer information events to learn more: Wednesday, June 28 at 9:30 am, or Thursday, June 29 at 7 pm. Both events are held in the Community Room off the lobby at the downtown Red Deer RCMP detachment at 4602 – 51 Avenue.
For more local news, click here!
10:27 am – Power is back on in Vanier Woods, Glendale and Normandeau with crews working through the night in these three major areas. Approximately half of Riverside Light Industrial was also restored. Read More on the latest updates from Red Deer's Windstorm Cleanup.
10:21 am – Red Deer RCMP are asking for public assistance to locate 60 year old Elaine Tirrell. She was last seen in Red Deer on June 21st and RCMP wish to verify her well-being. Read More.
10:13 am – Giant Tiger will celebrate the official opening of its first store in Red Deer on Saturday, June 24th! Speeches and a Ribbon cutting will kick-off the event at 7:30 am. The new Giant Tiger will be located at 6751 50th Avenue and will have approximately 15,500 square feet of selling space. The grand opening will be a fun-filled day with gift card and promotional giveaways, a charity BBQ with funds going to the Central Alberta Women's Emergency Shelter, face painting and a visit from Friendly, the Giant Tiger.
For more local news, click here!
10:00 am – On Friday, June 30th, over 150 newcomers to Canada from all over the world will be coming together at Eastview Estates Park (120 Ellenwood Drive) for a day of sports, family and fun. With many helping hands, youth and their families will be given instruction and the chance to play slo-pitch, volleyball, tennis, basketball, football, disc golf and lawn games. All this activity will be followed by a BBQ supper for all the participants and volunteers to enjoy. The event runs from 1- 5 pm.
9:52 am – Ponoka RCMP would like to thank the public for their assistance in the apprehension of Blair Hinkley. Hinkley was arrested on warrant in Wetaskiwin.
9:44 am – The first ever triathlon for kids is being held at the Abbey Centre in Blackfalds on Saturday, – July 8th. Read More.
For more local news, click here!
9:36 am – Here's where Red Deer's road closures are over the next few days as crews continue their road rehabilitation work.
9:25 am – The Grand Opening of the new Eagle's Nest Rotary Lodge and the completion of the Camp Alexo Master Plan will be celebrated at Camp Alexo near Nordegg on Saturday, June 24th. There will be a BBQ, Cake and some light refreshments served from 11:00 am – 4:00 pm and Camp Tours conducted by Counsellors in training and Alumni. Read More.
9:10 am – It's Track and Fun Day at St.Patrick's Community School today! Elementary students will participate in a fun day of games and events on the playing field at the school.
For more local news, click here!
9:00 am – Lacombe County invites you to attend the Lacombe County Farm Safety Day, which will be held on Friday, June 23, 2017 at the Lacombe County Operations Building. The event will run from 10:00 a.m. to 3:00 p.m., when the County will be hosting 250 Grade 5 students from across Lacombe County. A barbeque lunch will also be served from 12:00 p.m. to 1:00 p.m.
8:53 am – It's Field Day today at Mountview Elementary School in Red Deer. From 1 – 3 pm, students will celebrate an awesome year outside doing fun things no doubt! Elsewhere, it's Alternative School Graduation tonight starting at 6 pm at the Holiday Inn Hotel & Suites – Red Deer South. Students will be celebrating their graduation with family and friends.
8:30 am – Grade 9 students from École Camille J. Lerouge School are working in conjunction with Kevin Traptow, owner of the "Cool Beans Coffee Company" to launch an initiative called "Pay Ahead for Daily Bread." The aim of the project is to encourage Red Deerians to pre-pay for various food or drink items at the Cool Beans Coffee bus so that when someone in need stops by the coffee shop, there is a cup of warm coffee or a small snack available for them to have free of charge. The event runs today from 11:30 a.m. – 2:00 p.m.
For more local news, click here!
Poilievre among those marching with soldier charged for criticizing vaccine mandates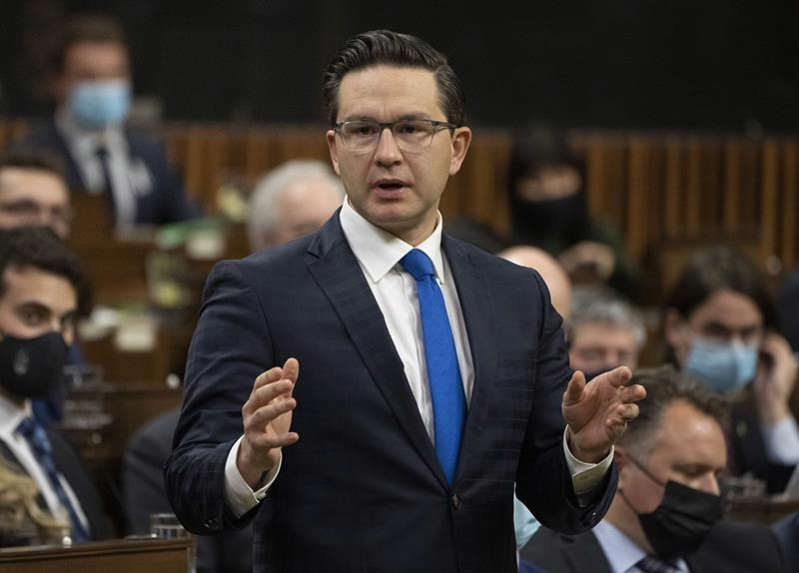 By Lee Berthiaume in Ottawa
Conservative leadership candidate Pierre Poilievre joined the final leg of a march led by a Canadian soldier charged for speaking out against COVID-19 vaccine requirements that has sparked promises⁠ — and fears — of a new wave of protests in the capital.
James Topp was charged in February with two counts of conduct to the prejudice of good order and discipline for comments made while wearing his uniform, and has since been leading a four-month march to the capital from Vancouver.
His march has been supported by many of the same figures involved in the "Freedom Convoy" that snarled downtown Ottawa for weeks until police used force to end what they and the government described as an illegal occupation.
His arrival in the capital and promises of a new round of protests starting Canada Day have set residents on edge. Ottawa Mayor Jim Watson and the city's interim police chief, Steve Bell, have promised to crack down on any illegal activity.
Poilievre walked alongside Topp for about half an hour after the two met in the parking lot of a strip mall west of downtown Ottawa shortly before noon, where hundreds of people had gathered to see the army reservist.
Video of the meeting shows Poilievre citing to Topp a famous quote by then-prime minister John Diefenbaker about being a "free Canadian" when the latter signed the Canadian Bill of Rights in 1960, before expressing his opposition to vaccine mandates.
When Topp says he wants the reinstatement and reparations for anyone who lost their job because of vaccine mandates, Poilievre said: "Everybody who lost their job simply because of a COVID mandate should be restored to their job, no question about it."
The two also spoke about the divisions within Canada, with Poilievre saying: "People are desperate for hope … I think it's time to put this country back together, and heal the wounds and reunite our country."
The two were then followed by about 200 supporters, many of them carrying Canadian flags and some sporting camouflaged backpacks and other gear, as they walked down the sidewalk of a major street for about half an hour before Poilievre left.
Poilievre's appearance with Topp comes as the presumed Conservative leadership front-runner has been accused of unabashedly cozying up to anti-vaccine protesters and other groups associated with the "Freedom Convoy."
Topp has said he has no plans to lead an occupation of the capital, and invited Ottawa police to work with him to facilitate his march through the city to the National War Memorial.
However, an organizer for a group calling itself Veterans 4 Freedom said in a recent video posted to YouTube that it plans to set up a semi-permanent camp east of Ottawa called "Camp Eagle" and hold events in the city all summer.
While police have since managed to prevent similar protests from taking over the city, stopping planned demonstrations from getting out of hand during Canada Day is likely to be complicated by the presence of thousands of people celebrating the holiday.
The charges against Topp relate to two videos posted online in the winter in which the army reservist appears in uniform criticizing vaccine requirements for military personnel and other federal employees.
Canadian Armed Forces members are severely restricted in the comments they can make while in uniform, particularly when it comes to criticizing government policies, in large part to protect the military from any perception of politicization.
His lawyer has argued such restrictions should not apply to policies that affect Armed Forces members personally.
Prime Minister Justin Trudeau on Thursday said police are taking their responsibility to keep people safe during Canada Day celebrations "very seriously," while Ontario Premier Doug Ford called on those intending to protest in Ottawa to respect the law.
"Folks, be considerate this weekend, you're going to Ottawa, be considerate. It's Canada Day, we're Canadians, just everyone have a good time, a safe time, stay healthy and safe and spend time with your families," Ford said.
Ford said he is disappointed to see such protests return to the capital.
"I'm all for peaceful protests and you can demonstrate, but no shenanigans this weekend, just be peaceful and let the people of Ottawa enjoy their weekend," he said.
"Honestly, we shouldn't even be going through this. It's disappointing, but it is what it is."
More than two dozen Conservative MPs hosted Topp and other leading figures in the Freedom Convoy on Parliament Hill last week, posing for pictures, promising their support and listening to a lecture on the purported dangers of COVID-19 vaccines.
Health Canada says only vaccines that meet strict safety, efficacy and quality standards are approved for use in the country, and the benefits of COVID-19 vaccines continue to outweigh the risks of the disease. About 85 per cent of Canadians have received at least one dose.
Topp told the MPs that he was marching in part to get all vaccine mandates repealed, as well as to demand the reinstatement of anyone who lost their job because of such a requirement and compensation for wages lost.
At the same time, he and the others raised the spectre of civil war in describing the state of the country.
"We won't be intimidated by any group that plans to disrupt the celebrations," Mayor Jim Watson said during a briefing earlier this week. "We're prepared and we will not tolerate any illegal activity by anyone."
Bell said police are prepared for a number of different scenarios, and will respond quickly to any illegal activity, including efforts to set up structures such as stages.
In late April, the Ottawa Police Services Board approved a request from Bell to appoint up to 831 RCMP officers to help with the Rolling Thunder motorcycle events, and made those appointments valid until July 4.
The city is warning that vehicles will be ticketed and towed if they're found violating no-stopping zones, although the full extent of the areas that will be off limits has not been determined.
Many Ottawa residents remain angry at how the city and police handled the "Freedom Convoy" protests, with several community groups banding together to launch a citizens' inquiry into how that protest was handled.
This report by The Canadian Press was first published June 30, 2022.
Calgary Stampede receives $10M from federal government to aid recovery from pandemic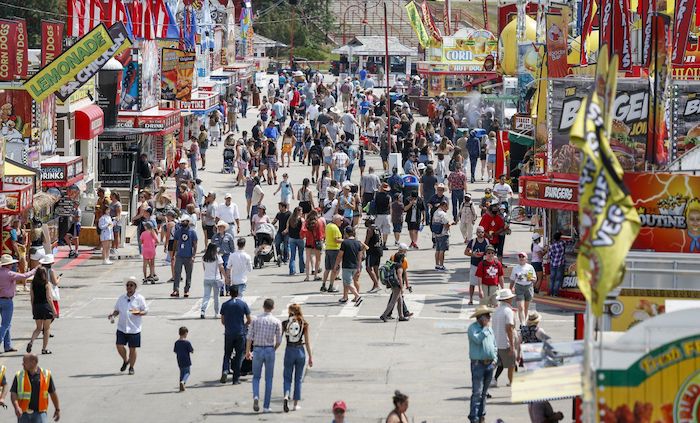 Calgary – The Calgary Stampede has received more than $10 million from the federal government to help it bounce back after last year's event was scaled down due to the COVID-19 pandemic.
A report to the city this week showed the Stampede had an operating loss of $8.3 million in 2021.
Last year's Stampede ran at half capacity because of COVID-19 public health measures and was cancelled all-together the year before.
Daniel Vandal, the federal minister for Prairies Economic Development Canada, says the money aims to support a full-scale Stampede to deliver the "authentic western experience" this year.
He says it would also help to reignite Alberta's visitor economy.
The 2022 Stampede is set to run from July 8 to 17.
"Festivals large and small were hard hit during the pandemic," Vandal said in a news release. "They are events where families and friends come together and take in the exciting atmosphere.
"The tourism industry is facing a strong comeback providing quality jobs across the country, showcasing stunning landscapes and offering exciting experiences right here in Alberta."
The federal government also provided about $1.8 million for four other tourism projects in southern Alberta: Charmed Resorts, Cochrane Tourism Association, Heritage Park and Tourism Calgary.
This report by The Canadian Press was first published June 30, 2022.