Highway 20 Fatal, Rocky Cougar Shooting, Red Deer's Emergency
11:45 am (Jun 24) – As of Friday night, about 50 homes remained without power in Red Deer. However, City officials say those properties are expected to be reconnected by mid-day Saturday, June 24th. Parks crews will also be continuing to clean-up trees and debris on trails, parks and roadways. Read More.
11:39 am (Jun 24) – On Friday, June 23, 2017 at 5:45 pm, Sylvan Lake RCMP along with Lakeside EMS, Stars Air Ambulance and the Sylvan Lake Fire Department responded to a fatal two vehicle collision at the intersection of Highway 20 and Highway 12. Read More.
For more local news, click here!
3:20 pm – The Red Deer Symphony Orchestra (RDSO) is preparing for the conclusion of the pilot phase of their education and outreach program Music + Explorers at G.H. Dawe Elementary School. A Pop Up Percussion performance from the Grades 2-5 students involved will take place on Tuesday, June 27th. Read More.
3:03 pm – The Canadian Food Inspection Agency (CFIA) has declared the Red Deer River Watershed infected with Whirling Disease. Read More.
2:57 pm – The City of Lacombe has released an update on it's Main Street project which has now advanced into Stage 2. Read More.
For more local news, click here!
2:46 pm – Rocky Mountain House RCMP put down a cougar with a single shot after it was spotted near an elementary school within town limits early this morning. Police say a 9-1-1 report indicated it was initially spotted walking down Main Street in Rocky and eventually climbed up a tree near École Rocky Elementary School. After consulting with Alberta Fish and Wildlife, the officers were instructed to put the big cat down. No people were hurt.
11:44 am – With the 2019 Canada Winter Games less than two years away, The City of Red Deer provided an update today on the capital projects that are underway as the community prepares to host the Games. The new facilities will leave Red Deer with new and improved recreational and cultural amenities, increasing the City's sport hosting capabilities and benefiting the overall community. Capital Project Details Here.
11:30 am – Daddy and Me Year-End BBQ in Penhold on Saturday, June 24th! Read More.
For more local news, click here!
10:56 am – From Live Music, to Dancing, a Show & Shine and 5K Foam Fest at Heritage Ranch, there's lots of fun things to do in the City of Red Deer this weekend! Check them out here!
10:45 am – The Quarter Horse Association of Alberta continues it's Chinook Show at Red Deer's Westerner Park today through Sunday (June 25)! Read More.
10:38 am – If you're interested in giving back to your community in meaningful ways, volunteering with the Red Deer RCMP Victim Services Unit (VSU) may be just what you're looking for. Join VSU staff and volunteer victim advocates at one of two volunteer information events to learn more: Wednesday, June 28 at 9:30 am, or Thursday, June 29 at 7 pm. Both events are held in the Community Room off the lobby at the downtown Red Deer RCMP detachment at 4602 – 51 Avenue.
For more local news, click here!
10:27 am – Power is back on in Vanier Woods, Glendale and Normandeau with crews working through the night in these three major areas. Approximately half of Riverside Light Industrial was also restored. Read More on the latest updates from Red Deer's Windstorm Cleanup.
10:21 am – Red Deer RCMP are asking for public assistance to locate 60 year old Elaine Tirrell. She was last seen in Red Deer on June 21st and RCMP wish to verify her well-being. Read More.
10:13 am – Giant Tiger will celebrate the official opening of its first store in Red Deer on Saturday, June 24th! Speeches and a Ribbon cutting will kick-off the event at 7:30 am. The new Giant Tiger will be located at 6751 50th Avenue and will have approximately 15,500 square feet of selling space. The grand opening will be a fun-filled day with gift card and promotional giveaways, a charity BBQ with funds going to the Central Alberta Women's Emergency Shelter, face painting and a visit from Friendly, the Giant Tiger.
For more local news, click here!
10:00 am – On Friday, June 30th, over 150 newcomers to Canada from all over the world will be coming together at Eastview Estates Park (120 Ellenwood Drive) for a day of sports, family and fun. With many helping hands, youth and their families will be given instruction and the chance to play slo-pitch, volleyball, tennis, basketball, football, disc golf and lawn games. All this activity will be followed by a BBQ supper for all the participants and volunteers to enjoy. The event runs from 1- 5 pm.
9:52 am –  Ponoka RCMP would like to thank the public for their assistance in the apprehension of Blair Hinkley. Hinkley was arrested on warrant in Wetaskiwin. 
9:44 am – The first ever triathlon for kids is being held at the Abbey Centre in Blackfalds on Saturday, – July 8th. Read More.
For more local news, click here!
9:36 am – Here's where Red Deer's road closures are over the next few days as crews continue their road rehabilitation work.
9:25 am – The Grand Opening of the new Eagle's Nest Rotary Lodge and the completion of the Camp Alexo Master Plan will be celebrated at Camp Alexo near Nordegg on Saturday, June 24th. There will be a BBQ, Cake and some light refreshments served from 11:00 am – 4:00 pm and Camp Tours conducted by Counsellors in training and Alumni. Read More.
9:10 am – It's Track and Fun Day at St.Patrick's Community School today! Elementary students will participate in a fun day of games and events on the playing field at the school.
For more local news, click here!
9:00 am – Lacombe County invites you to attend the Lacombe County Farm Safety Day, which will be held on Friday, June 23, 2017 at the Lacombe County Operations Building. The event will run from 10:00 a.m. to 3:00 p.m., when the County will be hosting 250 Grade 5 students from across Lacombe County. A barbeque lunch will also be served from 12:00 p.m. to 1:00 p.m.
8:53 am – It's Field Day today at Mountview Elementary School in Red Deer. From 1 – 3 pm, students will celebrate an awesome year outside doing fun things no doubt! Elsewhere, it's Alternative School Graduation tonight starting at 6 pm at the Holiday Inn Hotel & Suites – Red Deer South. Students will be celebrating their graduation with family and friends.
8:30 am – Grade 9 students from École Camille J. Lerouge School are working in conjunction with Kevin Traptow, owner of the "Cool Beans Coffee Company" to launch an initiative called "Pay Ahead for Daily Bread."  The aim of the project is to encourage Red Deerians to pre-pay for various food or drink items at the Cool Beans Coffee bus so that when someone in need stops by the coffee shop, there is a cup of warm coffee or a small snack available for them to have free of charge. The event runs today from 11:30 a.m. – 2:00 p.m.
"The elephant in the room is early treatment works." Doctor testifies covid can and should be treated.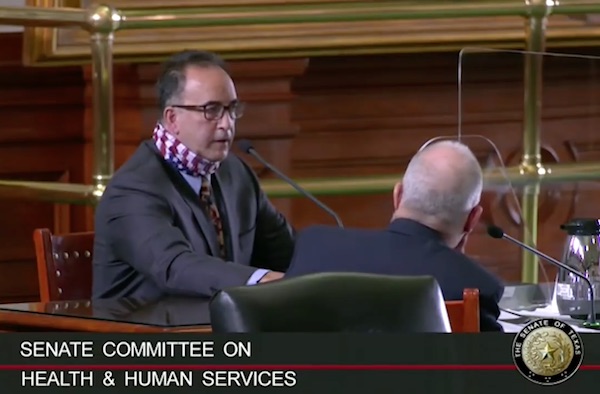 In the early months of the covid pandemic, doctors were unwilling to use what they felt, and what they were told would be ineffective, experimental drugs to treat their patients.  But Houston Doctor Richard Urso refused to send his patients away without trying to help.  Dr. Urso was an early proponent of drugs which became controversial in the media.  He was accused by three of the patients he successfully treated, of malpractice.  It took months, but eventually the Texas Medical Board dismissed the charges and stated the treatment offered by Dr. Urso was in fact, appropriate.  Urso has yet to lose a single patient to covid.
In March, Dr. Urso was invited to testify as the Texas Senate Health and Human Services Committee examined how that state's medical system approached the covid challenge.
Within two days of this testimony (March 10) the Texas Senate introduced legislation to mandate information on early treatment be provided to every positive covid-19 patient.  The key now is for doctors to act.
Click below to see another remarkable testimony from Dr. Peter McCullough.
There's another way to end the pandemic. Doctors can knock covid out with treatment
Mexico, Honduras, Guatemala deploy troops to lower migration
WASHINGTON — The Biden administration has struck an agreement with Mexico, Honduras and Guatemala to temporarily surge security forces to their borders in an effort to reduce the tide of migration to the U.S. border.
The agreement comes as the U.S. saw a record number of unaccompanied children attempting to cross the border in March, and the largest number of Border Patrol encounters overall with migrants on the southern border — just under 170,000 — since March 2001.
According to White House press secretary Jen Psaki, Mexico will maintain a deployment of about 10,000 troops, while Guatemala has surged 1,500 police and military personnel to its southern border and Honduras deployed 7,000 police and military to its border "to disperse a large contingent of migrants" there. Guatemala will also set up 12 checkpoints along the migratory route through the country.
A White House official said Guatemala and Honduras were deploying troops temporarily in response to a large caravan of migrants that was being organized at the end of March.
Psaki said "the objective is to make it more difficult to make the journey, and make crossing the borders more difficult."
She added that the agreement was the product of "a series of bilateral discussions" between U.S. officials and the governments of the Central American nations. While Vice-President Kamala Harris has been tasked with leading diplomatic efforts to tamp down on the increase in migration at the U.S. border, Psaki declined to share details on her involvement with the discussions and said only that the discussions happened at "several levels."
She noted that Roberta Jacobson, who will depart her role as the administration's southwest border co-ordinator at the end of the month, was involved in talks.
Mexico announced in March that it was deploying National Guard members and immigration agents to its southern border, and it has maintained more personnel at its southern border since Trump threatened tariffs on Mexican imports in 2019.
On Monday, Mexico's Foreign Affairs ministry said, "Mexico will maintain the existing deployment of federal forces in the its border area, with the objective of enforcing its own immigration legislation, to attend to migrants, mainly unaccompanied minors, and to combat the trafficking of people."
Honduras Foreign Affairs Minister Lisandro Rosales said Monday that Honduras maintains a multinational force at its border with Guatemala that works closely with that government on not only immigration, but also organized crime and other illegal activity. But "there was no commitment on the part of the Honduran delegation to put soldiers on the border, even though there is a clear commitment by the Honduran government to avoid this kind of migration that generates death and mourning for Honduran families," Rosales said.
But Honduras Defence Secretary Fredy Santiago Díaz Zelaya, who was part of a Honduran delegation that met with U.S. officials in Washington last week, said later that the military was studying the possibility of sending more troops to the border to assist in migration control. He said the military always works under a plan and that planning would determine how many troops would assist national police and immigration authorities at the border.
"We need to do a correct analysis of the situation, increase troops if it's necessary," Díaz Zelaya told local press. He said Honduras would do so "in response to this request that comes from the great nation to the north (the United States) to be able to help on the issue of immigration."
The Guatemalan government denied there was any signed agreement with the United States to place troops at the border to stop migrants. "The Guatemalan government has undertaken protection and security actions at the border since last year, on its own initiative, it is a constitutional mandate," said presidential spokeswoman Patricia Letona. "In the context of the pandemic, the protection of the borders has become a fundamental aim for the containment of the virus."
Guatemalan troops have been responsible for breaking up the last several attempted migrant caravans.
The increase in migrants at the border is becoming one of the major challenges confronting Biden in the early months of his first term.
Numbers grew sharply during Trump's final year in office but further accelerated under Biden, who quickly ended many of his predecessor's policies, including one that made asylum-seekers wait in Mexico for court hearings in the U.S.
Mexicans represented the largest proportion of people encountered by the U.S. Border Patrol, and nearly all were single adults. Arrivals of people from Honduras and Guatemala were second and third, respectively, and more than half of the people from those countries were families or children travelling alone.
___
Associated Press writer Elliot Spagat in San Diego, María Verza in Mexico City, Sonny Figueroa in Guatemala City and Marlon González in Tegucigalpa contributed reporting.
Alexandra Jaffe, The Associated Press