Highway 20 Fatal, Rocky Cougar Shooting, Red Deer's Emergency
11:45 am (Jun 24) – As of Friday night, about 50 homes remained without power in Red Deer. However, City officials say those properties are expected to be reconnected by mid-day Saturday, June 24th. Parks crews will also be continuing to clean-up trees and debris on trails, parks and roadways. Read More.
11:39 am (Jun 24) – On Friday, June 23, 2017 at 5:45 pm, Sylvan Lake RCMP along with Lakeside EMS, Stars Air Ambulance and the Sylvan Lake Fire Department responded to a fatal two vehicle collision at the intersection of Highway 20 and Highway 12. Read More.
For more local news, click here!
3:20 pm – The Red Deer Symphony Orchestra (RDSO) is preparing for the conclusion of the pilot phase of their education and outreach program Music + Explorers at G.H. Dawe Elementary School. A Pop Up Percussion performance from the Grades 2-5 students involved will take place on Tuesday, June 27th. Read More.
3:03 pm – The Canadian Food Inspection Agency (CFIA) has declared the Red Deer River Watershed infected with Whirling Disease. Read More.
2:57 pm – The City of Lacombe has released an update on it's Main Street project which has now advanced into Stage 2. Read More.
For more local news, click here!
2:46 pm – Rocky Mountain House RCMP put down a cougar with a single shot after it was spotted near an elementary school within town limits early this morning. Police say a 9-1-1 report indicated it was initially spotted walking down Main Street in Rocky and eventually climbed up a tree near École Rocky Elementary School. After consulting with Alberta Fish and Wildlife, the officers were instructed to put the big cat down. No people were hurt.
11:44 am – With the 2019 Canada Winter Games less than two years away, The City of Red Deer provided an update today on the capital projects that are underway as the community prepares to host the Games. The new facilities will leave Red Deer with new and improved recreational and cultural amenities, increasing the City's sport hosting capabilities and benefiting the overall community. Capital Project Details Here.
11:30 am – Daddy and Me Year-End BBQ in Penhold on Saturday, June 24th! Read More.
For more local news, click here!
10:56 am – From Live Music, to Dancing, a Show & Shine and 5K Foam Fest at Heritage Ranch, there's lots of fun things to do in the City of Red Deer this weekend! Check them out here!
10:45 am – The Quarter Horse Association of Alberta continues it's Chinook Show at Red Deer's Westerner Park today through Sunday (June 25)! Read More.
10:38 am – If you're interested in giving back to your community in meaningful ways, volunteering with the Red Deer RCMP Victim Services Unit (VSU) may be just what you're looking for. Join VSU staff and volunteer victim advocates at one of two volunteer information events to learn more: Wednesday, June 28 at 9:30 am, or Thursday, June 29 at 7 pm. Both events are held in the Community Room off the lobby at the downtown Red Deer RCMP detachment at 4602 – 51 Avenue.
For more local news, click here!
10:27 am – Power is back on in Vanier Woods, Glendale and Normandeau with crews working through the night in these three major areas. Approximately half of Riverside Light Industrial was also restored. Read More on the latest updates from Red Deer's Windstorm Cleanup.
10:21 am – Red Deer RCMP are asking for public assistance to locate 60 year old Elaine Tirrell. She was last seen in Red Deer on June 21st and RCMP wish to verify her well-being. Read More.
10:13 am – Giant Tiger will celebrate the official opening of its first store in Red Deer on Saturday, June 24th! Speeches and a Ribbon cutting will kick-off the event at 7:30 am. The new Giant Tiger will be located at 6751 50th Avenue and will have approximately 15,500 square feet of selling space. The grand opening will be a fun-filled day with gift card and promotional giveaways, a charity BBQ with funds going to the Central Alberta Women's Emergency Shelter, face painting and a visit from Friendly, the Giant Tiger.
For more local news, click here!
10:00 am – On Friday, June 30th, over 150 newcomers to Canada from all over the world will be coming together at Eastview Estates Park (120 Ellenwood Drive) for a day of sports, family and fun. With many helping hands, youth and their families will be given instruction and the chance to play slo-pitch, volleyball, tennis, basketball, football, disc golf and lawn games. All this activity will be followed by a BBQ supper for all the participants and volunteers to enjoy. The event runs from 1- 5 pm.
9:52 am – Ponoka RCMP would like to thank the public for their assistance in the apprehension of Blair Hinkley. Hinkley was arrested on warrant in Wetaskiwin.
9:44 am – The first ever triathlon for kids is being held at the Abbey Centre in Blackfalds on Saturday, – July 8th. Read More.
For more local news, click here!
9:36 am – Here's where Red Deer's road closures are over the next few days as crews continue their road rehabilitation work.
9:25 am – The Grand Opening of the new Eagle's Nest Rotary Lodge and the completion of the Camp Alexo Master Plan will be celebrated at Camp Alexo near Nordegg on Saturday, June 24th. There will be a BBQ, Cake and some light refreshments served from 11:00 am – 4:00 pm and Camp Tours conducted by Counsellors in training and Alumni. Read More.
9:10 am – It's Track and Fun Day at St.Patrick's Community School today! Elementary students will participate in a fun day of games and events on the playing field at the school.
For more local news, click here!
9:00 am – Lacombe County invites you to attend the Lacombe County Farm Safety Day, which will be held on Friday, June 23, 2017 at the Lacombe County Operations Building. The event will run from 10:00 a.m. to 3:00 p.m., when the County will be hosting 250 Grade 5 students from across Lacombe County. A barbeque lunch will also be served from 12:00 p.m. to 1:00 p.m.
8:53 am – It's Field Day today at Mountview Elementary School in Red Deer. From 1 – 3 pm, students will celebrate an awesome year outside doing fun things no doubt! Elsewhere, it's Alternative School Graduation tonight starting at 6 pm at the Holiday Inn Hotel & Suites – Red Deer South. Students will be celebrating their graduation with family and friends.
8:30 am – Grade 9 students from École Camille J. Lerouge School are working in conjunction with Kevin Traptow, owner of the "Cool Beans Coffee Company" to launch an initiative called "Pay Ahead for Daily Bread." The aim of the project is to encourage Red Deerians to pre-pay for various food or drink items at the Cool Beans Coffee bus so that when someone in need stops by the coffee shop, there is a cup of warm coffee or a small snack available for them to have free of charge. The event runs today from 11:30 a.m. – 2:00 p.m.
For more local news, click here!
Satellite photos show aftermath of Abu Dhabi oil site attack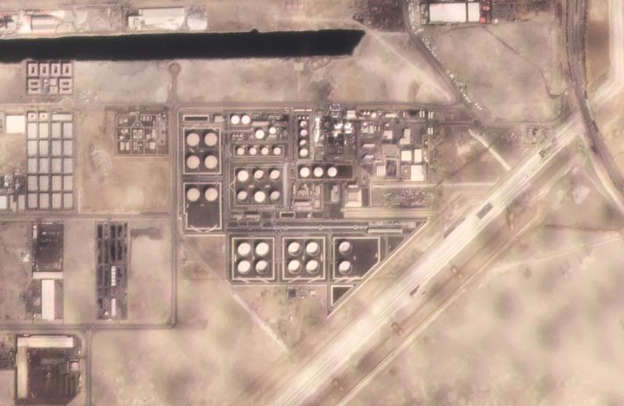 DUBAI, United Arab Emirates (AP) — Satellite photos obtained by The Associated Press on Tuesday appear to show the aftermath of a fatal attack on an oil facility in the capital of the United Arab Emirates claimed by Yemen's Houthi rebels.
The attack brought the long-running Yemen war into Emirati territory on Monday. That conflict raged on overnight with Saudi-led airstrikes pounding Yemen's capital, Sanaa, killing and wounding civilians.
Meanwhile, fears over new disruptions to global energy supplies after the Abu Dhabi attack pushed benchmark Brent crude to its highest price in years.
The images by Planet Labs PBC analyzed by the AP show smoke rising over an Abu Dhabi National Oil Co. fuel depot in the Mussafah neighborhood of Abu Dhabi after the attack. Another image taken shortly after appears to show scorch marks and white fire-suppressing foam deployed on the grounds of the depot.
The Abu Dhabi National Oil Co., known by the acronym ADNOC, is the state-owned energy firm that provides much of the wealth of the UAE, a federation of seven sheikhdoms on the Arabian Peninsula and also home to Dubai.
ADNOC did not respond to questions from the AP asking about the site and damage estimates from the attack. The company had said the attack happened around 10 a.m. Monday.
"We are working closely with the relevant authorities to determine the exact cause and a detailed investigation has commenced," ADNOC said in an earlier statement.
The attack killed two Indian nationals and one Pakistani as three tankers at the site exploded, police said. Six people were also wounded at the facility, which is near Al-Dhafra Air Base, a massive Emirati installation that is also home to American and French forces.
Another fire also struck Abu Dhabi International Airport, though damage in that attack could not be seen. Journalists have not been able to view the sites attacked and state-run media have not published photographs of the areas.
Police described the assault as a suspected drone attack. The Houthis claimed they used cruise and ballistic missiles in the attack, without offering evidence.
Meanwhile Tuesday, the Saudi-led coalition fighting in Yemen announced it had started a bombing campaign targeting Houthi sites in the capital of Sanaa. It said it also struck a drone-operating base in Nabi Shuaib Mountain near Sanaa.
Overnight videos released by the Houthis showed damage, with the rebels saying the airstrikes killed at least 14 people. Sanaa resident Hassan al-Ahdal said one airstrike hit the house of Brig. Gen. Abdalla Kassem al-Junaid, who heads the Air Academy. He said at least three families were living in the house. Another adjunct house with a four-member family was damaged.
The Saudi-led coalition has faced international criticism for airstrikes hitting civilian targets during the war.
For hours Monday, Emirati officials did not acknowledge the Houthi claims over the Abu Dhabi attack, even as other countries condemned the assault. Senior Emirati diplomat Anwar Gargash broke the silence on Twitter, saying that Emirati authorities were handling the rebel group's "vicious attack on some civilian facilities" with "transparency and responsibility."
The office of South Korean President Moon Jae-in, who had been in the Emirates on a state visit, said he spoke to Abu Dhabi's powerful Crown Prince, Sheikh Mohammed bin Zayed Al Nahyan, immediately after the attack.
The statement quoted Sheikh Mohammed as saying the attack had been "anticipated." The two had been scheduled to meet during Moon's visit but the event had been cancelled prior to the attack over an "unforeseen and urgent matter of state," according to Moon's office.
The Emirati Foreign Ministry did not immediately respond to a request for comment over Moon's statement.
Fears over future attacks reaching the UAE, a major oil producer and OPEC member, helped push Brent crude oil prices to their highest level in seven years. On Tuesday, a barrel of Brent crude traded at over $87.50 a barrel, a price unseen since October 2014.
Although the UAE has largely withdrawn its own forces from Yemen, it is still actively engaged in the conflict and supports Yemeni militias fighting the Houthis.
The incident comes as the Houthis face pressure and are suffering heavy losses on the battlefields. Yemeni government forces, allied and backed by the UAE, have pushed back the rebels in key provinces. Aided by the Emirati-backed Giants Brigades, the government forces took back the province of Shabwa earlier this month in a blow to Houthi efforts to complete their control of the entire northern half of Yemen.
While Emirati troops have been killed over the course of the conflict, now in its eight year, the war has not directly affected daily life in the wider UAE, a country with a vast foreign workforce.
___
Associated Press writers Isabel DeBre in Dubai, Samy Magdy in Cairo and Kim Tong-hyung in Seoul, South Korea, contributed to this report.
___
Follow Jon Gambrell on twitter at www.twitter.com/jongambrellAP.
Jon Gambrell, The Associated Press
Grocery store closures loom amid labour, product shortages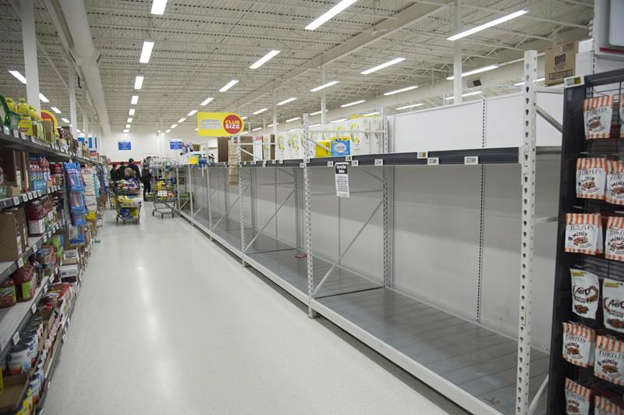 Grocery stores are struggling with rising labour and product shortages that could threaten Canada's food security, experts say.
Employee absenteeism due to workers calling in sick and COVID-19 protocols has hit about 30 per cent at some stores and is continuing to rise, Gary Sands, senior vice-president of public policy with the Canadian Federation of Independent Grocers, said Tuesday.
Without access to rapid testing in many provinces, he said workers are repeatedly forced to isolate for a week or more after an exposure to COVID-19.
If the situation worsens, some grocery stores won't be able to stay open — threatening food security in rural and remote areas that rely on a sole independent grocer, Sands said.
"If we have to keep sending people home, at a certain point stores are not going to be able to operate," he said. "We're very frustrated with the lack of rapid test kits for grocers."
Health Canada has made some rapid test kits available directly to companies in critical sectors, including the food industry, with 200 or more employees.
But many independent grocery stores don't meet that threshold, putting those kits out of reach, Sands said.
Yet many grocers cannot obtain rapid tests through provinces either, he said.
"Independent grocers are in a myriad of communities in this country where there is no other grocery store," Sands said. "If those stores close, you've got a food security issue."
Meanwhile, stores are also experiencing a shortage of goods stemming from supply chain issues, including a shortage of truckers, packaging and processing delays and the Canadian winter.
Grocers rely on "just in time" delivery, meaning even transient issues like inclement weather can cause delays and shortages, Retail Council of Canada spokesperson Michelle Wasylyshen said.
Still, empty shelves at some supermarkets should only be temporary, she said, noting that retailers are exploring all avenues to get products to stores as quickly as possible.
But some supply chain issues could be longer lasting, such as the trucker shortage intensified by the federal government's new vaccine mandate.
"The issue with the truckers having to be vaccinated is causing some delays, especially with the supply of fruit and vegetables from California," Sands said.
"Grocers in Central Canada are mostly reporting just delays of a couple weeks, but in the West the shortages seem to be more significant."
In some cases, Sands said grocers are short nearly 40 per cent of their usual stock of a variety of products.
"Especially in the West, some grocers are saying the situation is as bad as it was in the spring of 2020 in terms of supply," he said.
It's not just the produce aisle that experiencing shortages. Soups, cereals and cleaning supplies are all running lower than normal, Sands said.
Many shoppers have noticed empty shelves where Kellogg's cereal is normally stocked, for example.
Kellogg Canada said in an emailed statement that higher at-home consumption coupled with supply chain challenges have impacted the availability of some products in Canada, such as Kellogg's Rice Krispies cereal.
The company said the "intermittent shortages" reflect the challenging operating environment all manufacturers are experiencing, adding that it's working hard to get Kellogg's cereal brands back on store shelves.
About 1,400 union workers at Kellog's plants in the United States were on strike for several weeks last year. An agreement was reached Dec. 21.
This report by The Canadian Press was first published Jan. 18, 2022.
Brett Bundale, The Canadian Press