Pay your city-issued parking tickets with toy donations all November long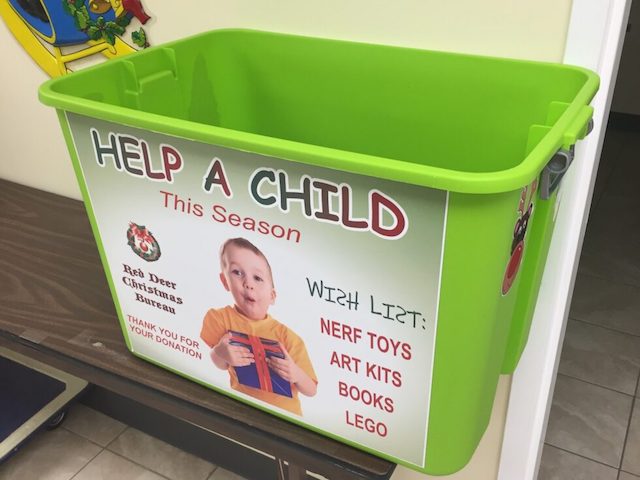 Toys for Tickets returns to support Red Deer Christmas Bureau
Toys for Tickets returns to help support the Red Deer Christmas Bureau's goal of ensuring all children in our community receive a gift this Christmas.
Throughout November, Red Deerians can pay City-issued parking tickets with toy donations that are equal to or higher in value than the early ticket payment amount.
All gifts donated to the program must be new and unwrapped in original packaging. A receipt must be presented at the time of payment and if the toy is valued lower than the price of the ticket, the difference must be paid. In December, all gifts obtained through the program are delivered to the Red Deer Christmas Bureau and distributed to local families in need. Each year, the Christmas Bureau provides a list of desirable items, including those that are most needed and for groups that are underrepresented. The current list available at reddeer.ca/toysfortickets indicates toys for girls aged 10-17 years are in highest demand.
"Toys for Tickets has been a special part of the holiday season in Red Deer since 2010 and we're so pleased to continue it this year, once parking enforcement resumes," said Amy Fengstad, Parking and Licensing Supervisor. "By choosing the perfect gift at a local business, participants can help local families while supporting Red Deer businesses."
Parking enforcement, which is temporarily paused for the launch of the HotSpot parking system, will resume Monday, November 6.
More information on the Toys for Tickets program is available on The City's website, reddeer.ca/toysfortickets. Learn more about how the Red Deer Christmas Bureau supports families in our community at https://reddeerchristmasbureau.com.
All gifts collected through this program are donated to the Red Deer Christmas Bureau to help ensure no child in Red Deer wakes up without a toy on Christmas morning.
How it works
Anyone who receives a City-issued parking ticket in November can pay it by donating a toy. Toys can be dropped off at City Hall until November 30 and must be of equal or greater value than the amount owing on the ticket. Toys must be new and in original packaging, and ticket holders must provide an original receipt showing the value of the toy.
In early December, The City rounds up all donated toys and delivers them to the Red Deer Christmas Bureau so they can be distributed to families in need in our community.
Please note that tickets related to residential snow plowing do not qualify for this program, but anyone can donate directly to the Christmas Bureau.
Making a list, checking it twice
Each year, the Christmas Bureau provides a list of popular items on kids' Christmas lists. In 2023, toys for girls aged 10-17 are in highest demand.
For a list of popular items for each age group, check the Red Deer Christmas Bureau's Toy List. When shopping, consider supporting one of our many amazing local Red Deer businesses!
For families in need
If you or someone you know is concerned about finances and could use a little help this holiday season, the Red Deer Christmas Bureau may be able to help. Visit their website to see program requirements and to apply for assistance.
More information
For more information on this program, please contact Parking Administration at 403-342-8185 or [email protected].
Annexation allows City of Red Deer to build new "Gasoline Alley" commercial district along QE2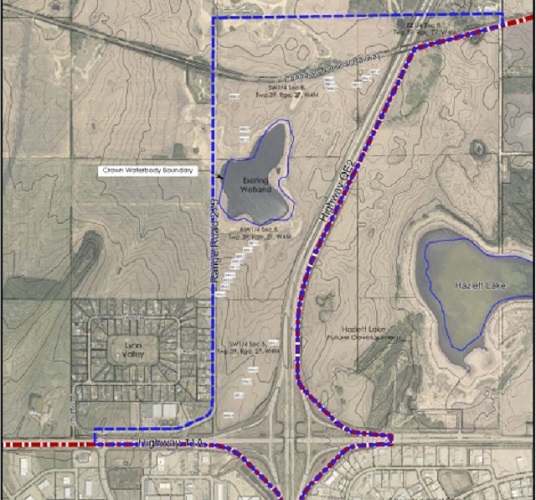 Annexation with Red Deer County approved
This week, The City received approval from Cabinet that the annexation for land north of the Queen's Industrial Business Park and west of Highway QEII from Red Deer County was approved."Our City Council is thrilled with the Government of Alberta's green light on this annexation. This pivotal move sets the stage for Red Deer's next 30 years, transforming our northwestern gateway. Leveraging Highway QEII for commercial expansion will redefine Red Deer's economic landscape. We extend our heartfelt appreciation to Red Deer County for their collaboration and to the local landowners for their invaluable contributions to these fruitful discussions," said Mayor Johnston.On June 22, 2021, Council gave direction to administration to prepare a Notice of Intent to Annex for this area of land. This annexation, encompassing approximately 216 hectares, addressed The City's deficiency in highway fronting commercial land. On February 14, 2022, Red Deer City Council passed a resolution endorsing a Notice of Intent to Annex, therefore supporting for the proposed annexation and directing administration to begin the formal annexation process.

Following that, the application was prepared for the annexation of approximately 216 hectares of land from Red Deer County. Based on landowner consultation, the proposed annexation area was altered from the Notice of Intent to Annex Land to include the entirety of one of the landowners' parcels.

Then in April of this year, the annexation was moved to the next step, when both Red Deer City Council and Red Deer County Council passed a resolution endorsing The City to submit an Annexation Application and Negotiations Report to the Land and Property Rights Tribunal. A Land and Property Rights Tribunal hearing was held on June 20, which allows the Tribunal to receive information and evidence from interested parties. After considering the submissions from all parties, the Tribunal made an annexation recommendation to the Minister of Municipal Affairs for the decision to be made.

Now that the annexation was successfully approved by the province, area structure plans will be prepared and adopted by bylaw, by Red Deer City Council. These annexed lands are intended to be developed as a regional commercial development along Highway 2, providing The City with a significant economic development opportunity.

"Securing this annexation approval has been a great success, thanks to all the collaborative partnerships involved. As we move forward, we're enthusiastic about the potential economic boost this annexation will bring, especially in addressing our shortage of commercial land along the highways," said David Girardin, Major Projects Planner.

Annexation is used by municipalities to realign jurisdictional boundaries to ensure a sufficient land supply for long-term development. The Intermunicipal Development Plan (IDP) between The City and Red Deer County provides guidance for all annexations.

To learn more information about this annexation are encouraged to visit www.reddeer.ca/annexation.
Red Deer Lights the Nights offers festive fun all season long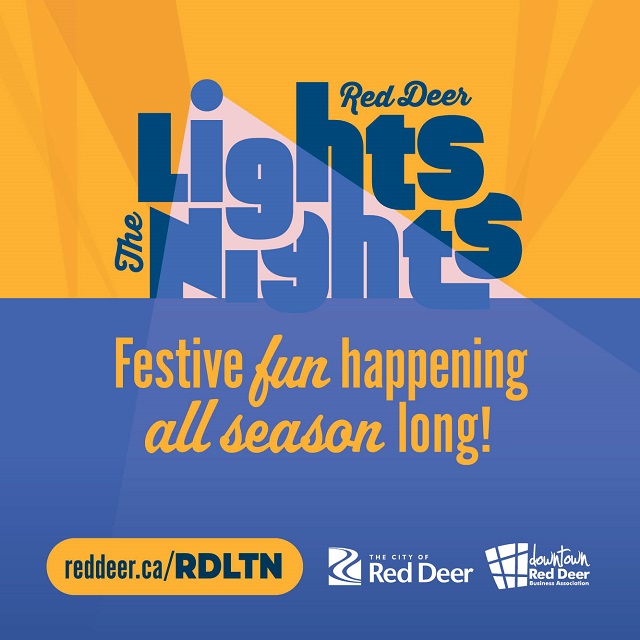 Red Deer Lights the Nights returns as a month-long celebration of the holiday season, starting this Friday, November 17.
Free, family-friendly activities are happening downtown and throughout the community, including:
North Pole Patio Party – November 17 from 4-7 p.m. at Ross Street Patio
Writes of Winter writing contest – through January 15, hosted by Red Deer Arts Council
Winter Market – November 24 and 25 at Millennium Centre
Rare & Remarkable Artisan Market – November 25 at Red Deer Museum + Art Gallery
Capstone Winter Nights Festival – December 1, 2 and 3 at Canada 150 Square
Downtown Twinkle Tour – December 15 throughout downtown
Santa's Bus Tour – December 8, 9, 15 and 16 starting at 5:30 p.m.
Residents are invited to visit City Hall Park any time after November 16 to enjoy a beautiful display of colourful lights and festive decorations. Lights are turned on every day from sunset to sunrise until mid-January.
"We're excited to welcome Red Deerians downtown once again to celebrate the season and enjoy the festive decorations in City Hall Park and along nearby streets. Everyone is invited to come out and participate in all the free activities that are planned, especially Santa's Bus Tour which returns in December to bring Christmas joy to local neighbourhoods."
---
North Pole Patio Party
Friday, November 17: 4 – 7 p.m.
Ross Street Patio
Santa Claus is coming to town – downtown! Visit with Santa in person on the Ross Street Patio as we celebrate the kickoff to the holiday season. Enjoy a free hot chocolate and cozy up to the warm firepits while the kids play candy cane games with the elves. Be sure to pick up a children's craft bag from the friendly Family Services of Central Alberta team and check out the CMHA's fun photo booth.
Kraze 101.3 will be live on location cheering on the holiday fun. We look forward to seeing you at this free family event!
---
Writes of Winter contest
November 17 – January 15
Red Deer Arts Council and The City of Red Deer have partnered on a writing contest to keep our imaginations warm this winter.
Red Deer youth, teens and adults are invited to create a short poem or story (fiction or creative non-fiction) with a maximum length of 500 words about winter and/or the holiday season in Red Deer.
All submissions can be sent to the Red Deer Arts Council at [email protected] for a chance to win exciting prizes. Works will be published for folks to read on We Are Red Deer and the Red Deer Arts Council's social media pages.
Deadlines:
Holiday Season story deadline: December 10, 2023
Winter Blues story deadline: January 15, 2024
For more information, visit the Red Deer Arts Council website.
---
November 24: 3 – 7 p.m.
November 25: 12 – 7 p.m.
Millenium Centre (location tentative)
Every winter, the farmers' market makes a special appearance in downtown Red Deer to help you finish your holiday shopping. You can purchase tasty food and baked goods to feed the whole family, local beers and wines for holiday parties and beautiful handmade gifts sure to impress that special someone at this accredited Alberta Farmers' Market. Join us November 24 and 25 for a great local shopping experience, with tastings and live music from local artists.
---
Saturday, November 25: 10 – 4 p.m.
Red Deer Museum and Art Gallery: 4525 47A Avenue
Join us for a unique Christmas shopping experience where you can explore the arts and crafts of some of central Alberta's premier artists and craftspeople. Up to 15 artists will set up their displays throughout the MAG's Remarkable Red Deer exhibit and gallery spaces, with artwork ranging from pottery, beaded jewelry, wool felting, textiles, oil, acrylic and watercolour paintings, sculpture, mixed media, printmaking, and more.
For more information, visit the MAG's Rare & Remarkable Artisan Market web page.
---
Friday, December 1: 5 – 10 p.m.
Saturday, December 2: 5 – 10 p.m.
Sunday, December 3: 4 – 9 p.m.
Canada 150 Square, Capstone
Capstone presents "Winter Nights" an imaginative light and art festival featuring art installations by B!G ART, live music, entertainment, late night shopping, activities and more! For more information, visit www.liveincapstone.ca/events.
---
December 8: 4 – 7 p.m.
Ross Street Patio
Join the DBA and Spandy Andy on the Ross Street Patio for some frosty fun! Check out the children's entertainers, activity booths and sip hot chocolate under the festive downtown lights. Bring the whole family together for an unforgettable outdoor celebration. Whether you're grooving to the DJ or simply basking in the warm glow of the fire tables, the Ross Street Patio is the place to be for an evening of free family fun. Visit the DBA's Frost Street Patio Party web page for more information.
---
December 8, 9, 15 & 16
5:30 – 8 p.m.
Red Deer neighbourhoods
Santa is back on the bus, merrily cruising down the streets of Red Deer! Check out the route maps below and give Santa, Mrs. Claus, and the dancing elves a wave – they light up this bus just for you!
We've done our best to help Santa visit each neighbourhood in the city, but due to his busy schedule he cannot visit every street. Please choose the route closest to your home to catch a glimpse of the jolly man and his crew. For safety reasons, please remain on the sidewalk or in your yard and stay off the street during the bus tours.
Tours operate from 5:30 p.m. to approximately 8 p.m. on the following evenings. Follow along on the MyBus website or app to see when Santa will arrive in your neighbourhood.
---
Friday, December 15
4 – 7 p.m.
For one night, many Downtown businesses remain open late to help Red Deerians with their holiday shopping and to encourage the support of local businesses. Downtown visitors are invited to pick up a free hot chocolate and a copy of the holiday scavenger hunt on the Patio. Enjoy beautiful window and light displays throughout downtown as you make your way to your favourite shops. Be sure to snag some Reindeer Food and Snowman Soup during your visit, too!
For more information, visit the Downtown Business Association website.
---
A video showcasing Red Deer's holiday spirit will be shared on The City's social media channels so Red Deerians can enjoy the view from the comfort of home.
For more information on Red Deer Lights the Nights activities, presented by The City of Red Deer and the Downtown Business Association (DBA), visit reddeer.ca/RDLIGHTS and follow The City and DBA on social media.