Patient Success Story From The Brent Sutter Sports Medicine Clinic – Part 2 Of 2
By Sheldon Spackman
Since it's inception in early 2016, the Brent Sutter Sports Medicine Clinic has served over 800 patients. A growing number are self-referring through the clinic's website, but for now most patients are referred to the clinic as Carly Kukowski was.
Three years ago, Carly Kukowski from Eckville injured her right knee playing baseball. A few weeks later she went dirt-biking and aggravated the injury. It was time to see her family doctor. After waiting almost 9 months for an MRI it was discovered she severed her ACL and had a torn meniscus. Kukowski waited about 1 year to see a surgeon. In the meantime, she got around on her injured knee, making her injuries even worse. It got to the point that she wasn't able to do the activities she wanted to do. Snowmobiling, dirt-biking and baseball were out of the question. Eventually her knee was fixed but the entire process took well over a year.
Then last November, Kukowski injured her other knee. This time she came to the Brent Sutter Sports Medicine Clinic. Dr. Wolstenholme diagnosed a torn ACL and a quick route to recovery was set out. Carly was able to get into surgery in just a few weeks and her recovery is nearly complete.
Grant's story: Amazing Improvement with Hard Work & Support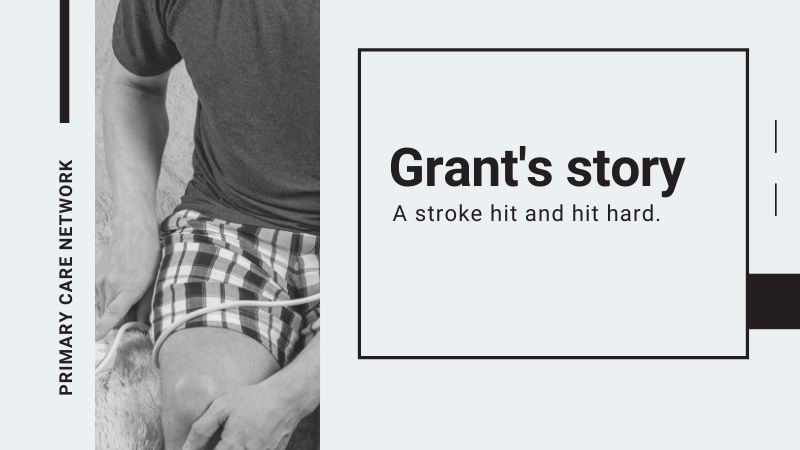 Grant was in his mid-fifties – maybe a bit overweight but with no other cardiovascular risk factors. However, a stroke hit and hit hard. His right side was very compromised, he had little use of his hands, he was unable to walk or lift his right arm. He was hospitalized in Red Deer for 4 months and then went to the Centennial Centre in Ponoka for rehab for 6 months. His doctor had told him that he would be bound to a wheelchair for the rest of his life and would never walk again or be able to recover from this stroke. This made Grant angry as he didn't want this prognosis.
Since that time, he has put a lot of work and effort into getting better. The physios and rehab team helped him make progress, but he kept asking them how he could get more training. They were able to refer him to Recreation Therapy at RDPCN. His therapist arranged to work with him at the Gary W Harris Canada Games Centre three times per week. He is doing a lot better now. He can walk with a cane and he can lift 30 pounds on the machines at the gym. He can now clap hands. He has gained strength and control, his gait has improved along with his endurance, and he has an increased range of motion and strength in his upper extremities. He can now do many more tasks of daily living such as carry groceries, cook and barbeque.
Grant states that his doctor can't believe his progress. Other people he knows have said very similar things. Working with the Rec Therapist has been very encouraging and supportive. The Rec Therapist has really helped me to stay motivated. Having a plan for myself also helps the attendants at the Gary Harris Centre to work with me to move forward. I have highly recommended this program to others I know who have had a stroke.
My work is not done but I am proud of the progress I have made and thankful for everything I can do for myself.
To learn more about the RDPCN programs, visit www.reddeerpcn.com
Click to experience 2021 Festival of Trees online!
Red Deer Festival of Trees 2021 is dedicated to providing funding for critical operating room equipment. Having access to new and replacement equipment for the OR will improve the patient experience and reduce wait times for life-saving surgeries, allowing our friends and family to remain close to home during their procedures.