Parker Thompson Starts His Season On The Podium! POV Race Footage
Exclusive POV race footage featuring Red Deer rockers Balaclava.
Parker Thompson has opened the 2017 season on a high note. The Red Deer based Race Car Driver and his brand new all-Canadian team.. Exclusive Autosport.. powered to a couple of impressive finishes in a pair of races on opening weekend of the 2017 Cooper Tires USF2000 Championship Powered by Mazda. The 8 race season opened at the Grand Prix of St. Petersburg in southwestern Florida back in March.
After a Thursday afternoon practice session afforded the drivers with their first opportunity to get on-track in St. Petersburg, the team's pilots headed into qualifying for Race #1 on Friday morning. The track was still very green, which made it tough to find grip and balance on the cars' setups. Thompson led the way for Exclusive by laying down the sixth quickest time of the session to secure a position on the third row for the first race of the doubleheader.
Both USF2000 races were held on Saturday, so the drivers needed to balance the aggression of racing for the win and making sure they avoid damage that could take them out of Race #2. In the opening race, Thompson battled in the lead group and eventually topped a spirited battle between three drivers to take fifth to begin the season.
Qualifying for the second race had taken place on Friday afternoon, and Thompson put it all together during the 30-minute session, earning Exclusive Autosport their first MRTI pole position.
Thompson paced the field to the Race #2 green flag early Saturday afternoon where he led 10 out of the 21 race laps. At the midpoint upon a restart (after a long full-course caution), Parker misjudged the grip slightly and pushed past the apex of turn 1, dropping to fifth in the running order. The result was an early-race battle with Kaylen Frederick. Thompson was able to manage the competition and power to a third place finish, giving the team their first podium in USF2000 action.
PARKER THOMPSON – USF2000 #90
Qualifying 1: 6th – 1:15.8117
Qualifying 2: 1st – 1:15.3708
Race 1: 5th
Race 2: 3rd
Here's what Parker Thompson said at the end of the competition: "I can't express enough what an honor it is to be driving for Exclusive Autosport this year. The entire crew at EA is beyond dedicated to the program. In their very first race weekend in the USF2000 Series, they put a car on pole, and they put together a car capable of winning the race. I can't recall any new team on the Mazda Road to Indy taking a podium finish in their first race weekend. And if it wasn't for my miscalculation on the restart, these boys would have their first win in the bag. The Openhwy #90 was a rocket ship this week, taking a fifth place and a third place in the two races. Thank you to everyone who has been a part of making this season happen for me. Big or small, I'm so grateful to have another shot at taking home this Championship."
Enjoy a video recap of opening weekend from Parker's Point Of View, featuring the hard rock of Balaclava. You can find them on iTunes. They absolutely rock this race.
Today: Come meet Red Deer's Silver Medalist Rebecca Smith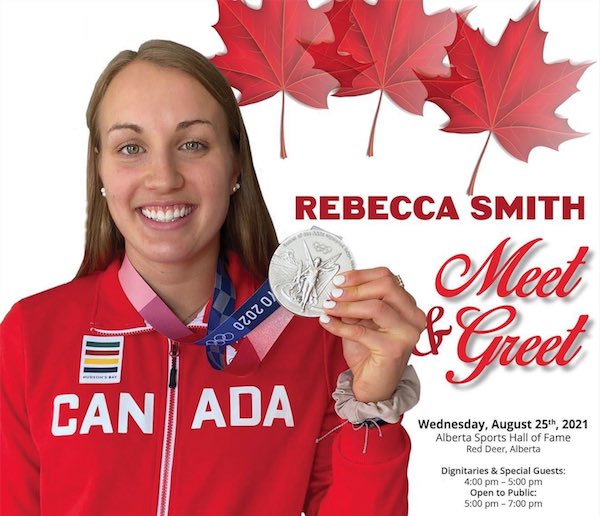 Submitted by Tourism Red Deer
Come celebrate with us and congratulate Red Deer's own Rebecca Smith.
Alberta Sports Hall of Fame and Tourism Red Deer invite you to meet Red Deer's Summer Olympic Silver Medalist Rebecca Smith!
Rebecca was a part of Team Canada's 4 x 100-meter freestyle relay swim team at the 2021 Tokyo Olympics. She'll be here to meet, greet, and show off her hardware.
Where: Alberta Sports Hall of Fame, 102-4200 Highway 2, Red Deer
When: Wednesday, August 25, 5:00 pm – 7:00 pm
Access to Dawe Centre pool and community centre affected by expansion project – Details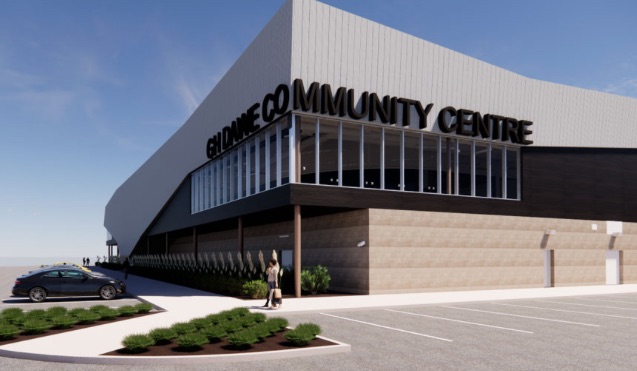 Limited access to G.H. Dawe Community Centre this summer due to construction
Due to construction, access to the G.H. Dawe Community Centre will be limited this summer, with a full closure planned for August.

As announced yesterday, City recreation centres are opening fully to the public as of July 1. With construction underway at the G.H. Dawe Community Centre, only limited services and areas will be available.

Here's what you need to know:
Starting July 2, fitness and gym areas will open from 10 a.m. – 8 p.m., daily. In July, summer day camps that normally operate from the Dawe will operate from other facilities.
The pool will remain closed until September.
To accommodate interior heating and ventilation construction, the facility will fully close from July 26 to August 31. Some registered preschool and summer camp programming may proceed, but no rental or general admission options will be available.
On September 1, we anticipate the pool will be open, but some other amenities, like the gym, may not be available. More information will be provided as construction progresses.
Playing surfaces in the arena will not be available until construction is complete, which is expected to be early 2023.
We are currently offering a discounted monthly Value Pass for $27 for adults ($24.50 for seniors; $21.90 for students; $19.30 for youth; $14.20 for children, and $60.50 for a family. It provides unlimited access to all facilities. As of August the Value Pass will only provide access to the Recreation Centre and Michener Aquatic Centre; however, access to the Dawe will be included in the Value pass until the pool, gym and fitness areas are open.
About the G.H. Dawe Community Centre Project
Work is underway now on the G.H. Dawe Community Centre Project and some exciting changes are in store. We expect to welcome visitors to the transformed space in early 2023. Here's just some of what you can expect:
Two NHL standard playing surfaces
Expanded fitness areas, including a running track
Outdoor spray park with washroom facilities
Improved accessibility
Additional north entrance + site access from 67 Street
Additional parking
During construction, there will be some changes and impacts to existing amenities and programs, and we'll do you best to share this information in advance. Thanks for your patience as we complete this work.
For more information about the project, please visit reddeer.ca/DaweProject.