Parker Thompson, clearly establishing himself as one of Canada's young motorsport stars
From Exclusive Autosport
RED DEER'S THOMPSON EXTENDS PRO MAZDA POINT LEAD AT ROAD AMERICA
Top-five finishes highlighted by late-race recoveries maintain momentum
Canada's Exclusive Autosport brought their USF2000 and Pro Mazda programs to the iconic Road America facility in late June, fueled by the momentum of strong outings during the month of May in Indianapolis. Championship leader Parker Thompson showed why he is considered a primary up-and-coming Canadian motorsports star, as he delivered a pair of performances that turned potential loss into huge gains in the fight for the title in the Pro Mazda Championship Presented by Cooper Tires. The Red Deer, Alberta standout made late-race surges in both main events of the doubleheader on the four-mile track in Wisconsin, passing both of his primary championship challengers to extend his lead to 46 points with a pair of fourth-place finishes. Parker's rookie teammate Antonio Serravalle, from Unionville, Ontario, made his debut at the challenging track and logged crucial experience, scoring a top finish of 12th.
"We had a bit of a difficult weekend in Pro Mazda, where I feel we ran into a little bit of bad luck," offered Michael Duncalfe, Exclusive Autosport Team Principal. "However, we showed how strong the EA Pro Mazda car is and Parker showed how talented he is behind the wheel – overcoming adversity and charging through the pack to bring home two fourth place finishes, ultimately extending our championship lead. Antonio did a good job this weekend also. He was only able to complete one day of testing at Road America prior to racing here. That said, I think he did a really good job. Not only is this his first year in cars, he is having to learn every circuit for the first time. Although we didn't achieve the results we wanted to, he continues to develop at an incredibly rapid rate. I look forward to seeing him continue to develop as the season progresses."
The Pro Mazda component of the MRTI schedule for Road America featured a Thursday-to-Saturday run, and both Thompson and Serravalle took to the track for practice and qualifying on the opening day of action. Coming off a successful test at the track the week prior, both drivers had a baseline from which to improve. Thompson topped the Thursday practice session, and then qualified second for the first of two races. For Race 2, Parker was fifth in the order after a late red flag prevented him from making a run at the pole. Serravalle qualified 13th for both races.
At the start of Race 1, Thompson fell back to sixth position throughout a frenetic opening lap, and then went to work from there. Parker had his primary title challengers directly in front of him, and eventually made his way past Juncos Racing's Carlos Cunha for fifth. Thompson then chased down Rinus VeeKay for the remainder of the race, making a bold last lap pass in Canada Corner to take fourth. With the pass, Parker extended his championship lead by two points. Serravalle completed the race to gain much-needed track time at Road America, finishing 13th in the final tally.
The second race of the weekend featured chaos from the green flag. An incident in turn five on the opening lap could have easily put Thompson on the sidelines, as he was sandwiched by the RP Motorsports Racing drivers as everyone fought for racing room. Parker's PM-18 emerged unscathed as the race went to a full course caution. On the ensuing restart, Thompson was again drilled by a competitor, who had been hit from behind, pushing him off-line in turn one. Again, the Exclusive Autosport machine continued unaffected, lighting a fire under the 20-year-old, who had dropped to 13th. Parker began his march forward, reeling in and moving past his competition before setting up a pass on VeeKay for fourth. Thompson closed on Harrison Scott for third over the final laps, but just ran out of time. That move extended his championship lead by another three points over VeeKay, while he added yet another point by turning the fast lap of the race. Serravalle turned in a clean race, finishing 12th.
Exclusive Autosport, which celebrates its Canadian ownership by referring to itself as the 'Eh Team' is now thrilled to be planning its only trip north of the border for their 'home' race. Although the team is based in Saskatoon, Saskatchewan, the Toronto Indy is their defacto home race and the event is already in the team history book as the site of their first Mazda Road to Indy win. Thompson swept both USF2000 races on the streets last year, and he'll be focused on further extending his championship lead when the team arrives for the July 13-15 event. It will also be the home race for Serravalle, who lives just outside Toronto in the suburb of Unionville.
Exclusive Autosport is pleased to be able to partner with great companies, such as AERO™ Advanced Paint Technology (www.rethinkpaint.com), which is used on all their race cars.
EXCLUSIVE AUTOSPORT – DRIVER RESULTS AND QUOTES
PRO MAZDA – ROUNDS 8/9 – JUNE 21-24, 2018
ROAD AMERICA – ELKHART LAKE, WI
PARKER THOMPSON – #90
Qualifying 1: 2nd – 2:00.826
Qualifying 2: 5th – 2:00.386
Race 1: Start – 2nd / Finish – 4th
Race 2: Start – 5th / Finish – 4th
Parker Thompson Quote: "Looking back at our Road America race week gets me fired up. We had such a fast race car, and yet no results to show for it. Nothing feels worse as a racecar driver then when you have a car to win a race, and you come home without stopping in victory lane. Unfortunately, some of our troubles were out of our control, like a fluke red flag late in our second qualifying session. But it still feels all the same. I am proud of how we salvaged points though. We kept the big picture in mind, and when the going got tough, I managed to drive from dead last to fourth. I'll be carrying that intensity into the most important race of the year for me, my home race on the streets of Toronto!"
ANTONIO SERRAVALLE – #91
Qualifying 1: 13th – 2:03.088
Qualifying 2: 13th – 2:02.554
Race 1: Start – 13th / Finish 13th
Race 2: Start – 13th / Finish 12th
Driver Quote: "I'm trying to learn these tracks with very little time to practice but Road America is almost double the length of a normal track and we just didn't have enough time on this track to be super competitive there. I'm looking forward to my home track race in Toronto."
Notre Dame Fine Arts Department invites you to see Roald Dahl's Matilda, the Musical!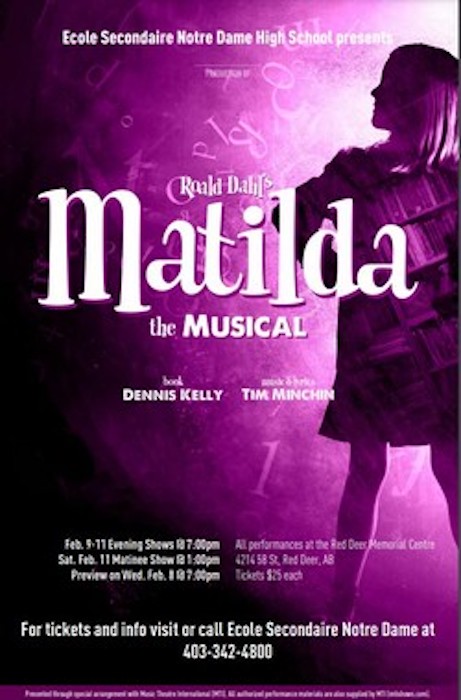 From Red Deer Catholic Regional Schools
Roald Dahl's Matilda, the Musical!
Co-Directed by Jennifer Cocolicchio and Stephanie Layden starring Addy Penney, Jordana Woroniuk, Coryn Tardif, David Jones, and Mikayla Beever.
Please join the Notre Dame Fine Arts students for their interpretation of Matilda.
Inspired by the twisted genius of Roald Dahl, the Tony Award-winning Roald Dahl's Matilda The Musical, from the Royal Shakespeare Company, revels in the anarchy of childhood, the power of imagination and the inspiring story of a girl who dreams of a better life. Book by Dennis Kelly and original songs by Tim Minchin.
Matilda is a little girl with astonishing wit, intelligence and psychokinetic powers. She's unloved by her cruel parents but impresses her schoolteacher, the highly loveable Miss Honey. Over the course of her first term at school, Matilda and Miss Honey have a profound effect on each other's lives, as Miss Honey begins not only to recognize but also appreciate Matilda's extraordinary personality. Matilda's school life isn't completely smooth sailing, however – the school's mean headmistress, Miss Trunchbull, hates children and just loves thinking up new punishments for those who don't abide by her rules. But Matilda has courage and cleverness in equal amounts, and could be the school pupils' saving grace!
Packed with high-energy dance numbers, catchy songs and quick wit, Matilda is a joyous girl power romp. Children and adults alike will be thrilled and delighted by the story of the special little girl with an extraordinary imagination.
The shows take place at Red Deer's Memorial Centre on February 9, 10, & 11 at 7:00pm. There is also a Matinee on February 11 at 1:00pm.
TICKETS ARE $25.00
TICKETS AVAILABLE in advance at Notre Dame's front office, online at https://www.notredamehigh.ca/programs/fine-arts or on the date at the theatre door.
SPECIAL PREVIEW NIGHT on February 8 at 7:00pm – Free for all press representatives and pay what you can for the general public.
Project Radar nets meth seizure in Red Deer, Lloydminster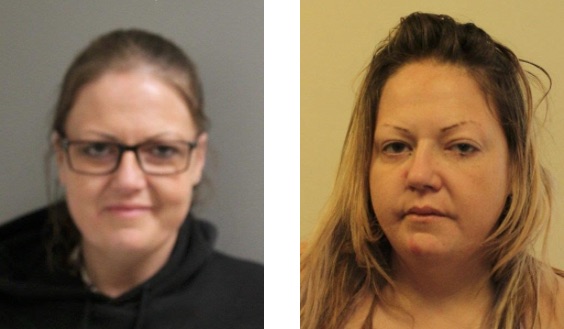 Suspect Katie Gowanlock still at large
From the Alberta Law Enforcement Response Team (ALERT)
A major methamphetamine and fentanyl seizure in Red Deer and Lloydminster has led to charges against three suspected drug dealers. ALERT's Project Radar resulted in the seizure of $335,000 worth of drugs.
Project Radar was a year and a half-long investigation by ALERT Red Deer's organized crime team, focused on disrupting drug trafficking activity in central Alberta. Nearly four kilograms of meth was seized along with more than 500 grams of fentanyl powder.
The following items were seized during the course of Project Radar:
3,751 grams of methamphetamine;
523 grams of fentanyl;
$1,500 cash.
Project Radar began in June 2021 in Red Deer and eventually expanded in scope as the group demonstrated ties to the Lloydminster drug market.
Two Red Deer homes were searched and two suspects were arrested, while one remains wanted on warrants. The most recent arrest took place on January 17, 2023, and ALERT received help from Red Deer RCMP and B.C.'s Combined Forces Special Enforcement Unit (CFSEU) Prince George.
Jaydon Harrison, 24 of Prince George, and Nikita Robertson, 24 of Edmonton, are each charged with multiple counts of drug trafficking.
Meanwhile, a warrant has been issued for Katie Gowanlock, as pictured above. The 40-year-old is charged with 10 counts of drug trafficking and is believed to be in the Central Alberta area.
Members of the public who suspect drug or gang activity in their community can call local police, or contact Crime Stoppers at 1-800-222-TIPS (8477). Crime Stoppers is always anonymous.
ALERT was established and is funded by the Alberta Government and is a compilation of the province's most sophisticated law enforcement resources committed to tackling serious and organized crime.