PARKER THOMPSON BREAKS NEW GROUND WITH INCREDIBLE TWO SERIES WEEKEND AT TORONTO INDY
From Parker Thompson Racing
TORONTO, ONTARIO
Parker Thompson may be the busiest road racing driver on the continent. Since March, the young Alberta native has raced 27 times in four different series. Challenging for championship titles in both open-wheel race cars and sports cars, Thompson has shown incredible skill and versatility. That was most evident this weekend when Thompson raced in both the Indy Pro 2000 by Cooper Tires series, and the IMSA GT3 Cup Challenge Canada series as part of the Honda Indy Toronto event. With four alternating races, Thompson demonstrated an adaptability seldom seen in motorsports. In an incredible performance, he earned three podium finishes and the Yokohama Tires Hard Charger award. The result puts an exclamation mark on his accomplishments so far this year, and further reinforces his status as one of the continents top young drivers.
With a busy ten session schedule over the three day weekend, Thompson could often be seen hurrying between the Porsche GT3 and Indy Pro 2000 paddocks located at opposite ends of the event site in downtown Toronto. Competing in two series during the same event presented a variety of challenges not typical of most race weekends.
"There is a lot of work and preparation that goes into every single session we do on the race track. Balancing two different series this weekend would never have been possible without incredible support from my teams, Abel Motorsports [Indy Pro 2000] and Sports Car Boutique [IMSA GT3 Canada]. Getting the maximum out of two very different cars was a tremendous challenge. The Porsche GT3 Cup Car, and the Tatuus PM-18 Indy Pro 2000 car are not only very different in size and handling characteristics, but they also require a very different strategy and approach during race action. Going back and forth between vehicles, and jumping straight into race pace really tested my concentration and ability to remember key markers and set-up notes for this very unforgiving Streets of Toronto track. This was probably my most stressful weekend of racing ever, but I'm overjoyed by our results! In these two highly competitive series, I always feel blessed to stand on the podium. Doing that three out of four times this weekend feels like a huge achievement." – Parker Thompson
The first of three podiums came with Abel Motorsports in Indy Pro 2000, where Thompson began his first race of the weekend from seventh position in the thirteen car line up. Navigating traffic and multiple yellow flag incidents on the challenging street course, Thompson maneuvered the #8 Abel Motorsports car to a 3rd place finish.
Race 2 in Indy Pro 2000 featured a relentless duel between Thompson and championship leader Rasmus Lindh. Starting in P3 and P2 respectively, the two drivers exchanged places multiple times early in the race. Thompson would make a final pass in turn 3 of the Toronto street course, and hold off Lindh for the remainder of the race to earn a second place finish.
In GT3 Cup Challenge Canada, Thompson began Race 1 from 7th position after a heavy rain prior to race start created conditions that challenged a variety of drivers and teams. In a clear demonstration of car control, Thompson navigated the #3 SCB Racing / Porsche Centre Victoria car around the drying track, executing four passes in the first seven laps. The performance earned him the Yokohama Tires Hard Charger Award, and the final step on the podium.
In Race 2 of GT3 Canada, a rare mistake from Thompson saw his Porsche make contact with a tire wall in turn eight. Continuing the race from the back of the field, a lengthy yellow flag resulting from a crash between drivers Metni and Dussault allowed Thompson to rejoin the main group and improve his position. Piloting a car with front end damage, he would work his way up to 5th position before the 45-minute race expired.
This incredible weekend marked the 100th race of Thompson's young career, and performing double duty was a fitting celebration of that milestone. Since 2015, Thompson has had a steady career, earning wins in every type of car he has raced. In one-hundred races, he has earned 55 podiums and 26 race wins. His lifetime winning and podium percentages are outstanding by any measure, but Thompson's numbers this season are even more impressive. In 2019, he has won exactly a third of his races, and placed on the podium more than three quarters of the time.
After one weekend off, Thompson will resume his busy schedule on July 26th with three consecutive race weekends in Indy Pro 2000, IMSA GT3 Cup Challenge Canada, and the Canadian Touring Car Championship. He is currently second place in overall championship standings for Indy Pro 2000 and GT3 Canada, and he is leading the Canadian Touring Car Championship GTS standings.
Today: Come meet Red Deer's Silver Medalist Rebecca Smith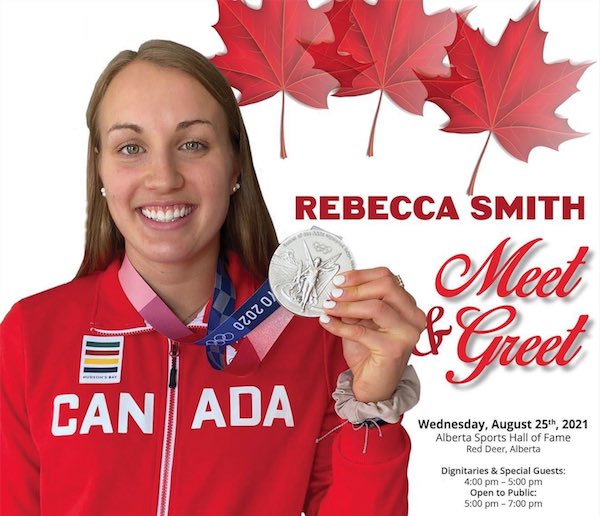 Submitted by Tourism Red Deer
Come celebrate with us and congratulate Red Deer's own Rebecca Smith.
Alberta Sports Hall of Fame and Tourism Red Deer invite you to meet Red Deer's Summer Olympic Silver Medalist Rebecca Smith!
Rebecca was a part of Team Canada's 4 x 100-meter freestyle relay swim team at the 2021 Tokyo Olympics. She'll be here to meet, greet, and show off her hardware.
Where: Alberta Sports Hall of Fame, 102-4200 Highway 2, Red Deer
When: Wednesday, August 25, 5:00 pm – 7:00 pm
Access to Dawe Centre pool and community centre affected by expansion project – Details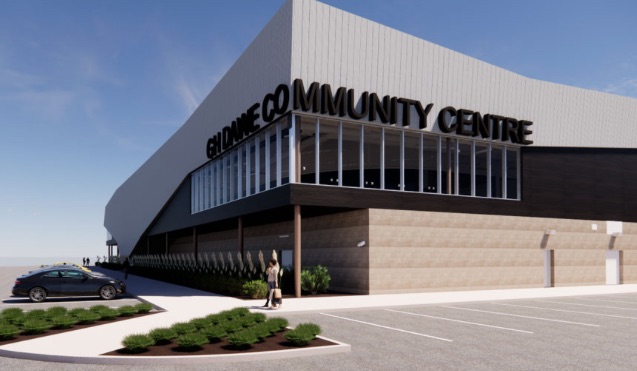 Limited access to G.H. Dawe Community Centre this summer due to construction
Due to construction, access to the G.H. Dawe Community Centre will be limited this summer, with a full closure planned for August.

As announced yesterday, City recreation centres are opening fully to the public as of July 1. With construction underway at the G.H. Dawe Community Centre, only limited services and areas will be available.

Here's what you need to know:
Starting July 2, fitness and gym areas will open from 10 a.m. – 8 p.m., daily. In July, summer day camps that normally operate from the Dawe will operate from other facilities.
The pool will remain closed until September.
To accommodate interior heating and ventilation construction, the facility will fully close from July 26 to August 31. Some registered preschool and summer camp programming may proceed, but no rental or general admission options will be available.
On September 1, we anticipate the pool will be open, but some other amenities, like the gym, may not be available. More information will be provided as construction progresses.
Playing surfaces in the arena will not be available until construction is complete, which is expected to be early 2023.
We are currently offering a discounted monthly Value Pass for $27 for adults ($24.50 for seniors; $21.90 for students; $19.30 for youth; $14.20 for children, and $60.50 for a family. It provides unlimited access to all facilities. As of August the Value Pass will only provide access to the Recreation Centre and Michener Aquatic Centre; however, access to the Dawe will be included in the Value pass until the pool, gym and fitness areas are open.
About the G.H. Dawe Community Centre Project
Work is underway now on the G.H. Dawe Community Centre Project and some exciting changes are in store. We expect to welcome visitors to the transformed space in early 2023. Here's just some of what you can expect:
Two NHL standard playing surfaces
Expanded fitness areas, including a running track
Outdoor spray park with washroom facilities
Improved accessibility
Additional north entrance + site access from 67 Street
Additional parking
During construction, there will be some changes and impacts to existing amenities and programs, and we'll do you best to share this information in advance. Thanks for your patience as we complete this work.
For more information about the project, please visit reddeer.ca/DaweProject.