Once Biden's Ace Against Trump, Covid Now Sinking Him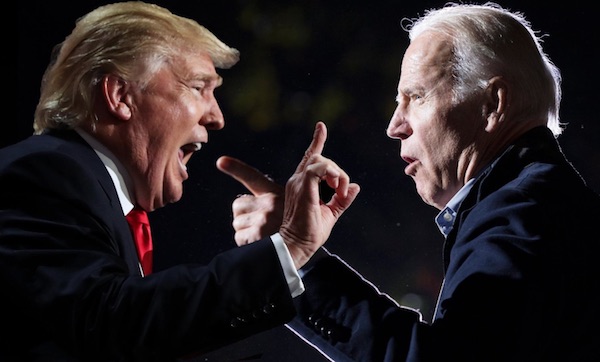 "220,000 Americans dead," said Joe Biden during the second presidential debate."If you hear nothing else I say tonight, hear this — anyone who is responsible for that many deaths should not remain as President of the United States of America,"
In March of 2020, the Democratic Party was dead in the water. Despite three years of Impeachment Theatre, RussiaGate inquiries, SCOTUS witch-hunts and the assault by Hollywood/ mainstream media on #OrangeManBad, the Dems were facing the likelihood that Donald Trump would win a second term in November 2020.
It was the economy, stupid. What to do with a front bench of mediocrities, radicals and lunatics running for the party nomination if the markets are booming?
Then the political gods gifted the party with Covid-19 in February 2020. The Wuhan-sourced pandemic was the ultimate political Hail Mary, an exploitable vehicle the Dems would manipulate to win the White House. From the time of the first deaths in February to Nov. 3, the Dems made sure everything Covid was attributed to the tempestuous Trump. And it stuck.
Trump's attempts to marshal Operation Warp Speed, his confrontational press conferences, his bans on foreign travellers and, ultimately, 15 Days To Flatten the Curve— no matter. The DEMs tied the shocking death numbers in the U.S. to Trump. Might early and alternative treatments have helped slow the pandemic? It didn't matter. Trump could not be given a win.
It mattered little that every other nation was helpless to stop the virus. The Dems made Americans believe Trump was making it worse. Looking at his opponent, Biden said in October's debates. "He knew all the way back in February how serious this crisis was… The president has no plan… It is what it is, because you are who you are." And so on.
This cynicism allowed the Dems and their leaking pals in the bureaucracy to flail the idea of vaccines being available in 2020. "If Donald Trump tells us that we should take it, I'm not taking it," future VP Kamala Harris shouted during her debate with Mike Pence. They also got a hand from their Big Pharma donors who delayed release of the vaccines till after the election, robbing Trump of a needed PR victory before the vote.
Famously, the DEM media party eviscerated Trump's attempts to discuss early treatment options such as Ivermectin, HCQ, vitamin therapy and, of course, falsely accusing the blustering Trump of telling people to drink bleach. It all stuck— and became Covid orthodoxy. Trump said it? Print it.
The "approved" CDC, WHO, NIH and Democrat prescription? Go home if you get sick, and wait till either you recover or go to the hospital to die. Anyone daring to contradict Team Fauci on Covid catechism was tossed from Twitter, Facebook and the MSM. Trump, Alex Berenson, Ivor Cummins, Naomi Wolff, Mike Lindell, Steve Bannon and the New York Post were among the many suspended or banned for "seditious" thought.
The October banning of the Post was the apogee of Pandemic Cancel Culture hubris. Because nothing was allowed to deflect from the pandemic, the oldest newspaper in America was banned for an October series of sourced stories on how Biden and son Hunter had been operating a shakedown scheme for years in China, Ukraine and other nations. How complete was the blackout? One in six Bidden voters later said they wouldn't have voted for him had they known.
(Canadian media, in the process of being bought out by PM Justin Trudeau, swallowed the Democrat narratives and sold them to mortified Canadians who were told Trump was the Grim Reaper. If anything, Canadians accepted harsher restrictions and lockdowns for fear of the media-manufactured apocalypse "created" by Trump.
The pandemic panic also allowed DEM operatives and sponsors to have election rules changed to permit mail-in voting, vote harvesting and to have ID rules relaxed— often in states run by GOP legislatures. It paid off as DEM votes went from 65,853,625 in 2016 to 81,284,666 in 2020. (Trump jumped from 62,985,106 to 74,224,319.)
The problem for new president Biden was that, having captured the WH, he now had to live up to the standards he'd imposed on Trump. Having told the public he was the man to conquer Covid Biden was soon eating humble pie. As of this writing 330,000 Americans have died on Biden's watch— 110,000 above the number he'd used to attack Trump. No surprise, Biden isn't resigning.
The media forces that put Biden in power quickly began campaigns of acceptance for one, then two, then three, now four shots of vaccine. Vax passports become good-behaviour badges. The unvaxxed were ostracized, portrayed as sub-human to distract from the collapse of the Omnipotent Vaccine narrative.
If the end result had not been thousands of deaths one might have even admired the hubris of the Biden operation. But people have died in large numbers as a result of a political scam.
Further, polling now shows the weary public is not distracted by this chicanery. Having failed to deliver on his Covid election promises, Biden now sees numbers at levels Trump experienced. Worse, a midterm massacre is in the offing, one that could see GOP take over both Houses of Congress. And repeal many of the progressive policies now being fed to the public.
The Biden media is now signalling the failure of its Covid strategy, pivoting to voting rights. DEM operative Donna Brazile catches the rage flavour. "Just as Revere and other patriots rode through Massachusetts on the night of April 18, 1775, warning rebellious colonists that the British were coming to prevent the creation of American democracy, Biden and Harris have warned that Republicans are coming now to destroy our democratic processes."
And all this because the Left, smarting from 2016 defeat, put its selfish destruction of Trump ahead of the safety of Americans. Karma is a bitch, no?
Bruce Dowbiggin @dowbboy is the editor of Not The Public Broadcaster (http://www.notthepublicbroadcaster.com). The best-selling author was nominated for the BBN Business Book award of 2020 for Personal Account with Tony Comper. A two-time winner of the Gemini Award as Canada's top television sports broadcaster, he's also a regular contributor to Sirius XM Canada Talks Ch. 167. His new book with his son Evan Inexact Science: The Six Most Compelling Draft Years In NHL History is now available on http://brucedowbigginbooks.ca/book-personalaccount.aspx
The Californication Of Toronto: Urban Nowhere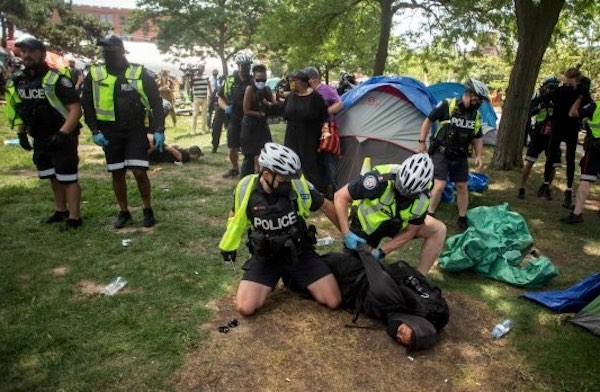 Last weekend I talked on the phone with my broadcasting friend Andrew Krystal about the state of Toronto— including his beloved Maple Leafs. Little did I know it was to be our final conversation; Andrew died just a few minutes after as he walked home in Yorkville.
In his inimitable way Andrew had been giving me the gears for criticizing Toronto after I'd spent so many years there. "You made your name here. You are a product of Toronto," he pointed out above the din in a local Toronto bar.
Indeed I was a product of the Toronto I left behind in 1998. As I told him, that Toronto— the Little City That Could—is long gone. Replaced by something… else. As we shouted to make ourselves heard I told him that Toronto now reminds me of the California nightmare described in a recent Matt Taibbi piece on Substack. "California is what happens when new money becomes old money."
Taibbi quoted Swedish writer Malcom Keune: "California shifted mid century from being the US's fastest-growing state — 50% population growth between 1950 and 1960 — to a state that is somehow, improbably, shrinking… mostly because of the regulations the state's inhabitants put in place that block the housing that's required to support California's economic success. As a result, California has lost the "technology" of being able to affordably house its inhabitants…
To use a California literary reference, that meant no more living off the "fat of the land," for with the well of plenty drying, even elites are now forced to feed off each other. In such a society, he wrote, "belligerence is not a choice," and "you need to dispossess others" to get ahead, because "not doing so means losing your own way of life."
The Diaspora of middle-class Californians to Texas, Montana, Florida, Tennessee, Colorado and elsewhere has been mirrored by the thousands of successful businesses such as Tesla, Oracle, Hewlitt-Packard and many more also leaving the state, taking with them tens of thousands of excellent jobs. Leaving behind a titled elite and a serving class— many just arrived in the state.
The desire to make California a morally pure progressive paradise has turned into open drug use on streets, collapsing infrastructure and sclerotic one-party rule. "California announced a high-speed train in 1996 and the current plan is for service on the L.A-San Francisco line to begin in 2033. One executive I spoke with described the state's development as "frozen in aspic."
One reason is strangulation by bureaucracy. "Institutions everywhere are filling up with employees bearing skills "orthogonal" to the bureaucratic mission," Kyeyune writes, "part of what's been packaged as progress but feels more like a vast jobs program for otherwise unemployable pseudo-intellectuals. "Hire us, pay us, give us and our clients sinecures at your expense, "or we will make life difficult for you."
As I told Andrew, "It doesn't take a great leap to see these descriptions applying to Toronto as it came into its new status as a progressive cosmopolitan haven." The Toronto of today, like California, is moving forward and backward at the same time. A champion in its day for fighting apartheid in South Africa, the same city now proudly celebrates segregated commencement sessions .
The source of Toronto's entitlement was the stopping of the Spadina Expressway in the 1970s, the singular NIMBY resistance to growing the city at the expense of leafy neighbourhoods. Since then attempts to move newcomers around the heart of privilege have produced gridlock.
The result? Stratospheric housing prices in a city that resisted growth even as it imported hundreds of thousands to serve as its worker drones. The basic roof-over-one's-head now is exclusive to aging Boomers squatting on their cashboxes while their children and newcomers move two hours away (if lucky) or mortgage themselves to the real-estate lottery.
Like Hollywood, Toronto's hip class is besotted by Woke culture. Instead of Hollywood, Toronto is an IT factory married to media elites. But this success a two-edged sword for liberals— as California discovered. The Golden State "began to worry about how to balance the proceeds of its mastery of lowbrow markets with the desire of its most influential inhabitants to maintain reputations for the latest in progressive attitudes".
Toronto's IT culture has opinions; they're just all virtually the same. None may say a negative word for fear of being banished to Barrie or London or (gasp) Alberta to find a living. It is a self-imposed gag order.
Exit strategies? Like California, Toronto's business Diaspora to its suburbs and beyond has been replaced by a tax base resting on rapacious condo construction and gentrification. Its attempts to replace cars with rapid transit, such as the Eglinton subway project, mirror California's rapid-rail project. No one in office wants to make hard decisions about the Gardiner Expressway, so they put off the inevitable.
Once a bastion of security, Toronto's street crime is blighting the city. No wonder the middle class is cashing out its homes and heading to Northern Ontario, PEI, Alberta and the U.S.
Like the California elite in Silicon Valley, Toronto's Family Compact has shown its survival skills in the Trudeau years, returning Captain Blackface to power on three occasions in a Faustian bargain to preserve its status. With the reality sleeping on homeless sidewalks, Toronto's nomenklatura moved "to dispossess others" to get ahead, because not doing so meant losing their own way of life.
The accelerator for decline has been the gelding of its media. With government now pumping billions into media based in the city, there is a homogeneity of thought in coverage. Reporters who were once independent and cranky now see their best interests served in building echo chambers for the government/ corporate crowd. In California there are at least some people such as Taibbi defying the Media Party directives. For how long not one knows.
I will miss Andrew but in many respects. I'm just glad he won't be around to see what will happen to the city where he was raised and where he revelled in the last days of old Toronto.
Bruce Dowbiggin @dowbboy is the editor of Not The Public Broadcaster (http://www.notthepublicbroadcaster.com). The best-selling author was nominated for the BBN Business Book award of 2020 for Personal Account with Tony Comper. A two-time winner of the Gemini Award as Canada's top television sports broadcaster, he's also a regular contributor to Sirius XM Canada Talks Ch. 167. His new book with his son Evan Inexact Science: The Six Most Compelling Draft Years In NHL History is now available on http://brucedowbigginbooks.ca/book-personalaccount.aspx
Big Can Be Beautiful. It Can Also Take Your Life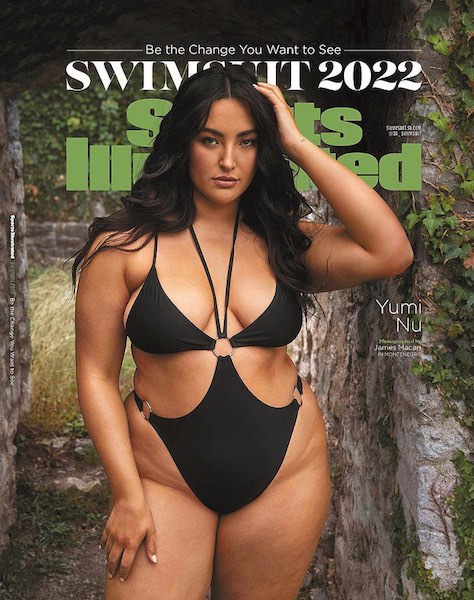 When we go to our local swimming pool there is ample evidence of the fat of the land (including your correspondent). The display of plus-sized pork among our fellow swimmers (most 50+) is breathtaking. The Parnassus of lard has to be the 60-ish gentleman who wears a Speedo on his 375-pound-plus body as he swims laps. We assume there's a Speedo in there somewhere, captured by rolling mounds of cellulite on his glutes.
While alarming to see so many who've lost the battle to fat, at least these souls are making the attempt to stay healthy. God bless them. When we see them lower themselves into the pool we have to wonder at those who've completely given up on the concept of a healthy figure. How do they live?
The notion of what constitutes a beautiful body is in the news again as Sports Illustrated featured plus-sized model Yumi Nu on the cover of its annual swimsuit edition. The swimsuit edition is the annual display of beautiful female bodies that traditionally sent nuns and librarians into a censorship fury worthy of Twitter. (And found its way between the mattresses of teenaged boys.)
In what is clearly Woke symbolism, Time Warner's magazine is attempting to placate another stigmatized group— plus-sized women— by displaying Nu in all her rounded beauty. "See, it's normal to be wearing XXX-sized clothing" is the message. (The magazine also features Elon Musk's mother and four NBA models in the edition).
This comes at a time when plus-sized rapper Cardi B has made highly sexualized twerking a thing in her graphic videos. It seems to now be hip to placate people who've lost the battle against Cheetos in a masturbatory celebration of a blubbery freedom.
Canadian author/ psychologist Dr. Jordan Peterson spoke for those not amused by SI's project. "Sorry. Not beautiful. And no amount of authoritarian tolerance is going to change that. It's a conscious progressive attempt to manipulate & retool the notion of beauty, reliant on the idiot philosophy that such preferences are learned and properly changed by those who know better."
But there was a cascade of approval for SI's choice, recognizing that beauty is in the eye of the beholder. Many found Nu stunning and sexy. Feminists applauded her acceptance of bodaciousness. Fair enough.
Two quibbles. One small and the other massive. First— this will be lost on feminists— the SI Swimsuit edition was created in the 1960s to defeat a stereotype that fit sportswomen were tomboys, unattractive and vaguely butch. In their own way, the early SI models destroyed those stereotypes while pleasuring hetero men. They convinced women that muscles aren't a bringdown.
The more significant point— lost on SI and Time Warner— is that the time of Covid, with its choked hospitals and healthcare system, is hardly the moment to celebrate people who exceed their body-fat index. In fact it might be described as a reckless message that allows people with hereditary or cultural vulnerability to diabetes, stroke and heart attacks to put off weight reduction.
As we wrote last October, obesity is the silent killer of millions infected with the virus. But one buried by governments, media and health authorities who decided to make vaccine-resisters the real villain of the piece.
"Friends and neighbours we have thought otherwise sane are now seriously demanding that unvaccinated people be sent to the back of the line for health care till all the vaccinated people are satisfied. This triage is equal measures of fear, spite and blithering ignorance of the facts of single-payer health.
Take this example: one of the factors established very early in the pandemic was the vulnerability of obese and morbidly obese— especially in the elderly. The AMA reports, "The vast majority—78%—of U.S. patients hospitalized with COVID-19 were overweight or had obesity. The numbers for intensive care, invasive mechanical ventilation and death were nearly the same."
According to the CDC, 42.4 percent of U.S. adults have obesity. While some are obese for genetic or disease-related reasons, the vast proportion of the obesity is lifestyle induced. The World Obesity Federation has shown that death rates from COVID-19 have been 10 times higher in countries where more than half of the population is overweight.
Yet there is no call from the media and its acolytes to punish the obese for clogging the healthcare system. No demand they be put to the back of the line. Why? Because it doesn't suit the narrative of right-wing extremism the way that non-vaxxers do. Too many allies of Woke land— in and out of politics— would be shoved down the line if fat were targeted.
University of Oxford researchers found, "Excess weight is a modifiable risk factor, and investment in the treatment of overweight and obesity and long-term preventive strategies could help reduce the severity of COVID-19 disease."
Yet when was the last time you heard Justin Trudeau or president Joe Biden suggest dropping weight to lessen the burden on healthcare? The last time would be the first time, as they have been mute on lifestyle adaptions to clear the ICUs.
It goes the same for smokers, drinkers, drug abusers and more who— under Canada's healthcare rulers— receive the same treatment in emergency rooms as do those who live clean. According to the howler monkeys of vaccine enforcement only non-vaxxers should be culled from the herd for flooding ICUs."
It's not the first time that Wokedom has stifled information contrary to their societal control. It won't be the last. In the battle of the bulge it's not a fashion statement. It's a matter of life and death. It's also a matter of saving the healthcare system.
Bruce Dowbiggin @dowbboy is the editor of Not The Public Broadcaster (http://www.notthepublicbroadcaster.com). The best-selling author was nominated for the BBN Business Book award of 2020 for Personal Account with Tony Comper. A two-time winner of the Gemini Award as Canada's top television sports broadcaster, he's also a regular contributor to Sirius XM Canada Talks Ch. 167. His new book with his son Evan Inexact Science: The Six Most Compelling Draft Years In NHL History is now available on http://brucedowbigginbooks.ca/book-personalaccount.aspx