Olympic Champion Mark Tewksbury unveils new exhibit at Alberta Sports Hall of Fame – The Halftime Report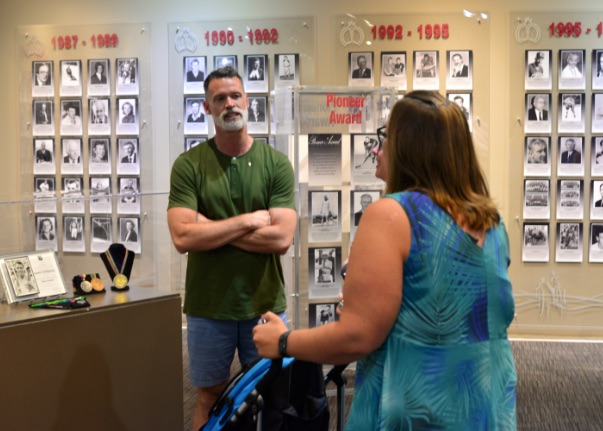 New 2SLGBTQIA+ exhibit, 'True to You in Sport', unveiled in Hall of Fame Gallery
The Alberta Sports Hall of Fame is thrilled to unveil our newest exhibit, "True to You in Sport", which examines the journeys and challenges faced by four of our Honoured Members who identify as 2SLGBTQIA+.
Honoured Member Mark Tewksbury and his partner, Rob Mabee, were on hand on July 9th to help us officially unveil the display.
The exhibit features artifacts and stories from Mark as well as fellow Honoured Members Danielle Peers, Keely Brown, and Kessie Stefayk.
"Every person should have the ability to pursue their dreams without fear of discrimination or prejudice based on age, race, religion, gender, or sexual identity. Unfortunately, this is not the case," says Breanna Suk, Collections and Exhibit Coordinator. "Many athletes have faced, and many still do, discrimination from sport organizations, team management, coaches and even fellow athletes for things they have no control over."
Located in the Hall of Fame Gallery, "True to You in Sport" is open from 9:00 am – 5:00 pm Monday through Friday, and from 10:00 am – 5:00 pm on weekends and select holidays.
Look who recently stopped by the Hall
Legendary Medicine Hat Tigers announcer Bob Ridley swung by the Hall on July 9 to drop off two mini banners celebrating his call of the 4,000 Tigers game of his career.

One will be added to the Alberta Sports Hall of Fame's collection, while the other will go to Hockey Alberta's Alberta Hockey Hall of Fame collection.
Greg Korbutt, son of Alberta Sports Hall of Fame visionary Orest Korbutt, was also by on July 9 to tour the Hall for the first time. Thanks for visiting, Greg!
Save the Date: Induction Banquet now scheduled for October 22 at RDC's Arts Centre
We are excited to announce that the 2020 Induction Banquet, which was postponed due to the COVID-19 Pandemic, is now scheduled for Friday, October 22 at Red Deer College's Arts Centre.
More details will be shared in the coming months.
Nominations are also now being accepted for next year's class of inductees. The deadline for applications is October 29, 2021.
Visit https://www.albertasportshall.ca/nominate for more information.
Exciting changes on Alberta Sports Hall of Fame Board of Directors
The Alberta Sports Hall of Fame is pleased to announce some
exciting changes to our Board of Directors following the Annual General Meeting held on June 29.
We would like to welcome new Board Chair Dale Henwood and new Vice-Chair Leslie Sproule to their new positions. Don Oszli remains Treasurer, and Jack Neumann is staying on as Secretary.
Also joining the Board are Calgary's Jasen Pratt and Innisfail's Desmond Bouteiller. Both men come from an extensive sports background, including high development sports coaching.
This newsletter is sponsored by the Peavey Mart.
Honoured Member in Focus: Donald Lovo
Donald Lovo won several Provincial and National Archery Championships.
From 1962 to 1965, he was a member of Canada's Elite International level team. He served as both Vice President and President of the Federation of Canadian Archers.
In 1968, Donald Lovo became the first Canadian to be recognized as an International Judge of Archery.
He has been awarded the Federation Internationale Target Archers gold and silver plaquettes and was honoured as Air Canada's Official of the Year in 1984.
Provincial Sport Organization: Archery Alberta
Archery Alberta is the source for target, field, and 3D archery in Alberta.
Archery Alberta, the trade name of the ATAA (Alberta Target Archers Association), is the recognized Provincial Sports Association representing archery in Alberta.
Archery Alberta facilitates the development of the sport of archery by providing accessible opportunities for clubs and archers to participate in a broad range of programs across multiple disciplines to whatever level they choose.
The Olympic Flames light a fire in athletes
The tradition of the Olympic Flame is one that connects the modern Games with their ancient Greek heritage.
The ancient gift of the flame was said to give humanity a start towards civilization.
In the modern Olympic Games, it signifies of that same myth, an ode to the growth of civilization, and the ancient traditions of the Games.
The modern Olympic Flame tradition as we know it today dates to the 1928 Olympic Games when the first Olympic flame was lit.
Honoured Member Keely Brown joins Ringette Canada's Junior National Team as assistant coach
Honoured Member Keely Brown is moving on up!
Ringette Canada announced on July 6 that Keely was joining the Junior National Team as an assistant coach working with the goalies.
Keely was inducted into the Alberta Sports Hall of Fame in 2018 as a ringette athlete. She played goal with Team Canada from 2000 – 2012 and is the longest-serving goaltender in the team's history.
Congratulations, Keely!
Are you ready to take your dates to a whole, new level?

Our new Date Night Out Monthly Charity Auction officially gets underway tomorrow.

Head to https://trellis.org/monthly-date-night-auction for this month's auction item, and check back regularly for new, exciting date options.
Golfers wanted!
We're looking for sponsors and golfers for the Annual Alberta Sports Hall of Fame Golf Tournament, which tees off on Tuesday, September 14 at the Innisfail Golf Course. This season, we will be partnering with the Innisfail Eagles Hockey Team.
Don't miss out on the opportunity to support the preservation of Alberta sports by playing at one of the province's crown jewels.
Call (403) 341-8614 or email [email protected]ca for more information.
Looking for fun and engaging programs for your kids this summer?
We will be hosting two camps this summer:July 19-23, 2021 & August 16-20, 2021. The sessions run from 9:00 am – 5:00 pm daily.
The Alberta Sports Hall of Fame will be hosting two week-long summer camps with daily themed programming ranging from Healthy Active Living to All About Art and everything in between.
Register for a day or the whole week!
$30/ day or $125/week per child, Ages 6-12yrs.
Call 403-341-3814 to register your child today- Space is limited.
**Our decision-making process is based on directives given by the Government of Alberta and Alberta Health Services. As the COVID-19 situation progress over the next two months, so will our plans.**
Leave a legacy​
The Alberta Sports Hall of Fame needs your support to continue the ongoing preservation of Alberta's sports history and the development of museum exhibits. We are grateful and appreciative of the generosity of our supporters and friends. We would be happy to assist you in choosing how your personal legacy will be fulfilled and the many options available. Here is some information on donating shares to ASHFM and the benefits to you as a donor.
New Red Deer City Councillor joins frontline workers in protest against 'mandatory' vaccination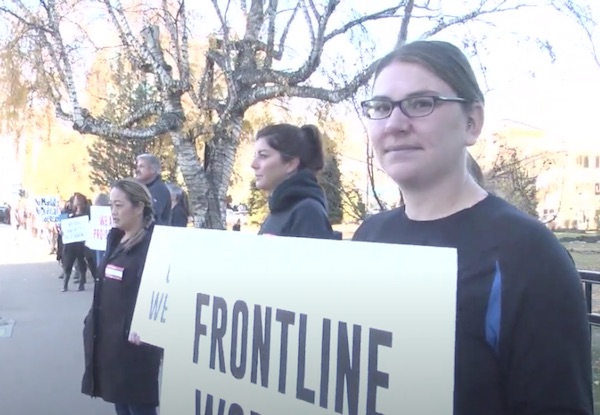 Under imminent threat of losing their jobs, as many as two hundred frontline healthcare workers including paramedics, nurses, and fire fighters gathered in downtown Red Deer Thursday afternoon for a silent protest in front of City Hall Park.  Organizer Kaitlin King, a paramedic from the North Central region says she represents thousands of workers who've already had covid and benefit from a very high level of immunity.  Despite her opposition to the covid vaccines, King says she'd be willing to be tested on a regular basis if that was an option.
As of Friday afternoon, AHS claims 94% of it's employees are fully vaccinated.  That number is contested by those who point out the AHS boosted the percentage of vaccinated employees drastically by dropping "casual" employees from their stats.
Whatever the actual number is, AHS has decided it it too high.  Friday, AHS announced via Twitter, that the deadline for AHS employees to be vaccinated or face the loss of their jobs would be delayed from November 1st, to December 1st.
AHS is hoping thousands of employees who've decided against the jab so far, will change their minds and begin the process in the coming days.
Meanwhile it appears Vaccine Mandates will be hotly contested by Red Deer's new City Council.  Newly elected Councillor Victor Doerksen attended the silent rally Thursday.  Doerksen is looking forward to discussing the validity of mandates with his fellow council members as soon as possible.
Saskatchewan Roughriders avoid season sweep in downing Calgary Stampeders 20-17
CALGARY — The Saskatchewan Roughriders avoided a third consecutive loss to the Stampeders with a 20-17 win Saturday in Calgary.
By a quirk of the CFL schedule, Calgary is the only opponent the Roughriders have played so far in October interrupted only by a bye week.
The Winnipeg Blue Bombers hammering the B.C. Lions 45-0 in another West Division game Saturday to get to 10-1 means the defending Grey Cup champions will host the division final Dec. 5.
Saskatchewan (6-4), Calgary (5-6) and the Lions (4-6) are in a race to have the Nov. 28 division semifinal in their stadiums, while the Edmonton Elks (2-7) languish in the basement.
The Stampeders took two games off Saskatchewan in early October to secure the season series. Calgary would rank higher in the standings in the event of a tie between the two clubs at the end of the regular season.
Trailing 10-6 at halftime Saturday, the Roughriders rallied with a pair of second-half touchdowns in front of an announced 21,672 at McMahon Stadium.
Roughriders quarterback Cody Fajardo completed 21-of-26 pass attempts for 222 yards. He threw touchdown passes to Brayden Lenius and Kyran Moore and was intercepted once.
Saskatchewan kicker Brett Lauther kicked field goals from 48 and 52 yards, but missed from 54 and 44 yards.
Fajardo earned his first career victory against the Stampeders as did Craig Dickenson as Saskatchewan's head coach.
Quarterback Bo Levi Mitchell was 21 for 31 in passing Saturday to become the Stampeders' leader in all-time completions.
The 31-year-old Texan needed just two Saturday to surpass previous leader Henry Burris (2,267), and he produced them on Calgary's opening drive.
Mitchell threw for 311 yards to be 14 shy of a career 30,000.
Two of his three interceptions occurred in Saturday's second half, however, when Mitchell was also sacked four times.
Ka'Deem Carey scored a rushing touchdown, Richie Sindani made a touchdown catch and Rene Paredes kicked a 12-yard field goal for Calgary.
With just under two minutes remaining in the game, Mitchell's 44-yard bomb to Shawn Bane put the hosts on Saskatchewan's 24-yard-line .
A four-yard scoring throw to Sindani on the goal-line, plus the convert, had the Stampeders trailing by a field goal with 48 seconds remaining.
Calgary's attempt to recover an onside kick failed, however, on a leaping grab by Saskatchewan's Duke Williams. The Stampeders had the ball for one final drive, but didn't score again.
Saskatchewan's Jeremy Clark ran an interception back to Calgary's 13-yard line on the final play of the third quarter. On a third-and-goal, Fajardo threw to Moore in the end zone for a 20-10 lead.
The Roughriders led for the first time in the game midway through the third when Fajardo found Lenius in the end zone with a 13-yard pass.
Isaac Adeyemi-Berglund fumbled a return in the first half's final seconds for Saskatchewan to recover. Lauther was wide on a 44-yard attempt, however, after success from 52 out on Saskatchewan's previous drive.
Carey's one-yard scoring plunge finished a 12-play, 92-yard drive in the second quarter.
Calgary's march downfield featured Kamar Jorden's acrobatic grab for a 31-yard reception to get to Saskatchewan's doorstep.
Lauther kicked a 48-yard field goal on the final play of the opening quarter for a 3-3 score. He then missed a 54-yard attempt early in the second quarter.
Saskatchewan didn't take advantage of a Jacob Dearborn interception early in the first quarter. A subsequent fumble on a snap gave Calgary the ball back on their own 27-yard line.
Calgary converted a Branden Dozier interception on Saskatchewan's opening drive of the game into a 12-yard field goal by Paredes.
Notes: D'haquille "Duke" Williams compiled 48 receiving yards on three catches in his Roughriders debut. The former CFL all-star with Edmonton spent the last two seasons with the NFL's Buffalo Bills . . . Stampeder defensive end Folarin Orimolade sacked Fajardo twice after missing seven games with an ankle injury.
This report by The Canadian Press was first published Oct. 23, 2021
Donna Spencer, The Canadian Press