Olympic Champion Mark Tewksbury unveils new exhibit at Alberta Sports Hall of Fame – The Halftime Report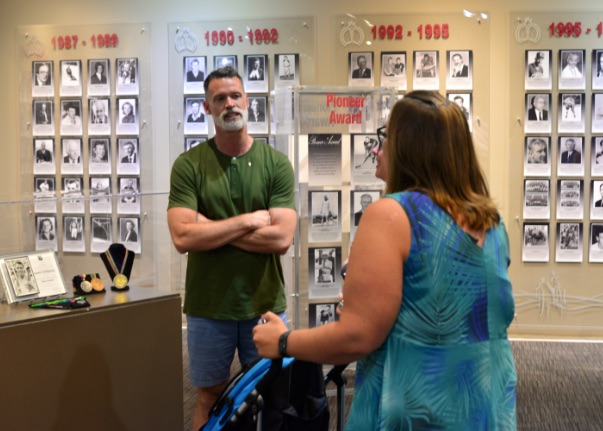 New 2SLGBTQIA+ exhibit, 'True to You in Sport', unveiled in Hall of Fame Gallery
The Alberta Sports Hall of Fame is thrilled to unveil our newest exhibit, "True to You in Sport", which examines the journeys and challenges faced by four of our Honoured Members who identify as 2SLGBTQIA+.
Honoured Member Mark Tewksbury and his partner, Rob Mabee, were on hand on July 9th to help us officially unveil the display.
The exhibit features artifacts and stories from Mark as well as fellow Honoured Members Danielle Peers, Keely Brown, and Kessie Stefayk.
"Every person should have the ability to pursue their dreams without fear of discrimination or prejudice based on age, race, religion, gender, or sexual identity. Unfortunately, this is not the case," says Breanna Suk, Collections and Exhibit Coordinator. "Many athletes have faced, and many still do, discrimination from sport organizations, team management, coaches and even fellow athletes for things they have no control over."
Located in the Hall of Fame Gallery, "True to You in Sport" is open from 9:00 am – 5:00 pm Monday through Friday, and from 10:00 am – 5:00 pm on weekends and select holidays.
Look who recently stopped by the Hall
Legendary Medicine Hat Tigers announcer Bob Ridley swung by the Hall on July 9 to drop off two mini banners celebrating his call of the 4,000 Tigers game of his career.

One will be added to the Alberta Sports Hall of Fame's collection, while the other will go to Hockey Alberta's Alberta Hockey Hall of Fame collection.
Greg Korbutt, son of Alberta Sports Hall of Fame visionary Orest Korbutt, was also by on July 9 to tour the Hall for the first time. Thanks for visiting, Greg!
Save the Date: Induction Banquet now scheduled for October 22 at RDC's Arts Centre
We are excited to announce that the 2020 Induction Banquet, which was postponed due to the COVID-19 Pandemic, is now scheduled for Friday, October 22 at Red Deer College's Arts Centre.
More details will be shared in the coming months.
Nominations are also now being accepted for next year's class of inductees. The deadline for applications is October 29, 2021.
Visit https://www.albertasportshall.ca/nominate for more information.
Exciting changes on Alberta Sports Hall of Fame Board of Directors
The Alberta Sports Hall of Fame is pleased to announce some
exciting changes to our Board of Directors following the Annual General Meeting held on June 29.
We would like to welcome new Board Chair Dale Henwood and new Vice-Chair Leslie Sproule to their new positions. Don Oszli remains Treasurer, and Jack Neumann is staying on as Secretary.
Also joining the Board are Calgary's Jasen Pratt and Innisfail's Desmond Bouteiller. Both men come from an extensive sports background, including high development sports coaching.
This newsletter is sponsored by the Peavey Mart.
Honoured Member in Focus: Donald Lovo
Donald Lovo won several Provincial and National Archery Championships.
From 1962 to 1965, he was a member of Canada's Elite International level team. He served as both Vice President and President of the Federation of Canadian Archers.
In 1968, Donald Lovo became the first Canadian to be recognized as an International Judge of Archery.
He has been awarded the Federation Internationale Target Archers gold and silver plaquettes and was honoured as Air Canada's Official of the Year in 1984.
Provincial Sport Organization: Archery Alberta
Archery Alberta is the source for target, field, and 3D archery in Alberta.
Archery Alberta, the trade name of the ATAA (Alberta Target Archers Association), is the recognized Provincial Sports Association representing archery in Alberta.
Archery Alberta facilitates the development of the sport of archery by providing accessible opportunities for clubs and archers to participate in a broad range of programs across multiple disciplines to whatever level they choose.
The Olympic Flames light a fire in athletes
The tradition of the Olympic Flame is one that connects the modern Games with their ancient Greek heritage.
The ancient gift of the flame was said to give humanity a start towards civilization.
In the modern Olympic Games, it signifies of that same myth, an ode to the growth of civilization, and the ancient traditions of the Games.
The modern Olympic Flame tradition as we know it today dates to the 1928 Olympic Games when the first Olympic flame was lit.
Honoured Member Keely Brown joins Ringette Canada's Junior National Team as assistant coach
Honoured Member Keely Brown is moving on up!
Ringette Canada announced on July 6 that Keely was joining the Junior National Team as an assistant coach working with the goalies.
Keely was inducted into the Alberta Sports Hall of Fame in 2018 as a ringette athlete. She played goal with Team Canada from 2000 – 2012 and is the longest-serving goaltender in the team's history.
Congratulations, Keely!
Are you ready to take your dates to a whole, new level?

Our new Date Night Out Monthly Charity Auction officially gets underway tomorrow.

Head to https://trellis.org/monthly-date-night-auction for this month's auction item, and check back regularly for new, exciting date options.
Golfers wanted!
We're looking for sponsors and golfers for the Annual Alberta Sports Hall of Fame Golf Tournament, which tees off on Tuesday, September 14 at the Innisfail Golf Course. This season, we will be partnering with the Innisfail Eagles Hockey Team.
Don't miss out on the opportunity to support the preservation of Alberta sports by playing at one of the province's crown jewels.
Call (403) 341-8614 or email [email protected]ca for more information.
Looking for fun and engaging programs for your kids this summer?
We will be hosting two camps this summer:July 19-23, 2021 & August 16-20, 2021. The sessions run from 9:00 am – 5:00 pm daily.
The Alberta Sports Hall of Fame will be hosting two week-long summer camps with daily themed programming ranging from Healthy Active Living to All About Art and everything in between.
Register for a day or the whole week!
$30/ day or $125/week per child, Ages 6-12yrs.
Call 403-341-3814 to register your child today- Space is limited.
**Our decision-making process is based on directives given by the Government of Alberta and Alberta Health Services. As the COVID-19 situation progress over the next two months, so will our plans.**
Leave a legacy​
The Alberta Sports Hall of Fame needs your support to continue the ongoing preservation of Alberta's sports history and the development of museum exhibits. We are grateful and appreciative of the generosity of our supporters and friends. We would be happy to assist you in choosing how your personal legacy will be fulfilled and the many options available. Here is some information on donating shares to ASHFM and the benefits to you as a donor.
Reducing funding for RCMP on the table for Saskatchewan amid firearm buyback debate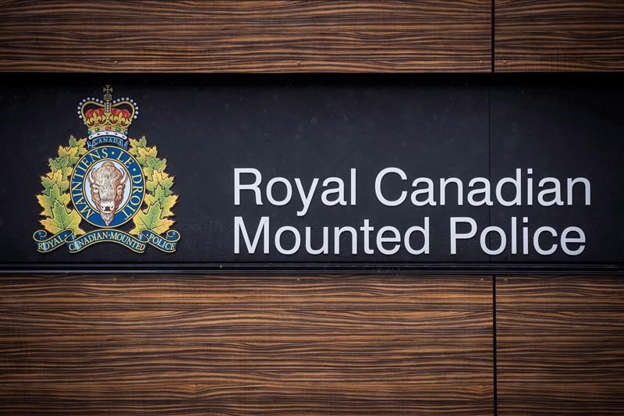 REGINA — Saskatchewan says it would consider reducing its funding for the RCMP if the force was to help the federal government with its proposed firearms buyback program.
Public Safety Minister Christine Tell says all options are on the table, signalling the province will not help Ottawa collect guns it has banned.
"We as a province fund the RCMP to a tune of 70 per cent, so it could even get more interesting," Tell said Thursday.
The Saskatchewan Party government said it is pushing back to protect law-abiding firearms owners from what it views as federal intrusion on its provincial autonomy.
Under Ottawa's proposed firearms buyback program, it would be mandatory for people to have their assault-style firearms rendered inoperable or have them discarded. That could also include centrefire semi-automatic rifles or shotguns designed to accept a detachable magazine that can hold more than five cartridges.
In response, Saskatchewan has introduced its own firearms act to forbid municipalities and police services from receiving federal money to help confiscate firearms.
The proposed law says a municipality, police service or board would have to get written approval from the province's public safety minister before agreeing to support the federal buyback program.
It also states that Saskatchewan's chief firearms officer would enforce which federal agent can or cannot confiscate firearms in the province.
"These legal firearm owners are not the ones committing the crimes," Tell said.
The legislation was tabled Thursday, months after Tell wrote a letter to Assistant Commissioner Rhonda Blackmore, the head of Saskatchewan's RCMP. It stated that the province would not support the Mounties using provincially funded resources to help confiscate firearms.
Alberta, Manitoba and New Brunswick have sent similar letters to their RCMP forces. They have joined Saskatchewan in asking Ottawa to not use up "scarce RCMP and municipal resources" for its buyback program.
In October, Blackmore said Mounties are service providers, not decision-makers, and any decisions over the buyback program are between the federal and provincial governments.
"As the service provider, we would be the individuals that get our information from them," Blackmore told The Canadian Press.
That includes if additional resources would be needed by RCMP once the buyback program rolls out.
"It would depend on the level of expectation, and what that looks like, and what the involvement is if there are additional resources," Blackmore said.
The specific role of the RCMP and the details surrounding the buyback program have not been determined.
On Friday, the Saskatchewan RCMP said it will continue to prioritize front-line services and the safety of communities is its highest priority.
The Saskatchewan Firearms Act also calls for helping firearm owners get fair market value for guns collected through the buyback program and would require all seized firearms to go through forensic and ballistic testing.
The Saskatchewan Wildlife Federation, which advocates for hunters and the protection of the province's hunting heritage, praised the proposed act, saying it would mitigate the "draconian" federal legislation.
There are approximately 115,000 licensed firearms owners in Saskatchewan, 75,000 of whom may be penalized under the federal government's policy. That's about 10 per cent of Saskatchewan's adult population, the province said.
Saskatchewan's NDP Opposition has stood united with the government to denounce the program.
"It does not strike the right balance for Saskatchewan," justice critic Nicole Sarauer said last week in the legislature.
"These amendments are overbroad and capture rifles that have legitimate uses for both hunters and producers in Saskatchewan."
This report by The Canadian Press was first published Dec. 2, 2022.
Mickey Djuric, The Canadian Press
Premier Smith goes on the attack against NDP opposition to the Alberta Sovereignty Act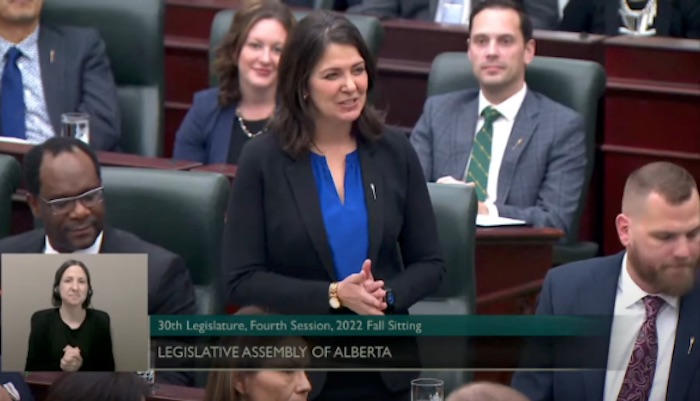 It appears Premier Danielle Smith has had enough of playing defence. In the days since introducing the Alberta Sovereignty Act in the Alberta Legislature this week, Smith has found herself explaining and re-explaining how the Act will survive scrutiny and serve the province well in ongoing battles over issues of contention with Ottawa. Peppered by the media and by the Official Opposition NDP inside and outside the legislature, Smith and her team decided to turn the tables.
The media and the official opposition claim the Sovereignty Act allows laws to be crafted by cabinet members "behind closed doors" after the legislature has declared a federal overreach into provincial jurisdiction.
However that appears to be a confusing opposition tactic since the Sovereignty Act does not require the passing of new laws. Rather, the Province will simply provide reasons for declining to enforce federal laws which (i) intrudes into provincial legislation jurisdiction, (ii) violates the rights and freedoms of Albertans under the Canadian Charter of Rights and Freedoms, or (iii) causes or is anticipated to cause harm to Albertans.
Thursday, Premier Smith took the opportunity during Ministerial Statements to lash out at the opposition leader Rachel Notley for siding with Ottawa instead of Alberta in the struggle to defend provincial rights.