More Wins Than Losses For RDC Athletics Over The Weekend
By Sheldon Spackman
Another busy weekend has wrapped up for RDC Athletics, with many of the teams celebrating victories over the last few days.
The RDC Kings Hockey Team shut out the Portage College Voyageurs 4-0 in Lac La Biche on Friday night. Troy Trombley earned the shut-out for the Kings while Nick Fountain, Riley Simpson, Landon Kletke and David Heath scored for the Kings.
On Saturday, The Kings were back at the Penhold Multi-plex and defeated the Voyageurs 8-1 in the second half of their home and home series. Troy Trombley picked up the win in the Kings net once again. Nick Fountain, Zak Hicks, Austin Hunter, Scott Ferguson, Dustin Gorgi and Arie Postmus scored for the Kings while Tyler Berkholtz added a pair of goals for RDC as well. The Kings Hockey team now sits in fifth place out of eight teams.
As for the RDC Queens Hockey Team, they shut out the MacEwan University Griffins 2-0 in Edmonton on Saturday. Tracie Kikuchi earned the shut-out for the Queens while Kaci Jones and Jessica Anderson picked up the goals for RDC. The Queens have NOW won 6 games in a row and sit in second place in ACAC Women's Hockey.
The RDC Kings Basketball Team won 98-90 over the Olds College Broncos on Friday night. Matt Matear contributed 18 rebounds, 15 points, 1 steal and 2 assists for the Kings. On Saturday, The Kings defeated St. Mary's University 94-76 at the RDC Main Gym. Ian Tevis had 20 points, added
2 blocks, 10 steals, 9 assists and 2 rebounds in the game. The Kings are now unbeaten with a 3-0 record and sit in first place in the ACAC Men's Basketball South Division standings.
Meanwhile, the Queens Basketball Team defeated the Olds College Broncos 82-72 on Friday night. Kiana Mintz finished with 9 rebounds, 1 assist, 3 steals and 22 points for the Queens. On Saturday, RDC won 68-58 over the St. Mary's University Lightning. Emily White led the Queens with 21 points. The RDC Queens now have 4 points and share top spot in the ACAC Women's Basketball South Division with a 2-1 record.
Finally, the RDC Kings Volleyball Team had mixed results over the weekend. They were edged in five sets by the Briercrest Clippers in Caronport, Saskatchewan on Friday. After winning the opening set 25-23, the Kings dropped the next set 21-25, took the third set 25-17, lost the fourth set 10-25 and dropped the final set 13-15. Regan Fathers and Brian Grenier each had 13 kills for the Kings.
On Saturday, the Kings swept the Clippers in three sets, winning 25-19, 25-17 and 25-20. For the Kings, Luke Brisbane accumulated 33 assists, 1 service ace, 5 digs and 2 kills. The Kings now sit in top spot in the ACAC Men's Volleyball South Division with a 6-2 record.
As for the Queens, they lost in five sets to the Clippers on Friday. After dropping the opening set 18-25, the Queens won the next two sets 25-23 and 25-22. However, the Clippers picked up the next two sets 25-22 and 15-12 to win the match. Miranda Dawe led the Queens with 19 kills while adding 7 digs.
On Saturday, Briercrest defeated the Queens in four sets. After winning the first set 25-17 the Queens dropped the next three sets 18-25, 21-25 and 16-25. For the Queens, Jade Van Dyke contributed 6 kills, 2 service aces, 1 assist and 5 digs. The Queens now sit in second place in the ACAC Women's Volleyball South Division standings with a 5-3 record.
Today: Come meet Red Deer's Silver Medalist Rebecca Smith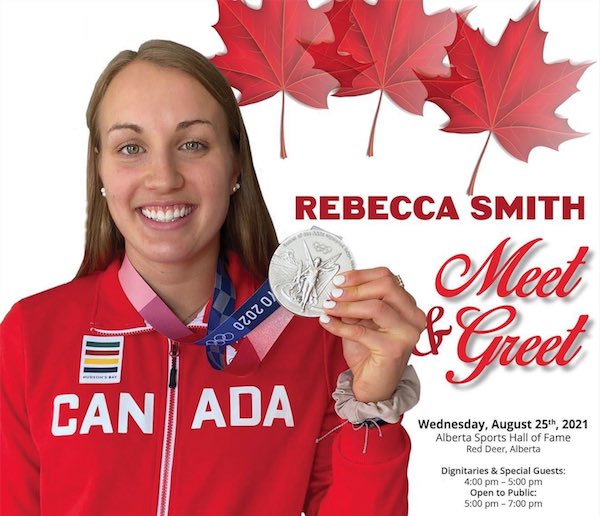 Submitted by Tourism Red Deer
Come celebrate with us and congratulate Red Deer's own Rebecca Smith.
Alberta Sports Hall of Fame and Tourism Red Deer invite you to meet Red Deer's Summer Olympic Silver Medalist Rebecca Smith!
Rebecca was a part of Team Canada's 4 x 100-meter freestyle relay swim team at the 2021 Tokyo Olympics. She'll be here to meet, greet, and show off her hardware.
Where: Alberta Sports Hall of Fame, 102-4200 Highway 2, Red Deer
When: Wednesday, August 25, 5:00 pm – 7:00 pm
Access to Dawe Centre pool and community centre affected by expansion project – Details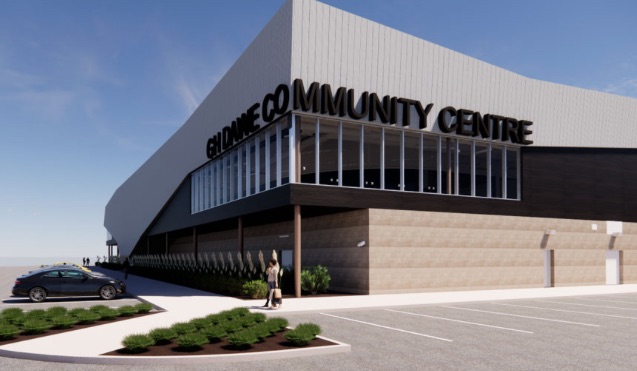 Limited access to G.H. Dawe Community Centre this summer due to construction
Due to construction, access to the G.H. Dawe Community Centre will be limited this summer, with a full closure planned for August.

As announced yesterday, City recreation centres are opening fully to the public as of July 1. With construction underway at the G.H. Dawe Community Centre, only limited services and areas will be available.

Here's what you need to know:
Starting July 2, fitness and gym areas will open from 10 a.m. – 8 p.m., daily. In July, summer day camps that normally operate from the Dawe will operate from other facilities.
The pool will remain closed until September.
To accommodate interior heating and ventilation construction, the facility will fully close from July 26 to August 31. Some registered preschool and summer camp programming may proceed, but no rental or general admission options will be available.
On September 1, we anticipate the pool will be open, but some other amenities, like the gym, may not be available. More information will be provided as construction progresses.
Playing surfaces in the arena will not be available until construction is complete, which is expected to be early 2023.
We are currently offering a discounted monthly Value Pass for $27 for adults ($24.50 for seniors; $21.90 for students; $19.30 for youth; $14.20 for children, and $60.50 for a family. It provides unlimited access to all facilities. As of August the Value Pass will only provide access to the Recreation Centre and Michener Aquatic Centre; however, access to the Dawe will be included in the Value pass until the pool, gym and fitness areas are open.
About the G.H. Dawe Community Centre Project
Work is underway now on the G.H. Dawe Community Centre Project and some exciting changes are in store. We expect to welcome visitors to the transformed space in early 2023. Here's just some of what you can expect:
Two NHL standard playing surfaces
Expanded fitness areas, including a running track
Outdoor spray park with washroom facilities
Improved accessibility
Additional north entrance + site access from 67 Street
Additional parking
During construction, there will be some changes and impacts to existing amenities and programs, and we'll do you best to share this information in advance. Thanks for your patience as we complete this work.
For more information about the project, please visit reddeer.ca/DaweProject.