Michener North lands selected as location for future multi-use aquatic facility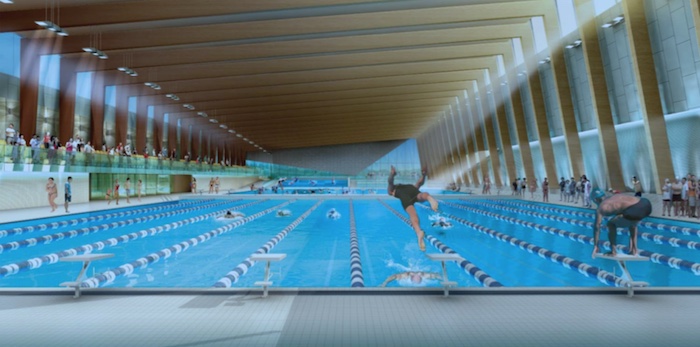 Monday, Red Deer City Council approved Michener North lands as the site for a future multi-use aquatic facility in Red Deer.
"Confirming the location for the future multi-use aquatic centre is an important milestone in bringing the vision for a new aquatics centre to life for our community," said Mayor Tara Veer. "Both Rotary Recreation Park and Michener North lands were viable options for the facility; however, selecting Michener North lands offers us the opportunity to re-imagine a future for this significant piece of Red Deer's history and create a legacy for future generations. Today's decision also signals Council's desire to move forward with this long anticipated project when economic conditions are more favourable in the future, as well as our commitment to re-purpose Michener North for public purposes and park expansion. One of the challenges for funding a new aquatic centre was the many pragmatic financial uncertainties of the project. We have now determined location and scope, which will help us to plan more definitively for funding of future construction."

In December, Council directed administration to consider two possible locations for the multi-use aquatic facility: Michener North lands and Rotary Recreation Park. In addition to an in-depth evaluation of both sites, several factors were considered in selecting Michener North lands:
The City is purchasing the Michener North lands from the Province, with funds approved in the 2021 Capital Budget.
Solidifying this location allows the multi-use aquatic facility to be included in the visioning for Michener North. This visioning will help develop ideas around what this site could for the community and will begin in early 2022.
The multi-use aquatic facility serves as an anchor to this future major park node.
Scoping, design and cost were also determined in December as part of Phase 1 of this project. At this time, the facility includes a 53M x 25M pool with 10 lanes, ranging in depth from 2.5M to 3.8M with diving platforms at the deep end and two 1.5M movable bulkheads. This competition pool is compliant with FINA standards and Swim Alberta recommendations. The facility also includes a 25M x 20.6M pool with eight lanes, ranging in depth from 1.2M to 2.2M to accommodate swim competitions, warm up for aquatic sport competitions, and floor based depths serving local community programming needs. Two hot tubs, steam and sauna amenities, universal change rooms, spectator seating for up to 750 people, storage, sport group dryland training area, and staff supports are accounted for in the design.
The facility construction costs are estimated at $51,600,000, and by selecting Michener, The City is in a better position to quantify the variable site development costs as plans are solidified to place the item in the capital plan.
We now know that Michener North lands will be used for municipal purposes and become a major park node for community use," said Sarah Tittemore, Community Services General Manager. "Major park nodes need indoor facilities to serve the needs of park users, and deciding on the multi-use aquatic facility at this site allows the visioning for the Michener North lands to include this anchor and the community. We look forward to working with the community to enrich the vision through planned future consultation."
Keep cool with the firefighters this Thursday!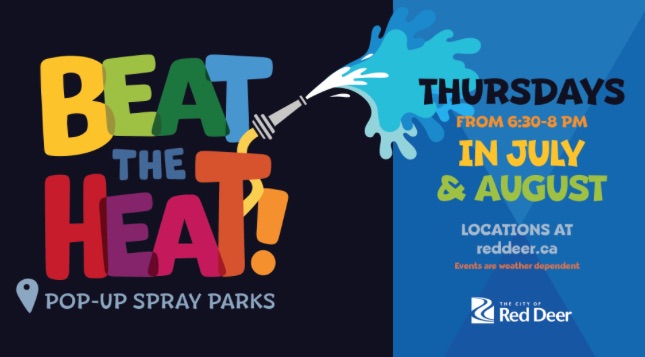 Pop-up Spray Parks
Members of Red Deer Emergency Services, RCMP and Municipal Enforcement blasted the hoses to keep you cool Thursdays in July and August.
Pop-up spray parks are popping up across Red Deer this summer. Beat the heat with Red Deer Emergency Services, Municipal Policing Services and RCMP in a neighbourhood near you.
Participants are reminded to not attend if they are feeling unwell or are currently required to quarantine.
Thursdays from 6:30 – 8 p.m.
| Date | Location | Address |
| --- | --- | --- |
| | | |
| July 22 | Highland Green Community Centre | 65 Halladay Avenue |
| July 29 | Deer Park Community Association | 181 Dowler Street |
| August 5 | To Be Confirmed | —– |
| August 12 | Riverside Meadows Community Centre | 6021 57 Avenue |
| August 19 | Joseph Welsh Elementary School | 4401 37 Avenue |
*Events are weather dependent.
City Hall open for ALL payments and customer services as of Monday
All payments and customer services available in-person starting Monday at City Hall
Starting Monday, July 12, all payments and customer services provided in-person at City Hall prior to COVID-19 resume. The reintroduction of additional customer services on Monday include:
Parking inquiries
Licence and permit applications
Inspections
Services that resumed in-person on June 21 include:
Utility bill payment
Property tax payment (taxes were due June 30)
Parking ticket payment
Re-loading parking cards
Accounts Receivable invoice payment
Licence payment
Special event permit payment
Other miscellaneous fee payments
A reminder to anyone visiting City Hall that although most public health restrictions were lifted on July 1, The City's priority continues to be the health and safety of our staff, citizens and community. Social distancing and proper hand sanitizing will still be in place at our facilities, and City of Red Deer staff are still required to wear masks while in the workplace under our internal policy. Anyone feeling sick or experiencing any COVID-19 symptoms are asked to stay home.
Although all payments and services are available in-person starting Monday, residents are encouraged to take advantage of the online services available when possible. Payments, permit applications, tax certificates along with other items are available through MyCity. Visit www.reddeer.ca/MyCity for more information.