MEGlobal Prentiss – A great neighbour to nature!
When Charlie Ellis sold his farm to Union Carbide 40 years ago he took a leap of faith. Some would say he jumped right out of the tallest tree. Charlie wanted to retire and he was desperate to ensure the home he created for his beloved birds would live on after him. Rather than sell to another farmer, Ellis took a gamble. The slight old farmer from south east of Lacombe made a deal with the multi-national company. He'd sell his land to them if they'd promise to take care of his birds and the sanctuary he and his sister Winnie had created.
There was a lot of tension and doubt at first… but Union Carbide would prove to be trustworthy. They kept the promise they made to Charlie. And years later when MEGlobal bought Union Carbide's Prentiss operation, Charlie's birds were part of the deal.
There's no doubt Charlie Ellis would be thrilled to know just how well that promise he made so many decades ago… lives on. MEGlobal Prentiss Site Leader David Miller couldn't be more proud of the facility his company continues to support year after year.
House passes bill creating carve-outs for farmers in Canada's carbon pricing scheme
A field of wheat is pictured near Cremona, Alta., Tuesday, Sept. 6, 2022. THE CANADIAN PRESS/Jeff McIntosh
By David Fraser in Ottawa
A private member's bill that would create specific carve-outs for farmers in Canada's carbon pricing scheme has passed in the House of Commons.
The bill would exempt farmers from paying for emissions from natural gas and propane they use for certain activities performed on their farms, such as drying grain, preparing feed, irrigating and heating barns.
It passed with the support of Conservative, NDP, Bloc Québécois and Green Party MPs, with a few Liberals, including agriculture committee chair Kody Blois, joining the opposition parties to vote in favour.
The private member's bill introduced by Conservative MP Ben Lobb in February 2022, which would not exempt farmers from the carbon price for activities performed off-site, will now be debated in the Senate.
Farmer groups have said they are facing rising production costs, and the proposed law would give them critical financial relief from rising costs.
The Agriculture Carbon Alliance, which was created by industry groups in 2021 in response to the federal Liberals' climate policies and advocates for sustainable farming, celebrated the bill's progress on Thursday.
"This legislation will provide farmers with the resources to invest in innovative and sustainable on-farm practices, while ensuring the stability of our food supply," said Dave Carey, the group's co-chair, in a statement.
The executive director of one of its members, the Grain Growers of Canada, said the law will offer significant relief if it is passed.
"As long as we don't have an alternative to fossil fuels, then there is no sense in punishing Canadian farmers for growing food," Erin Gowriluk said.
Not all are celebrating the law's advancement, however.
Tim Gray, executive director of the advocacy group Environmental Defence, said the law would weaken the government's response to climate change.
"Exempting these high-emission activities from carbon pricing for farmers will only further encourage other sectors to demand similar treatment," he said in a statement.
"This is already a problem as many industries, especially the oil and gas sector, have successfully lobbied for, and achieved, favourable treatment, which allows them to pay a much lower carbon price than others, regardless of their lack of actual degree of being energy intensive and trade exposed."
Agriculture Minister Marie-Claude Bibeau maintains that the federal government is helping farmers reduce their carbon footprints and ease financial burdens through a $3.5-billion sustainable agricultural partnership with provinces.
The federal carbon price already features an exemption for gasoline and light fuel oil costs used in tractors and trailers.
But farm groups have long contended that further exemptions are needed, and have at times disputed the federal government's characterization of how much the carbon price is costing producers, especially when it comes to drying grain. Grain must be dried before it can be stored and sold, particularly during wet harvests.
The bill that will now be debated in the Senate would only carve out exemptions for farmers who dry grain on their properties, and would not apply to off-farm activities. The law also includes a sunset clause that would allow a government to add, remove or renew the exemptions in eight years.
A previous bill introduced by a Conservative MP and widely supported by farm groups, which would have carved out similar exemptions, died on the order paper prior to the 2021 federal election.
Bibeau responded to farmers' concerns at the time by announcing dollars to help producers make their own grain-drying operations more environmentally sustainable.
The federal government says it is now spending $37.1 million on 99 grain drying projects as part of its $495.7 million Agricultural Clean Technology program.
Gowriluk said that Russia's invasion of Ukraine has had an impact on the way that federal politicians discuss agricultural policy, arguing that the conversation to focus on what Canada can do to help internationally.
A significant part of that is to "grow as much as we possibly can," she said.
"There's an increasing recognition from Canadian politicians that this isn't easy, and if there's anything they can do to alleviate the burden, and help keep farmers in the green rather than the red, then they're prepared to step up and do that."
Though it is rare for private member's bills to make it all the way through Parliament, minority government situations can create more collaboration between parties.
A second private member's bill focused on the Liberals' climate policy passed in the House of Commons during the same sitting this week, with support from Liberal MPs and ministers.
Green Party Leader Elizabeth May proposed the law, which would require the government to develop a national strategy to address environmental racism within two years of its passage.
A previous version of the bill, introduced by former Liberal MP Lenore Zann, also died on the order paper in 2021 prior to the election.
May acknowledged this week during debate about the bill that the law will require the government to play ball.
"It will then need to have the support from the government of the day and the support of the finance minister to fund the programs, so that communities of colour, Indigenous communities and poor communities are not left without access to environmental justice," she told MPs.
This report by The Canadian Press was first published March 30, 2023.
UFA announces Farm & Ranch Supply story in Gasoline Alley along with historic $28 million patronage membership dividend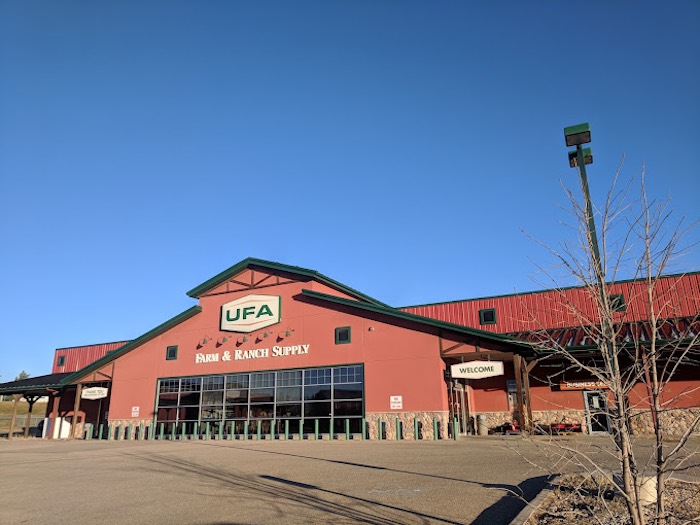 UFA Announces $28 Million Patronage Dividend
UFA shared big news today announcing a historic patronage dividend of $28 million back to its membership and fully opening two new locations in Saskatchewan!
UFA has consistently delivered patronage to its members, this marks the sixth consecutive year of increased patronage and a 56 per cent increase over last year.
One of the primary benefits to being a co-operative member is patronage, and this year's patronage dividend is truly significant. We have expanded our patronage program to reward our membership by paying on more categories of purchases. More products our members use daily on their farm, ranch, or for their business now earn them patronage rewards. We are proud to grow and deliver patronage consistently. At UFA, members can count on their co-operative and on patronage.
Scott Bolton, President and CEO, UFA
With a minimum $5,000 purchased in 2022, Patronage will be paid on Clear and Dyed Dieselex® Gold (6 cents per litre), Clear and Dyed Diesel (5 cents per litre), Clear and Dyed Gasoline (1 cent per litre), and 3 per cent on most other purchases, excluding Micro Beef, crop nutrition (i.e. bulk fertilizer and micro-nutrients) and leased purchases.
We believe good business is rooted in investing in good relationships and consistently rewarding our membership with a growing patronage dividend demonstrates our commitment. We take great pride in our patronage program. As owners of UFA, our success is truly our members' reward.
Kevin Hoppins, Board Chair, UFA.
UFA had a very strong fiscal year. In addition to the $28 million patronage dividend, it reported $2.4 billion in financial revenues and $157 million in earnings before interest, taxes, depreciation, and amortization (EBITDA).
The co-operative continues to invest in core businesses. Along with a multi-phased Saskatchewan expansion, it increased its Dieselex Gold® offering with the premium product available at its new locations. UFA also unveiled plans for a new Red Deer Farm & Ranch Supply store location to be built in Gasoline Alley. It demonstrated its commitment to its customers launching UFA MarketPLACE, expanding its product selection and featuring products not otherwise available in its Farm & Ranch Supply stores. Most importantly, health and safety remained a key priority. UFA first received its COR Certification in 2007 and since 2013, has been consistently at or above a 95 per cent score, with an impressive final score of 96 per cent in the 2022 COR Audit.
In addition to the $28 million patronage announcement, UFA shared that it officially opened its doors in Weyburn and Yorkton. These sites are part of the expansion of UFA's petroleum business into key markets in central and eastern Saskatchewan.
We believe in the value of giving our members and customers choice. People living in or nearby these communities now have another option of where to spend their hard-earned dollars. Expanding our network is part of a concerted strategy to grow from an Alberta-focused fuel and agribusiness co-operative to a western-Canadian leader.
Scott Bolton, President and CEO, UFA
Meet the Weyburn and Yorkton Petroleum Agents
UFA is leveraging its agent operating model at its new locations. The agents are excited to serve their local communities and provide the excellent service that UFA is known for. Jason and Laura Lee Petersen will be operating Weyburn and Mark Lukash is the Yorkton agent.
The combination of a robust supply chain, one of the largest Cardlock networks in Western Canada, and strong agent partners is essential to the success of UFA's petroleum business.
Features of the new UFA petroleum locations:
Gasoline and Clear and Dyed Diesel

DEF

at the pump and UFA, Shell and Chevron branded lubricant products

High-speed pumps and wide lanes

State-of-the-art warehouse and office

Dieselex® Gold

. UFA is pleased to offer its exclusive diesel offering to Saskatchewan. This top-tier premium product is engineered to enhance fuel efficiency, reduce maintenance, and increase power.
UFA is the exclusive distributor of Dieselex® Gold
UFA also announced Dunmore and Saskatoon as the next locations in UFA's expansion strategy
The new Dunmore, Alberta petroleum location will complement UFA's solid operating presence in the region and will eventually replace UFA's existing petroleum site in the southwest end of Medicine Hat.
Saskatoon services a large portion of west and central Saskatchewan and has accessibility from Highway 16 for travelers along the corridor, including from Lloydminster. The new site will be able to service local industrial and agricultural businesses conveniently.
The 114-year-old member-owned co-operative will continue to grow to service major agribusiness, oil and gas and industrial centres throughout Western Canada. Dunmore, Alberta, and Saskatoon, Saskatchewan, locations will complement UFA's existing petroleum locations in Alberta and Saskatchewan.
UFA is committed to investing in our network and bringing our unique product selection to new locations throughout Western Canada. The regions around Dunmore, Alberta, and Weyburn, Yorkton and Saskatoon, Saskatchewan, and the other markets selected for additional locations are key marketsin Western Canada's agribusiness and industrial economy. The expansion project will provide significant investment throughout Western Canada and UFA looks forward to serving the local communities where the new petroleum sites will be located. Along with looking at new investment opportunities, we believe it is essential to give back to rural communities we serve, ensuring they thrive well into the future.
Don Smith, Vice President, Petroleum and Innovation, UFA.
Weyburn UFA Petroleum Agency
Founded in 1909, UFA Co-operative Limited is an Alberta-based agricultural co-operative with more than 120,000 member-owners. UFA's network comprises 113 bulk fuel and Cardlock Petroleum locations, 34 Farm & Ranch Supply stores and a support office located in Calgary, AB. Independent Petroleum Agents and over 1,000 UFA employees provide products, services and agricultural solutions to farmers, ranchers, members and commercial customers in Alberta, British Columbia and Saskatchewan.