"Meeting The Threshold": Justin's Tantrum Gets Justice Rouleau's Approval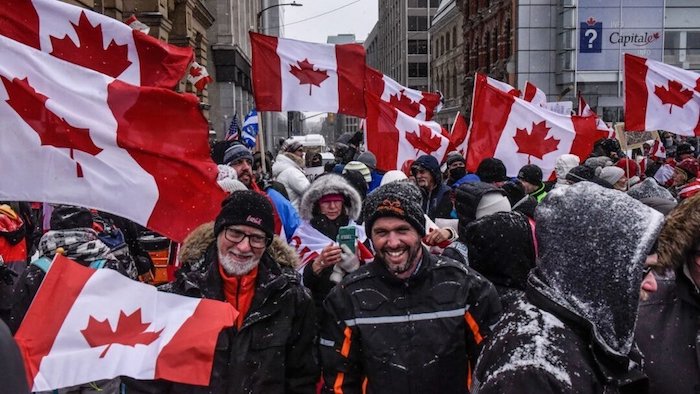 "The summer soldier and the sunshine patriot will, in this crisis, shrink from the service of their country; but he that stands it now, deserves the love and thanks of man and woman. Tyranny, like hell, is not easily conquered; yet we have this consolation with us, that the harder the conflict, the more glorious the triumph." Thomas Paine
Thomas Paine might say these are times that try the souls of men and women in Canada, not just Paine's United States. Last week's entirely predictable decision by Justice Paul Rouleau on Justin Trudeau's invocation of the Emergency Measures Act has now seemingly opened the way to Trudeau and future governments to remove the civil rights of those who criticize them.
Yes, Rouleau did concede that the prime minister's vitriolic language about the Truckers had enflamed and provoked. That his unwillingness to address any competing scientific evidence (immunity/ PCR false positives/ vaccine efficiency) led to misinformation. That his shirking leadership counted on other levels of government to do his heavy lifting. That the police and media created fake news about arson and crimes the Convoy people had nothing to do with.
But he (sighing) reluctantly conceded that, all things considered, other levels of government— hint, hint: Doug Ford and the inept Ottawa police— were more culpable. See? Ford, the guy on the outside of the Family Compact, gets the blame. Here's where Justice Rouleau put his finger on the scale to allow the PM his escape: "The (federal) Government did not have a realistic prospect of productively engaging" with those who "believed COVID-19 vaccines were part of a vast global conspiracy to depopulate the planet."
Realistic prospect? Where did the disappearing PM try to engage? He sent in mounted police and forensic accountants to save his skin. After scolding the PM for his divisive language, Rouleau buys into Trudeau's dystopian view of the conspiracy fanatics who would not engage with a PM who wouldn't engage them. If this mob had wanted to invade Parliament we'd have a trucker as PM now. But they didn't. They held back. But Rouleau gives that no credit. Only Trudeau's blind panic has merit.
And so, Shazam, bye-bye civil rights cherished for almost 200 years in order to win the PM's Doug Ford proxy war. Even the more aggressive Woke governments around the world were awed by how easy it all was. Made even easier by purchased media that bulleted the big takeaway in tandem. "Met the threshold".— as Trudeau knew they would.
—Federal government met the threshold to invoke Emergencies Act: Rouleau – CBC (which speculated during the occupation that Putin was at work behind the scenes).
—Canada's use of emergency powers during 'Freedom Convoy' met threshold, commissioner says – Reuters
—Trudeau's 'Freedom Convoy' shutdown was justified, inquiry rules – Politico
And so Canada's 'summer soldier and the sunshine patriot' escaped yet again from the standards he demands of others but not himself. Should we be surprised?
However honest Rouleau may be he is a creature of Ottawa® , marinated in its power structures and bred for the status quo of the Ontario/ Quebec nexus, trying to keep the game going a while longer. A Liberal party fixer for John Turner in the 1990s Rouleau practiced at those most sacred institutions of 514/ 613/ 416 power: Heenan/ Blaikie and Cassels/ Brock. His call to the bar has been supported by Liberal and Conservative PMs.
His sole venture outside Canada's Eastern Time Zone corridor of power was on the Supreme Court of Yukon in 2014, Nunavut Court of Justice in 2017 and Supreme Court of the Northwest Territories in 2017. And while he laboured honestly over the task of exculpating PMJT from his worst instincts, his judgment reinforces the politics, not the legals outside the political power grid of Justin's "otherness". Like the SCOTUS authors who issued the Dred Scott decision in 1857 to save the U.S. from the civil war that they soon caused, Rouleau's was more a political move than any judicial insight.
As has been noted before, justice must not simply be done, it must be seen to be done. And this patch-up job excusing another high-handed Justin episode will reverberate for generations as leaders grasp at its findings like a life preserver to crush opponents' rights and liberties. It was a decision to send a chill down the back of any civil libertarian.
So was Calgary mayor Jyoti Gondek's recent walk across a public space in the city. A protester asked the committed progressive how she and city council can support spending $70,000 on a Drag Queen Story hour for children at city libraries.
Gondek turned to a nearby Calgary policeman and accused the protester of breaking a new law prohibiting yelling at city politicians and suits. The cop responded by issuing the protester a ticket for $500. Gondek then strode away triumphantly, assured that while free speech is trampled she and her fellow council members have a safe space anywhere they go in public, far from the madding crowd.
No surprise, as the first woman mayor of Calgary has a PhD in urban sociology which "furnishes understanding of the complex as well as profound meaning of every urban reality, notably the territorial stabilization of social life, the rise of a space symbol system and culture, and the origin and evolution of human settlements."
Her grad-school word salad is just another tiny step in the progressives' march against "disinformation, misinformation and distortions", ie. anything that contradicts the WEF narratives of the day. Ones that judges like Rouleau will defend. We can only hope that someone tests this cavalier test of city council's Woke sensibilities at as higher level.
It's a clear sign to those who don't bother to vote in civic elections of the mischief that fluff-heads like Gondek can get up to. Her platform since winning the mayoralty? Day One she declared a climate emergency in Calgary, the conventional energy capital of Canada. Cost: $250K. Next, she scotched the arena deal with Calgary Flames over solar panels. Officials are still trying to undo that snarl. Her current obsessions are leaf blowers, gentrifying the Stephen Street mall and begging for ESG cuddles.
Gondek's mayoralty is a prime argument for preferential balloting. While garnering almost all the lefty votes she still failed to win 50 percent of the total vote. However, three opponents split the centre/ right vote (disclosure: one is a personal friend of Usual Suspects) that would have easily won the election had the trio settled on one opponent for Gondek.
As we've seen in the CPC vote and elsewhere, preferential balloting delivers a more nuanced result that better reflects the voters' preferences. Had there been preferential balloting at Calgary city hall it's likely Gondek would be free to walk unmolested around the city as defeated mayoralty candidate. Which is more freedom that she wishes on her protesters and the Trucker Convoys.
Sign up today for Not The Public Broadcaster newsletters. Hot takes/ cool slants on sports and current affairs. Have the latest columns delivered to your mail box. Tell your friends to join, too. Always provocative, always independent. https://share.hsforms.com/16edbhhC3TTKg6jAaRyP7rActsj5
Bruce Dowbiggin @dowbboy is the editor of Not The Public Broadcaster A two-time winner of the Gemini Award as Canada's top television sports broadcaster, he's a regular contributor to Sirius XM Canada Talks Ch. 167. Inexact Science: The Six Most Compelling Draft Years In NHL History, his new book with his son Evan, was voted the seventh-best professional hockey book of all time by bookauthority.org . His 2004 book Money Players was voted sixth best on the same list, and is available via http://brucedowbigginbooks.ca/book-personalaccount.aspx
Your Trash, My Treasure: Playing The GM Shuffle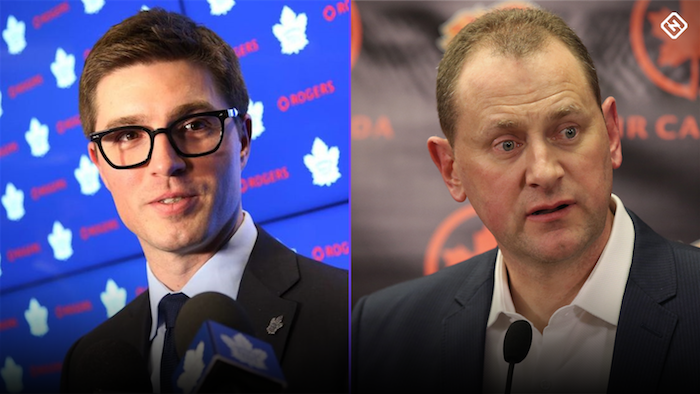 "One man's treasure is another man's trash/ One man's landing is another man's crash"—Guy Clark
At the end of a season that saw his Calgary Flames fall from Pacific Division champions in 2022 to out of the playoffs in 2023, general manager Brad Treliving went to ownership of the club. Tired of seeing each Darryl Sutter ignore the products of Calgary's development system in favour of aging veterans, Treliving wanted a fundamental change of direction for 2023-24. Get younger.
The problem for Treliving is that he had no contract past 2023 while Sutter had two years left at $4M per year on the extension Flames ownership had given him for the 2021-22 performance fuelled by Matthew Tkachuk and Johnny Gaudreau. For the parsimonious Flames the answer was obvious about the coach who'd once led the teams to the Stanley Cup Final in 2004. Sutter and his contract won out.
While the choice of retaining Sutter might have satisfied ownership, it was a non-starter for Treliving, a number of core players on the roster and the fan base— who were bitterly watching Tkachuk lead Florida to the 2023 Final. Treliving was gone from the team he'd run for nine seasons and five playoff appearances. With the implicit defection of some key players, ownership then had president Don Maloney fire Sutter.
Was Treliving the best GM in the league? Maybe not, but his work in turning the departure of Tkachuk into real assets (ones Sutter seemed to waste) was indicative of skill. In the end the Flames had made a choice that cost them both their options. Now they're left with former hero Craig Conroy making his maiden appearance as an NHL GM. And possibly their AHL coach being promoted. Did we say the Flames are cheap?
Meanwhile in Toronto, wunderkind GM Kyle Dubas had gone from youngest genius in the NHL to shopworn object of scorn to Toronto's roiling fan base. After seeing his heralded teams win just one playoff series (2023) since 2017, Dubas became the scapegoat for frustrations that go back to 1967. Loaded with costly, flashy stars such as Auston Matthews, William Nylander and Mitch Marner, Toronto seemed to have peaked.
So after some aborted contract talks, Maple Leafs ownership and president Brendan Shanahan said buh-bye Dubas. A hiring committee went in search of a new GM to handle the thorny contract issues Toronto faces under the current CBA. (Namely, would Matthews sign an extension this summer or would he do a Gaudreau and bet on himself in a contract year.)
Meanwhile, the 40-year-old Dubas said he was going to take some time off to consider his options. As holidays go it was a short one. No sooner had the Leafs decided that Calgary's trash was their treasure, inking Treliving as their new GM, Dubas' rumination ended with his being named as GM in Pittsburgh on a seven-year deal. What? Next thing you're going to tell us is that Mike Babcock is coming back after his paid holiday from the Leafs (where Dubas and Shanahan had fired him).
You guessed it. The two-time Stanley Cup winning coach— the winningest coach in Red Wings history— once thought too mean by all the young dudes in the T-Dot was named head coach in Columbus, where he'll try to motivate Gaudreau— who once found Sutter too abrasive. Go figure.
Fans hoping that new GMs and coaches making bold moves will bring sunny days in 2023-24 will be sorely disappointed as the crunch from Gary Bettman's vaunted Escrow System will mean a meagre $1M bump in the salary cap for next season. Because of money lost by owners during the Covid Bubble seasons, players are working off an estimated $1.1B debt they owe owners under the terms of the glorious salary-cap capitulation by shutting down the 2004-05 season.
Of course, part of that loss in revenues can be attributed to Bettman's Folly, aka the Arizona Coyotes, who've been a drag on the NHL's revenue streams even as other clubs make out like bandits. (See: small-market Ottawa Senators estimated to be going for a billion dollars.) In addition there is probably as much as $70M in "dead" money from ill-fated contracts stuck in the works. BTW, not one player in the socialist republic of Bettman made a max salary in 2022-23 under this scheme accepted by players who cratered in 2004 and fired Bob Goodenow.
With an estimated $6M bump in the cap on July 1, 2024, there will be a lot of kicking the can down the road this summer should Treliving and the Leafs pony up the max salary to keep Matthews. They might also be able to tread water on a few other costly contracts if they trade Matthews south to a U.S. destination.
As we've written lately , trying to keep American stars in cold Canadian cities where they're in a fish bowl 24/7 is becoming an issue. Many will look at Tkachuk appearing as a guest on the NBA Playoffs broadcast as indicative of what can happen if they move to a tax-free state like Texas, Tennessee, Nevada, Florida and yes, Arizona.
So the GM faces may be new in Calgary, Toronto and Pittsburgh, but the problems are same old/ same old in Gary Bettman Land. Cap gymnastics, TV cord-cutting, market disparities and the collapse off international play, among many. Expect a replay of the GM shuffle this time next year.
Sign up today for Not The Public Broadcaster newsletters. Hot takes/ cool slants on sports and current affairs. Have the latest columns delivered to your mail box. Tell your friends to join, too. Always provocative, always independent. https://share.hsforms.com/16edbhhC3TTKg6jAaRyP7rActsj5
Bruce Dowbiggin @dowbboy is the editor of Not The Public Broadcaster A two-time winner of the Gemini Award as Canada's top television sports broadcaster, he's a regular contributor to Sirius XM Canada Talks Ch. 167. Inexact Science: The Six Most Compelling Draft Years In NHL History, his new book with his son Evan, was voted the seventh-best professional hockey book of all time by bookauthority.org . His 2004 book Money Players was voted sixth best on the same list, and is available via http://brucedowbigginbooks.ca/book-personalaccount.aspx
Should Poilievre Go Around The Legacy Media With His Message?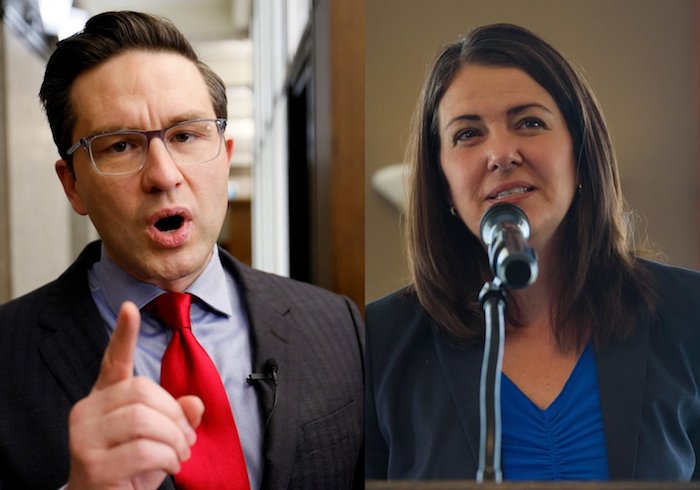 "It's amazing that we have an entire industry dedicated to making sure voters don't know what the government is up to. It's called Legacy Media."— Scott Adams
Is Pierre Poilievre's lesson from the 2023 Alberta election campaign that he simply go around the Media Party when he finally faces off against Justin Trudeau and/or the Liberals? To pass on their debates and town halls, sticking to his own carefully scripted events? The Alberta vote says maybe.
Despite 18 months of intense, bitter strafing from the chattering class, premier Danielle Smith emerged with a majority government on Monday. With 52.4 percent of the vote, she has an eleven-seat buffer in which to operate. (Although in Alberta politics that's still a narrow gangplank.)
Certainly it would be hard to get worse press than Smith got from the provincial and national media. Like Hansel and Gretel, the arbiters of #samethink laid a trail for the voters to follow. Using every flip and flop in Smith's tumultuous political journey they sought to create a narrative path. As happened when they conflated the Trucker Convoy into Three Weeks That Shook The World, the Media Party expected dutiful adherence to the taste makers with pleas like this.
"Dr. Lynora Saxinger MD FRCPC Infectious Diseases @AntibioticDoc May 27 I'm in a social media group with 1000s of AB doctors discussing exit plans if there's a Smith UCP win…"
Of course, none of them are going anywhere, because, contrary to media, every province in Canada (and many U.S. states) are afflicted the same way. Even when Smith staved off NDP lifer Notley in the televised debate the believers stayed fixed on this trail. One of their most beloved notions is that every group disparity can be explained by some form of bigotry. So Smith's backers had to be far-right, gun-toting, God-obsessed goobers that you wouldn't want at your Scotch nosing.
Bolstered by some polls that showed a dead heat, those ridings that want tunas with good taste, not tunas that taste good, knocked off Calgary-based UPC cabinet members and others without tattoos and nose rings.
Yet, with everything going for them— a photogenic NDP leader in Notley an unpredictable UPC leader, the Covid hangover— the media couldn't get their woman over the finish line. The (spare me) "donut ridings", smaller communities and the farming country checked out months before when the NDP started hinting at a 38 percent rise in corporate taxes ("still lowest run the nation") and adopting Justin Trudeau's Transition Program for gas and oil.
They weren't buying the absurd notion of the NDP and its unionized pals as the voice of the common person the in the province. They passed on people who believe men can have babies, who believe government controls the weather, who believe politicians create jobs? All this passed without comment from media slappies. Not so for the people who don't spend 18 hours a day on Twitter and Tik Tok.
You wouldn't have seen this demographic by watching CBC, CTV, Global and the predictable media snobs. Earnestly trying to play the results down the middle (sure) on Monday they served up disaffected UPC ex-cabinet whingers, "unbiased" professors wearing NDP buttons and reporters 10 minutes out of J School to craft the narrative.
Sample a) Hapless @CBCNews talking head announced a UPC candidate winning his riding by over 5,000 votes. "Clearly a big win by NDP there," she bubbled. (Some habits die hard at the Corp). Sample b): After the vote CBC's The National seemed to boast that Notley had finished a close second while Smith had finished second from the bottom.
The over/under on the word "unions" being mentioned by "independent" panelists in a sentence with NDP was about 1. And the under cashed. Odd, seeing as how so many producing the broadcasts and writing for legacy papers are union members. The best news for @Alberta_UCP was lifer socialist Notley vowing to defend the rights of Alberta's unions for another four years. Andrea Horvath, here she comes!
So how should Poilievre handle the lurking beast that awaits his campaign with open notebooks and closed minds? Put a different way, what would he and the Conservatives have to lose by doing what Governor Glenn Youngkin did in the state of Virginia when he upset the Democratic machine in 2021?
Faced with the overwhelming Democratic financial pump next door in DC and the Trump Noise Machine on his other flank, Youngkin decided it was better to use social media to find his voters and craft his message. Wielding a family-based conservative message on education he knew he'd be wasting his time doing the dog-and-pony farce of legacy media with its union shills and their gotcha' questions.
So the Virginia state GOP avoided the Media Party as much as possible, submitting only to limited exposure. "Experts" predicted doom by going the social-media route. Youngkin was accused of banning books. But on election night the multi millionaire scored a massive win over "those who must be obeyed". The triumph carried from the governor's chair down to the school-board level. (Youngkin is now being mentioned as a GOP presidential candidate.)
Poilievre îs going to change zero minds in sit-downs with the Toronto Star editorial board. Worse, they'll contort his message, further convincing the Wine Moms of Toronto that PP is a Trump disciple (the ultimate Family Compact sneer). CBC and CTV panels will furrow their brows about right-wing extremism. The Toronto media community will dig up fundamentalist Christians— as if they're more extreme than full-term abortion supporters.
It's a loser's game to always play in then other team's end of the field. Maybe Poilievre and his comms team can come up with something that changes the game. Like going directly to the electorate with their message. And leaving the bought-and-paid-for national media outside the door.
Sign up today for Not The Public Broadcaster newsletters. Hot takes/ cool slants on sports and current affairs. Have the latest columns delivered to your mail box. Tell your friends to join, too. Always provocative, always independent. https://share.hsforms.com/16edbhhC3TTKg6jAaRyP7rActsj5
Bruce Dowbiggin @dowbboy is the editor of Not The Public Broadcaster A two-time winner of the Gemini Award as Canada's top television sports broadcaster, he's a regular contributor to Sirius XM Canada Talks Ch. 167. Inexact Science: The Six Most Compelling Draft Years In NHL History, his new book with his son Evan, was voted the seventh-best professional hockey book of all time by bookauthority.org . His 2004 book Money Players was voted sixth best on the same list, and is available via http://brucedowbigginbooks.ca/book-personalaccount.aspx