Meet Internationally Acclaimed Central Alberta Artist David More Saturday at Red Deer Museum + Art Gallery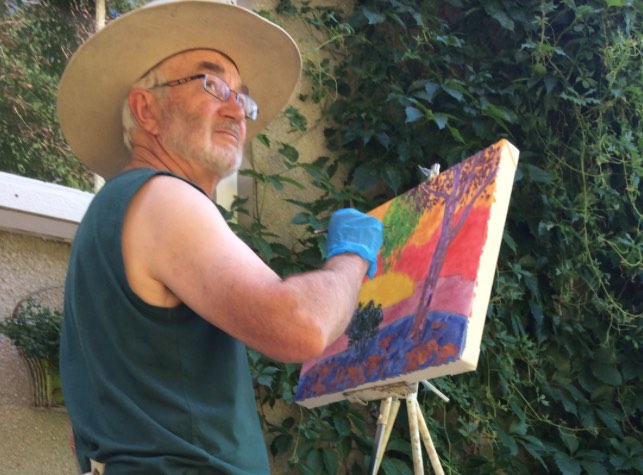 An exploration of the garden through a lifetime of artwork by noted western Canadian painter David More.
Book launch with artist on Saturday, September 11, 2021, from 2:00-4:00 PM, at the Red Deer Museum + Art Gallery (MAG) – public and media welcome.
As Red Deer's cultural scene grows and matures, it is important to build a record of those who have made the path, inspired us, and used their creative talent to expand our perception of the world around us.
Greatest Garden: The Paintings of David More is a celebration of Benalto landscape painter David More's engagement with the garden as a multifaceted subject. Featuring over fifty original artworks, this book encompasses a career spent in conversation with gardens in their many and varied forms. With lively brushwork, a keen sense of colour, and an aptitude for expressive drawing and varied composition, More has found the garden in expected and unexpected places.
David More will be onsite for the book launch at the Red Deer Museum + Art Gallery (MAG) on Saturday, September 11, 2021, from 2-4pm.
Come meet the artist and pick up your signed copy of this beautiful collection of artworks for the member's price of $30 (September 11 only; regular price is $40). This book is published by University of Calgary Press.
Words from Executive Director, Lorna Johnson:
"The Board and Staff of the MAG are so proud of this publication. It was a delight to work with Dave, Mary-Beth and the University of Calgary Press to realize our vision for a publication that would reflect Dave's work and celebrate his generous gift of works to the MAG. It is an important milestone in documenting the art history of Central Alberta."
Words from David More  
"Being the subject of a book is truly a privilege during one's lifetime. Greatest Garden: The Paintings of David More allows for the vision my wife Yvette and I share to reach a much wider world.  Just as importantly, this book brings the Red Deer Museum + Art Gallery to the international stage, where it deserves to be. Lorna Johnson and her amazing team have raised the profile of the Red Deer MAG to unimagined heights during her tenure. Working with delightful author Mary-Beth Laviolette and the distinguished University of Calgary Press over the last year has given us a most memorable journey."
David More and his wife Yvette Brideau, donated 200 of his paintings and drawings to the Red Deer Museum + Art Gallery in 2019. In that same year, to recognize Dave's generous gift, the MAG hosted a retrospective exhibition of his work that was curated and organized by independent curator Mary-Beth Laviolette. As an extension of her research, and in celebration of Dave's artistic achievements, Mary-Beth also wrote Greatest Garden. Published by the University of Calgary Press, Greatest Garden beautifully examines the multiple subjects that have captured Dave's attention and imagination over the years, and reflects the evolution of his artistic practice.
About David More
David More is one of western Canada's exceptional painters. Based in the rural hamlet of Benalto, near Red Deer Alberta, he is part of a generation of landscape artists who emerged in the 1970s to make beauty out of the ordinary and challenge the expected with bold acts of creation.
Throughout his career, More has returned to the garden as a deeply functional yet ritualistic space of human endeavour. The garden is a place of shelter and sanctuary, of colour and fragrance, of order and wilderness. The garden is a private space, carefully tended and planted, observed en plein air or through the living-room window. The garden is a public space, a park where people gather to let their natures blossom. The garden is the world, the nature that sustains and surrounds us, the environment we all live within, and all have a responsibility to cultivate and tend.
About the Author
Mary-Beth Laviolette is an independent curator and writer with a visual art practice spanning forty years. She is the author of An Alberta Art Chronicle and A Delicate Art: Artists, Wildflowers, and Native Plants of the West. She has curated exhibitions for the Art Gallery of Alberta, Calgary's Glenbow Museum, the Whyte Museum, and more. Mary-Beth is the recipient of many awards, including the Alberta Centennial Medal and Artist in the Spotlight.
Alberta government says jobs, economy, COVID to be focus of fall legislature sitting
EDMONTON — The Alberta government plans a busy fall legislature sitting aimed at adding jobs and diversifying the economy while focusing on tamping down the renewed surge of COVID-19.
Government house leader Jason Nixon says this will include proposed legislation on recognizing professional credentials to address labour shortages. The bill will be introduced by Premier Jason Kenney.
"Our focus will be on Alberta's workforce, a couple of bills around diversifying the economy, a big focus on building infrastructure for our future, (and) growing our resources, particularly on the energy side," Nixon said in an interview Friday.
There will also be new initiatives on environmental protection and conservation.
Nixon said there will be 18 to 20 bills for the sitting, which begins Monday and is scheduled to run to the first week of December. 
"It's a very robust fall agenda," he said.
Nixon said the government will continue to take steps to reduce COVID-19 cases, which have severely stressed the health system.
No COVID-19-specific bills are planned, he said, noting they were passed in previous sittings. 
"There's certainly other stuff to be done to manage the pandemic … but we'll stand ready if Alberta Health needs us to pass any legislation to deal with the pandemic."
He said debate in the chamber is expected to return to some semblance of normalcy.
In the spring sitting, both the United Conservative government and the Opposition NDP reduced their numbers in the chamber to prevent the spread of the virus. 
This time, with all NDP members and all but one on the UCP side vaccinated, all will be allowed back in for debate.
The lone UCP member has a medical exemption and will be tested regularly, said Nixon.
He said there are still masking rules and members will try to maintain distancing where possible.
The NDP said it plans to hold the government accountable for what went disastrously wrong on COVID-19.
"This fall sitting of the legislature will be laser-focused on getting answers from the UCP on why they've failed Albertans so miserably in managing the devastating fourth wave of the COVID-19 pandemic," said Christina Gray, the NDP house leader.
"Since July 15, more than 85,000 additional Albertans have been infected with the virus and 700 have died."
Gray said the NDP will call for an all-party inquiry into the government's handling of the pandemic with the power to compel documents and testimony.
Nixon said the government will not agree to such a motion. He said it would be wrong to redeploy vital health resources right now and that Kenney has promised an eventual review of how the province handled the pandemic.
Kenney has also promised to bring forward a motion to ratify and act on the results of Monday's provincewide referendum on Canada's equalization program.
Final results aren't in from Edmonton, but figures from Calgary and other cities suggest the referendum will pass with about 60 per cent in support of urging the federal government to remove the principle of equalization from the Constitution.
Kenney has said the issue is not about removing equalization, something no province can do unilaterally, but about getting leverage to negotiate other issues surrounding federal transfers to attain a better deal with Ottawa.
Political scientist Jared Wesley said Kenney will likely continue to focus on initiatives such as the equalization referendum, if only to change the narrative on his low popularity ratings.
"The premier will be spending most of his time, if he has anything to say about it, outside the province, stumping for this fair deal," said Wesley, with the University of Alberta.
COVID-19 numbers have been trending down in recent weeks. But Kenney and Dr. Deena Hinshaw, the province's chief medical officer of health, say the situation remains precarious.
On Friday, there were just over 10,000 active COVID-19 cases in Alberta. And there were 191 COVID-19 patients in intensive care. 
Alberta's fourth wave troubles began after Kenney lifted almost all COVID-19 related health restrictions as of July 1, boasting that the pandemic had moved to the "endemic" phase and there was no need to plan for a renewed case surge.
This report by The Canadian Press was first published Oct. 22, 2021.
Dean Bennett, The Canadian Press
'You're looking at it:' Undercover officer says suspect led them to burial site
CALGARY — A Calgary man who killed his girlfriend and is on trial for the murder of her young daughter took undercover officers in the middle of the night to a remote, snow-covered area where they were buried.
Robert Leeming, who is 36, has pleaded guilty to second-degree murder in the death of Jasmine Lovett and not guilty to second-degree murder in the death of 22-month-old Aliyah Sanderson. 
The mother and toddler were reported missing in April of 2019 after they didn't show up for a family dinner.
Court heard this week that Leeming was befriended by two undercover officers, who told him they had retrieved a bag of evidence from a nosy neighbour. 
They offered to help him with his problems — including removing the bodies of Lovett and her daughter, who were in a shallow grave under a pile of mulch and branches in a day-use area west of Calgary.
One of the officers testified that Leeming knew exactly where the bodies were.
The officer said they went to the area in the early morning of May 6, 2019, and walked a short distance on foot.
"I said, 'OK, where to?' And (Leeming) goes, 'You're looking at it.' And he points down. And underneath and against my left foot were branches and a pile," said the officer.
"(Leeming) goes and he grabs a branch and lifts it up as if to prove what's underneath all these branches. As he does that, I see a small bit of blue that I believe to be the moving blankets."
Investigators previously testified that the mother and child were doused in gasoline and wrapped in blue blankets before they were covered in dirt, mulch and branches.
The trial also heard that Lovett had skull fractures and was shot in the head. Aliyah died of blunt force head trauma.
The officer said Leeming boasted about steps he had taken to hinder a possible police investigation — including hiding wads of raw bacon around his house to throw off cadaver dogs and filling the back of his car with mulch.
"Well, mulch is death, right? So it smells like death," Leeming told the officers in a tape recording played in court.
"You cleaned that car up good?" asked the undercover officer. 
"Oh, yeah," he replied.
The officer said Leeming also expressed relief that his 2014 Mercedes seized by police was an older model.
"It's funny 'cause they were telling me the Mercedes, they pretty much can hook up to the computer in the car and know exactly where I've been," Leeming said with a laugh. 
"It's too old a car. If it was an '18, then I'd be in jail."
The prosecution was expected to wrap up its case Friday.
This report by The Canadian Press was first published Oct. 22, 2021.
Bill Graveland, The Canadian Press