Local Writers… Homegrown Stories… First Friday Event
From Red Deer Arts Council
Local writers share their homegrown stories at the
Kiwanis Gallery's First Friday
Red Deer Arts Council and Red Deer Public Library are pleased to present
a
literary presentation by local authors John Burnham, Paul Bond, Peggy Freeman, Jock Mac
k
enzie and Lyle Meeres
for
First Friday Red Deer on
October 4
th
from
5
:
3
0 to
7
:
3
0 pm.
Each writer will share their writings in two sets during the course of the event. Pieces may include short stories, poetry, and excerpts from longer writings.
A literary night with writers from the Inkblots and other writers' groups in Red Deer will tantalize all who love a well-told tale. Mystery, drama, humour, romance – these authors may make you chuckle,sigh, gasp, and think with their short stories, poetry and excerpts from longer works.
"Reading gives us somewhere to go when we have to stay where we are." –Mason Coole
Red Deer Arts Council and Red Deer Public Library are pleased to present literary readings by local authors John Burnham, Paul Bond, Peggy Freeman, Jock Mackenzie and Lyle Meeres for First Friday Red Deer on October 4th from 5:30 to 7:30 pm at the Kiwanis Gallery and Snell Auditorium.
These five authors represent two local writing groups, Writers' Ink and Inkblots. A noteworthy start to a great First Friday, join us.
Writer Biographies, providing a taste of their unique styles:
Peggy Freeman believes that writing is the "most fun you can have". Her genre is humour, madness and tragedy do not exist in her stories. She has been known to make fun of her fellows but not in a mean way. Besides reviewing books in the Red Deer Advocate she has been published in the Globe and Mail and in Canadian Living Magazine. She has written children's plays and lighthearted poems, which unfortunately rhyme and who wants that? She has published three books, two of short stories and one children's Christmas book. Her latest book is Don't Tell the Dog is available for sale. She's a Crone to be sure, but still observing the passing parade…
Jock Mackenzie was a teacher and administrator for the Red Deer Public School board for 31 years. Since retiring he has done contract work as well as speaking at teacher conventions and conferences. Jock also acted as Program Co-ordinator for Reading College, a month-long program held in July at Red Deer College. In February, 2007, he published his first book: Essay Writing: Teaching the Basics from the Ground Up. It is available from Pembroke Publishing. Jock's second teacher reference book,Poetry and Song, and his novel, Dealing with Dymans, both await publication. Jock has written for a variety of magazines and is enjoying his return to Toastmasters.
Lyle Meeres – A Lyle Bio
When I started school in Regina, I would tell myself stories as I walked to and from school. I still like telling stories. I have a B. Ed., B.A. and a post-graduate degree in English. With John Burnham, I co-authored Change: A collection of short stories about change. My stories have appeared in anthologies and my essays have appeared in magazines.
Paul R. Bond writes from small-town Alberta. His work has appeared in the Dalhousie Reviewand The Prairie Journal. Paul holds a bachelor's degree in political science from the University of Lethbridge and a certificate in professional writing from (then) Mount Royal College.
His current literary projects include a book of short fiction, Virga, and a novel, The Prince of Oblivion.
John A. Burnham grew up in Denver, Colorado. He served in the U.S. Navy and has enjoyed employment in manufacturing, aviation, and the oil patch. Now, a full time writer, he has one novel, two plays, numerous articles and newspaper columns to his writing credits. He currently lives in Red Deer, Alberta, Canada. Website: johnaburnham.com
~~~
Writers' Ink is the Red Deer and district Writer's group. Writer's Ink celebrated its 25th anniversary last year. The club meets every Tuesday. Membership ranges from authors whose book sales number in the thousands to those who are yet to be published. The Writers' Ink website is: https://reddeerwritersink.wordpress.com
The Inkblots writing group have met for approximately two and a half years, initially in members' homes but now most often in Timberlands Library. A typical meeting includes a book review because writers should be readers. Writing topics are suggested, and handouts or email messages give members information about ways to add to their writing skills. Members read aloud from their writing of stories, poems, memoirs, scripts or children's stories. The members receive supportive comments and sometimes receive suggestions for improving their selections. New members are welcome.
First Fridays Gallery Openings for Red Deer September 1, 2023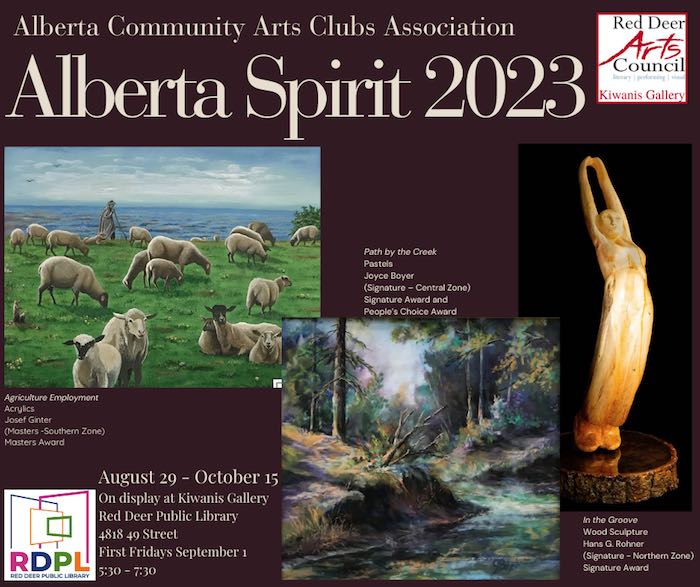 Title: Alberta Spirit Show
Kiwanis Gallery, 4818 49 Street, in Red Deer Public Library
Media: Various
Exhibition Dates: August 29 – October 15, 2023
#FirstFridaysRedDeer opening reception September 1 from 5:30 – 7:30pm with several of the Artists in attendance.
Exhibition Description: The Alberta Community Art Clubs Association's Spirit Show follows the province-wide Zone shows each year. The Alberta Spirit Show this year is made up of the best of the works from the
Northern, Central and Southern Zone shows to produce the Alberta Wide Exhibition. Truly, the best of the best is an understatement!
Hours: Mon – Thurs: 9 am – 8 pm, Fri: 9 am – 5 pm, Sat & Sun: 10 am – 3 pm
Title: Here, There, and Everywhere
Artists: William Armstrong, Judy Brownlee, Marianne Harris, Lynn LeCorre, Lucy McKavanagh, Kristina Miko, Nicole Murray, Jan Raymond, Betty Schnell, Hazel Sheehan, Carmen
Therriault, Theresa Towers Rickard, and Eelkje VanderMeulen-Smart
The Red Deer Arts Council Community Gallery, 6–4919 49 Street
Media: Various
Exhibition Dates: August 31 – October 3, 2023
#FirstFridaysRedDeer reception September 1, 2023 from 5pm – 7pm.
Description: For our Alberta Culture Days group exhibition, artists were asked to submit works that considered the importance of place, and their responses included culturally meaningful places, places of solace, places we
live. Come see how these artists interpreted the places they love, here, there, and everywhere in both imagery and poetry. Presented in collaboration with Central Alberta Retired Teachers' Association.
Regular (Summer) Gallery Hours: Monday to Friday 10am – 4pm
Title: The Oracles of Time
Artists: Eleanor P. Boyden
The Viewpoint Gallery, 5205 48 Avenue
Media: Acrylic Abstract Paintings
Dates: August 4 – September 22, 2023
#FirstFridaysRedDeer – the Gallery is open 8am – 8pm.
Artist's Statement: This new body of work, developed during an extended period of isolation, poses the question – How might we reconsider our experience of time, both singularly and as a community, from the past, through the present, and speculatively into the future?
As a collection, these abstract paintings engage with the viewer to collectively shift our understanding of how time is segmented, layered, and communicated. The work operates both as a meditation on many difficult aspects of isolation I experienced during the Covid pandemic, specifically how my relationship with time was altered, as well as reflecting a desire to shift from a sense of the endlessness and recognize the gift of time to explore a new painting process and deepen the themes presented in this series. I am truly excited about this body of work. I feel that The Oracles of Time series provides an opportunity to reconsider perceptions of the past, through our present experiences, and to look into the future with speculative wonderment. I believe that this project can reach a large and diverse audience and will challenge people's notions of how we experience time.
About the Gallery: The Viewpoint Gallery showcases original works of art by individual artists and collectives, and curated exhibitions. The gallery is in the lobby of the City of Red Deer Culture Services facility. Visit our Viewpoint Gallery page for more information.
Hours of operation: Monday to Friday: 8:00am – 4:30pm
Title: The Beauty of Our Natural World
Artist: Sharon Wright
Marjorie Wood Gallery, Kerry Wood Nature Centre, 6300 45 Avenue, Red Deer, AB
Media: Paintings
Dates: September 1 – October 16, 2023
#FirstFridays Opening Reception September 1 from 4 – 6pm in the Marjorie Wood Gallery with the artist in attendance.
Description: Come enjoy Sharon's vibrant, impressionistic oil paintings of people, animals, and places.
Submitted Artwork by Sharon Wright
Title: Lines and Shadows
Artists: Carol Lynn Gilchrist and Guest Margriet Hogue
Riverlands Studio and Gallery, 5123 48 Street, Red Deer
Media: Mixed Media
Dates of Exhibition: September 1 -27, 2023
Opening Reception: September 1 from 5:30 – 8:30 pm
http://Facebook.com/RiverlandsStudioandGallery
http://Instagram.com/@clgilchrist_artist
http://Instagram.com/@margriethogue
http://Facebook.com/MargrietHogue
Website: www.margriethogue.com
Title: September Sunflowers
Artists: Marlene Kallstrom-Barritt, Betty Schnell, Elizabeth Schapansky, Wendy Meeres, Amanda Frost, Audrey Rits, and many more!
Curiosity Art & Framing, 5002 48 Street, Red Deer
Media: Various
Dates: September 1 – 30, 2023
Description: September Sunflowers is an exhibition this month that has the theme of Sunflowers and floral fall. Stop by our new gallery at the corner of Little Gaetz and 48th Street.
Continuing Exhibitions
Title: Drawings by Martin Dahl
Artists: Martin Dahl
The Corridor Community Gallery, 4501 47A Ave inside the Recreation Centre
Media: Ink, Pencil, Coloured Pencil Drawings
Dates: August 4 – October 3, 2023
Description: Martin is a self-taught Red Deer artist who enjoys drawing old barns and buildings with abandoned and decaying cars and trucks in the foreground, or partially sunken and beached boats or ships. The drawings are mainly inspired by Martin's own photos taken in Alberta, Saskatchewan, and British Columbia or from those sent to him by family and friends.
About the Gallery: The Corridor Community Gallery is hosted by the City of Red Deer Community Development. This space, adjacent to our clay studio spaces, provides a public venue for local artists and allows us to share in the talents of fellow community members.
Visit https://www.reddeer.ca/corridor for more information.
Hours of operation: Monday to Friday 5:30 am – 10pm, Saturday 8am – 10pm, Sunday 11am – 8pm, Stats 12pm – 5pm
For information on visual arts classes and programs offered by the City of Red Deer or to enquire about showing your artwork in the Corridor Community Gallery, please contact: The City of Red Deer, Community Development | 403-406-8820 | [email protected]
Title: Body Language: Reawakening Cultural Tattooing of the Northwest
Red Deer Museum + Art Gallery (MAG) 4525 47A Avenue
Friday, September 1 from 5 – 8pm
Drop in to see the current exhibition Body Language: Reawakening Cultural Tattooing of the Northwest as part of #FirstFridaysRedDeer.
NEW: The MAG is now open Wednesdays and Fridays until 8pm on a permanent basis.
Velvet Olive Lounge, 4928C 50 Street, Red Deer (or enter via Capitol Pkg Store on Ross Street Patio)
Artribute Art School, 212 – 4836 50 Street, in the Old Courthouse. Treaty 6 & 7
Solorzano Spa Cafe & Wine Bar, 4631 50 Street, Red Deer, AB
First Fridays Red Deer is the monthly event where downtown art galleries hold exhibit openings and special events.
Creativity Understood.
'A big part of my life': Orillia mourns hometown legend Gordon Lightfoot
Two men pay respects at Gordon Lightfoot's Golden Leaves statue at Tudhope Park in Orillia, Ont., on Tuesday, May 2, 2023. Flowers were placed on the tribute after news broke that Lightfoot passed away at 84 years old Monday May 1, 2023. THE CANADIAN PRESS/Christopher Drost
By Sharif Hassan in Orillia
It didn't take long for the flowers to appear at the statue of Gordon Lightfoot in his Ontario hometown.
The legendary folk musician, claimed by the City of Orillia as its "favourite son," died of natural causes at a Toronto hospital on Monday at the age of 84.
Barely 24 hours later, Orillia residents stopped by the bronze sculpture of Lightfoot that stands in a city park to pay their respects.
Cam Gardy, who brought yellow flowers to lay at the base of the statue, said his mother went to school with the musician and would tell tales of how he'd perform for students.
"He has been a part of my life as I have grown up," Gardy said, adding that while he never met Lightfoot personally, he had been to one of his concerts.
"Mr. Lightfoot is iconic, not only to the residents and the city but obviously to the people across Canada."
Lightfoot put Orillia on the map, Gardy said, and was an "incredible ambassador" for the city.
"He always spoke of his town fondly," Gardy said.
Joanna Bell, who brought a rose to place at the statue, said she cried when she woke up to news of Lightfoot's death on Tuesday morning.
"Gordon Lightfoot was a big part of my life, my childhood," she said, adding that she is one of seven siblings. "He was loved by all of us, and of course he wrote the most beautiful music."
Lightfoot's music brings to mind the beauty of Canada, she said.
"He is such a well-respected Canadian," she said. "That is why I came today, I felt compelled to come."
Heather Placken, who said she's been a fan of Lightfoot's for 40 years, said she only learned of the singer's death when walking by the entrance of the Orillia park hosting his statue – an announcement had been posted by the entrance.
"I feel really honoured and grateful that I had the opportunity to see him here last summer," she said.
Lightfoot was more than just a songwriter and musician, she said.
"Every song he has ever written and sang, it tells a story of something significant that everyone of us can relate," she said.
"He was an amazing individual and for Canadians, to have somebody of that stature to look up to in the music industry is phenomenal."
Lightfoot was born in Orillia in 1938, sang in a church choir as a boy and dreamed of becoming a jazz musician.
He later emerged from Toronto's Yorkville folk club scene in the 1960s, and went on to record more than 20 studio albums and hundreds of songs, including "Early Morning Rain," "Carefree Highway" and "Sundown."
Orillia Mayor Don McIsaac said Lightfoot was highly regarded in the city.
"His homecoming concerts at the Orillia Opera House and appearances at the Mariposa Folk Festival have always been celebrated by Orillians as they welcomed him home," the mayor wrote in a statement.
"Many of us who knew him will remember his soft-spoken demeanor, generous personality and infectious laugh."
There are reminders of Lightfoot throughout Orillia, McIsaac said, noting that the singer's name graces a city auditorium stage and a trail, while a bust of him sits at the Orillia Opera House, in addition to the sculpture honouring him in the city's J.B. Tudhope Memorial Park.
"His deep roots in our city are woven into the fabric of Orillia," McIsaac said. "Our community is mourning together along with the rest of the world."
The city has lowered its flags to half-mast, the mayor said. Books of condolences for the music icon are available at the Orillia Opera House and Orillia City Centre.
A concert tour to celebrate Lightfoot's music had been set to begin on Saturday, on the stage named after him at the Orillia Opera House. It will still go ahead, with the show's creator saying she hopes it will serve as a celebration of Lightfoot's music and life.
"My band and I were huge fans of Gordon Lightfoot. The reason that we created this concert is because his music has impacted all of our lives so much," Leisa Way said in an interview.
"He's just shaped who I am as a Canadian, certainly growing up in northern Ontario, and now it will be very emotional for all of us."
Way said the concert, called Early Morning Rain: The Legend of Gordon Lightfoot, had premiered for three weeks in February 2020 but the COVID-19 pandemic meant it had to stop.
She said she hopes Saturday's concert will be a special event for the residents of Orillia.
"There's nothing that Gordon Lightfoot would love more than knowing that audiences are getting together in theaters and singing along to all of his songs," she said. "I think he'll be smiling down on us."
– with files from Maan Alhmidi in Toronto.
This report by The Canadian Press was first published May 2, 2023.