Local Hosts Lead Master Classes
The MS Whisky & Wine Festival is an intimate event hosted by the MS Society of Canada, Central Alberta Chapter. Noted for the high level of vendor/guest interaction, the intention of the event is to provide for whisky and wine enthusiasts whether they're interested in learning or have the most discerning palate. Our VIP Guests will have opportunity to further heighten their knowledge and experience through a Master Class of their choice. As part of a small group, VIP Guests will sit in a breakout room and focus on a number of products reflecting a particular genre. This year's Master Classes feature notable local hosts chosen for their passion, knowledge, hospitality and their ability to educate with a flair of entertainment!
Matt Buck – VIP Whisky Master Class
Whisky has an incredibly rich history, tightly woven through the fabric of society. As we move toward the future, increasing demand for Scottish Malt Whisky is putting pressure on producers and driving the industry in new and uncharted directions. We will examine the effects of Scotch's past on its present and future, and take a tasting journey through a selection of these controversial bottlings.
I'm a full time Bartender and the General Manager of To The Lost, Forgotten Alley, and the newly opened Gusto in Red Deer's Downtown core, and I'm also half of Old Fashioned Cocktails- a hospitality and cocktail consulting company dedicated to elevating the culture of drink in Central Alberta. I am very excited to be scheduled to write the exam to obtain Certification as a Spirits Specialist by the end of this year.
Whether it's a cocktail you prefer, or a glass of wine, a pint of ale or a dram of whisk(e)y, drinking is a way of slowing down, it's the act of appreciating something that was crafted with care and dedication, a product with a birthplace, a story, and a personality.
BJ Tumanut – VIP Wine Master Class
It's difficult for me to taste wine without wondering about its story: where it came from, the history of the area and winery and how it was grown. I wonder who made it, what I would eat it with, and why it was made a certain way and not another. To me, wines are stories.
I was born and raised in Kansas City, Missouri but it was only after I moved to Edmonton in 1997 that my interest in the world of wine was born. I first studied wine casually on my own but soon began pursuing a formal wine education. I studied with the International Sommelier Guild and developed a career in fine wine in Edmonton from 1999 to 2002.
At the end of 2002, I decided I needed a change and I swapped my wine glasses for chocolate boxes and managed the three Chocolates by Bernard Callebaut stores in Edmonton for eight years. Chocolate was a great fit for me, so much so that in 2011 I moved to Red Deer to own and operate my own store. I've been enjoying Red Deer ever since and around town people call me "CocoLady".
Currently I'm working on my Level 3 Award in Wines from the Wine & Spirit Education Trust based in London, England. I've also started to dabble in wine writing as I've begun to write for Central Alberta Home & Lifestyles magazine. I've also received sensory training and earned my Canadian Wine Scholar Certificate from Fine Vintage Ltd. My thirst for wine education continues! I'm currently enrolled in the BC Wine Ambassador Program: Level One and the Fine Vintage Ltd Sommelier program.
Join us January 17, 2017!
For event information and tickets please visit www.reddeerwhiskyfestival.ca
Gateway Christian students experience life changing trip to Dominican
Students from Gateway Christian School recently returned from a life changing trip to the Dominican Republic as part of their Intercultural Studies program.
Gateway's 2023 Co-Impact Team, which included 13 students, two staff and an additional chaperone, spent 10 days on the ground over Spring Break connecting with other students and families to help to build a basketball court and physical education area at the Pena de Horeb school via Edudeo Ministries. Pena de Horeb is primarily a Haitian school, serving the students and families amidst a very poor Haitian neighbourhood. In the months leading up to the trip, Gateway students raised funds to help assist with the build. Gateway also spent a significant amount of time building relationships with and learning from students and staff at their partner school, El Colegio Cristiano Reformado Los Guandules.
"Service is an important part of the culture at Gateway, and this experience was the culmination of that. The Co-Impact Team fundraised not only for their trip, but also for funds to go towards the school we worked on in the Dominican Republic," said Geannette Lehman, Principal at Gateway Christian School. "The trip was part of their Intercultural Students class, which they receive credit for. We met weekly at 7:15 a.m. to complete aspects of the Intercultural Studies course, bond as a team, and prepare craft lessons and activities to teach students at the school in the Dominican. It was not only a great experience in the Dominican, but in preparing for the trip as a team as well."Alexa Huska, Gabe Gillies, and Kate Stober were three students who were part of the Co-Impact Team.
"It was really neat to connect with my fellow Grade 12 students," said Alexa. "We've gone to school together since we were kids, so to have an experience like this together was really special. We were able to connect on a deeper level."
Gabe added it was humbling to see how grateful those in the Dominican Republic were, even for the smallest things. "They have little compared to us, and they are just so happy," he said. "They are grateful for the things they have and they don't stress about the small stuff."
Kate agreed. "They have so much joy, and nothing mattered other than just being with one another," she said.
Ultimately, it was a great experience for all involved.
"The kids were greatly impacted by seeing the world through another lens. Our lens is so different from those around the world," said Geannette, adding she is proud of her students. "They gave up their Spring Break, immersed themselves in another culture, and represented Gateway and Red Deer Public so well."
To read Gateway's Co-Impact Team's blog of their experiences, click here.
Run/Hike for Red Deer Hospice Takes Place This Sunday at Bower Ponds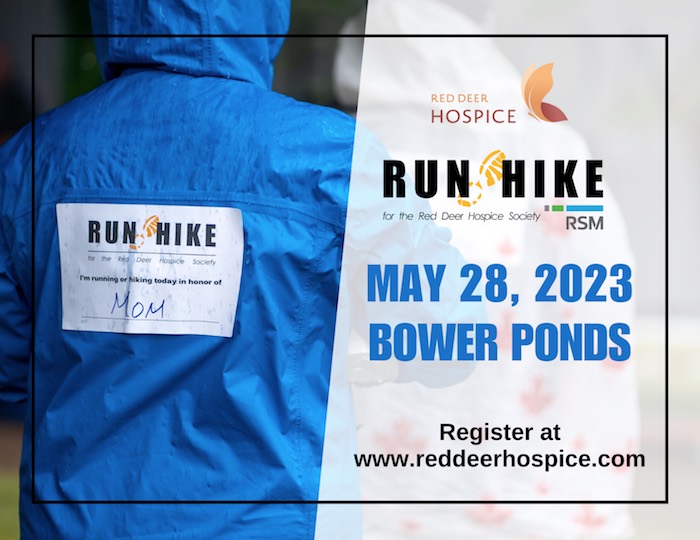 News release from Red Deer Hospice
Red Deer Hospice's 16th Annual Run/Hike event, presented by RSM Red Deer, will take place at Bower Ponds this Sunday.
Registration will open at 9:00am and those wishing to run, walk or stroll the 1km, 3kms or 5 kms will start at 10:00am. A light breakfast and hot, post-race lunch, provided by Mr. Mikes, will be available to participants and live entertainment will be provided by the band Fun House in the amphitheater.
"This will be a day to remember and reflect, while taking in the natural beauty of the trails in and around Bower Ponds," said Jerri Taylor, Executive Director of Red Deer Hospice. "As our main fundraiser for the year, our goal is to raise $38,000." Proceeds and donations will go towards Red Deer Hospice's mission of supporting a peaceful and compassionate end-of-life journey.
Online registration on the Red Deer Hospice website will close at 3:00pm on Friday, May 26, 2023. Those interested in participating in this year's Run/Hike event who have not registered can do so in person on Sunday morning at Bower Ponds.
For more information, visit www.reddeerhospice.com.