Local filmmaker's "Nut Milking EXPOSED" video generates well north of 45 million views and growing
Nick Saik was born and raised in Central Alberta, surrounded on all sides by Agriculture. A filmmaker by trade, Nick and his father, Rob, a successful author, movie producer, and agriculture advocate have been working for many years to apply Nick's filmmaking skills to advocacy in the agriculture sector.
One of Nick's more recent productions, "Nut Milking EXPOSED" is a truly inspired piece of work, regardless of what side of the "…should Nut milk actually be called milk?" argument you may be on. It's funny. And it's really well-produced. And this world-class production from the mind of a gifted Central Albertan is being viewed all around the world.
The actor looks into the camera and says with a straight face:
"There's so much confusion with city folks these days. They're talking about 'Nuts don't lactate. Nuts don't have a nipple.' I'll show you a nut nipple," says the 3rd generation Nut Milker from the picturesque "Nut Milkery" he operates.
The video comes to an end with the following:
"There is a debate in the dairy industry: If nuts don't lactate why is their juice called milk?" the video asks. "Definitions matter in the world of food. What defines milk for you?"
"Besides the proximity I've had to it, Agriculture has always been a major draw for me," says Nick Saik. "While I'm quite confident that I'm not cut of the same cloth that farmers are cut from, there is something in that lifestyle, and in those values that I can't escape. My Dad Robert Saik made his living as a consultant to farmers. He'd spend the majority of his time helping farmers do more with the resources available to them. I think my investigative relationship with Agriculture is thanks to my Dad's relationship with Agriculture."
ABOUT KNOW IDEAS MEDIA AND NICK SAIK
The KNOW IDEAS mission is to entertain and inform audiences by presenting rationally optimistic, trustworthy, scientifically-based solutions to highly controversial subjects.
The world has been crippled by meaningless controversy. We need answers, but pessimists aren't the sort of people that tackle seemingly insurmountable problems. In response, the father and son team of Rob and Nick Saik champion a rationally optimistic approach to resolving the world's challenges, and they use science as the common ground on which we all can meet.
Despite often having very different views from very different generations, through their work Nick and Rob prove that important discussions are always most productive when they are based on scientifically tested facts, and are conducted in an honest and respectful manner.
No one can pay Know Ideas to change its mind, it courageously follows proven scientific evidence to wherever it leads. Our first project, Know GMO is a demonstration of this commitment in that our funding has come directly from family farmers and we have intentionally avoided any support from any seed or chemical companies that could be seen to influence our findings.
We post our sources. If we've said it we've checked it, and if it changes we'll change too. If you're looking for an information source you can trust on whether we should all go no GMO or pro-GMO, then join us for on our journey by watching our series Learn GMO.
USAID head urges crisis-hit Sri Lanka to tackle corruption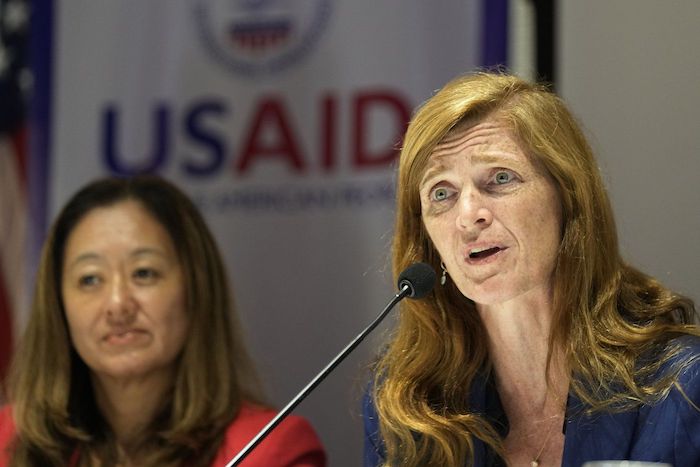 By Krishan Francis in Colombo
COLOMBO, Sri Lanka (AP) — A visiting U.S. diplomat on Sunday urged Sri Lankan authorities to tackle corruption and introduce governance reforms alongside efforts to uplift the country's economy as a way out of its worst crisis in recent memory.
USAID Administrator Samantha Power told reporters that such moves will increase international and local trust in the government's intentions.
"Assistance alone would not put an end to this country's woes," Power said. "I stressed to the Sri Lankan president in my meeting earlier today that political reforms and political accountability must go hand in hand with economic reforms and economic accountability."
She said that international investor confidence will increase as the government tackles corruption and proceeds with long sought governance reforms. "As citizens see the government visibly following through on the commitment to bring about meaningful change, that in turn increases societal support for the tough economic reforms ahead," she said.
During her two-day visit, Power announced a total of $60 million in aid to Sri Lanka. After meetings with farmers' representatives at a rice field in Ja-Ela, outside of the capital Colombo on Saturday, she announced $40 million to buy agrochemicals in time for the next cultivation season.
Agricultural yields dropped by more than half for the past two cultivation seasons because authorities had banned the imports of chemical fertilizers ostensibly to promote organic farming. She said that according to the World Food Program, more than 6 million people — nearly 30% of Sri Lanka's population — are currently facing food insecurity and require humanitarian assistance.
On Sunday, she said an additional $20 million will be given to provide emergency humanitarian assistance to vulnerable families.
Sri Lanka has faced its worst crisis after it defaulted on foreign loans, causing shortages of essentials like fuel, medicines and some food items.
It has reached a preliminary agreement with the International Monetary Fund for a $2.9 billion package to be disbursed over four years. However, the program hinges on Sri Lanka's international creditors giving assurances on loan restructuring. Sri Lanka's total foreign debt is more than $51 billion of which $28 billion must be repaid by 2027.
Power said that the U.S. stands ready to assist with debt restructuring and reiterated that it is imperative that China, one of the island nation's bigger creditors, cooperate in this endeavor.
Infrastructure like a seaport, airport and a network of highways built with Chinese funding did not earn revenue and are partly blamed for the country's woes.
Saskatchewan warns that federal employees testing farmers' dugouts for nitrogen levels could be arrested for trespassing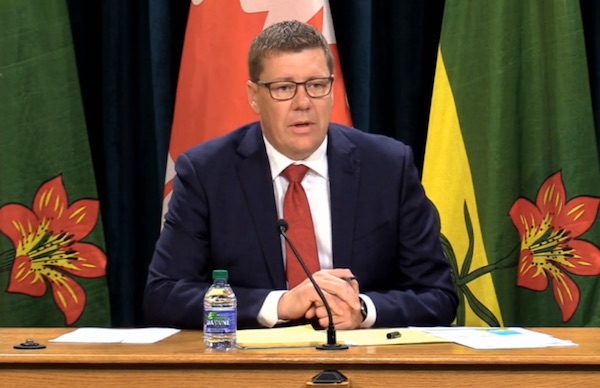 An escalating battle between Western Premiers and the federal government over restricting the use of nitrogen fertilizer has reached a new level of tension.
Premier Scott Moe
is demanding to know why federal employees of Environment Minister Steven Guilbeault are "trespassing" on private land in Saskatchewan. Moe signed a strongly worded letter (below) from Jeremy Cockrill, the Minister in charge of Saskatchewan's Water Security Agency.
The letter dated Sunday, August 21st states farmers from at least 3 different communities in southern Saskatchewan have reported Government of Canada employees in marked vehicles have been trespassing on their private land. When confronted, the agents have admitted to testing dugouts for nitrogen levels.
On his official Facebook page Moe says
"We are demanding an explanation from federal Minister Guilbeault on why his department is trespassing on private land without the owners' permission to take water samples from dugouts."
We are demanding an explanation from federal Minister
Steven Guilbeault
on why his department is trespassing on private land without the owners' permission to take water samples from dugouts. We have received reports of this occurring in several places throughout our province.
We have advised the federal government that this should cease immediately and if it does not, it will be considered a violation of the province's Trespass Act.
Violating this Act is serious, including a maximum penalty of $25,000 for repeat offenders, up to six months imprisonment following a conviction for a first or subsequent trespass offence, and a $200,000 maximum penalty for any corporation that counsels and/or aids in the commission of that offence.
Anyone wishing to report an incident of trespassing on private land can call 1-855-559-5502
Saskatchewan Premier Scott Moe has already
flatly said no thanks
to a federal initiative to restrict the use of fertilizer by up to 30%.
Premier Moe is not alone in this battle with Ottawa. Alberta's Premier Jason Kenney has already weighed in on the nitrogen restrictions in this strongly worded video shared two weeks ago.
Ottawa's planned attack on fertilizer will hurt our farmers.

It needs to stop.

Less fertilizer means less food.

Europe shut in about 50% of its fertilizer production.

Canada should not repeat the same mistake. pic.twitter.com/BztOiC1CPd

— Jason Kenney 🇺🇦 (@jkenney) July 27, 2022
The letter from Saskatchewan comes on the heals of another strongly worded letter from Manitoba's Agriculture Minister Heather Stefanson. In Stephanson's letter to Prime Minister Trudeau, she says this is no time to cut food supply and raise the price of groceries.