Local college students the focus of RDC study on student debt and financial wellness.
Student Debt & Financial Wellness
By Jason Engel and Doug MacDormand
A recent poll completed by Ipsos for BDO Canada showed that over three quarters of post-secondary students regret the amount of debt they accumulate while in school. There is certainly a lot of discussion about the financial burden facing students in post-secondary education, and how financially literate and financially well students are. With this in mind a group of students at Red Deer College completed a study on student debt and financial wellness.
With debt a concern amongst post-secondary students, it is not surprising to find that the largest portion of their education funding (33%) comes from student loans. The second largest (23%) comes from parents or family, followed by work (19%). With debt loads continuing to rise amongst students, this is a source of considerable concern. Just over half of students reported using student loans. Of those, over 40% expect to have a student debt load of over $30,000 upon graduation. 70% reported they expect over $20,000 in debt. A $30,000 student debt would equate to a monthly payment of roughly $375 over ten years, depending upon the interest rate. Statistics Canada reports that the average student debt in Canada is $26,000, so these expectations would seem to accurately reflect reality.
The vast majority (81%) have a credit card. 59% pay it in full every month, which is slightly higher than the overall population. It is encouraging that students are improving on their parents' record of financial management. Of those that have a balance, they tend to be lower, with over 80% having a balance under $2,500. This would be lower than the general population, though this would likely be restricted by the limits that lenders would allow for students. Students feel pretty good about their savings habits and credit card management. Just over half reported that they are good or very good at saving for the future. Two-thirds reported they are good or very good at managing their credit card.
Not surprisingly, the vast majority of students work, with only just under one quarter (24%) reporting that they do not. Just over one half (52%) work part time. When it comes to transportation, the vast majority (76%) drive to school and work. The largest segment (41%) lives with parents or family, while the next largest rent (34%).
For financial advice, students tend to go to family first, rely on themselves second and the internet third. This has interesting implications for financial advisors, in particular in light of recent developments around robo advisors.
The Donald School of Business, Red Deer College strives to bring practical, real world learning experiences to the classroom. Every year business degree students complete statistical studies on various topics. These studies are completed for a client, such as a local business or non-profit organization. This year, one group chose as their topic the financial wellness of students.
The students that completed the study are Alexander Abuzidan, Malika Khanjer, Jameica Miller, Amanda Tuccaro, Sangita Pandey and Morgan Vandenhoven. 200 Red Deer College students were surveyed during March of 2018. These survey findings are accurate with a 7% margin of error, 19 times in 20.
Red Deer College is a comprehensive community college serving learners in central Alberta with a variety of certificates, diplomas, collaborative degrees, trades, and continuing education. The Alberta government recently announced that RDC will be pursuing university status. Jason Engel and Doug MacDormand are instructors in the Donald School of Business, Red Deer College.
ACAC Indoor Track Championship Day 2 Update, Queens win gold and Jenica Swartz takes home three top finishes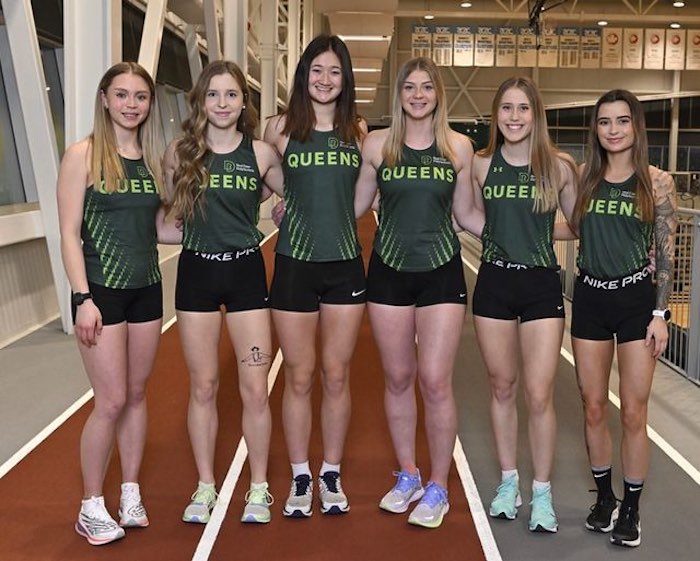 Gold medalist Red Deer Polytechnic Queens Track Team. Janice Swartz (3rd from left) took 3 gold medals at the ACAC Indoor Track Championships
The Red Deer Polytechnic Queens Indoor Track Team are ACAC Champions as they took home multiple first-place finishes with Jenica Swartz (Bachelor of Science in Pre-Med) winning three individual gold medals and helping the relay teams to first-place finishes.
Day 2 started out very well for the Queens as Swartz picked up her third gold medal of the championship. She just beat out SAIT Trojans runner Jasmin Salmon by 73 milliseconds in the 600m. Loami Rautenbach finished fifth in the race. In the men's event, Ethan Duret (Bachelor of Commerce) placed fifth with a time of 1:27.39 which was 36 milliseconds off from the third-place runner, so it was a photo finish.
In the 1500m, Swartz was finally dethroned off the top podium position but still finished in second place as she crossed the finish line in just over five minutes. But the first-place runner from the Trojans broke the championship record with a time of 4:44. Myah Cota (Open Studies) and Justine Larson (Bachelor of Education) finished one after another for the second race of the championship as they crossed the finish line in fifth and sixth. Daniel Szucs (Bachelor of Business Administration) and Duret picked up sixth and seventh place respectfully which put points on the board for the Kings Indoor Track team. Jordan Coen (Open Studies) followed his teammates in eighth place with a time of 4:31.
The Queens 4x400m relay team took the top spot six seconds in front of the Trojans who took first place at the Grand Prix in Red Deer a month ago. This clinched the team victory for the Queens as they finished the championship with 81 points which were 17 points ahead of the second-place Trojans. The Kings relay team finished in fifth and the overall team just missed a medal as they finished the championship in fourth, four points out of third.
This caps off the 2022/2023 season for the Kings and Queens Indoor Track Team.
School library book bans are seen as targeting LGBTQ content
Books are displayed at the Banned Book Library at American Stage in St. Petersburg, Fla., Feb. 18, 2023. In Florida, some schools have covered or removed books under a new law that requires an evaluation of reading materials and for districts to publish a searchable list of books where individuals can then challenge specific titles. (Jefferee Woo/Tampa Bay Times via AP)
By Scott Mcfetridge, Anthony Izaguirre And Sara Cline in Des Moines
DES MOINES, Iowa (AP) — Teri Patrick bristles at the idea she wants to ban books about LGBTQ issues in Iowa schools, arguing her only goal is ridding schools of sexually explicit material.
Sara Hayden Parris says that whatever you want to call it, it's wrong for some parents to think a book shouldn't be readily available to any child if it isn't right for their own child.
The viewpoints of the two mothers from suburban Des Moines underscore a divide over LGBTQ content in books as Republican Gov. Kim Reynolds pushes an especially sweeping crackdown on content in Iowa school libraries. The bill she's backing could result in the removal of books from school libraries in all of the state's 327 districts if they're successfully challenged in any one of them.
School boards and legislatures nationwide also are facing questions about books and considering making it easier to limit access.
"We're seeing these challenges arise in almost every state of the union," said Deborah Caldwell-Stone, director of the American Library Association's Office for Intellectual Freedom. "It's a national phenomenon."
Longstanding disagreements about content in school libraries often focus this year on books with LGBTQ themes as policymakers nationwide also consider limiting or banning gender-affirming care and drag shows, allowing the deadnaming of transgender students or adults in the workplace, and other measures targeting LGBTQ people.
The trend troubles Kris Maul, a transgender man who is raising a 12-year-old with his lesbian partner in the Des Moines area and wants school library books to reflect all kinds of families and children. Maul argued that those seeking to remove books take passages out of context and unfairly focus on books about LGBTQ or racial justice issues.
LGBTQ people are more visible than even five years ago, Maul said, and he believes that has led to a backlash from some who hope limiting discussion will return American society to an era that didn't acknowledge people with different sexualities.
"People are scared because they don't think LGBTQ people should exist," Maul said. "They don't want their own children to be LGBTQ, and they feel if they can limit access to these books and materials, then their children won't be that way, which is simply not true and is heartbreaking and disgusting."
In Louisiana, activists fear a push by Republican Attorney General Jeff Landry to investigate sexually explicit materials in public libraries — and recently proposed legislation that could restrict children and teens' access to those books — is being used to target and censor LGBTQ content.
Landry, who is running for governor, launched a statewide tip line in November to field complaints about librarians, teachers, and school and library personnel. Landry released a report in February that listed nine books his office considers "sexually explicit" or inappropriate for children. Seven have LGBTQ storylines.
In Florida, some schools have covered or removed books under a new law that requires an evaluation of reading materials and for districts to publish a searchable list of books where individuals can then challenge specific titles.
The reviews have drawn widespread attention, with images of empty bookshelves ricocheting across social media, and are often accompanied by criticism of Gov. Ron DeSantis, a Republican expected to run for president.
The state's training materials direct the reviews to target sexually explicit materials but also say that schools should "err on the side of caution" when selecting reading materials and that principals are responsible for compliance.
Florida's largest teachers union is challenging the law, arguing its implementation is too broad and leading to unnecessary censorship. An education department spokesperson did not immediately comment.
DeSantis said the state has not instructed schools to empty libraries or cover books. He said 175 books have been removed from 23 school districts, with 87% of the books identified as pornographic, violent or inappropriate for their grade level.
The Iowa legislation comes amid efforts there to keep a closer eye on public school curriculums and make taxpayer money available to parents for private school tuition. Reynolds, the governor, has made such proposals the core of her legislative agenda, telling a conservative parents group that their work was essential to guarding against "indoctrination" by public school educators.
Under a bill backed by Reynolds, the titles and authors of all books available to students in classrooms and libraries would be posted online, and officials would need to specify how parents could request a book's removal and how decisions to retain books could be appealed. When any district removes a book, the state Education Department would add it to a "removal list," and all of Iowa's 326 other districts would have to deny access to the book unless parents gave approval.
At a hearing on Reynolds' bill, Republican lawmakers, who hold huge majorities in both legislative chambers, said they might change the proposal but were committed to seeing it approved. The bill has passed a Senate committee and is awaiting a floor vote.
"The parents are the governing authority in how their child is educated, period," said Sen. Amy Sinclair. "Parents are responsible for their child's upbringing, period."
Patrick, a mother of two, expressed befuddlement about why anyone would want to make sexually explicit books available to children.
"I have to believe that there are books that cater to the LGBTQ community that don't have to have such graphic sexual content in them," said Patrick, a member of a local chapter of Moms for Liberty, a conservative group that has gained national influence for its efforts to influence school curriculum and classroom learning. "There are very few books that have ever been banned and what we're saying is, in a public school setting, with taxpayer-funding money, should these books really be available to kids?"
Hayden Parris, a mom of two from a suburb only a few miles away, understands the argument but thinks it misses the point.
"A kindergartner is not wandering into the young adults section and picking out a book that is called like, "This Book is Gay," said Hayden Parris, who is leading a parents group opposed to Iowa's proposed law. "They're not picking those books, and the fact that they can pick one out of several thousand books is not a reason to keep it away from everyone."
Sam Helmick, president of the Iowa Library Association, said communities should decide what's in their libraries and that it's important for children to have access to books that address their lives and questions. Helmick didn't have that ability as a child, and students shouldn't return to that time, she said.
"Can we acknowledge that this will have a chilling effect?" Helmick asked. "And when you tell me that books about myself as an asexual, nonbinary person who didn't have those books in libraries when I was a kid to pick up and flip through, but now publishing has caught up with me and I can see representation of me — those will be behind the desk and that's not supposed to make me feel less welcome, less seen and less represented in my library?"
___
Izaguirre reported from Tallahassee, Florida, and Cline from Baton Rouge, Louisiana.