Dianne Wyntjes – Let's Get Out The Vote Red Deer – October 16th, 2017
Hello Red Deer,
Over the past seven years, it's been an honour to represent you as one of Red Deer's eight City Councillors.
I'm running for re-election on October 16th.
Over the last four years, progress has been made for Red Deer and the work continues.
On my campaign website www.DianneForRedDeer I've noted several Council decision results from the past term.
If re-elected and looking to the future, I've also listed several initiatives I'd bring forward. Many of these come from citizen conversations.
If you'd like to share your ideas, please email – [email protected], connect on Twitter @DianWyntjes or Facebook DianneForRedDeer, or we can have a face-to-face conversation too, which is much more personal.
Want to know a bit more about me?
I've lived in Red Deer since 1975 and was raised on a farm in central Alberta. Both my grandmothers lived in Red Deer, so I have many fond childhood memories of Red Deer, including playing at Rotary Park, swimming in the downtown outdoor pool and shopping downtown Red Deer at the Bay and Eatons (yes I am dating myself!) I've seen our City grow and change over the decades. I'm married to Allan for 25+ years and Red Deer is our home and community.
My past 30 year professional career of labour relations provides experience in administration, board governance, budgets, negotiations, conflict resolution, problem solving and speaking out on important issues. I have a strong work ethic with the energy and passion for politics . I work well with others but am not afraid to stand up and be firm and principled in my decision making. These skills all apply at City Hall as I work for you, if re-elected.
Red Deer is a great city, but we can and always must do better as we respond to City growth and society challenges. I've learned sitting in a Councillor chair can sometimes be about making difficult choices with many competing needs. I've learned there can be both cheers and jeers in politics. And I have come to value the conversations and meeting so many Red Deer citizens, hearing about pressing issues, concerns and ideas. I also recognize and value the diverse work of many city staff, as they look to find the operational solutions to our City challenges. As a Councillor, I have come to know that being on the go, out and about, learning about Red Deer, meeting new people and connecting with Red Deer citizens has truly been a gift of being a City Councillor.
On October 16th, there are 29 candidates running for Councillor. Thank you to all the candidates and putting their name forward.
Democracy is alive and well in our 2017 municipal election.
In the 2013 municipal election, Red Deer voter turn out was 31.83%.
Let's Get Out the Vote Red Deer!
Municipal politics matters!
It's the closest level of government that impacts our lives.
Please engage your family, friends, neighbours and co-workers about the October 16th election.
Your vote matters!
And on October 16th, I hope I am one of your choices as City Councillor.
Thank you Red Deer.
Conservative MP Leslyn Lewis condemns MAiD in Parliament as targeting nation's most vulnerable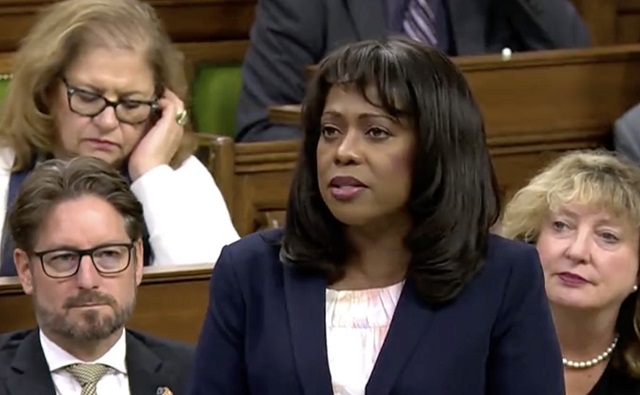 'I call upon with government to reverse its course and instead provide help and hope for Canadians suffering with mental health conditions'
Conservative MP Leslyn Lewis condemned the Trudeau government's treatment of Canada's most vulnerable, revealing that 36 Canadians are euthanized every day. 
On November 28, Dr. Leslyn Lewis, Conservative Member of Parliament (MP) for Haldimand-Norfolk, Ontario, addressed Parliament on the dangers of Medical Assistance in Dying (MAiD), the euphemistic name for Canada's euthanasia regime.
"The poor, homeless, the abused, veterans, seniors, youth, adults suffering with disabilities, those suffering with depressions, and mental health conditions," Lewis said. "These are among the most vulnerable in our society that are falling through the cracks of Canada's Medical Assistance in Dying regime."
The most vulnerable are falling through the cracks of Canada's Medical Assistance in Dying regime.

Every day 36 Canadians die by MAiD, the HIGHEST NUMBER in the world. Canadians suffering with mental illness need help and hope, not euthanasia. This gov't must reverse course. pic.twitter.com/tT8x5PBpxq

— Dr. Leslyn Lewis (@LeslynLewis) November 28, 2023
"They are the ones who will be at risk when the MAiD laws in Canada are expanded in March 2024," the pro-life MP added. "Last year, death by euthanasia increased by 30 percent from the year before. Every day in Canada, 36 people use MAiD to end their lives, which is the highest in the world."
"I call upon with government to reverse its course and instead provide help and hope for Canadians suffering with mental health conditions," Lewis appealed.
On March 9, 2024, MAiD is set to expand to include those suffering solely from mental illness. This is a result of the 2021 passage of Bill C-7, which also allowed the chronically ill – not just the terminally ill – to qualify for so-called doctor-assisted death.
The mental illness expansion was originally set to take effect in March of this year. However, after massive pushback from pro-life groups, conservative politicians and others, the Liberals under Trudeau delayed the introduction of the full effect of Bill C-7 until 2024 via Bill C-39.
The expansion comes despite warnings from top Canadian psychiatrists that the country is "not ready" for the coming expansion of euthanasia to those who are mentally ill, saying expanding the procedure is not something "society should be doing" as it could lead to deaths under a "false pretense."
Similarly, Angelina Ireland, the head of one of Canada's few pro-life hospice societies, recently warned that euthanasia has become a national "horror" show.
"Unfortunately, there is no reprieve in sight as think Medical Assistance in Dying (MAiD) becomes a national horror and the 'professionals' sharpen up their needles," Ireland told LifeSiteNews.
"We have reached the point where we must all protect each other from MAiD," she noted.
Euthanasia deaths have gone through the roof in Canada since it became legal in 2016.
According to Health Canada, in 2022, 13,241 Canadians died by MAiD lethal injection, which is 4.1 percent of all deaths in the country for that year, and a 31.2 percent increase from 2021.
The number of Canadians killed by lethal injection since 2016 now stands at 44,958.
MNP steps in to help youth "Move Your Mood" at the Sheldon Kennedy Centre of Excellence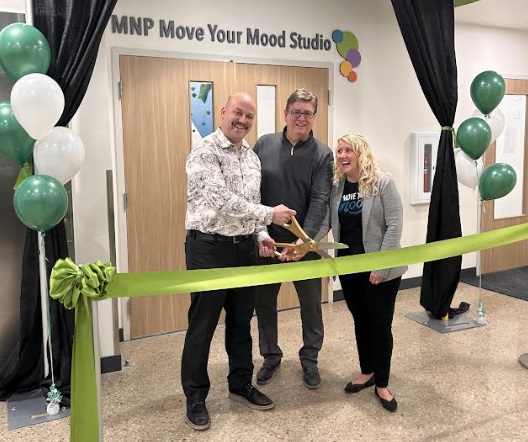 Ribbon Cut at the Newly Named MNP Move Your Mood Studio in the Sheldon Kennedy Centre of Excellence
The ribbon has been officially cut, and a new name announced for the MNP Move Your Mood Studio inside the Sheldon Kennedy Centre of Excellence.
The MNP Move Your Mood Studio held its naming ceremony and ribbon cutting on Tuesday, November 21st. Move Your Mood, an Alberta Health Services program, occupies a portion of Floor 2 inside the new Sheldon Kennedy Centre of Excellence on the main campus of Red Deer Polytechnic.
The new MNP Move Your Mood Studio has a large space for classes and physical activity, complete with a climbing wall, physical activity gaming wall, and kitchen.
A significant contribution was made on behalf of the partner group from MNP's Central Alberta region. This contribution reflects their commitment to investing in the communities that they are a part of.
"On behalf of the Central Alberta partner group and our entire team across the region, we are elated to celebrate the MNP Move Your Mood Studio," says Patrick Wigmore, Regional Managing Partner for MNP in Central Alberta. "At MNP we truly believe that making a positive difference in the communities where we live, work, and play is a fundamental part of who we are. Our partners throughout the region believe that pooling our efforts together to create a greater impact for organizations like Central Alberta Child Advocacy Centre and in turn, Move Your Mood, will leave a lasting legacy of positive impacts in Central Alberta. The decision to support the CACAC was unanimous."
Move Your Mood is a research-based program that promotes physical activity and healthy lifestyle practices to improve the mental and physical well-being of participants. The MYM program provides opportunities for participants to experience how to move their bodies, fuel their bodies, practice mindfulness, and build positive coping strategies.
"We would like to thank MNP for their generous donation to the Sheldon Kennedy Centre of Excellence and helping make this dream come true for children and youth in our community. We are grateful and honoured to share the name of the MNP Move Your Mood Studio and look forward to the opportunities this space will provide our entire community in the future. The space will be up and running in the New Year." – Denise Fredeen, Health Promotion Facilitator at Move Your Mood.
The MNP Move Your Mood Studio will be a shared space for all children and youth accessing services at the Sheldon Kennedy Centre of Excellence. The Studio will be a place where children and youth can learn positive coping strategies to improve their mental and physical wellness through interactive opportunities. There will be opportunities for them to play, practice mindfulness, be physically active, learn how to make healthy snacks and take part in creative activities.
The space will provide professionals in the building an opportunity to create positive connections and teach children and youth skills they can continue to be active and healthy for life. The space will also provide opportunities for prevention work with students in the community and a space for future training of RDP students and MYM Coaches.
To learn more about the MNP Move Your Mood Studio and its programming, please email
[email protected] or visit www.moveyourmood.ca.
About MNP: National in scope and local in focus, MNP is one of Canada's leading professional services firms — proudly serving individuals, businesses, and organizations since 1958. Through the development of strong relationships, we provide client-focused accounting, consulting, tax, and digital services. Our clients benefit from personalized strategies with a local perspective to fuel success wherever business takes them. For more information, visit www.mnp.ca
About CACAC: The Central Alberta Child Advocacy Centre is a not-for-profit organization rooted in the protection and recovery of today's most innocent and vulnerable – our children. The Centre is comprised of a collective that is driven by the courage to support children, youth, and their families affected by abuse, enabling them to build enduring strength and overcome adversity. We work in a collaborative partnership with the Alberta Children and Family Services, Alberta Health Services, Alberta Justice, Alberta Education, Red Deer Polytechnic, the Central Alberta Sexual Assault Support Centre and the RCMP. Together we harness our collective courage to provide children with
supported recovery. For more information on CACAC and the Sheldon Kennedy Centre of Excellence, please visit: centralalbertacac.ca