Kathleen Finnigan appointed new Superintendent of Red Deer Catholic Regional Schools
From Red Deer Catholic Regional Schools
Red Red Deer Catholic Regional Schools is delighted to announce the appointment of Mrs. Kathleen Finnigan as the division's new Superintendent of Schools.
"Over the past four months, the Board of Trustees has been conducting a nationwide search for a new Superintendent of Schools. A key component of the process involved reaching out to key stakeholders to gather their thoughts and opinions regarding the new superintendent," said Kim Pasula, Board Chair at Red Deer Regional Schools.
"The input received from the consultation, that involved engagement with all staff and parents and guardians in the Division, as well as key stakeholders from our broader community, was central to the recruitment and selection process."
Finnigan has a Bachelor of Education from the University of Alberta, a Master of Education from San Diego State University and is currently working on a Doctorate of Education specializing in K-12 education leadership through the University of Calgary.
Finnigan grew up and graduated in Delburne, a small town east of Red Deer. She comes from a large farming family in which she is one of six girls along with one brother. Finnigan values community. She was taught the importance of community from her parents who were role models of servant leadership with their work in Delburne, Central Alberta and on the provincial scene. Finnigan believes in the saying, "It takes a village to raise a child" and is looking forward to working in a team to enhance the Red Deer Catholic community whereby students will continue to be the center of all decisions. Finnigan and her husband, Terry, have four boys all educated in Red Deer Catholic Regional Schools.
Finnigan has 34 years of experience as a professional Catholic educator within the division in the roles as teacher, counsellor, school administrator and senior administrator. She has been part of five different school communities in Red Deer: St. Thomas Aquinas Middle School, Maryview School, Holy Family School, St. Martin de Porres School and St. Patrick's Community School. Finnigan's first principalship was at St. Martin's where she worked in a team with a variety of stakeholders to develop the first fine arts school in Central Alberta.
For the past nine years, she has been a member of a senior leadership team holding the positions of Associate Superintendent of Inclusive Learning, Associate Superintendent of Personnel and Acting Superintendent of Schools. Finnigan will continue to foster gospel centred school communities of hope within our division through her connections with staff and stakeholders. She is an active member of St. Mary's Catholic Church as proclaimer, eucharistic minister and children's liturgy teacher.
Over the years, she has won many awards including Women of Excellence for Central Alberta (2016), Canada's Outstanding Principal (2010), Alberta's Excellence in Teaching Semi-Finalist (2009), Leadership Award from the Council of School Administrators (2001) and Health and Physical Education Award through the HPEC Council (1989).
At today's Board Meeting, the Board of Trustees will vote on a motion to seek the approval of the Minister of Education to appoint Finnigan as Superintendent of Schools. As per the Education Act, the Minister of Education approves all Superintendent hires and contracts.
The employment of the former Superintendent was concluded by the Board of Trustees in February 2020 and at that time Finnigan was appointed Acting Superintendent of Schools. Since then, she has navigated the division through the COVID-19 pandemic (school closures, at-home learning and school re-entry of in-person learning) and the new funding model from Alberta Education.
"I am blessed to have been appointed Superintendent at Red Deer Catholic Regional Schools; a school division known for exemplary staff and school administrators working together to ensure that Christ is known to students while aspiring to excellence. Alongside the Board of Trustees and staff we will continue to foster gospel centred communities of hope through communication, collaboration, and innovation as we lead our school communities together," said Superintendent, Kathleen Finnigan at Red Deer Catholic Regional Schools.
"Kathleen was chosen in a highly competitive selection process from a strong field of candidates. She is a highly impressive talent known for her collaborative leadership style that will serve her and our entire staff well in advancing the mission of Red Deer Catholic Regional Schools to make Christ known to children," said Pasula.
Red Deer Catholic Regional Schools serves over 10,360 students in 20 schools in Red Deer, Blackfalds, Sylvan Lake, Rocky Mountain House, Innisfail, and Olds, as well as an at-home learning program. It also supports the learning of over 1095 students in a Traditional Home Education Program. The Division is committed to serving children and parents with a complete offering of learning opportunities delivered within the context of Catholic teachings and within the means of the Division.
Jessica Snyder honoured as 2021 Gateway Christian School Valedictorian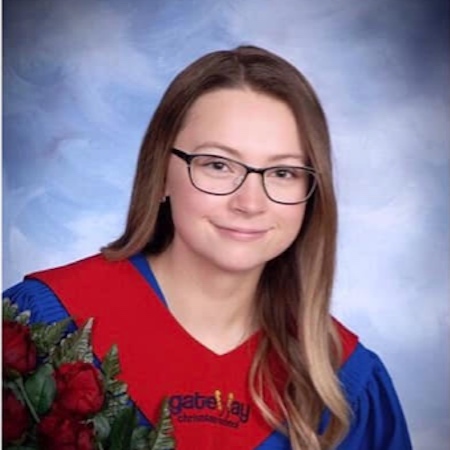 Gateway Valedictorian to become a teacher to make a difference
Emily Liu honoured as 2021 Hunting Hills High School Valedictorian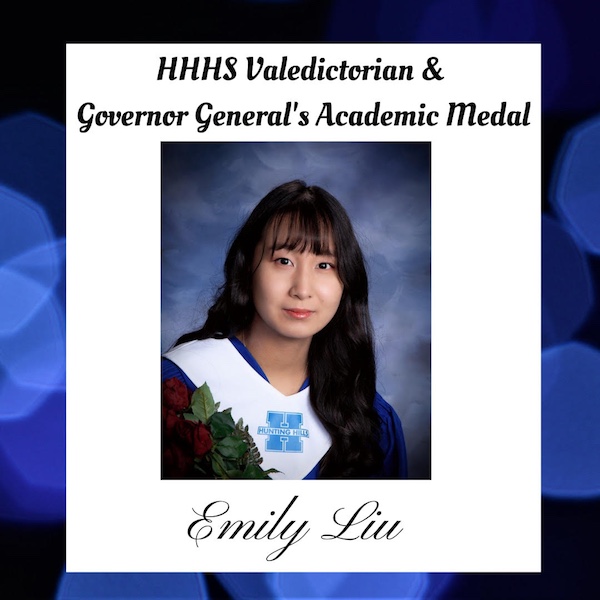 Hunting Hills Valedictorian looks to pursue career in the medical field
This year has been like no other for the Graduating Class of 2021, but the valedictorian at Hunting Hills High School is not letting the pandemic stop her from achieving her goals.
Grade 12 student Emily Liu has been named this year's Valedictorian at Hunting Hills High School.
"It's an incredible honour to be named valedictorian. I was very proud of myself when I learned that I was going to be this year's valedictorian," she said. "In Grade 9 when I first received the honour of being the top academic student in my class, that really came as a huge shock to me because I always knew I performed well in school, but I never imagined I could be the top academic student. After that, it was something that I was really inspired to work towards, and it's kept me motivated ever since."
Emily added when she reflects on her high school experience, she could never have predicted we would be in the midst of a global pandemic.
"I don't know if it necessarily took away from my high school experience, but it's definitely hindered me in my day-to-day life whether it's trying to pay attention during online school, or being able to hang out with my friends," she said.
Graduation ceremonies for Hunting Hills High School will take place on June 25 at the Centrium. The day will include staggered ceremonies with three groups of graduates at a time in compliance with Alberta Health Services guidelines.
Emily said her message to fellow graduates is one they can carry into the future.
"If there's one thing that this pandemic has taught me it's that the relationships we have in our lives are so incredibly precious. When your only way of communicating with your friends or your family is through a screen or a phone call, there's aspects of simple physical interaction that you really can't get through in an online medium," she said. "We need to treasure the relationships we have in our lives, maybe a little more. It may be a little clichè, but you really don't appreciate what you have in your life until they are gone."
Looking to the future, Emily said she hopes to soon be able to explore the world once restrictions allow. She has also been accepted to the University of Alberta.
"I'm going to study biochemistry. It's one of my hopes to pursue a career in the medical field in the future," she said, adding her volunteer work has given her an interest in that field. "I have been volunteering at the Red Deer Hospital for the past four years, and I've also been volunteering as a piano player at the Red Deer Hospice. I think my time at the hospital and hospice has been really enriching in the way that I am able to interact with people and learn more about people's lives and maybe provide them some kind of comfort or support when they are in a really vulnerable moment."
Christine Chappell, Vice Principal at Hunting Hills High School, said she is proud of Emily's achievements.
"An accomplished pianist, community volunteer, and HHHS Leadership student, Emily possesses an incredible work ethic. In every endeavour, whether it be academics or extracurricular activities, she embodies kindness, determination, and tenacity," she said. "Along with excelling in academics, Emily has completed her Grade 10 Piano with First Class Honours (Royal Conservatory). As a Leadership student, she has dedicated countless hours to our Bikeathon, Enviro Club and school activities. HHHS is honoured to recognize Emily as our 2021 Valedictorian and Governor General's Medal recipient."