Jesse Roads hosting a Christmas Music Celebration featuring some of Alberta's finest
COVID may have decimated the live music industry, but it can't keep the musicians down!  As weeks turn to months, and months turn to seasons, some of Alberta's finest musicians continue to create and find new ways to reach their audiences.  On Tuesday, December 15 at 8 PM, Red Deer's Jesse Roads will be hosting a stellar line up of Alberta performers in A Jesse Roads & Friends Merry Christmas.  You can listen, see, and experience this special Christmas gift for free! Just click here or visit HereToMars.com at 8 PM, Tuesday.
Here's a special announcement from Jesse!
Alberta flexes COVID-19 rules for gyms, libraries, delays other reopenings
EDMONTON — Alberta is lifting more economic restrictions tied to COVID-19 while delaying others.
Premier Jason Kenney says low intensity group activities, such as Pilates, can resume in fitness centres, and libraries can open at 15 per cent capacity.
But he says loosening measures for retail shops, hotels and community centres can't happen yet.
"While our hospitalizations are dropping … active cases have levelled off recently. And the testing positivity rate has risen a bit," he told a news conference Monday.
"We have also observed a small increase in the daily number of new variant cases and that is worrisome too.
"That is why we have to proceed cautiously while still moving forward."
This is Stage 2 of a four-stage plan to reopen the economy announced by Kenney a month ago.
In Stage 1, restaurants were able to reopen for dine-in service, gyms were allowed to resume one-on-one fitness training and some restrictions were lifted on youth sports.
Some medical experts, including the Edmonton Zone Medical Staff Association, warned the province last week against further loosening public-health measures.
This report by The Canadian Press was first published March 1, 2021.
The Canadian Press
Province delays almost all Step 2 cautionary measures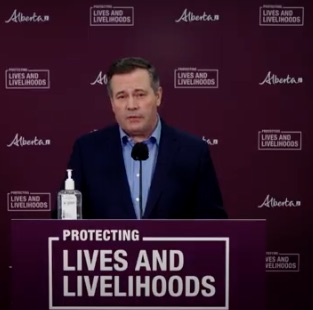 From the Province of Alberta
As a cautionary measure, changes to current restrictions for retail, children's sports, and hotels, banquets, community halls and conference centres have been delayed until Step 3.
Step 2: Hospitalization benchmark – 450 and declining
Libraries
These facilities can now open but must limit capacity to 15 per cent of fire code occupancy, not including staff.
Indoor fitness (no change to outdoor fitness):
Unsupervised low intensity individual and group exercises are now allowed by appointment only.
Mandatory physical distance of three metres is required between participants, including coaches and trainers, at all times, and masks must be worn at all times by trainers and those participating in low-intensity activities.
All indoor fitness must be pre-registered – no drop-ins allowed.
Low-intensity exercises include weightlifting, low-intensity dance classes, yoga, barre and indoor climbing, as well as the low-intensity use of treadmills, ellipticals and related equipment.
High-intensity activities, including running, spin and high-intensity interval training, continue to be allowed only on a one-on-one with a trainer basis, or training with a household and one trainer.
Additional details on the current restrictions is outlined on alberta.ca.
A decision on Step 3 will be made after at least three weeks of evaluation to assess the spread of COVID-19. Metrics based on cases and growth, including variant cases, are being monitored and will also be used to guide any decisions around the need to pause further steps or potentially increase restrictions.
Alberta's government is responding to the COVID-19 pandemic by protecting lives and livelihoods with precise measures to bend the curve, sustain small businesses and protect Alberta's health-care system.