'It could have been deadly': Truckers end blockade at Alberta border crossing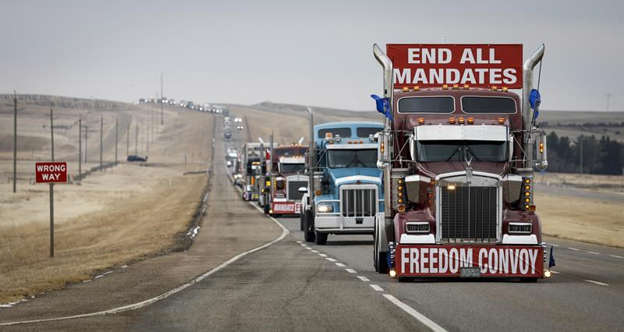 COUTTS, Alta. — A blockade that paralyzed a United States border crossing for more than two weeks ended Tuesday as trucks and other vehicles with horns blaring rolled away from a southern Alberta community.
Protesters had been restricting access to the busy crossing near Coutts since Jan. 29 to rally against COVID-19 vaccine mandates for truckers and broader pandemic health restrictions.
Canada Border Services Agency said operations had resumed at the crossing and RCMP confirmed later Tuesday that traffic was moving smoothly.
The exodus of vehicles came one day after RCMP arrested 13 people and seized a cache of firearms and ammunition.
Charges laid include possession of weapons and mischief to property.
Four people also face a charge of conspiracy to murder RCMP members, said Chief Supt. Trevor Daroux. He said police worked closely with the Crown to ensure they had the necessary evidence to lay those charges.
Some of the accused were granted release in a Lethbridge, Alta., courtroom on Tuesday. A judge also ordered that they can't contact one another or be within a 200-metre radius of any protest.
Mounties said an early-morning raid Monday uncovered 13 long guns, handguns, a machete, a large quantity of ammunition and body armour. Two additional weapons were seized later in the day.
RCMP also said a semi-truck and farm tractor had attempted to ram a police cruiser on Sunday.
"The dangerous criminal activity occurring away from the TV cameras and social media posts was real and organized," said Deputy Commissioner Curtis Zablocki on Tuesday evening.
"It could have been deadly for citizens, protesters and officers."
Daroux said the RCMP became aware of the heavily armed group a few days after the protest began. He said investigations are ongoing into this group and other events that took place during the blockade.
"Alberta RCMP will remain in the area until we are confident that the situation is safe and stabilized for all who travel through here," he said.
Protesters are dissociating themselves from the group of people facing serious charges. Organizer Marco Van Huigenbos said that is why the convoy decided to leave peacefully.
He said he has no regrets about participating in the blockade.
"I think we've started a movement where people are going to get more involved … at the municipal level, provincial possibly, but also more involvement in politics in general."
Two tactical vests seized by the RCMP had badges on them, which the Canadian Anti-Hate Network said have links to troubling movements.
One vest had a "Diagolon" patch on it, a white diagonal line across a black rectangle, that is linked to an often conspiratorial and antisemitic group, said Peter Smith from the network. He said the group often talks about a soon-approaching civil war.
"(Their) rhetoric is very violent," said Smith. "One of the, kind of, common phrases used within the community is 'A gun or rope?'"
The other patch said "Infidel" in both English and Arabic in yellow. Smith said the patch doesn't indicate membership to a specific network but is known among Islamophobic militias and biker-style hate groups.
He said the biggest worry is having niche extremist networks that could work to inflame supporters linked to what was supposed to be a peaceful protest.
There was celebrating when the protest started winding down late Monday. A video posted to social media showed RCMP members shaking hands with and hugging protesters. People holding hats or hands to their chests or with arms draped across each other's shoulders sang O Canada.
Cpl. Gina Slaney confirmed the scene was from Monday night in Coutts.Zablocki said RCMP is aware of the video.
"I will say, we do encourage our members to engage with the public and develop respectful, professional relationships with all Albertans," said Zablocki. "We will be looking further into this matter."
Jim Willett, mayor of the village of 250 people, said it had been a while since he had seen anything but semi-trailers on Highway 4.
"I can see all the way to Regina," he said with a laugh.
Willett said he doesn't blame the blockade leaders for the cache of weapons.
"They were a well-behaved bunch of people," he said. "I think the organizers were taken aback as much as we were by what the RCMP discovered."
The number of protesters at a police checkpoint, north of Coutts, had also dwindled and work was underway to start clearing away a first-aid trailer, a sauna and electric generators.
"Last night, emotions were high … I think a lot of people felt that we were giving up, but we're not giving up," said John Vanreeuwyk, a feedlot operator from Coaldale, Alta., also a protest organizer.
"Is it a victory? No. A victory means we're done," he said.
The blockade was one of several demonstrations in Canadian cities and border points that stalled trade, stranded travellers and disrupted lives of area residents, particularly in Ottawa.
Deputy Prime Minister Chrystia Freeland has said $48 million in trade was lost each day that the Coutts border was closed.
— With files from Alanna Smith in Calgary
This report by The Canadian Press was first published Feb. 15, 2022.
Bill Graveland, The Canadian Press
'A crisis': Calgary charity seeks one-month homes for Ukrainian refugees after influx
Ukrainian evacuees Dmytro Syrman, left, his wife, Anastasiia, centre, and their four-year-old daughter Varvara attend a news conference highlighting the need for temporary housing in Calgary on Wednesday, March 29, 2023. THE CANADIAN PRESS/Jeff McIntosh
By Bill Graveland in Calgary
After six months under Russian occupation, Dmytro Syrman and his family decided to flee Ukraine for a safer life abroad and are now in Calgary.
The family lived in Dniprorudne, a mining city of 17,000 in southern Ukraine. Syrman worked as a human resources manager at an iron factory.
In August, Syrman, his wife, Anastasiia, and four-year-old daughter Varvara embarked on a six-day, 3,000-kilometre drive to Poland.
"On the 24 of February, when the Russian army attacked Ukraine and occupied our city in March 2022, we lost everything," Syrman said Wednesday.
He said they began planning their escape when they realized Russian soldiers weren't leaving their city.
"We started all of this because we were scared for Varvara," he said. "When Russian bombs were falling near our city it was really scary."
Their home is still under Russian occupation.
For the past year the family stayed in Poland, sent in their paperwork to come to Canada, and two weeks ago arrived in Calgary.
They're now staying with a host family for a month while they look for long-term accommodation and to find jobs.
"We are here and starting a new life. We can't believe about people who don't know us and many helped us. We're really shocked," Syrman said.
The Syrmans were helped by Calgary's Centre for Newcomers, which started a campaign to find 100 hosts for Ukrainian families or individuals for a month while they find housing of their own.
Kelly Ernst, chief program officer with the centre, said there has been a flood of Ukrainians trying to take advantage of a federal program that allows them to temporarily resettle in Canada.
The Canada-Ukraine Authorization for Emergency Travel program has been extended until July and Ernst said he expects people will continue to flee the war-torn country.
"We're in a desperate, dire need at the moment for host homes to try to accommodate the evacuees coming from Ukraine. It's reaching the proportions of being a crisis moment," said Ernst.
He said people arriving elsewhere in Canada are migrating to Calgary because the rents are lower than in larger cities such as Toronto and Vancouver.
Ernst said approximately 450 people have been arriving in Calgary every week from Ukraine and his organization has helped people staying nights in the airport, off the street and at homeless shelters.
Natalia Shem, who is the manager of housing for the Ukrainian evacuees, said it's difficult for the newcomers to find somewhere to live before arriving.
"It's almost impossible to find long-term rent being outside of Canada and people who come here need one month of stay," Shem said. "It's an average time a family can find long-term rent, job and settle down here in Canada."
This report by The Canadian Press was first published March 29, 2023.
Budget measures unlikely enough to spur major carbon capture investments: Experts
Deputy Prime Minister and Minister of Finance Chrystia Freeland delivers the federal budget in the House of Commons on Parliament Hill in Ottawa, Tuesday, March 28, 2023. Industry watchers say Tuesday's federal budget likely won't be enough to convince Canadian oil and gas companies to pull the trigger on expensive, emissions-reducing carbon capture and storage projects. THE CANADIAN PRESS/Sean Kilpatrick
By Amanda Stephenson in Calgary
A question mark continues to hang over the future of carbon capture and storage projects in Canada, in spite of a pledge in Tuesday's federal budget to deliver more investment certainty for major emissions-reducing projects.
"Look, we have set some very aggressive climate targets in Canada. You can't kick the can down the road," said carbon capture advocate James Millar, arguing that's exactly what the federal government did Tuesday when it provided no additional details around its previously stated intention to reduce the risk of investing in pricey emissions-reduction projects by essentially guaranteeing the future price of carbon.
"The difference comes down to investment certainty in the U.S., versus the promise of investment certainty in Canada."
As president and CEO of the International CCS (carbon capture and storage) Knowledge Centre, a non-profit organization based in Regina, Millar had been closely watching Tuesday's budget in hopes of obtaining more federal support for the expensive technology that can be used to trap harmful greenhouse gas emissions from industrial processes and store them safely underground.
Heavy emitters — in particular, the oil and gas sector — have identified carbon capture and storage technology as key to helping the sector meet its emissions reduction targets and have been looking for government incentives akin to what is being offered south of the border, where the U.S. Inflation Reduction Act promises to pay companies a guaranteed US$85 price for each tonne of injected carbon.
While Canada has already announced an investment tax credit that will help to offset some of the up-front capital costs of carbon capture projects, companies have so far been hesitant to pull the trigger and go ahead with proposed large-scale projects.
The Pathways Alliance, for example, a consortium of oilsands companies, has proposed building a $16.5-billion carbon capture and storage transportation line to combat emissions from existing oilsands infrastructure in northern Alberta.
But the group has not yet made a final investment decision, saying it needs to know its project will be competitive with those in the U.S. before proceeding.
One thing the oil and gas sector has said will help with that is some kind of mechanism that would reduce the risk to companies that the federal price on carbon could be lowered or eliminated. If a new government were to be elected and remove or change Canada's carbon pricing system, investing in expensive carbon-reducing technology could suddenly become uneconomical.
On Tuesday, the federal government reiterated that it intends to create such a mechanism through a so-called carbon contracts for difference system — but disappointed many who were hoping for details. Instead, the government announced it plans to begin consultations around the development of such a program.
Millar said while he doesn't doubt the government's good intentions, companies that have proposed large-scale projects need to get moving now if they have any hope of meeting Canada's goal to reduce this country's overall emissions by 40 per cent below 2005 levels by 2030 looms.
"We're already in 2023, we're seven years out. The consultations that were announced yesterday will take months," he said. "I think it will take at least a year because it's going to take time to set up the process."
The Pathways Alliance itself took a diplomatic tone Tuesday, issuing a statement after the tabling of the budget saying it was "encouraged" by the signal that more policy certainty is coming, and adding it looks forward to a "better understanding" of the government's intentions.
But Greg Pardy of RBC Capital said in a research note that in spite of some enhancements to the previously announced investment tax credit, budgetary support for carbon capture and storage was "somewhat limited — perhaps even disappointing."
"In our view, Canada's federal government needs to shift into much higher gear when it comes to incentivizing decarbonization investment if it is to achieve its bold climate change ambitions," Pardy said.
A report from BMO Capital Markets published just before the release of Tuesday's budget said Canada's policy framework for large-scale deployment of carbon capture and storage disadvantages producers here compared to the U.S., "despite claims to the contrary from some proponents of the environmental lobby."
Environmentalists have been critical of any additional federal support for carbon capture, calling it akin to a subsidy for oil and gas companies that enables them to increase production when the world should be scaling down fossil fuel usage.
But the BMO report said carbon capture is an essential part of the energy transition, and without offering improved incentives to keep up with the U.S., Canada risks not meeting its 2030 emissions reduction targets.
"Canada's market-based carbon price systems are much too uncertain to act as 'incentive' for industry to invest in major decarbonization projects," the BMO report stated.
"Emitters need financial supports that are tangible and recognized by financial institutions to underwrite bank financing."
This report by The Canadian Press was first published March 29, 2023.