Is it time to impose term limits at city hall? A historical perspective.
If you were to look at the list of councillors (aldermen) for Red Deer from 1901 to 2017 you will find a list of 162 names.
162 people served for a total of 748 years. This averages out to 4.6 years per person. Larry Pimm and Dennis Moffat each served 27 years and you remove their years from the mix you would have 160 people serving a total of 694 years for an average of 4.3 years.
14 out 162 served for more than ten years for a total of 174 years. Take them out of the equation and you will see that 148 people served 574 years or about 3.9 – 4 years.
44 people served one year leaving a total of 104 people to serve 530 years or about 5 years each.
Many of these went on to serve as mayor and are not included in the totals.
So for 117 years we have been able to maintain a steady turnover of councillors about every 5 years. Now the term length is 4 years instead of 3 years I think it will increase. Many may find that a 4 year second term is too long and retire after 1 term.
In either case, being 3 years or 4 years, the average is less than 2 terms.
Red Deer has various council committees or boards and for example the Subdivision and Development Appeal Board you can only sit as a volunteer for 3 terms or 6 years in a row maximum. There are good reasons for limiting time served and encouraging turnover and the councillors imposed time limits.
Would these same reasons apply somewhat to city council and should they not have term limits? Should we not maintain a steady turnover in council?
Red Deer's last municipal census showed there 99,832 residents so I am quite sure there are enough solid citizens to continue a turnover every 5 years. We have 8 councillors and if we were to turnover 5 councillors every election with a 2 term limit we would average a turnover every 5.5 years.
Currently the average amongst the incumbents is about 8 years between 4-13 years and looks like almost all of them are seeking re-election and they have the odds greatly in their favor and perhaps only 1 challenger winning a seat. So by the next election the average will be around 11 years. The trend appears to be going up for years served and down for turnover.
If we were to have 3 terms as a limit and acquire 2 or 3 newcomers every election the average will still be 9 years or nearly twice the historical average. If we had 2 term limits and we replaced 4 councillors every election the average would still be 6 years per person, still above historical average.
I think that a 2 term limit or 8 years would work and I am willing to accept a trial of 3 term limit or 12 years.
The support network is there so if all 8 councillors decided to retire on the same day, the city could easily find 8 replacements and survive. Might be some short term problems but the city will survive.
Should we talk about it?
Ethics prof at one of Canada's oldest universities on temporary paid leave for stance against forced vaccinations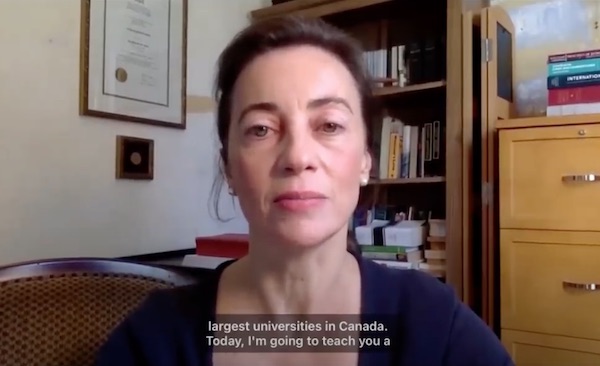 Huron University in London, Ontario, was incorporated way back in 1863 as one of the founding colleges of Western University.  Western is one of the largest universities in Canada.
On the University's website under academic objectives, Huron University strongly encourages "critical thinking through excellent teaching and research".  But it appears critical thinking may have landed a university ethics professor in a career ending dilemma. Dr. Julie Ponesse has been teaching Ethics at Huron for 20 years.  Dr. Ponesse says the University of Western Ontario has barred her from campus and put her on temporary paid leave for taking an ethical stance against the University's vaccine policy.
Here is the first measure of that policy as highlighted on the University website.
Mandatory Vaccination on Campus: Huron and its affiliate partners are implementing a vaccination policy which will require proof of vaccination or have an exemption in order to come on campus, including living in residence. Those with an exemption must be tested for COVID-19 twice weekly. There is no testing option for those who choose not to be vaccinated. Those without proof of vaccination or an exemption will not be permitted on campus.
Professor Ponesse says just a few days before the school year began, she was mandated by her employers to take the vaccine immediately.  As an Ethics educator she decided it was her job to teach her students it's ethically wrong to force people to take a vaccine.  Instead of lining up for the jab, Dr. Ponesse went to her office and recorded a video which has now been seen across Canada tens of thousands of times.  At the end of the video a statement appears indicating Professor Julie Ponesse was dismissed by her employers on September 7.
The video is being shared and commented on by Canadians from coast to coast, in various social media platforms.  It's a fascinating discussion on ethics in a terribly confusing and controversial time, by an experienced ethics professor who has courageously put her ethics ahead of her career.

The video has been taken down by both Facebook and Twitter for statements Ponesse makes about the effectiveness of vaccines.  This video was reloaded to Facebook.  Supporters of Dr. Ponesse have also posted it to Instagram.  We've posted two links in case one is taken down yet again.

https://www.jaredpilon.com/