Internet Child Exploitation unit arrests over 2 dozen Albertans for online child sexual exploitation offences
From the ALERT's Internet Child Exploitation Unit
26 Albertans Charged in Online Child Sexual Exploitation Investigations
ALERT's Internet Child Exploitation (ICE) unit has arrested 26 suspects from across Alberta for offences related to online child sexual exploitation.
Between June 20 and September 17, 2020, ICE has charged 26 suspects with 63 offences. Most of the arrests came as the result of investigative referrals from the RCMP's National Child Exploitation Crime Centre, which works with internet and social media providers to track and investigate online instances of child sexual exploitation.
"In Alberta, those who participate in the exploitation of children will be prosecuted to the fullest extent of the law. The Government of Alberta will ensure our law enforcement has the tools and resources to track down child predators and bring them to justice," said Kaycee Madu, Minister of Justice and Solicitor General. "On behalf of all law-abiding Albertans, I thank ALERT and the law enforcement organizations across the province that worked tirelessly to arrest and charge these criminals. Alberta's justice system is here for all Albertans, especially for children victimized by sexual predators."
"The internet isn't anonymous and these arrests demonstrate ALERT's willingness to travel to all corners of the province to make arrests, put predators behind bars, and keep kids safe," said Supt. Dwayne Lakusta, ALERT Chief Executive Officer.
There is no definitive link between the suspects other than the nature of offences allegedly committed. Each of the suspects was charged with at least one child pornography offence:
a 16-year-old young offender from Sherwood Park;
Kevin Borchert, a 29-year-old man from Sherwood Park;
David Cadieux, a 27-year-old man from Calgary;
Joseph Cadrain, a 32-year-old man from Strathmore;
Gary Campbell, a 28-year-old man from Lamont;
Michael Ciesla, a 32-year-old man from Edmonton;
Michael Courtepatte, a 44-year-old man from Athabasca;
Victor Delage, a 29-year-old man from Wainright;
Gerald Donel, a 57-year-old man from Edmonton;
Brian Farris, a 40-year-old man from Grande Prairie;
Humberto Ferreyra, a 51-year-old man from Lake Louise;
Coby Franz, a 42-year-old man from Alder Flats;
Sean Giles, a 41-year-old man from Lethbridge;
Brock Hann, a 21-year-old man from Morinville;
Richard Lepchuk, a 59-year-old man from Edmonton;
Christian Meier, a 52-year-old man from Calgary;
Troy Melnyk, a 49-year-old man from Spruce Grove;
Stephen Miehe, a 28-year-old man from Cardston;
Alasdair Mills, a 61-year-old man from Edmonton;
David Peeke, a 45-year-old man from Edmonton;
Christopher Piers-Hanley, a 31-year-old man from Edmonton;
Kalon Specht, a 30-year-old man from Edmonton;
Andrew Stredick, a 30-year-old man from Calgary;
Charles Tadashore, a 43-year-old man from Calgary;
Laurence Thrasher, a 40-year-old man from Edmonton; and
Michael Vandermay, a 52-year-old man from Calgary.
During the investigations and subsequent arrests, ICE worked in collaboration with a number of police agencies, including: Caribou Child and Youth Centre; Calgary Police Service; Edmonton Police Service; and various RCMP detachments, including Grande Prairie, Spruce Grove, Strathcona County, Wainright, Breton, Strathmore, Olds, Morinville, Cardston, Lake Louise, Fort Saskatchewan, and Athabasca.
ICE is an integrated team that includes members of Calgary Police Service, Edmonton Police Service, Lethbridge Police Service, Medicine Hat Police Service, and RCMP. ICE investigates offences involving child pornography, any computer-related child sexual abuse, child luring over the Internet, voyeurism involving victims under the age of 18, and child sex trade/tourism.
ICE speculates that the rise in the number of investigative referrals is likely in part related to digital dependency during COVID-19 isolation measures.
The Canadian Centre for Child Protection has information on its site dedicated to supporting families during the COVID-19 crisis, including resources for families and caregivers; schools and educators; and child-serving organizations. This information is available at: https://protectchildren.ca/en/resources-research/supporting-you-through-covid-19/
ALERT was established and is funded by the Alberta Government and is a compilation of the province's most sophisticated law enforcement resources committed to tackling serious and organized crime.
Two deputy chief medical officers resign from their positions with Alberta Health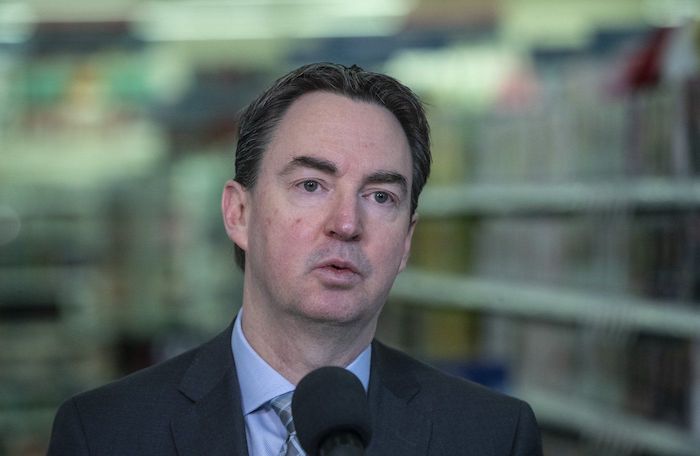 Edmonton – Alberta's two deputy chief medical officers of health are leaving their roles — less than a month after Dr. Deena Hinshaw was removed as the province's top doctor.
Health Minister Jason Copping confirmed during question period Wednesday that both of the doctors have submitted letters of resignation.
"They are still continuing to work at this point in time," he said in the legislature. "We are in the process of actually looking to fill those roles."
A statement from Alberta Health said Dr. Rosana Salvaterra and Dr. Jing Hu, who are listed as public health physicians on the department's website, have given notice.
When reached by her department email, Salvaterra responded: "Unfortunately, we are not able to comment."
She later added that she respects and admires both Dr. Hinshaw and Dr. Hu.
"They are brilliant, hard-working, and compassionate public health physicians and I consider myself fortunate to have had the opportunity to work alongside them for these past 14 months."
Salvaterra, who has extensive public health experience including as the medical officer of health for Peterborough, Ont., joined the office in October 2021.
Her career in public health includes work in "the COVID-19 response, mental health, the opioid response, women's health, poverty reduction, health equity, community food security and building stronger relationships with First Nations."
Hu's out-of-office message said her "last day at work with Alberta Health was Nov. 18, 2022," and noted she wouldn't have access to the department email after that date.
She got extensive training in China and at the University of Calgary before joining the health department in January 2020.
Their resignations came within a month of Hinshaw, who became the face of Alberta's public health response to the COVID-19 pandemic, being removed from her position.
Hinshaw was replaced by Dr. Mark Joffe, a senior executive member of Alberta Health Services, on an interim basis.
"Dr. Joffe will be supported by medical officers of health within AHS, by other staff in the Office of the Chief Medical Officer of Health, and by the Public Health Division," said the statement from Alberta Health late Wednesday.
"We expect these changes to have no impact on the department's and Dr. Joffe's ability to meet the requirements of the Public Health Act."
Hinshaw's dismissal didn't come as a surprise.
Premier Danielle Smith announced on her first day in office in October that she would be replaced.
Smith has made it clear that she blames both Hinshaw and Alberta Health Services for failing to deliver the best advice and care for Albertans as the hospital system came close to buckling in successive waves of the COVID-19 pandemic.
"A lot of the bad decisions were made by Alberta Health Services on the basis of bad advice from the chief medical officer of health," Smith told reporters on Oct. 22.
Smith has not placed the blame on front-line doctors and nurses but broadly on AHS senior management. Joffe, while serving as chief medical officer of health, retains his role in AHS senior management as a vice-president responsible for areas in cancer and clinical care.
Hinshaw, an Alberta-trained public health specialist, became a celebrity of sorts in the first wave of the pandemic in the spring of 2020, as she delivered regular, sometimes daily, updates to Albertans on the virus, its spread and methods to contain it.
This report by The Canadian Press was first published Dec. 7, 2022.
— By Colette Derworiz in Calgary.
Alberta introduces bill for $2.8 billion in inflation-fighting payouts, rollbacks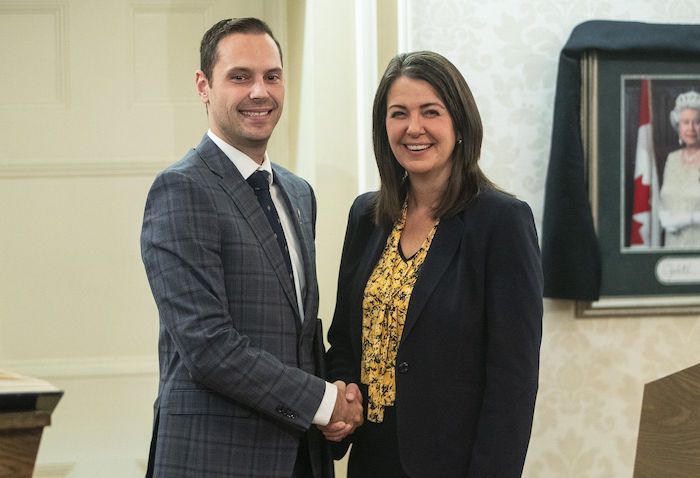 Edmonton – The Alberta government has introduced legislation to implement inflation-fighting rebates and payouts announced recently by Premier Danielle Smith.
Affordability Minister Matt Jones says the changes allow for help for families, seniors and the vulnerable soon.
Middle- to lower-income families, those with a household income of less than $180,000 a year, are to get $600 over six months for each child under 18 years of age.
The same income threshold and benefit applies to seniors, and the payout will also go to those on disability supports.
There will be electricity rebates and the 13 per cent provincial tax on gasoline is suspended from January to June.
The total cost of the package is pegged at $2.8 billion.
This report by The Canadian Press was first published Dec. 7, 2022.