Innisfail "checks" into the Christmas spirit
From Innisfail RCMP
RCMP-Innisfail 23rd Annual Charity Checkstop
RCMP Charity Checkstop took place this past weekend. Due to the generosity of the community a total of $8,882.18 in cash and cheques were raised. Additionally approximately 75 high quality toys, 10 bags of gently used clothing items and over 800 pounds of food were donated by the citizen's of Innisfail and the surrounding area.
In this season of giving and celebrating we are proud to provide as much help as we can to those less fortunate.
The charitable organizations that these items will be donated to are the Innisfail Food Bank, the Christmas Bureau, and the Red Deer Women's Outreach Society.
Innisfail RCMP would like to thank the following local businesses for providing donations: Nestle Purina, Innisfail CO-OP, 7-11, A&W, Dairy Queen, NAPA, Kal-Tire, Subway, Tim Horton's, McDonalds, Innisfail Bowling Lanes; Complete Catering, and the Innisfail Legion.
We would also like to acknowledge the numerous volunteers who made this event possible. These volunteers include representatives from: the Innisfail Fire Department; Medavie Ambulance; Correctional Services Canada; the Town of Innisfail; The Town of Innisfail By-Law; the Christmas Bureau; the Food Bank; and the Red Deer Women's Outreach; Innisfail local Youth Groups; and the local 4-H club. We would also like to thank Richard FOESER for being our Santa Clause, Alearra DAY CHIEF for being Safety Bear, and Jim SEWARD (SOS Entertainment) for providing the Christmas Music.
We hope everyone has a safe and joyous holiday season!
Suspect in Innisfail armed robbery spree turns himself in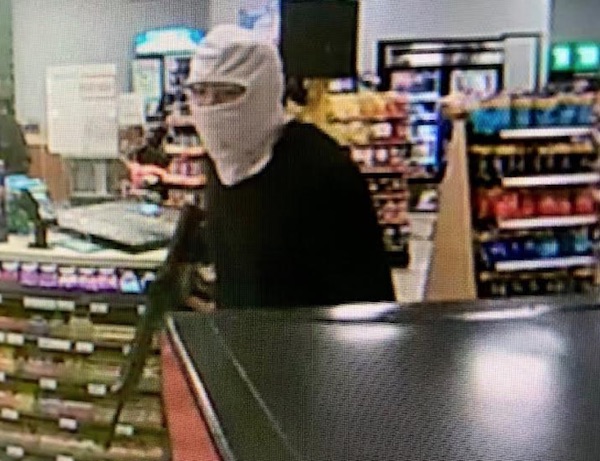 News Release from Innisfail RCMP
Innisfail RCMP respond to armed robberies – UPDATE 3 – suspect arrested
This past weekend, RCMP were kept busy responding to multiple complaints of armed robberies.  On Thursday, Aug. 26, 2021, at approximately 11:30 p.m., RCMP received a report of an armed robbery at a business on 50 Street. A suspect entered the business, disguised with a balaclava and carrying a weapon. The suspect demanded cash from a customer and from the store employee. The suspect took an undisclosed amount of Canadian currency and fled on foot. Despite a thorough, coordinated search of the area, the suspect was not located.
On Saturday, Aug. 28, 2021, at 1:40 a.m., RCMP were dispatched to another report of a robbery from the same business. A suspect entered the business, disguised with a black face mask and carrying a weapon. The suspect demanded items from the same cashier. The suspect took an undisclosed amount of Canadian currency and cigarettes. The suspect forced the cashier in to the back office, and the suspect attempted to destroy the video surveillance system. The suspect then fled on foot.
On Saturday, Aug. 28, 2021, at 9:20 p.m., RCMP were dispatched to a third robbery complaint at an address on 46A Street. A suspect armed with a weapon attempted to steal a vehicle from a victim but was unsuccessful. At 9:24 p.m., RCMP were dispatched to a business on 42 Avenue for a similar complaint. The victim reported that a suspect who was carrying a weapon tried to steal the victim's truck. When the suspect was unsuccessful, he fled the area on foot.
Police officers from Innisfail, Red Deer City, and Blackfalds RCMP detachments, as well as the RCMP Police Dog Services and the RCMP Emergency Response Team conducted an intensive search for the suspect.
On Sunday, Aug. 29, 2021 at 10:00 a.m., the suspect turned himself in to Innisfail RCMP and was arrested without incident.
Cyrus Jason Boysis (26) of Innisfail, Alta. has been charged several offences including:
Robbery with a firearm (x5)
Forcible confinement
Disguise with intent to commit an offence (x3)
Pointing a firearm (x3)
Possession of a weapon for a dangerous purpose (x5)
Mischief under $5000
After a judicial interim release hearing, Boysis was released to appear in Red Deer Provincial Court on September 27, 2021 at 9:30 a.m.
Innsifail RCMP believe this suspect was responsible for all four incidents. There is no further concern for public safety at this time. Innisfail RCMP's General Investigation Section is continuing with the investigation.
Shooting Update: Deceased had broken into home where shooting took place
News Release from Blackfalds RCMP
Blackfalds RCMP investigate shooting – **UPDATE**
The RCMP Major Crime's Unit is continuing with the investigation including examination of the scene with the RCMP Forensic Identification Services and interviewing witnesses. The initial investigation has indicated that the deceased broke into the residence and an altercation occurred with the homeowner. The homeowner was treated for injuries he sustained and has been released from the hospital.
The investigation is in the early stages. No charges have been laid at this time.  Further updates will be provided when further details can be shared.
Background:
August 2, 2021
Blackfalds RCMP investigate shooting
On August 2, 2021, at 3:11 p.m., Blackfalds RCMP received a complaint of a residential break and enter in progress off of C & E Trail in Red Deer County. Upon arrival, police discovered that the homeowner had sustained injuries and another male in the residence had sustained a gunshot wound. EMS attended and pronounced the male with the gunshot wound as deceased. The homeowner was transported to the hospital where he is being treated for non-life threatening injuries.
RCMP Major Crimes Unit has been called in and has taken over the investigation.
There is no ongoing danger to the public.