"I want to apologize for advocating for the use of masks" – Spread of respiratory illnesses not slowed down by mask use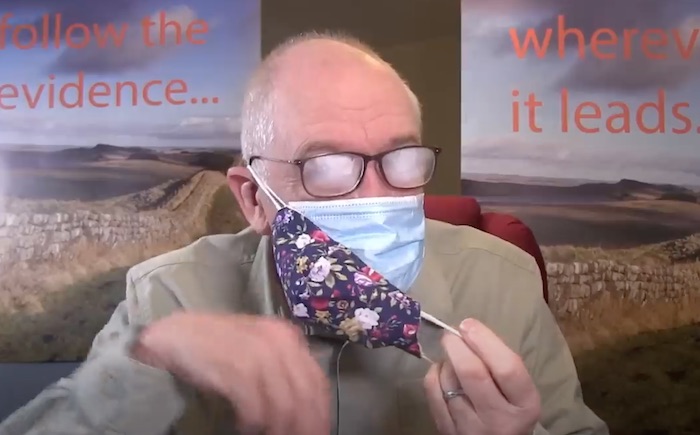 The study examines the effectiveness of masks and of following a hand hygiene program in reducing the likelihood of acquiring respiratory virus infections such as COVID-19.
British Health Researcher Dr. John Campbell shares the disappointing results in this presentation:
What did we do?
We searched for randomised controlled studies that looked at physical measures to stop people acquiring a respiratory virus infection.
We were interested in how many people in the studies caught a respiratory virus infection, and whether the physical measures had any unwanted effects.
What did we find?
We identified 78 relevant studies. They took place in low‐, middle‐, and high‐income countries worldwide: in hospitals, schools, homes, offices, childcare centres, and communities during non‐epidemic influenza periods, the global H1N1 influenza pandemic in 2009, epidemic influenza seasons up to 2016, and during the COVID‐19 pandemic. We identified five ongoing, unpublished studies; two of them evaluate masks in COVID‐19. Five trials were funded by government and pharmaceutical companies, and nine trials were funded by pharmaceutical companies.
We assessed the effects of:
· medical or surgical masks;
· N95/P2 respirators (close‐fitting masks that filter the air breathed in, more commonly used by healthcare workers than the general public); and
· hand hygiene (hand‐washing and using hand sanitiser).
We obtained the following results:
Medical or surgical masks
Ten studies took place in the community, and two studies in healthcare workers. Compared with wearing no mask in the community studies only, wearing a mask may make little to no difference in how many people caught a flu‐like illness/COVID‐like illness (9 studies; 276,917 people); and probably makes little or no difference in how many people have flu/COVID confirmed by a laboratory test (6 studies; 13,919 people). Unwanted effects were rarely reported; discomfort was mentioned.
N95/P2 respirators
Four studies were in healthcare workers, and one small study was in the community. Compared with wearing medical or surgical masks, wearing N95/P2 respirators probably makes little to no difference in how many people have confirmed flu (5 studies; 8407 people); and may make little to no difference in how many people catch a flu‐like illness (5 studies; 8407 people), or respiratory illness (3 studies; 7799 people). Unwanted effects were not well‐reported; discomfort was mentioned.
Hand hygiene
Following a hand hygiene programme may reduce the number of people who catch a respiratory or flu‐like illness, or have confirmed flu, compared with people not following such a programme (19 studies; 71,210 people), although this effect was not confirmed as statistically significant reduction when ILI and laboratory‐confirmed ILI were analysed separately. Few studies measured unwanted effects; skin irritation in people using hand sanitiser was mentioned.
---
Dr. John Campbells presentation notes with links:
RCTs did not show a clear reduction in respiratory viral infection with the use of medical/surgical masks.
There were no clear differences between the use of medical/surgical masks compared with N95/P2 respirators in healthcare workers, when used in routine care to reduce respiratory viral infection.
Do physical measures such as hand-washing or wearing masks stop or slow down the spread of respiratory viruses?
https://www.cochranelibrary.com/cdsr/…
Evidence published up to October 2022.
Background Influenza (H1N1) caused by the H1N1pdm09 virus in 2009
Severe acute respiratory syndrome (SARS) in 2003 Coronavirus disease 2019 (COVID-19)
Update of a Cochrane Review last published in 2020.
We include results from studies from the current COVID-19 pandemic.
Main results 11 new RCTs and cluster-RCTs n = 610,872
Bringing the total number of RCTs to 78
Medical/surgical masks compared to no masks
Wearing masks in the community probably makes little or no difference to the outcome of influenza‐like illness
wearing a mask may make little to no difference in how many people caught a flu-like illness/COVID-like illness
Risk ratio (RR) 0.95, (0.84 to 1.09) 9 trials, n = 276,917 participants
Moderate-certainty evidence.
Wearing masks in the community probably makes little or no difference to the outcome of laboratory-confirmed influenza/SARS-CoV-2 RR 1.01, (CI 0.72 to 1.42)
6 trials, n = 13,919 Moderate-certainty evidence
Harms were rarely measured and poorly reported (very low-certainty evidence).
N95/P2 respirators compared to medical/surgical masks
We pooled trials comparing N95/P2 respirators with medical/surgical masks
We are very uncertain on the effects of N95/P2 respirators compared with medical/surgical masks on the outcome of clinical respiratory illness
Compared with wearing medical or surgical masks, wearing N95/P2 respirators probably makes little to no difference in how many people have confirmed flu and may make little to no difference in how many people catch a flu-like illness, or respiratory illness.
Confirmed influenza RR 0.70, (0.45 to 1.10) N = 7,779 Very low-certainty evidence
Influenza like illness N95/P2 respirators compared with medical/surgical masks may be effective for ILI RR 0.82 N= 8,407 Low-certainty evidence
The use of a N95/P2 respirators compared to medical/surgical masks
Probably makes little or no difference for laboratory-confirmed influenza infection RR 1.10 N = 8,407 Moderate-certainty evidence
Restricting pooling to healthcare workers made no difference to the overall findings.
Harms were poorly measured and reported
Discomfort wearing medical/surgical masks or N95/P2 respirators was mentioned in several studies
Very low-certainty evidence
One new RCT Medical/surgical masks were non-inferior to N95 respirators N = 1,009 healthcare workers in four countries, providing direct care to COVID-19 patients.
What Happened When the Georgia Governor Tried to Open the State?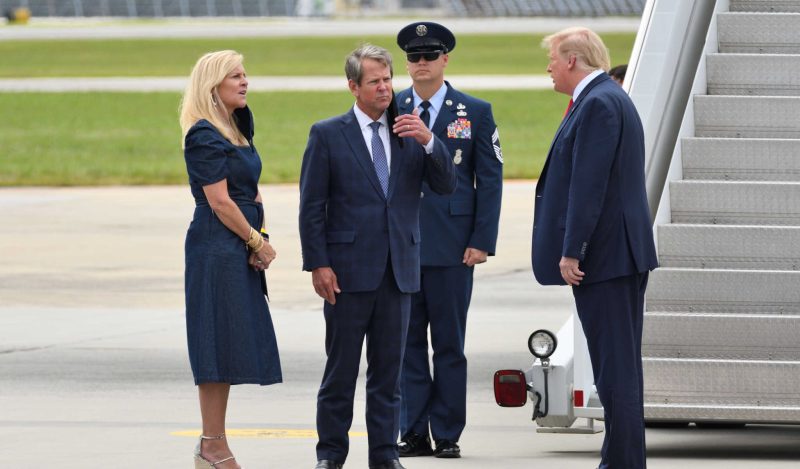 BY
JEFFREY A. TUCKER
The journalists have fallen down on the job. To say the least.
Three years ago, all normal rights and liberties of the people were trampled on by governments everywhere. It was all for naught. The virus came and became endemic as it always would in any case. And as societies opened up gradually, we were left with unbearable carnage: economic, cultural, and public health. The damages continue to hammer the world in the form of health and economic losses, and now we face a growing financial and banking crisis.
One might assume that professional journalists would be all over this, digging into every nook and cranny to discover precisely how all this came to be. Alas, there is a weird game of pretend going on in the mainstream press: pretend lockdowns were fine, pretend the shots worked, and pretend that today's shattered politics and economics have nothing to do with the outrageous actions that were perpetuated on people the world over.
As a result of this tremendously odd conspiracy of silence, the journalistic duty has fallen to people independent of the mainstream, writing for Brownstone, Substack, and a handful of other venues.
And yet, every once in a while, something does leak through in a large venue. That happened this weekend in the Wall Street Journal. The opinion page editor James Taranto took a trip to Georgia to talk with Governor Brian Kemp. The result is "Brian Kemp, Georgia's Affable Culture Warrior."
The thesis is that Kemp has been battling woke culture longer than anyone else while rarely getting the credit.
That's interesting but not the real revelation of the piece. What it really does is dig deeply into the most interesting aspect of the last three years: how it came to be that Georgia was the first state to open following lockdowns and how the White House responded. On this subject, the piece absolutely breaks new ground, so much so that it is worth quoting the relevant passages here.
In April 2020, businesses in Georgia were shuttered by government decree as in most of the rest of the country. Mr. Kemp was hearing from desperate entrepreneurs: " 'Look man, we're losing everything we've got. We can't keep doing this.' And I really felt like there was a lot of people fixin' to revolt against the government."

The Trump administration "had that damn graph or matrix or whatever that you had to fit into to be able to do certain things," Mr. Kemp recalls. "Your cases had to be going down and whatever. Well, we felt like we met the matrix, and so I decided to move forward and open up." He alerted Vice President Mike Pence, who headed the White House's coronavirus task force, before publicly announcing his intentions on April 20.

That afternoon Mr. Trump called Mr. Kemp, "and he was furious." Mr. Kemp recounts the conversation as follows:

"Look, the national media's all over me about letting you do this," Mr. Trump said. "And they're saying you don't meet whatever."

Mr. Kemp replied: "Well, Mr. President, we sent your team everything, and they knew what we were doing. You've been saying the whole pandemic you trust the governors because we're closest to the people. Just tell them you may not like what I'm doing, but you're trusting me because I'm the governor of Georgia and leave it at that. I'll take the heat."

"Well, see what you can do," the president said. "Hair salons aren't essential and bowling alleys, tattoo parlors aren't essential."

"With all due respect, those are our people," Mr. Kemp said. "They're the people that elected us. They're the people that are wondering who's fighting for them. We're fixin' to lose them over this, because they're about to lose everything. They are not going to sit in their basement and lose everything they got over a virus."

Mr. Trump publicly attacked Mr. Kemp: "He went on the news at 5 o'clock and just absolutely trashed me. . . . Then the local media's all over me—it was brutal." The president was still holding daily press briefings on Covid. "After running over me with the bus on Monday, he backed over me on Tuesday," Mr. Kemp says. "I could either back down and look weak and lose all respect with the legislators and get hammered in the media, or I could just say, 'You know what? Screw it, we're holding the line. We're going to do what's right.' " He chose the latter course. "Then on Wednesday, him and [Anthony] Fauci did it again, but at that point it didn't really matter. The damage had already been done there, for me anyway."

The damage healed quickly once businesses began reopening on Friday, April 24. Mr. Kemp quotes a state lawmaker who said in a phone call: "I went and got my hair cut, and the lady that cuts my hair wanted me to tell you—and she started crying when she told me this story—she said, 'You tell the governor I appreciate him reopening, to allow me to make a choice, because . . . if I'd have stayed closed, I had a 95% chance of losing everything I've ever worked for. But if I open, I only had a 5% chance of getting Covid. And so I decided to open, and the governor gave me that choice.' "

At that point, Florida was still shut down. Mr. DeSantis issued his first reopening order on April 29, nine days after Mr. Kemp's. On April 28, the Florida governor had visited the White House, where, as CNN reported, "he made sure to compliment the President and his handling of the crisis, praise Trump returned in spades."

Three years later, here's the thanks Mr. DeSantis gets: This Wednesday Mr. Trump issued a statement excoriating "Ron DeSanctimonious" as "a big Lockdown Governor on the China Virus." As Mr. Trump now tells the tale, "other Republican Governors did MUCH BETTER than Ron and, because I allowed them this 'freedom,' never closed their States. Remember, I left that decision up to the Governors!"
What's utterly remarkable here is that readers gain an inside look into the difficult spot into which Trump's White House had placed Republican governors. The whole machinery of DC had been marshaled with Trump's approval. The order read: "indoor and outdoor venues where people can congregate should be closed." He issued this order on March 16 and expected full compliance, and then lobbied for trillions in welfare to the states to make sure they stayed locked down.
Only South Dakota with Kristy Noem refused. And for that she was dragged through the mud of media lies for two years because she allowed motorcyclists, for example, to organize and ride in her state. The fake studies coming out about the Sturgis bike rallies set a new low standard for real-time science.
Georgia is important because it was the first state to open. Trump tweeted his opposition to this move both in general and then, two weeks later, in opposition to Kemp's opening.
Every bit of documentation absolutely contradicts Trump's claim that he "left that decision up to the Governors" as a matter of his own intention. It was his intention to achieve what he later bragged he had done, which is "turned it off."
I won't belabor this anymore because we've covered this in more detail here and here.
And yet for weeks now, Trump has been telling visitors to Mar-a-Lago, and his coterie has backed him up, that he never locked down and only people like Kemp and DeSantis did this over his objections. Daily I get calls from people who are stunned that this outright attempt to falsify history is happening. But these days, it is just part of public life, I suppose.
This is why we must be grateful for people like Taranto for digging more deeply into the actual history of what happened in those fateful months from 2020 when life itself was completely upended by dreadful decision-making from the White House. If we had more journalists interested in what actually happened, rather than just pretending that either what happened was perfectly normal or that it didn't happen at all, we would be far closer to getting to the truth, and making sure that such a calamity never repeats itself.
Allow unvaccinated Canadians to cross U.S. border, Poilievre asks President Joe Biden
U.S. President Joe Biden shakes hands with Conservative Party of Canada Leader Pierre Poilievre, as Prime Minister Justin Trudeau looks on, during a welcoming ceremony on Parliament Hill in Ottawa, on Friday, March 24, 2023. Conservative Leader Pierre Poilievre says allowing Canadians who are unvaccinated against COVID-19 to cross into the United States was among issues he raised with President Joe Biden. THE CANADIAN PRESS/Justin Tang
By Stephanie Taylor in Ottawa
Conservative Leader Pierre Poilievre said Friday he asked President Joe Biden to remove the U.S. government's requirement that Canadians be vaccinated for COVID-19 before crossing the border.
He told reporters after their meeting that American citizens are no longer required to have their shots and Canada allows unvaccinated Americans to visit.
"There are millions of good, decent, honourable people who, through a personal medical decision, are discriminated against at the border," Poilievre said.
"I encouraged the president to lift those restrictions to allow them freedom of mobility."
Poilievre won the leadership of his party a little more than six months ago by mounting a vocal opposition to COVID-19 health restrictions, including mask and vaccine mandates, but he has since focused his message on cost-of-living issues.
He met with Biden on Parliament Hill Friday during the president's 27-hour visit to the Canadian capital, and later shared a photo of the two online.
Michael Ignatieff was the last Opposition leader to have face time with a U.S president. The former Liberal leader met with former President Barack Obama in 2009. It happened at the airport.
Poilievre said Friday he found Biden wants to be a "friendly" and "decent" neighbour to Canada, and on a personal level, he said he told the president they share Irish heritage.
He said they discussed the need for Canada to bolster its defence systems and "bring fairness" to workers by seeing the U.S. exempt Canada from its Buy American policies.
The Tory leader also said he expressed a need for Biden to axe tariffs on Canadian softwood lumber, arguing that the long-standing dispute saw a brief reprieve under Conservative prime minister Stephen Harper.
"I don't believe that Prime Minister (Justin) Trudeau has pushed and fought on behalf of Canadians," he said.
Before the meeting, Poilievre had shared some unscripted moments with the leader of the free world.
As he stood in a receiving line of Canadian politicians from all parties who were greeting Biden upon his arrival at Parliament Hill, Poilievre introduced himself as the "Leader of His Majesty's Loyal Opposition."
That prompted Biden to question, still shaking Poilievre's hand: "Loyal opposition?"
Poilievre assured him that yes, "we believe that opposition is an act of loyalty in our system."
Biden chuckled, patting Poilievre on the arm.
"We do, too, unfortunately," he said, chuckling.
Later, while addressing the House of Commons, Biden noted that both he and Trudeau appointed cabinets that were half women, making them the first in their respective countries to do so.
Many in the chamber broke out in applause.
Biden noticed that Poilievre and the Opposition Conservatives were not quick to rise, and quipped: "Even if you don't agree, guys, I'd stand up," which Poilievre and others then did.
Asked afterwards about that interaction, Poilievre said only: "We support gender equality for all Canadians."
Poilievre was on the guestlist for a dinner with Biden Friday evening, along with other government ministers, officials and celebrities.
The invitation process came with a dash of partisanship.
Earlier in the day, staff in Poilievre's office were left scratching their heads when they said it had not received an invite from Trudeau's office to attend, and asserted that any suggestion he had refused the invitation was false.
The Prime Minister's Office confirmed it had sent Poilievre notice of the dinner — but the invitation went to a personal email account that notifies senders it is not monitored.
This report by The Canadian Press was first published March 24, 2023.