"High school has shown us who we are and how we can take forward what we've learned and apply it to whatever we encounter in the future."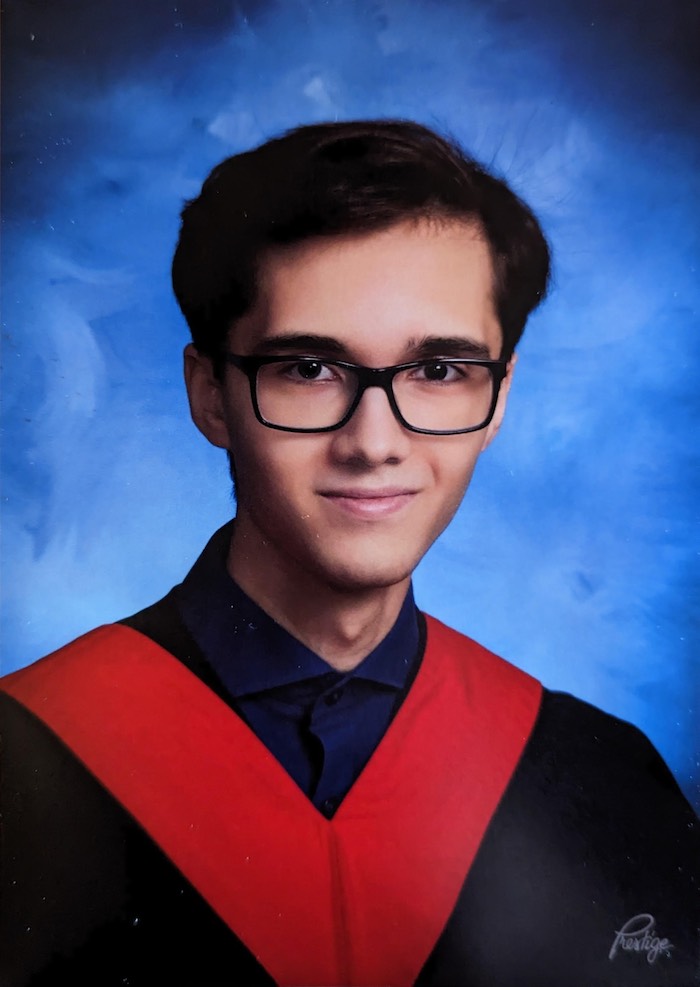 Lindsay Thurber Valedictorian credits his time in French Immersion for success
Striving for excellence and continuously pushing himself to be his best version has landed Lindsay Thurber graduate Samuel Bakker the title of Valedictorian for the Class of 2023.
Samuel, who was given the news earlier this month, said it was an extremely exciting moment.
"I knew I was in the running for it, but I wasn't sure if I had gotten it. I was able to keep myself composed when I was told, but I did a little happy dance after," he said. "This year, the Valedictorian race was extremely close and all of the students in the running are all exceptional people who deserve this just as much as I do, but it is an honour to represent our class."
Samuel, who has been in the French Immersion program at Red Deer Public Schools since Kindergarten, said the program has afforded him some great opportunities.
"The main thing that led my parents to register my sister and I in the French Immersion program was because it was something that was a little bit more challenging, and a program we might find a little more engaging," he said, adding he recognizes it may open more opportunities in his future. "Overtime we learned the value of it, and what I have enjoyed the most is the sense of community we have with the people we've gone through the program with. It's been nice to have a core group of people to go through my schooling with."
A highlight of high school for Samuel has been the opportunity to be part of the school's Student Council.
"I've loved the work I've gotten to do with the Student Council. I run our community division so I've gotten to do lots of charitable drives and fundraising," he said. "We've been able to do so many wonderful things with the resources of the school behind us."
As for plans after high school, Samuel will be heading to the University of British Columbia to pursue a Bachelor of Arts degree. "I'm not sure yet what I will minor or major in, but I would like to do graduate school of some kind," he said.
As part of his role as Valedictorian, Samuel will address his fellow graduates on May 25 at the Gary W. Harris Canada Games Centre during the school's graduation ceremonies.
"The overarching theme of my speech is how we've been through the journey of high school together and are now heading off on our own adventures," he said. "High school has shown us who we are and how we can take forward what we've learned and apply it to whatever we encounter in the future."
As the Lindsay Thurber graduation is right around the corner on May 25, Samuel said he is looking most forward to the ceremony.
"I am really looking forward to walking across the stage, getting my diploma and being there with my family."
Chris Good, Principal at Lindsay Thurber, said being named valedictorian is a testament to the hard work and dedication that Samuel has shown during his time at the school.
"He has earned this distinction through resilience and commitment to his course work. In addition to his academic achievements, Samuel also makes our school a better place to be through his work with student leadership," he said. "I look forward to hearing his address to our graduating class."
Class of 2023 gear up for graduation ceremonies
Grade 12 is an exciting and pivotal year for our students, which ends with the ultimate celebration of achievement – graduation! It's a milestone in a young adult's life – dressing in the cap and gown, walking across that stage, and celebrating with staff, classmates, family and friends. Our Grade 12 students look forward to their graduation all year and as educators, it gives us such great pride to celebrate this accomplishment together with our students.
Graduation celebrations for each high school will be as follows:
Lindsay Thurber Comprehensive High School – Thursday, May 25, 2023

Two ceremonies at 9 a.m. and 11:30 a.m. at the Gary W. Harris Canada Games Centre

Hunting Hills High School – Friday, May 26, 2023

Two ceremonies at 10 a.m and 12:30 p.m. at the Gary W. Harris Canada Games Centre

Pines Alternative School Centre and North Cottage – Friday, June 23, 2023

One ceremony at 1 p.m. at Pines Alternative School

Gateway Christian – Thursday, June 29, 2023

One ceremony at 3:30 p.m. at New Life Fellowship Church
"We recognize that graduation is an important milestone in a young adult's life. It's a milestone that is meaningful for our students and also for their families and friends as well," said Chad Erickson, Superintendent of Schools. "Graduation is not only a celebration of the hard work and dedication of students, but the start of the next chapter in their lives. We know our students will move on to do great things, and we wish them all the best in their future endeavours."
"We are very excited that we will be able to celebrate the dedication and achievement of our students at this year's graduation event," said Darwin Roscoe, Principal at Hunting Hills High School. "These students have demonstrated the extreme resilience and commitment necessary to reach this milestone. Over the last couple of years, the feedback we heard from our parents and graduates was that they enjoyed the staggered ceremony times, so this year we are doing the same while keeping the great things our students, parents and staff value most in graduation."
"The thought of reaching graduation in a few short days is incredibly exciting, and simultaneously surreal. For as long as I can remember, high school graduation has been the biggest, most thrilling milestone to reach, making the decision to join the 2023 Graduation Executive Committee a no-brainer," said Marin Walton, a graduating student from Lindsay Thurber Comprehensive High School. "Through grad exec, we have been able to give back, and provide a memorable senior year for all of the graduates that unfortunately missed out on a majority of the 'normal' high school experience. Hopefully, through our various events including multiple spirit days, bowling night, wakefest, and the grad fashion show, we as a committee were able to reinstate the excitement surrounding graduation, despite our unorthodox four years that seem to have passed in the blink of an eye."
"We are so incredibly proud of our graduates who have persevered, reached this incredible milestone, and are ready to take this new and exciting next step in their lives," said Stephen Pottage, District Principal – Alternative Programs and Support Services. "Congrats to all of Red Deer's graduates and their families."
"What a privilege to see this group of kids successfully reach the milestone of graduation. I am so proud of each of them," said Karen Wiebe, a parent of a graduating student at Gateway Christian School. "This is made all the more special to me as a Gateway parent because of the rich community developed amongst students, parents and staff in what feels like a small town school. I am truly excited for what is yet to come for this amazing class as they step out into the next chapter of their lives."
Red Deer Public looks forward to celebrating the achievements of our graduating students over the coming months.
One adult, 16 children injured in fall during school trip to Winnipeg historic site
WINNIPEG — Sixteen schoolchildren and one adult are in hospital after a fall at a popular tourist attraction in Winnipeg.
Winnipeg paramedics say three children are in unstable condition after falling 4 1/2 to six metres inside Fort Gibraltar.
Another 13 children and one adult are in hospital in stable condition.
Paramedics say the information they received in a 911 call shortly before 10 a.m. is that the children are 10 to 11 years old.
Fort Gibraltar is a venue in the St. Boniface neighbourhood that hosts functions as well as historical re-enactments, at about 10 a.m. after receiving reports of an accident involving children age 10 to 11.
Crews initially assessed 28 people before determining 17 needed to be transported to hospital. At that time, three children were in unstable condition. Another 13 children and one adult were transported to hospital in stable condition.
Michelle Bessas, platoon chief with Paramedic Operations, said six ambulances transported the most severely injured patients to hospital while some of the stable patients were transported by emergency bus.
"Thankfully, we don't have very many mass casualty incidents that we have to deal with, but we do train for it regularly. Everyone on the scene was well prepared and we triaged everybody in a timely fashion."
A resident in the area told reporters she saw at least two people taken away on stretchers.
"There were about five or six kids that walked out on their own with paramedics and got into a (response vehicle) to be assessed," said Chantelle Craig.
A notice was sent to parents from Jim Keefe, head of St. John's-Ravenscourt School.
The notice, which the private school provided to The Canadian Press, confirms the fall happened during a Grade 5 field trip.
"There was an incident that resulted in emergency services transporting 17 members of the St. John's-Ravenscourt community to hospital. We contacted their parents and families," Keefe said Wednesday.
"We are doing everything we can to support our Grade 5 students and teachers and their families."
The remaining students and accompanying adults returned to the school, where faculty, staff and counsellors are caring for them, Keefe said.
Manitoba Premier Heather Stefanson posted about the fall on Twitter.
"Our thoughts go out to all the students, teachers and families of St. John's Ravenscourt affected by today's terrible accident at Fort Gibraltar," she wrote. "Thank you to all first responders for their immediate action."
Festival du Voyageur, which owns the fort, said it is co-operating with all authorities as it assesses the situation.
"Our thoughts are with all those who are affected by this difficult, sad and extremely unfortunate situation. We would like to thank first responders and personnel that responded quickly to the incident to prioritize the well-being of all those involved," Chantal Vielfaure, director of marketing, communications and sales, wrote in a statement.
"This is a difficult time for many, and we want to ensure that respect and support for those involved is of the utmost importance."
The venue will be closed indefinitely.
This report by The Canadian Press was first published on May 31, 2023.
Gateway Christian students experience life changing trip to Dominican
Students from Gateway Christian School recently returned from a life changing trip to the Dominican Republic as part of their Intercultural Studies program.
Gateway's 2023 Co-Impact Team, which included 13 students, two staff and an additional chaperone, spent 10 days on the ground over Spring Break connecting with other students and families to help to build a basketball court and physical education area at the Pena de Horeb school via Edudeo Ministries. Pena de Horeb is primarily a Haitian school, serving the students and families amidst a very poor Haitian neighbourhood. In the months leading up to the trip, Gateway students raised funds to help assist with the build. Gateway also spent a significant amount of time building relationships with and learning from students and staff at their partner school, El Colegio Cristiano Reformado Los Guandules.
"Service is an important part of the culture at Gateway, and this experience was the culmination of that. The Co-Impact Team fundraised not only for their trip, but also for funds to go towards the school we worked on in the Dominican Republic," said Geannette Lehman, Principal at Gateway Christian School. "The trip was part of their Intercultural Students class, which they receive credit for. We met weekly at 7:15 a.m. to complete aspects of the Intercultural Studies course, bond as a team, and prepare craft lessons and activities to teach students at the school in the Dominican. It was not only a great experience in the Dominican, but in preparing for the trip as a team as well."Alexa Huska, Gabe Gillies, and Kate Stober were three students who were part of the Co-Impact Team.
"It was really neat to connect with my fellow Grade 12 students," said Alexa. "We've gone to school together since we were kids, so to have an experience like this together was really special. We were able to connect on a deeper level."
Gabe added it was humbling to see how grateful those in the Dominican Republic were, even for the smallest things. "They have little compared to us, and they are just so happy," he said. "They are grateful for the things they have and they don't stress about the small stuff."
Kate agreed. "They have so much joy, and nothing mattered other than just being with one another," she said.
Ultimately, it was a great experience for all involved.
"The kids were greatly impacted by seeing the world through another lens. Our lens is so different from those around the world," said Geannette, adding she is proud of her students. "They gave up their Spring Break, immersed themselves in another culture, and represented Gateway and Red Deer Public so well."
To read Gateway's Co-Impact Team's blog of their experiences, click here.