Help RCMP find this missing girl
From Innisfail RCMP
Innisfail RCMP seek public assistance to locate missing 16 year old teen
Innisfail RCMP are seeking the assistance of the public in locating a missing 16 year old female.  Alyssa Lagace was last seen leaving her home on Monday May the 6th at approximately 8:00 am.   Lagace is believed to be in Red Deer possibly in the Glendale area.
Lagace is described as:
5'6"
115 lbs
Brown Eyes
Brown Hair
Wearing:Hoody, Jeans, blue runners, a blue cross shoulder bag and likely has her skateboard with her
If anyone has seen Alyssa Lagace or knows of her location please contact the RCMP in Innisfail at 403-227-3341 or your local police service.
Investigation of attempted home invasion at Innisfail leads to six arrests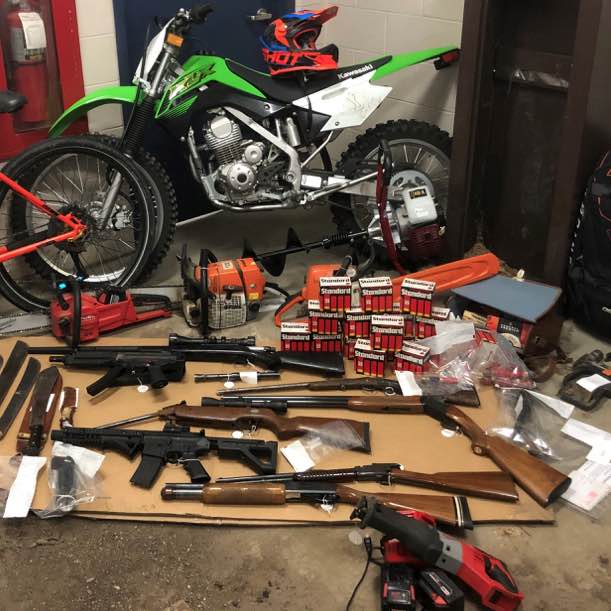 From Innisfail RCMP
Innisfail RCMP work with multi partners to seize stolen property and charge six suspects
A report of an attempted home invasion on Feb. 18 led to the arrest of six property crime suspects and the recovery of a substantial amount of stolen property by Innisfail RCMP.
The Innisfail RCMP responded in the evening of Feb. 18 to the attempted home invasion near downtown Innisfail.  Two males were reported as trying to break into the home while in possession of weapons.
The two suspect males were identified by the RCMP. On Feb. 19 Innisfail RCMP with the assistance of the Central Alberta District Crime Reduction Unit and RCMP Air Services attended a property on the C+E Trail in Red Deer County, north of Penhold, to arrest the suspects.  One was arrested without incident and the second fled in a Ford F350, with two other occupants, recently stolen out of Saskatchewan. A pursuit ensued, and efforts were made to deploy tire deflation devices, but they were not successful.
The F350 travelled throughout the central Alberta area to a location near Pigeon Lake, where three occupants abandoned the F350 and were picked up by a second Ford dually pickup truck. The dually was under observation as it travelled back into Red Deer where all 5 occupants were eventually arrested at two different locations in the city with the assistance of the Red Deer City RCMP, Innisfail Integrated Traffic Unit and the RCMP Police Dog Services.
On Feb. 20, Innisfail RCMP with the assistance of RCMP Calgary Auto Theft and Blackfalds GIS executed a search warrant at the C+E Trail property. The RCMP seized items related to many property crime investigations throughout Central Alberta including: stolen firearms, ammunition, a stolen dirt bike, stolen tools, break-in tools and other weapons. The dually was examined by the Calgary Auto Theft Unit and found to be a cloned (different VIN) vehicle that was stolen 3 years ago from a ranch near Strathmore.
The following persons all from the Red Deer area have been charged as follows:
Gary Auvigne (45) is facing over 20 criminal code charges, including break and enter, use a firearm while committing an offence, utter threats, possession of a stolen firearm and breach of a release document (x6).
Thomas Larkin (41) is facing 17 charges including break and enter, possession of a stolen vehicle, possession of break in tools, flight from police and dangerous driving. He is also charged with breaching a release document (x7).
Katherine Young (29) and Thomas Foshay (36) are both charged with possession of a stolen vehicle and possession of break-in tools.
Adam Bogusky (36) is facing seven criminal charges including possession of break in tools, fraudulent concealment, possession of a weapon for a dangerous purpose, dangerous operation of a vehicle and flight from police.
Kameryne Boyd (21) is charged with possession of break in tools, fraudulent concealment and possession of a weapon for a dangerous purpose.
Auvigne and Larkin were held in custody pending Judicial Interim Release hearings scheduled for Feb. 26, 2021 in Red Deer Provincial Court. Young and Foshay  participated in Judicial Interim Release hearings and were released by a Justice of the Peace for future court dates. Bogusky and Boyd were released by police for first appearance court dates on April 6, 2021 in Red Deer Provincial Court.
Innisfail woman arrested for theft of cell phones worth $40,000.00
RCMP Innisfail Detachment
A joint investigation between RCMP in High Level and Innisfail has been concluded with the execution of a search warrant in the town of Innisfail.
In October of this year High Level detachment received a complaint of theft from a local communications provider regarding shipments of cell phones that went missing between Edmonton and their High Level destination. An investigation was launched by High Level detachment which led investigators to Innisfail, Alberta. Innisfail General Investigation Section executed a search warrant on a residence near Cannon Park in Innisfail, Alberta on December 18, 2020. Approximately $40,000 worth of stolen cell phones were seized.
Rebecca NEUSTAETER, a 21 year old Innisfail resident, formerly of High Level,  was arrested and charged with the following:
–        Possession of stolen property
–        Possession of stolen property for the purpose of trafficking
–        Trafficking in stolen property; and,
–        Theft over $5000
NEUSTATER was released on an appearance notice to attend court in Red Deer on February 17, 2021.